Grimshaw committed itself to design net zero carbon buildings, says Grimshaw Chairman Andrew Whalley
The World Architecture Festival (WAF) has shared its seventh keynote of Andrew Whalley, Chairman of Grimshaw from the WAF 2019 stage. WAC releases exclusive lectures each week as part of WAC's media partnership with WAF.
Global firm Grimshaw Architects was founded in 1980 by Nicholas Grimshaw, the architect is behind high-tech architecture, a style emerged in the late 1960s as a style that emphasizes building's construction and structural details.
WAF's 2019 talks & keynotes series bring exclusive talks of outstanding architects to audience who was not able to participate to the festival in 2019.
Following the releases of Elizabeth Diller, Massimiliano Fuksas, Eva Franch, Ben van Berkel, Peter Cook, Petra Blaisse, Mario Cucinella and Kim Herforth Nielsen's keynotes, Whalley discusses selected works of the firm and explains how Grimshaw committed itself to design net zero carbon buildings and operates as a net zero company within its whole services and operations.
Explaining the significance of designing net-zero carbon buildings and their performance within the whole life cycles, the architect said "we actually design net-zero carbon ready buildings and that relies on a relationship with the end user in an operative way."
According to the architect, the notion of sustainability is more than performance of a building.
"Sustainability and the environment are more than just energy and performance, sustainability is actually about well-being," Whalley added.
At the end of his keynote, Whalley was in conversation with Paul Finch, Programme Director of WAF to dive into the office's design approach in detail.
Andrew Whalley delivered his keynote on December 4, 2019 under the theme of "ZERO" in relation to WAF's 2019 theme "Flow". Whalley divided his talk into seven sub-titles; design evolution, aviation, biophilia, inspiration from nature, harnessing the wind, adaptive re-use deep retrofit and net zero carbon.
In his 40-minute keynote, Whalley showed examples of the studio's projects in relation to his sub-titles, explaining that how these buildings aimed to serve as a net zero carbon buildings in different geographical contexts.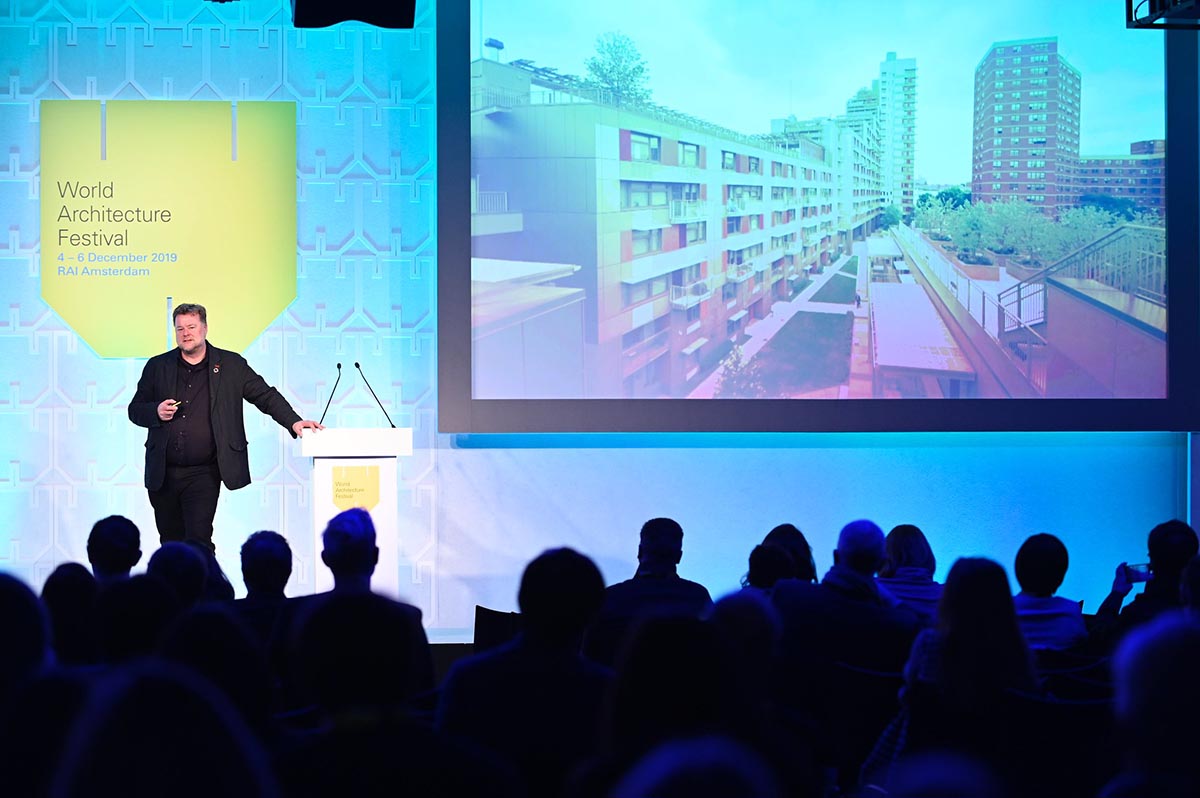 Image © WAF
The buildings included; Via Verde affordable housing in New York by Grimshaw + Dattner Architects, Grimshaw British Pavilion Expo 1992, Seville, Spain, The Eden Project: The Biomes, Cornwall, UK, Southern Cross Station, Melbourne, Australia, Patricia and Phillip Frost Museum of Science, Miami, Florida, Herman Miller Factory, Bath, UK (now Bath School of Art and Design, 2019) and Sustainability Pavilion for the World Expo in Dubai.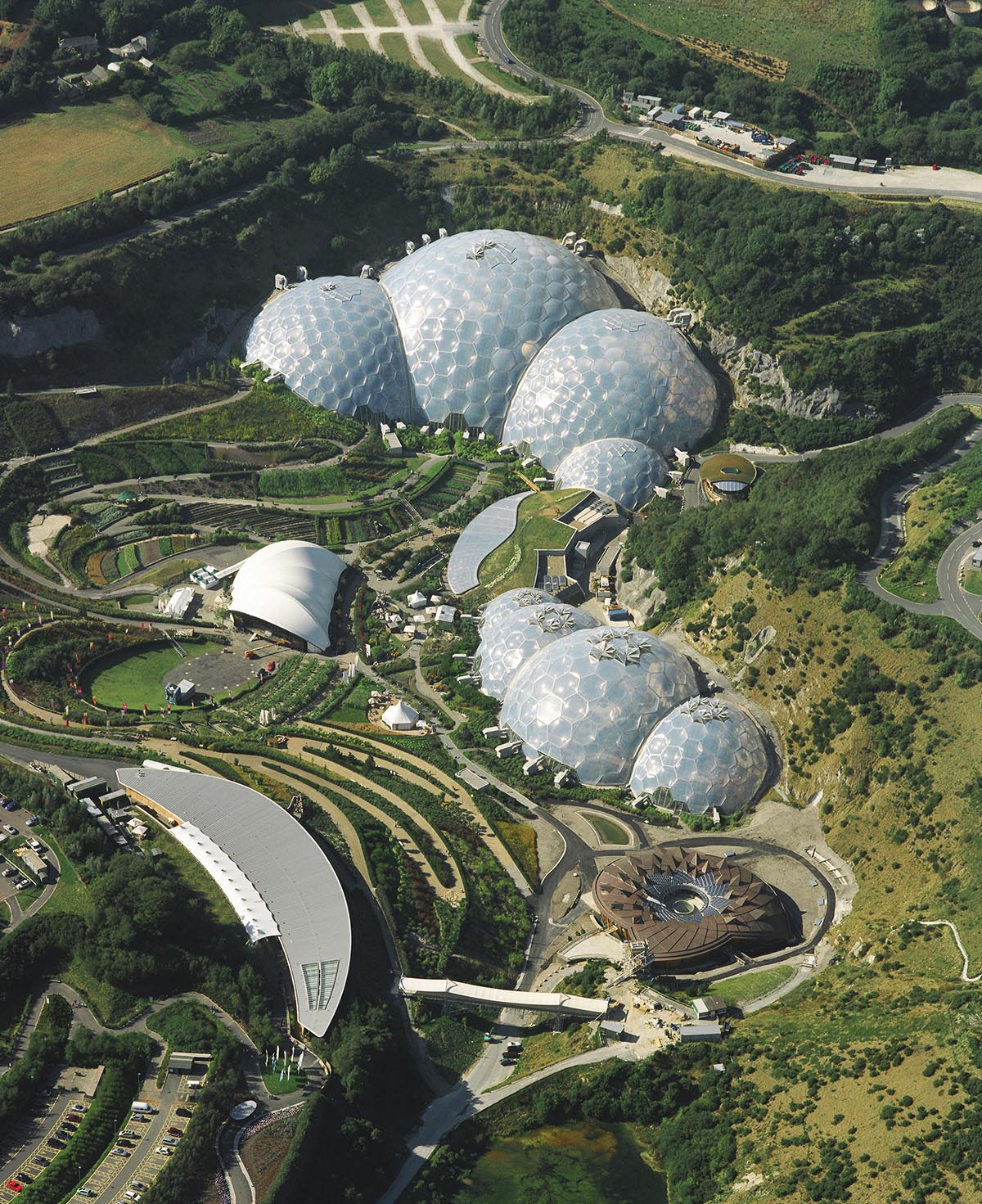 The Eden Project in Cornwall. Image © Sealand Aerial Photography
"The 'flow' of Architecture in the Anthropocene is one of increasing acceleration. An exponential level of development is destroying the range of key planetary characteristics of Earth that enable it to support Homo sapiens and a whole range of other species," stated in Whalley's presentation for WAF.
"The United Nations has categorically stated that the only way forward is a rapid deployment of energy-efficient and low-carbon building designs."
"Along with the inclusion of intelligent operational systems, construction will need to be optimised and natural resources reconsidered. In 1961, President Kennedy committed the US to, within a decade, send a man to the moon and bring him back safely to earth."
Southern Cross Station, Melbourne, Australia. Image courtesy of James Ewing
"It was an unprecedented technical goal bordering on insurmountable. In 2019, over the next decade we need to set ourselves an even more ambitious target for the built environment," added a statement.
"We need to increase the number of high-performance, low carbon buildings by six-fold from the current trend. To reach that milestone, near zero energy, zero emission buildings must become the construction standard globally by 2030."
"Only then will we be able to appropriately limit rising global temperatures. A performative design approach that searches for optimized solutions is the critical and only way forward. This must be our generation's 'moonshot' moment."
British Pavilion Expo 1992, Seville, Spain. Image © Jo Reid & John Peck, Richard Bryant/arcaid.co.uk
Andrew Whalley has been an instrumental part of Grimshaw since the earliest days of the practice and has been Partner in Charge of projects in diverse sectors including education, performing arts, transportation and workplace.
His award-winning projects include the International Terminal at Waterloo, the Eden Project in Cornwall, the redevelopment of the historic Paddington Station in London and the Experimental and Performing Arts Building in Troy, New York.
In 2001 Andrew established the Grimshaw New York studio. He was Partner in Charge of Grimshaw's New York office during its first ten years. During this time Grimshaw in New York was one of eight architectural practices selected for major public projects under Mayor Bloomberg's design excellence program.
Andrew was appointed Deputy Chairman in 2011 and has taken on the role of Chairman as of June 2019. Working with Sir Nicholas Grimshaw; the Chairman's Office is responsible for managing the practice's core design ethos, brand identity and working to build relationships and strengthen the profile of the practice around the world.
Sustainability Pavilion for the World Expo 2020 (recently postponed to 2021) in Dubai. Image courtesy of Grimshaw
The World Architecture Festival, with its sister event World Festival of Interiors (INSIDE), are organized annually and WAF hosts a number of distinguished architects discussing a specific theme each year over the three-day festival, as well as its global awards program. Architects and designers present their projects live to a panel of expert judges.
This year, WAF and INSIDE, which are still planned in typical way despite of the pandemic, will take place between 2-4 December, in Lisbon. But entry deadline for WAF and INSIDE have been extended to 14 August, 2020. Start your entry from here.
World Architecture Community is official Media Partner for this year's festival and offers to its Professional Members 10% discounted tickets over regular festival prices during WAF registration and their entries per project submission! All you have to do is to upgrade your World Architecture Community membership to Professional here or visit your WAC Settings page and send us ([email protected]) an email to get your promo code for your WAF registration!
Top image courtesy of WAF.
> via WAF