50 private geodesic domes guarantee social distancing measures for Yoga activity in Toronto streets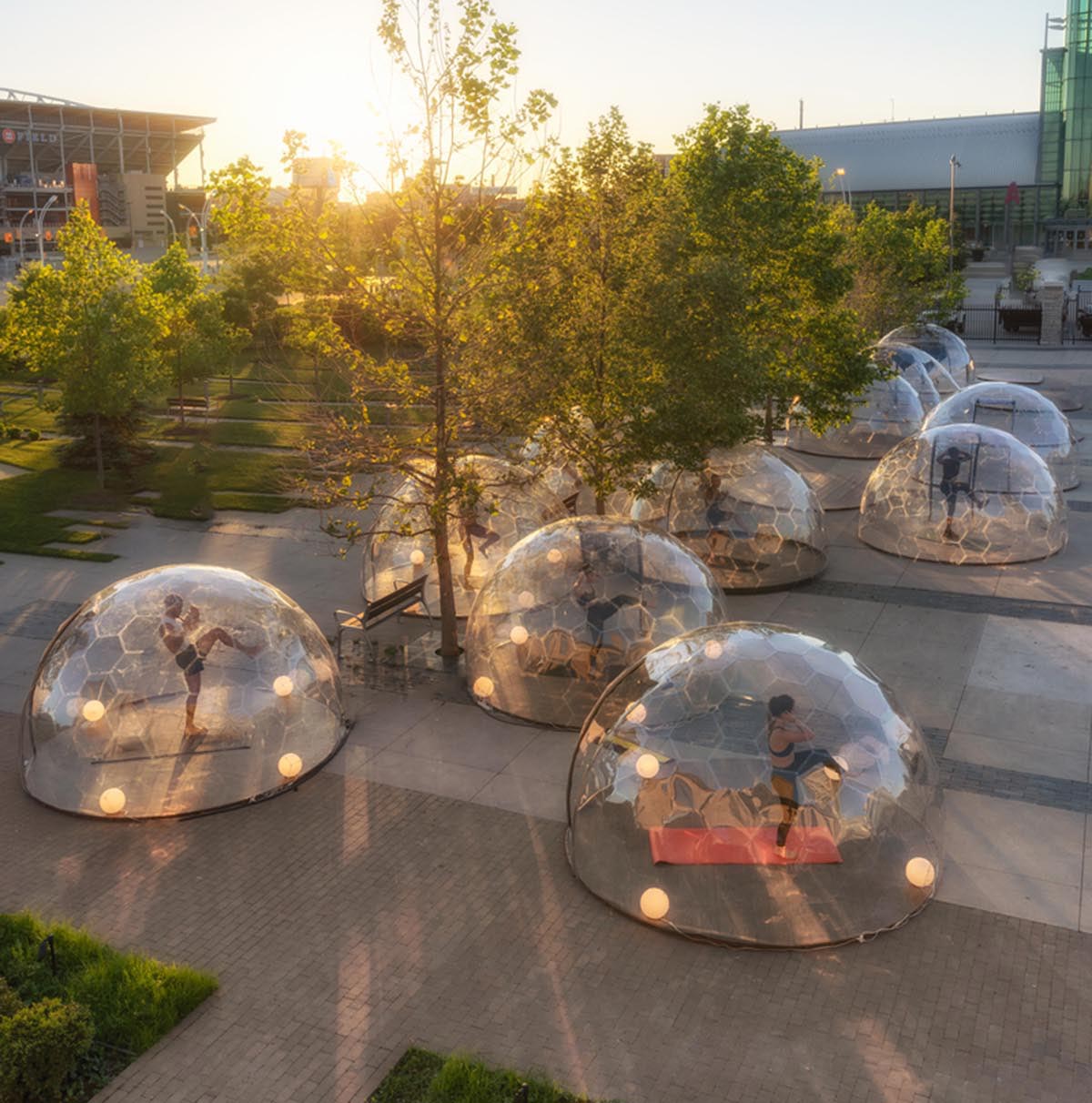 Lmnts Outdoor Studio has scattered 50 outdoor private, clear, frameless, geodesic domes in Toronto's streets, guaranteeing social measuring distances for yoga activity. Innovative ideas could never stop body activities in the outdoors for people's health and daily work out routines.
With this initiative, the studio has partnered with 6 local studios and their instructors as well as special guests to offer a series of Hot Yoga & Fitness classes to health and wellness enthusiasts all across the GTA starting from June 21 until July 31, 2020.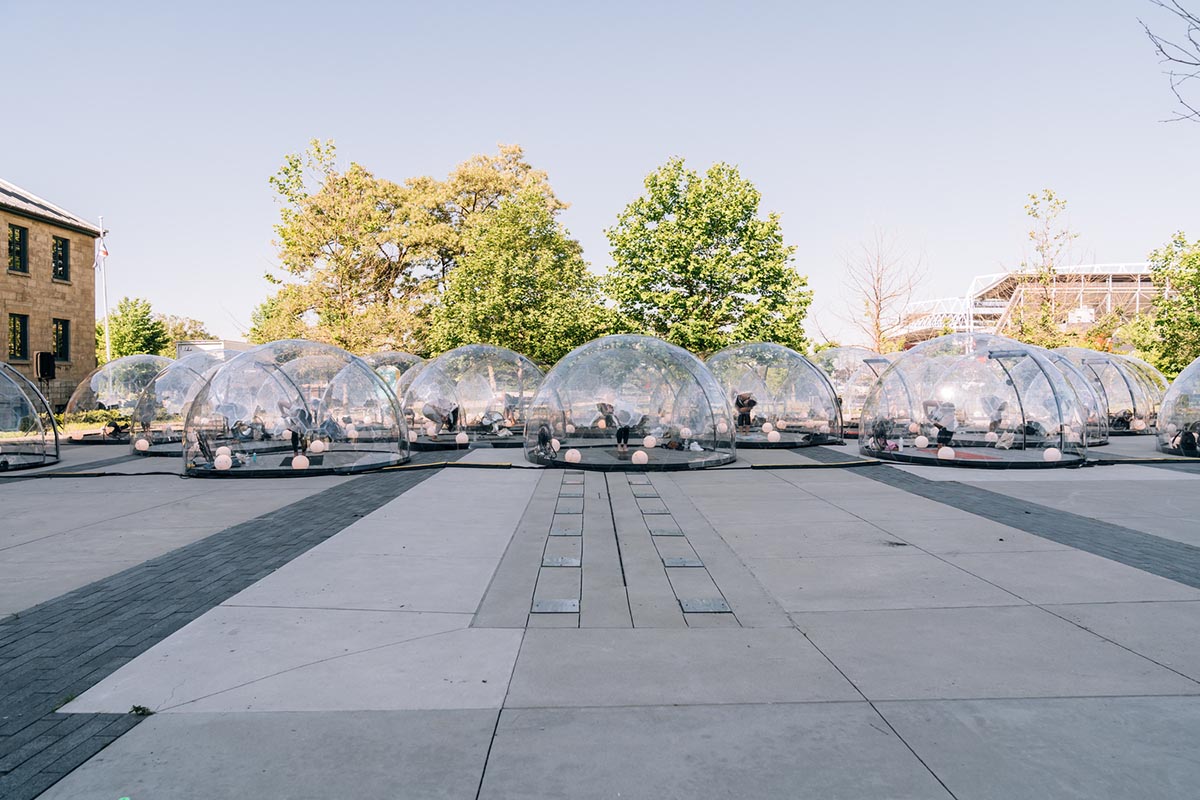 Each dome, standing 7 ft tall (2,13 meter) and 12 ft (3,65 meter) wide, is dedicated to each individual and creates its own individual space filled with small lights. During this period, the event takes place at the Stanley Barracks (North Plaza Patio), located at Hotel X Toronto.
"We here at lmnts Outdoor Studio pride ourselves on providing our community with a safe and responsible fitness experience," said Lmnts Outdoor Studio in a press release.
The studio aimed to generate a safe outdoor workout environment for people who want to continue their daily routine with yoga.
The interior temperature of each dome exceeds 100 degrees Fahrenheit, and thanks to this, this process will create the heated environment required for their hot yoga and fitness workouts.
The Lmnts Outdoor Studio stated that each and every dome offers participants (i.e. ONE individual per dome) with over 110 square feet (10,21 square meters) of private, heated space.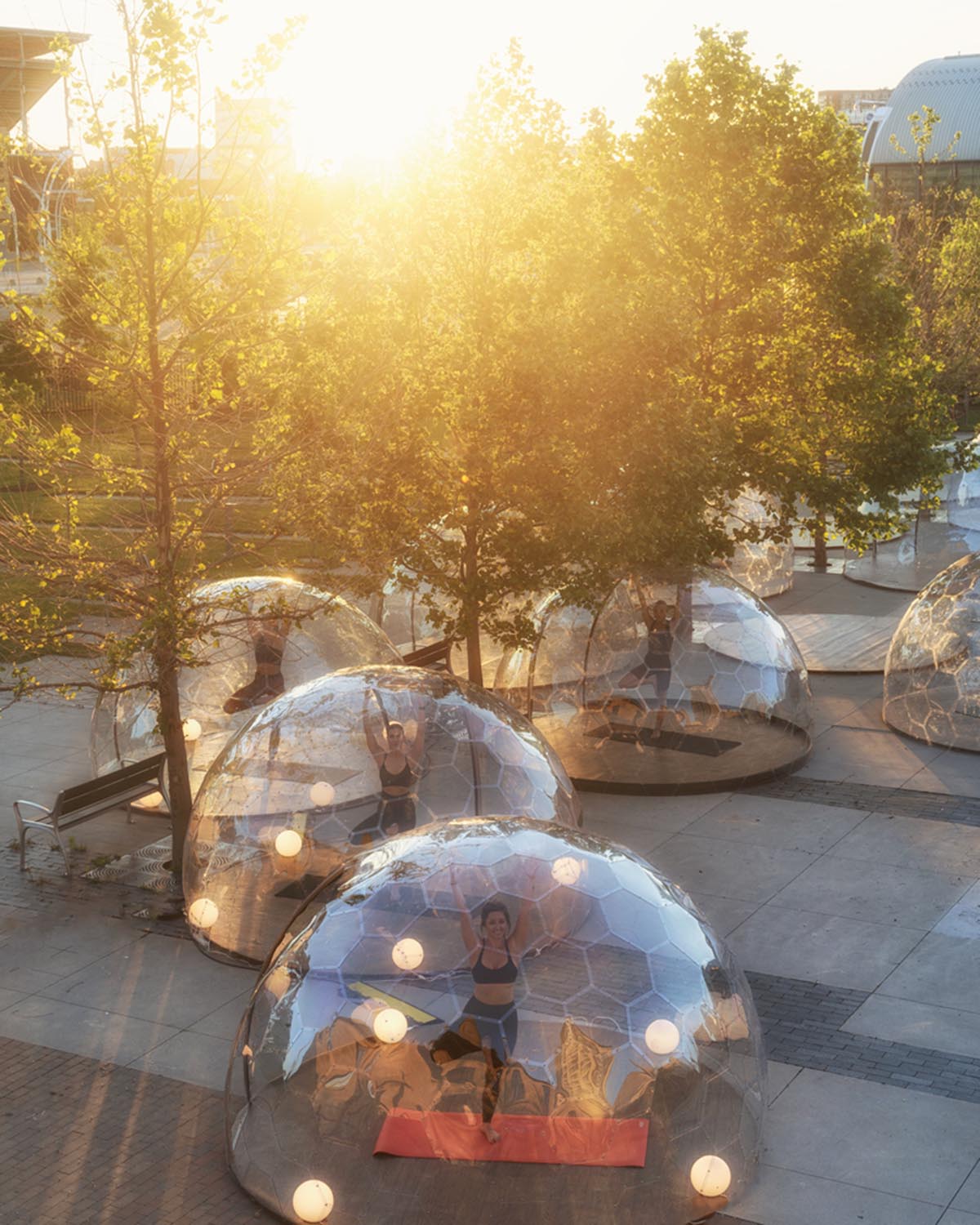 "Dome temperatures have a level of adjustments using cooling fans," added the studio. "Do be advised that the dome is designed to produce a greenhouse effect."
"lmnts Outdoor Studio believes in taking care of your mental health, especially in light of the stress, fear and uncertainty brought on by the COVID-19 pandemic."
"While the abrupt closure of all non-essential businesses has affected individuals nationwide, it is still unknown as to when the official reopening of fitness facilities will commence," they added.
"As a result, we here at lmnts Outdoor Studio have created a safe and innovative way to practice mindfulness while also incorporating physical activity. Due to the unique nature of this event we are able to operate responsibly during COVID-19."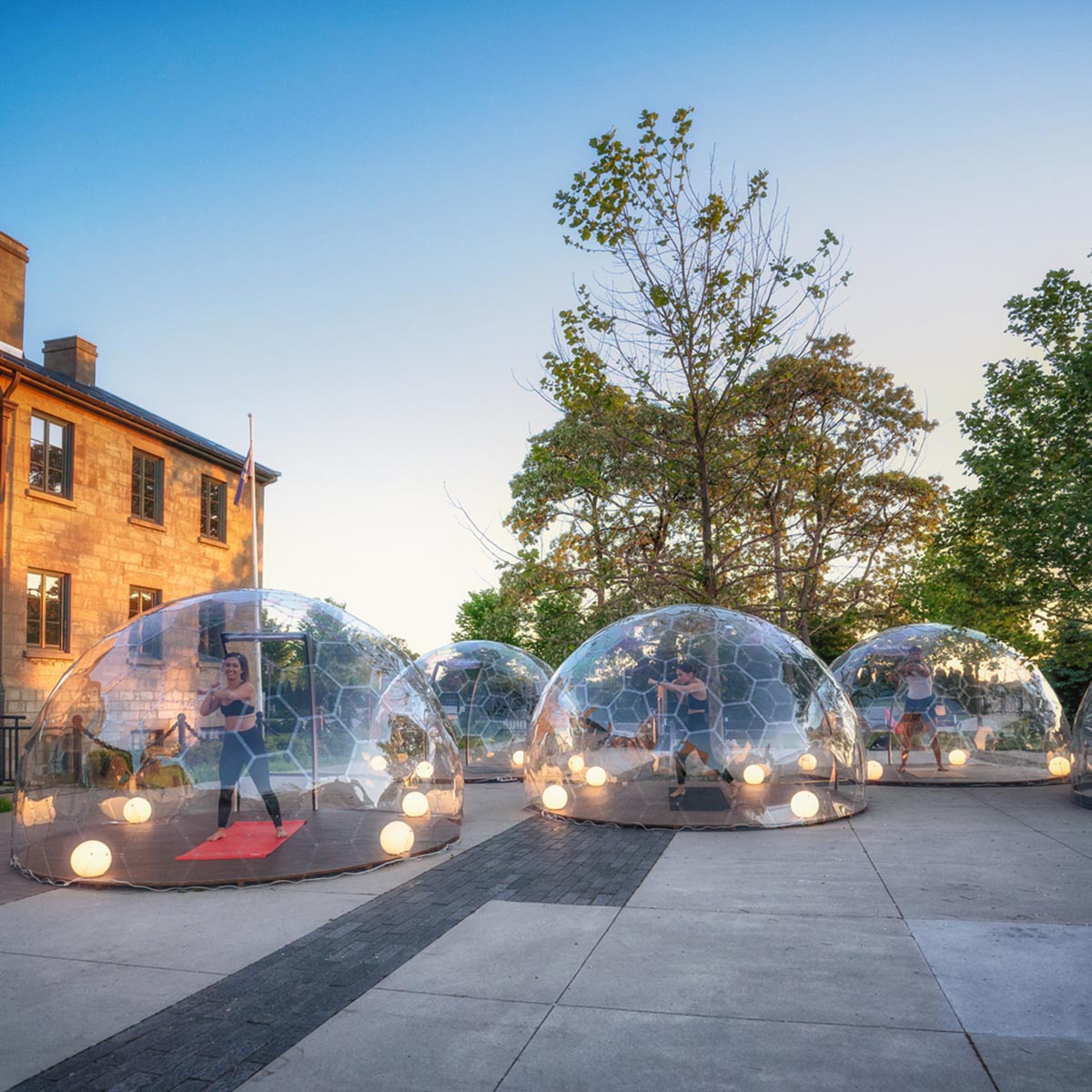 The classes are held throughout the day from 8:00 a.m. to 8:30 p.m. and are available in four different packages. The packages are called earth, water, air and fire and range from three classes starting at $99 and go up to 20 classes for a total of $480.
Participants are able to bring their own mats, water bottles and towels, or they can purchase the necessary items on-site. Take a look at classes and their prices here.
"By partnering with some of Toronto's most well-known hot yoga and fitness studios, lmnts provides consumers with a creative way to stay active, mindful and healthy with their favourite instructors," said lmnts in a press release.
"lmnts offers health and wellness enthusiasts a responsible way of attending regular fitness classes, during a challenging time where attending regular group fitness classes are not possible due to restrictions in place in the wake of COVID-19."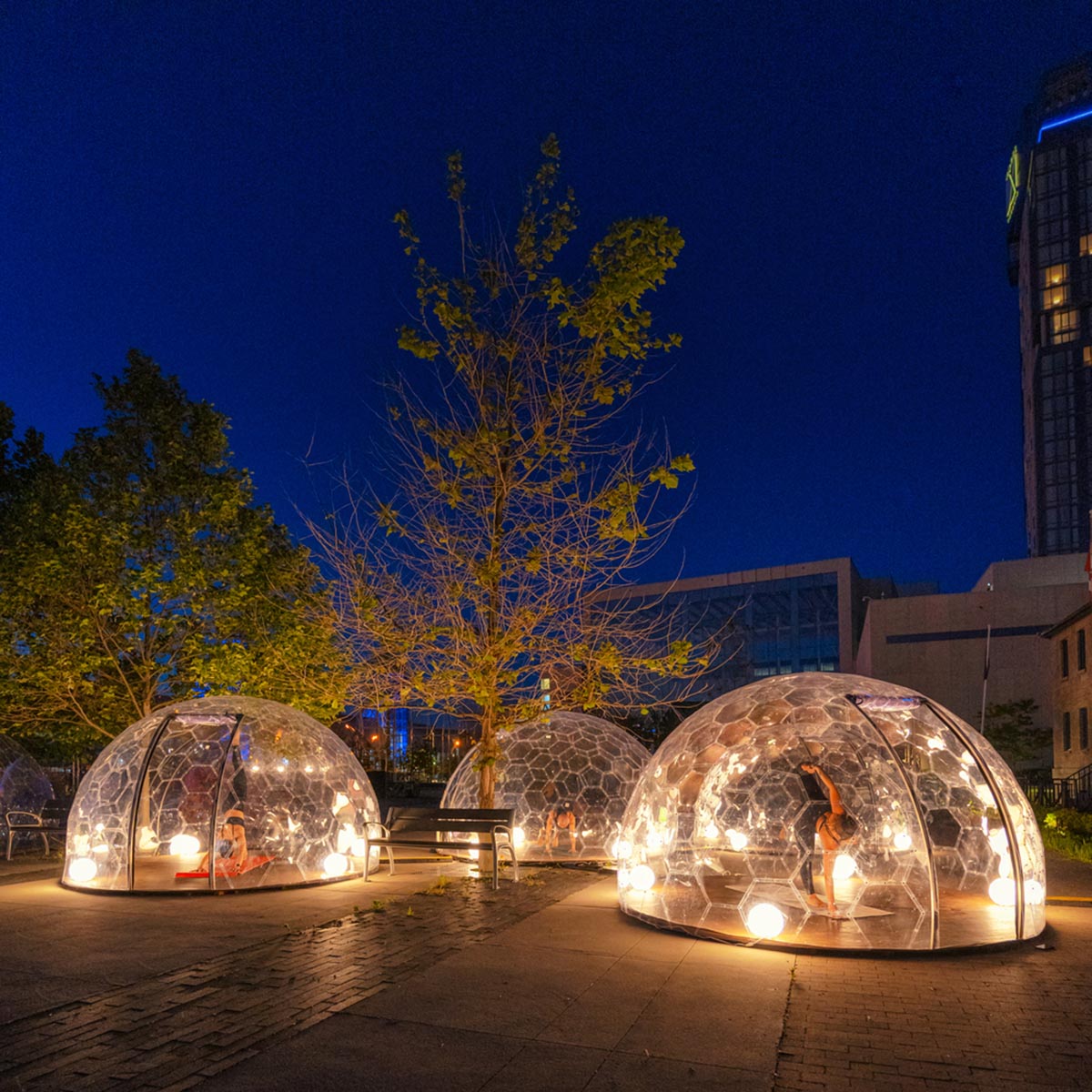 All images courtesy of Lmnts Outdoor Studio
> via Lmnts Outdoor Studio