Watch Exclusive Keynote Of Peter Cook At WAF 2019
The World Architecture Festival (WAF) has shared its fifth keynote of Sir Peter Cook, British architect, Professor, writer and founder of Archigram, from the WAF 2019 stage. WAC releases these exclusive lectures each week as part of WAC's media partnership with WAF.
WAF's 2019 talks & keynotes series bring exclusive talks of outstanding architects to audience who was not able to participate to the festival in 2019.
Following the releases of Elizabeth Diller, Massimiliano Fuksas, Eva Franch and Ben van Berkel's keynotes, British architect delivers a discussion of "lost souls, forgotten souls, and some new kids on the block… including a sideways glance at the significance of being in the irritatingly right place or the creatively wrong place at the time."
In his 30-minute lecture, titled Coming Up for Air, Cook makes his presentation under different sub-titles, such as Simmering people still around, The impact of drawing, In full flight, etc., giving dozens of examples and analyses on various architecture trends & styles over the architects' distinctive projects across the world.
In his presentation, Cook focuses on the works of different architects to reveal how the boundaries of architecture are tested and experimented in the way of thinking.
In Cook's list, those names are Rafael Moneo, Enric Miralles, Aldo Rossi, Francisco Javier Sáenz de Oiza, Pancho Guedes, Kathryn Findlay, Will Alsop, Zvi Hecker, Wolfgang Tschapeller, Antoine Predock, Masaharu Takasaki.
The British architect also named some architects, saying that they are still in full flight in architecture, including Pier Vittorio Aurelli, Mark Foster Gage, John Wardle, Terunobu Fujimori, Izaskun Chinchilla, Andres Jacque, Gaetano Pesce and Ma Yansong.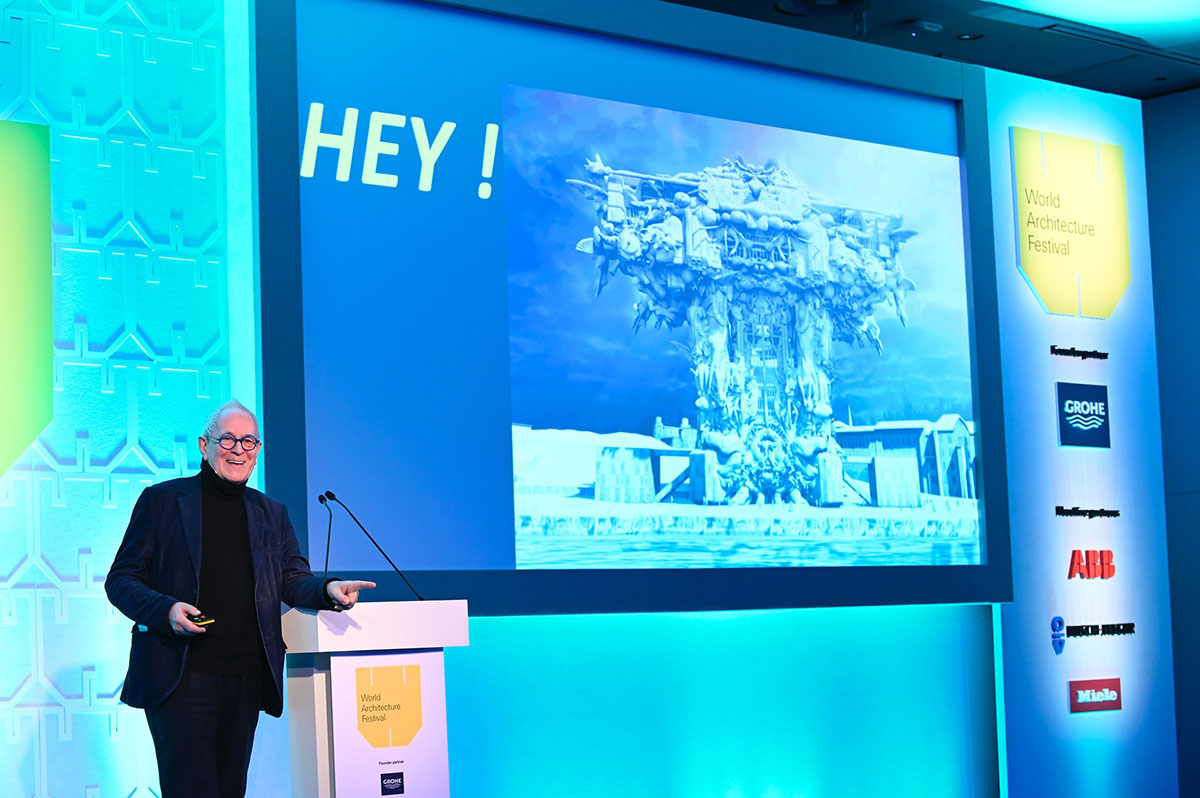 Peter Cook. Image courtesy of WAF
Cook, 83, is one of founders of an avant-garde and neo-futurist architecture group of Archigram in the 1960s, which created a series of transformative radical proposals. Archigram members composed of Cook, Crompton, Michael Webb, David Greene, Warren Chalk and Ron Herron.
The futuristic movement is best known with The Plug-In City, combining society and technology as a "workable" and a good hybrid.
Peter Cook. Image courtesy of WAF
Sir Peter Cook founded CRAB Studio - literally known as Cook-Robotham Architectural Bureau - with Gavin Robotham in 2006 in London.
CRAB Studio recently completed the Drawing Studio, Arts University Bournemouth, England last year. The Drawing Studio was opened to the public with the late Zaha Hadid, just before her unexpected death on March 31, 2016.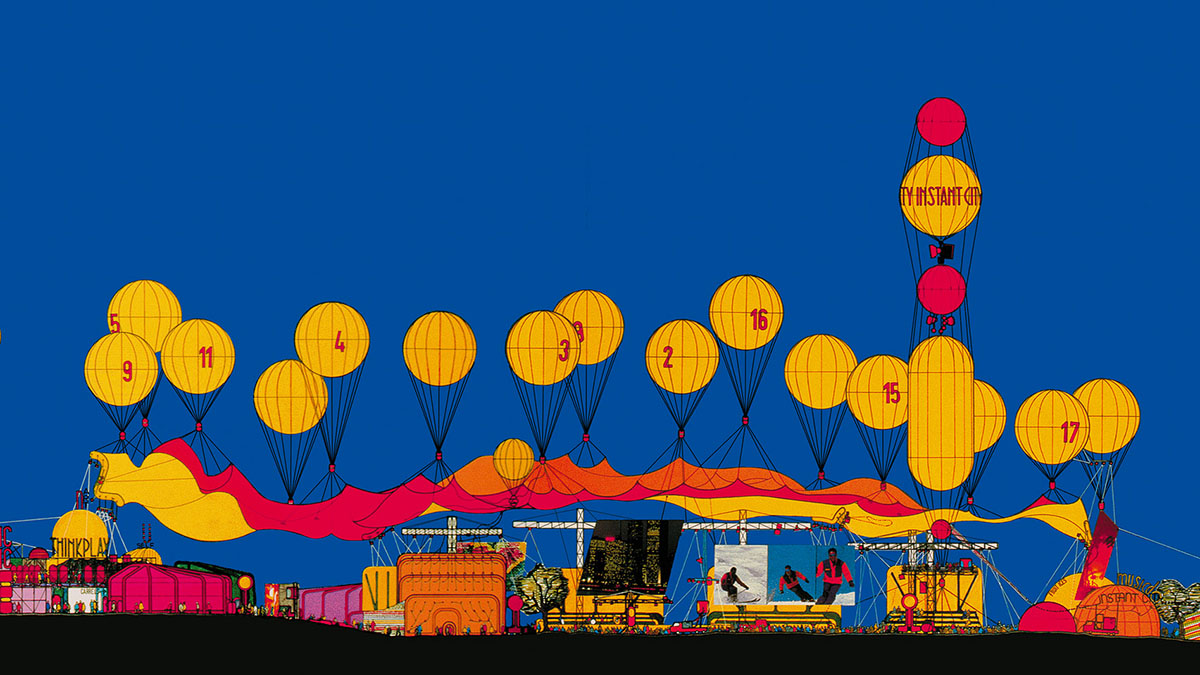 Archigram's Instant City aimed to develop the idea of a "traveling metropolis," a package that temporarily infiltrates a community. Image © Archigram Archives
A founder of the Archigram Group who were jointly awarded the Royal Gold Medal of the RIBA in 2004. In 2007 he received a Knighthood for his services to architecture, in 2011 he was granted an honorary Doctorate of Technology by the University of Lund. He is also a Commander of the Order of Arts and Letters of France and a member of the Royal Academy of Arts.
'A Walking City' aimed to connect with other cities to form larger "walking metropolises" and they could be disperse to create concentrated power when necessary. Image © Deutsches Architekturmuseum
His recent books are 'Drawing – the motive force of Architecture (Wiley) 'Peter Cook Architecture Workbook' (Wiley) and a full catalogue of his work will be published by UCL press.
Former Director of the Institute of Contemporary Arts and the Bartlett, he is Emeritus Professor at University College London, The Royal Academy of Arts and the Frankfurt Staedelschule. He was Kenzo Tange Visiting Professor at Harvard University's Graduate School of Design in 2015.
An extended version of Instant City for towns in England. Image © Archigram Archives
The World Architecture Festival, with its sister event World Festival of Interiors (INSIDE), are organized annually and WAF hosts a number of distinguished architects discussing a specific theme each year over the three-day festival, as well as its global awards program. Architects and designers present their projects live to a panel of expert judges.
This year, WAF and INSIDE, which are still planned in typical way despite of the pandemic, will take place between 2-4 December, in Lisbon. But entry deadline for WAF and INSIDE have been extended to 14 August, 2020. Start your entry from here.
World Architecture Community is official Media Partner for this year's festival and offers to its Professional Members 10% discounted tickets over regular festival prices during WAF registration and their entries per project submission! All you have to do is to upgrade your World Architecture Community membership to Professional here or visit your WAC Settings page and send us ([email protected]) an email to get your promo code for your WAF registration!
> via WAF