WAC's top 15 floor plans of 2022
As part of our annual review for 2022, we have compiled 15 striking architectural floor plans that are derived from circles, stars, triangles, rectangles, curves, polyhedrons.
In our list, a star-shaped floor plan that creates glasshouse by Heatherwick Studio, a curved-formed floor plan that makes up a house and restaurant by Junya Ishigami+Associates, a large triangular floor plan with rounded edges that create a botanical garden by DARP (De Arquitectura y Paisaje) show us how to go beyond conventional geometries in architecture.
Here're 15 most eye-catching floor plans of 2022 (in no particular order):
---
Image courtesy of noa* network of architecture
Upside-down wellness center by noa* network of architecture
An upside-down wellness center was designed by noa* network of architecture defyies gravity law in South Tyrol, Italy. In the right side in the floor plan, the wellness center is situated diagonally in a square layout.
Comprised of small-scale volumes and pitched roofs, noa* said that "it was not an easy task for a building that had already found its symbol in the swimming pool, yet this served as inspiration for the new project."
Read more about upside-down wellness center.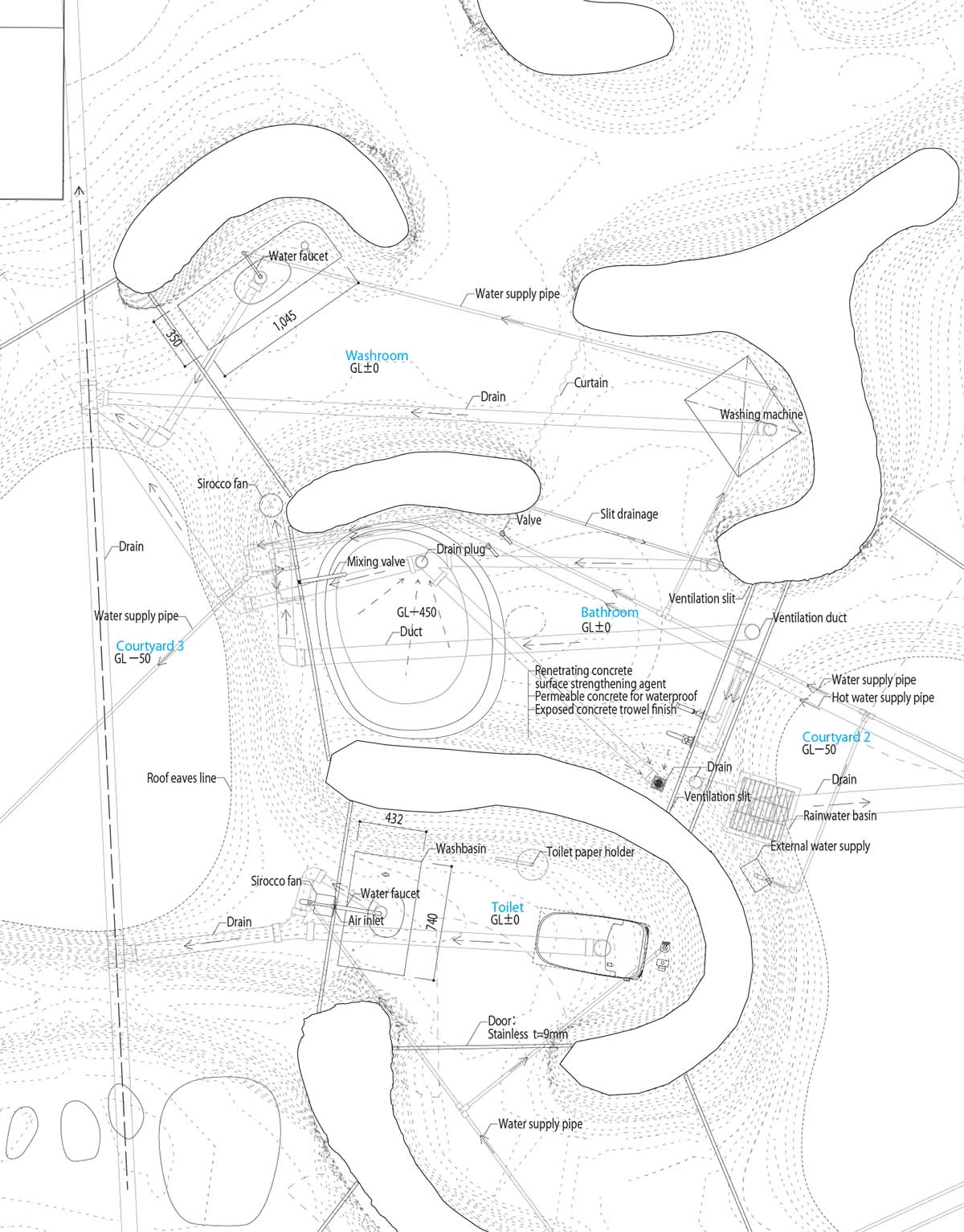 Image courtesy of Junya Ishigami + Associates
Curvy house and restaurant by Junya Ishigami+Associates
A series of large holes are shaped through curvy earth formwork reinforced concrete structures to create interior spaces in Yamaguchi Prefecture in Japan.
Designed by Japanese architecture practice Junya Ishigami+Associates, the floor plan of house and restaurant completely destroys the feeling of inside and outside, while the space itself guides the user and creates surprising spaces.
Read more about curvy house and restaurant.
Image © Salon Alper Derinbogaz
Irregularly-formed summer villa by Salon Alper Derinbogaz
Designed by Istanbul and Berlin-based architecture practice Salon Alper Derinbogaz, a summer villa features an irregular layout that mimics topography lines of the land on a limestone hill in Izmir, Turkey.
Prioritizing vistas towards the land, angular reinforced concrete slabs make up the mass' geometry, while acting as a continuation of the existing sharp topography. None of floor plan repeats the same geometry.
Read more about irregularly-formed summer villa.
Image courtesy of Inrestudio
Dodecagonal house and office by Inrestudio
Created on a dodecagonal floor plan, the Kaleidoscope house and office, designed by Vietnamese architecture practice Inrestudio, is created by using trinagular modules that form dwellings and office spaces.
Located in in Quang Binh, Vietnam, the floor plans creates a circular layout with a central space for common spaces. The building has also a distinguished roof, made of a folding concrete with large openings and it takes cues from a "nón lá", which is known for a traditional farmer's hat in Vietnam.
Read more about dodecagonal house and office.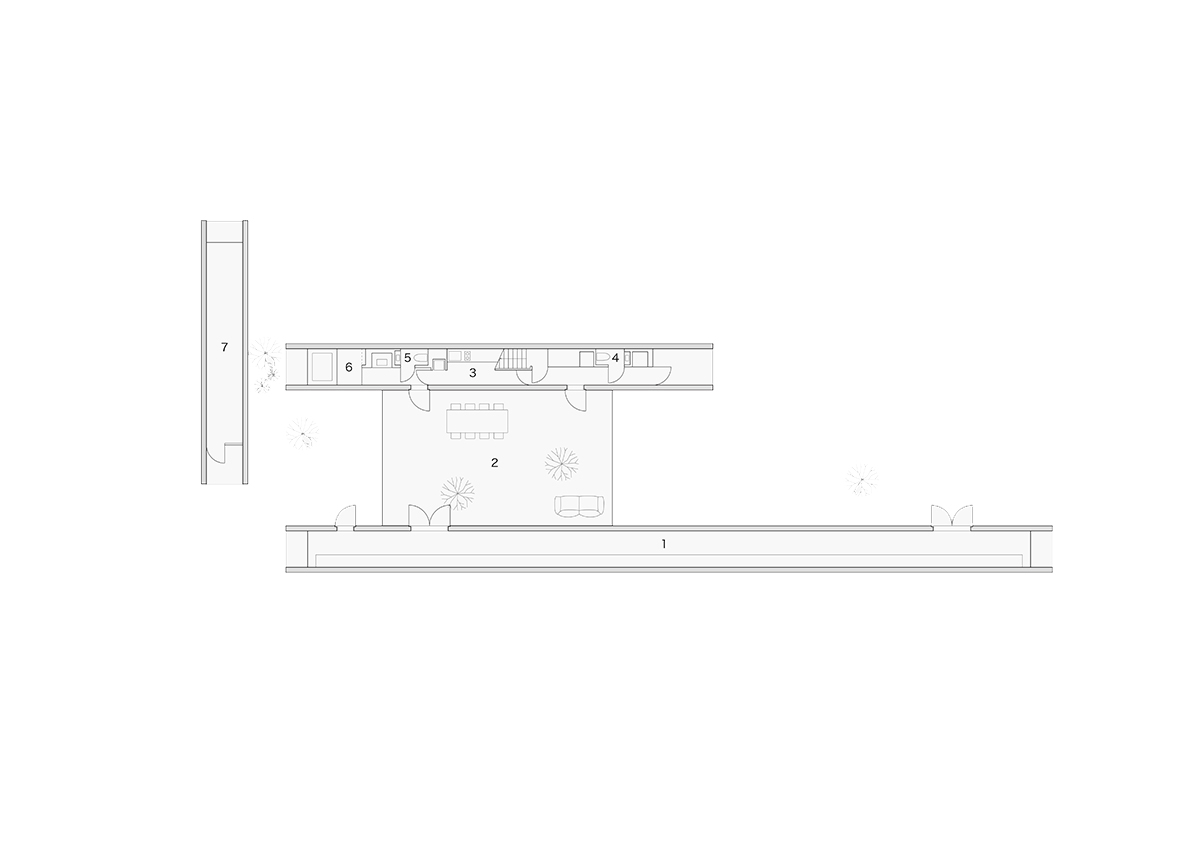 Image © Nendo
Connected rectangles by Nendo
Overlapping and connected rectangles are used to create an archive and a guesthouse in Miyota-machi, Nagano Prefecture of Japan.
Designed by Japanese design studio Nendo, a tunnel-like structure - named Culvert Guesthouse - is made of four concrete tubes are stacked on top of each other and provide a new space for Nendo's furniture, products, and artwork.
Read more about connected rectangles creating archive and a guesthouse.
Image © TETRO Arquitetura
Zig-zagged house by TETRO Arquitetura
Combining rectangles, squares and trapezoids, TETRO Arquitetura has created a zig-zagged house raised on steel columns to make the house appear like floating on the air in the Brazilian lush forest.
Each volume has different function on floor plan to provide different vistas towards the forest. Described as "a white flower" in the midst of nature contrasting with the forest, the house "is elevated 15 meters from the ground to both leave a minimum footprint on the nature and drive the act of looking upwards," according to the studio.
Read more about zig-zagged house.
Image © Heatherwick Studio
Star-shaped glasshouse by Heatherwick Studio
A floor plan evoking stars has a kinetic mechanism that gives a sculptural appearance to glasshouse designed by British design firm Heatherwick Studio. While the wings of the star create its own mechanism, its interior is completely used as a garden.
Called Glasshouse, the project, created in collaboraton with The Woolbeding Charity and the National Trust on the historic Woolbeding Gardens, was conceived as an unfolding structure. Through its dynamism and flexibility, the studio aimed to create a new focal point to a new garden that emphasizes how much the ancient Silk Route has influenced English gardens of today.
Read more about star-shaped glasshouse.
Image © DARP
Amorphous triangles by DARP (De Arquitectura y Paisaje)
Six self-supporting, amorphous triangles come together to form a glazed botanic garden designed by DARP (De Arquitectura y Paisaje) in Bogotá, Colombia.
Named Tropicario Bogotá Botanic Garden, each glazed volume has different functions, which are named as Humid Forest, Dry Forest, Special Collections, Useful Plants, Superpáramos and Biodiversity. The floor plans show how functions can be distributed richly and openly inside, while providing a strong visual backdrop.
Read more about amorphous triangles.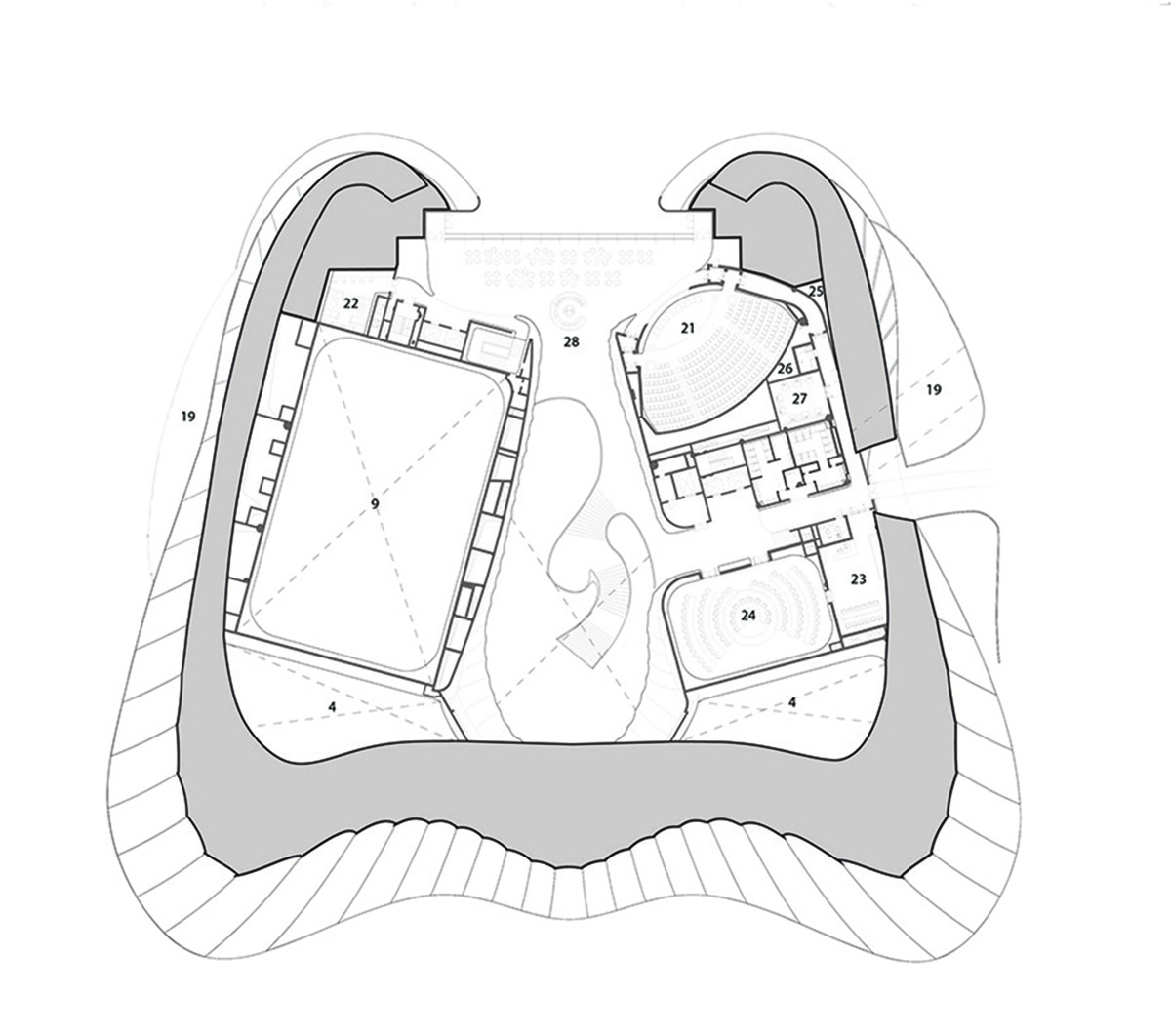 Image © MAD
Tent-like congress center by MAD
Based on function within a function principle, the floor plan of a congress center by Chinese architecture firm MAD hides all program elements within different geometries that challenge to the outer skin of the building.
Named Yabuli Entrepreneurs' Congress Center, a tent-like building drawn a curved-form that looks like "a giant white tent" beneath snow mountains in Yabuli.
Read more about tent-like congress center.
Image © O-office Architects
Narrow seaside chapel by O-office Architects
Drawn on a vertical and narrow layout, the floor plan of a seaside chapel is expanding as it is getting more closer to the sea. Designed by Chinese architecture studio O-office Architects, the shape of floor plan marks a statement not only in two dimension, but also in three dimensional form.
Called Chapel of the Jinting Bay, the chapel, located in Shanwei, creates a curvy structure starting from the ground and takes its entrance and is directed towards the sea with a beautiful and smooth transition.
Read more about narrow seaside chapel.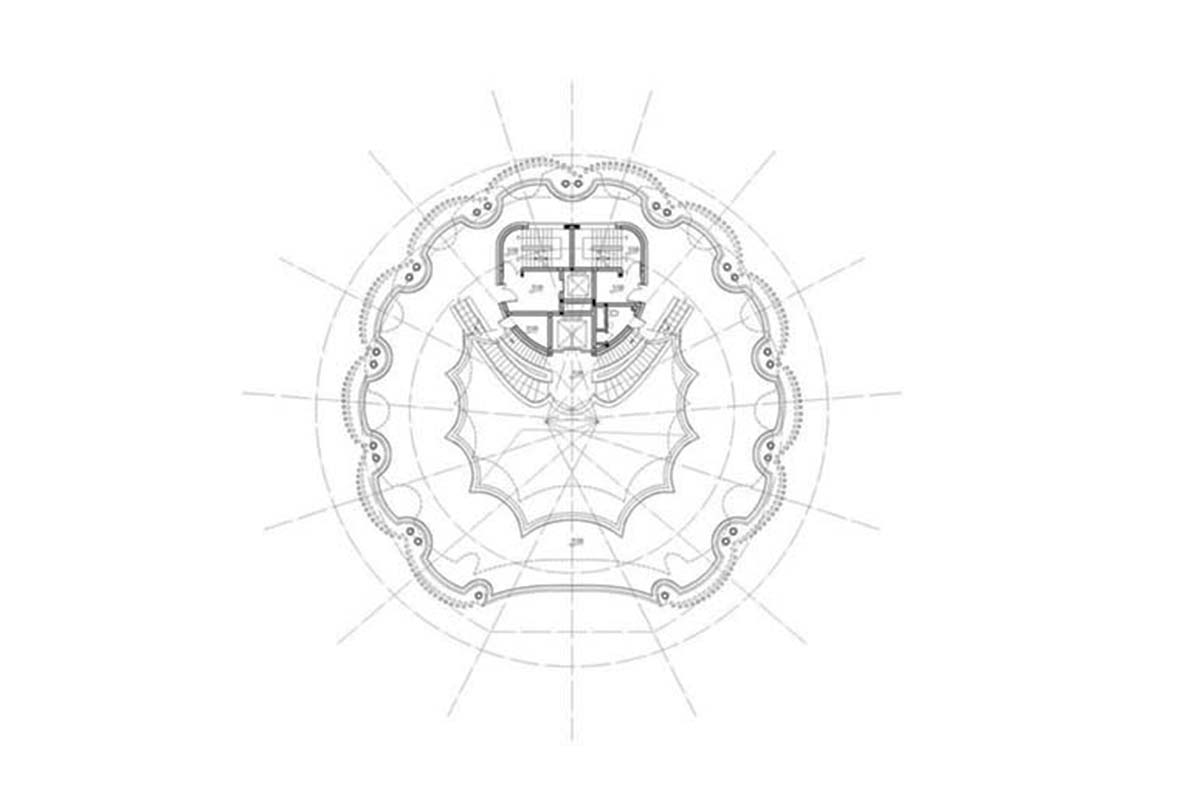 Image © UDG. Atelier Alpha
Knitted-like tower by UDG. Atelier Alpha
UDG. Atelier Alpha has created a knitted-like façade that evokes the pedals of the hibiscus flower, a city flower of Chengdu, China. Named Panda Tower, the outer profile of the tower was created by using a software program based on mathematically-controlled data.
The floor plan of general layout is in circular form, the upper level floor plans have curved lines where the details of the façade can be perceived. Built as a cultural landmark, it incorporates observation platform, exhibition spaces, and provides a space for sightseeing.
Read more about knitted-like tower.
Image © Zaha Hadid Architects
Sinuous-shaped HQ by Zaha Hadid Architects
A new headquarters of the BEEAH Group in Sharjah is drawn on sinuous and flowing lines that are common features of projects designed by Zaha Hadid Architects.
The floor plans, based on deformed geometries, take cues from the land's deserted surrounding landscape which is informed by prevailing winds into concave sand dunes. Bee'ah Headquarters' functions are scattered within sand-duned shaped volumes that offer a continues geometry and guide people's movement.
Read more about sinuous-shaped HQ.
Image © CEBRA
Perfect circles for a visitor center by CEBRA
Elegently nestled into the hills of Skamlingsbanken in Denmark, the floor plans of a visitor center by Danish architecture practice CEBRA create perfect circles and curves in the landscape.
Named Skamlingsbanken Visitor Center, the building is a combination of circles and half-shaped circles, while blob-like shapes complement other elements to create flowing spaces.
Read more about visitor center by CEBRA.
Image © Ateljé Sotamaa
Carved-out polyhedron by Ateljé Sotamaa
Helsinki-based architecture and design studio Ateljé Sotamaa has carved out a polyhedron to create a cabin from rugged woods of Kontiolahti region in Finland.
Called Meteorite, the cabin, located in seemingly remote Kontiolahti in eastern Finland, is drawn on a polyhedron-shaped geometry that creates multiple surfaces. Shining like dark jewel from afar, the spaces are placed within these carved-out spaces. "On the inside it represents a completely new 3-dimensional open-concept way of organizing living space," said Ateljé Sotamaa co-founder Kivi Sotamaa.
Read more about carved-out polyhedronal cabin.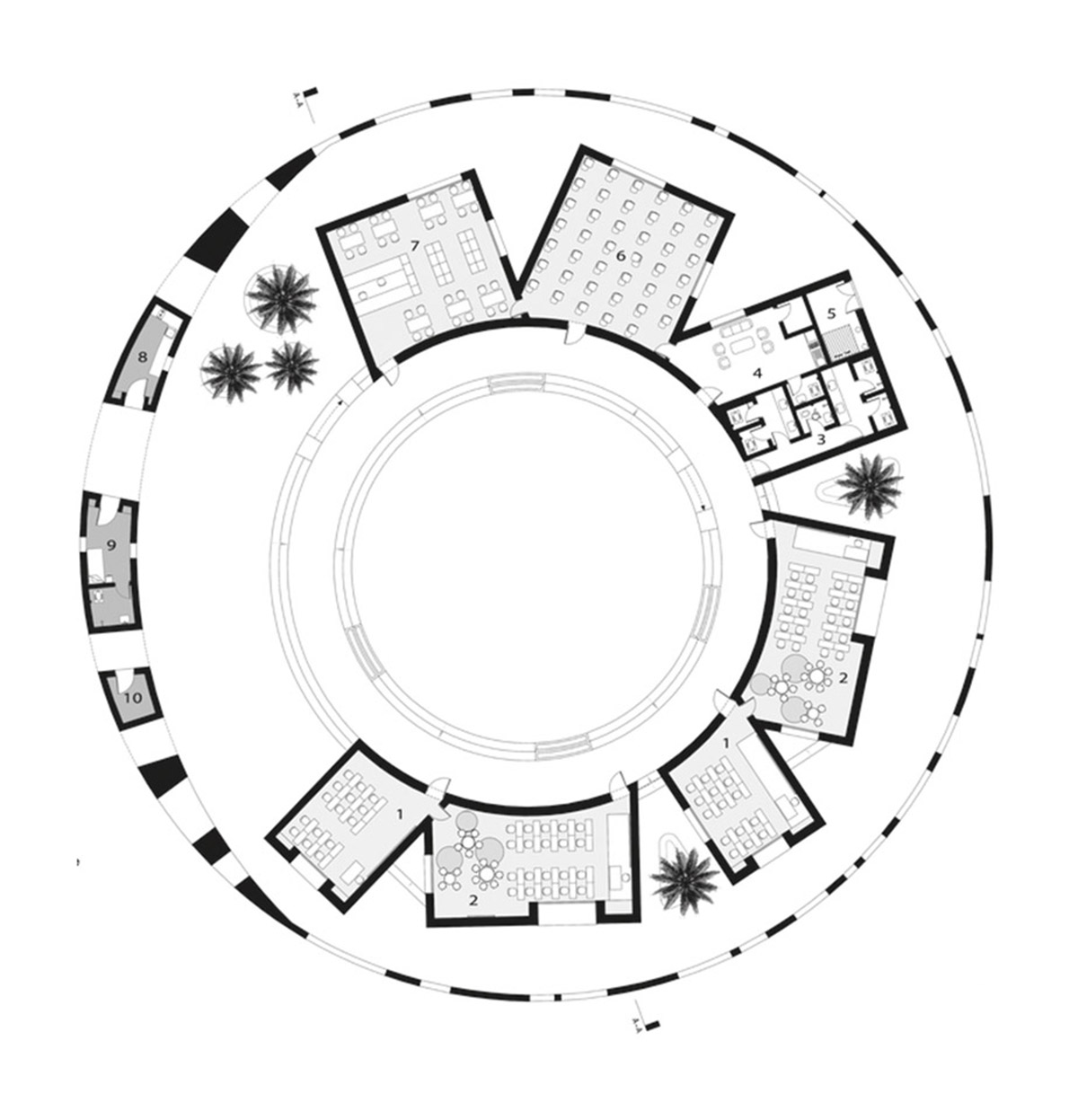 Image © Daaz Office
Castle-like wall and plug-in volumes by Daaz Office
A castle-like wall wraps plug-in volumes to form inhabitable spaces for an elementary school in Seyyed Bar village, Iran. Designed by Iranian architecture practice Daaz Office, the floor plan, based on a defined geometry, consists of circles and squares that are attached to a secondary wall inside the main wall.
Named Jadgal Elementary School, while bulbous holes are opened onto the main wall, the seven-piece classrooms are plugged-in the rotating wall. The main wall has thickness aloowing children to sit, relax and play.
Read more about Jadgal Elementary School.