Heatherwick Studio designs kinetic crown-like Glasshouse for National Trust in West Sussex
British practice Heatherwick Studio has designed a kinetic and sculptural Glasshouse in collaboration with The Woolbeding Charity and the National Trust on the historic Woolbeding Gardens, part of an historic estate in West Sussex in the United Kingdom.
Named Glasshouse, the 141-square-metre space is conceived as an unfolding structure to be a new focal point to a new garden that emphasizes how much the ancient Silk Route has influenced English gardens of today.
Image © Hufton + Crow
Thanks to its kinetic mechanism, the Glasshouse features ten steel "sepals" with glass and aluminium façade and its take four minutes to open and to showcase an immense collection of subtropical species.
At first sight, the structure starts like a jewel, and once it opens, it resembles a crown.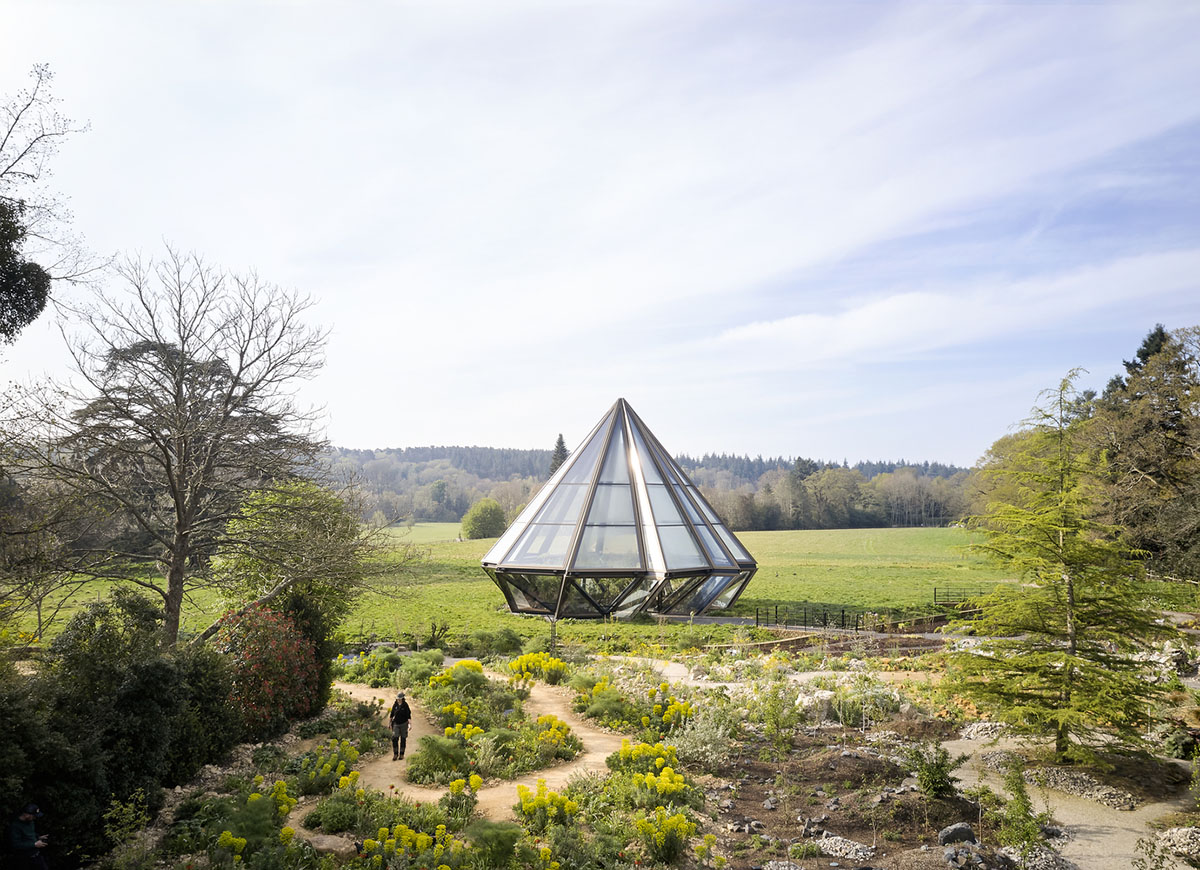 Image © Hufton + Crow
To create this sculptural object, Heatherwick Studio draws inspiration from the spirit of Victorian ornamental terrariums.
The studio combines aesthetic features with cutting-edge engineering to be able to provide a functional and protective shelter, while at the same time offering a beguiling, decorative element to the new Silk Route Garden.
Image © Raquel Diniz
"This is a place and a project that literally unfolds"
"This is a place and a project that literally unfolds," said Thomas Heatherwick, founder of Heatherwick Studio.
"You step through this bewitchingly beautiful garden and discover an object that starts like a jewel and ends like a crown, as the Glasshouse slowly unfurls," he continued.
"I think it also speaks of our need to keep creating amazing pasts."
"Weaving contemporary inventions into the fabric of historic settings and having the confidence to let each one speak to the other," Heatherwick added.
Image © Raquel Diniz
The Silk Route Garden surrounding the Glasshouse takes visitors on a 12-step journey through a landscape influenced by the ancient trading route between Asia and Europe where commodities such as the eponymous silk were exchanged and along which many plants species were brought back to Britain for the first time, such as rosemary, lavender and fennel.
Visitors follow a winding path to move through over 300 species and twelve distinct regions of the Silk Road.
Image © Hufton + Crow
Starting from Mediterranean evergreens, visitors can enjoy a rare variety of Mullein (Verbascum sp.) grown from a seed brought here by a friend of Woolbeding Gardens, through to the richly scented Gallica roses, now so popular in England but originally introduced to Europe by traders from Persia.
Sheltering an impressive, rare specimen of an Aralia Vietnamensis, the Glasshouse provides shade for a collection of tender ferns growing alongside umbrella trees, magnolias and bananas.
Image © Hufton + Crow
"Glasshouse represents the cutting edge of technical design and engineering"
"This Heatherwick Glasshouse represents the cutting edge of technical design and engineering but it's also a restoration of something that is part of Woolbeding's history," said Mark Woodruff of The Woolbeding Charity.
"It stands as a crowning achievement in contemporary design, to house the flora of sub-tropical south-west China at the end of a path retracing the steps along the Silk Route, from temperate Europe and across mountains, arid lands and high pastures that brought the plants from their native habitat in Asia to come to define much of the richness and glory of gardening in England."
"Joining the William Pye water sculpture and Philip Jebb's noble neo-classical folly, both monuments to the fallen great trees that they succeeded, the Heatherwick Glasshouse and new Silk Route Garden imbue Woolbeding with even more delight, beauty and pleasure for all who come to what Disraeli called 'the loveliest valley in the land'," Woodruff added.
Image © Hufton + Crow
On warm days, the Glasshouse opens its "sepals" by using a hydraulic mechanism to allow the plants access to direct sunshine and ventilation.
In colder weather, the structure remains closed, providing shelter to a collection of subtropical species.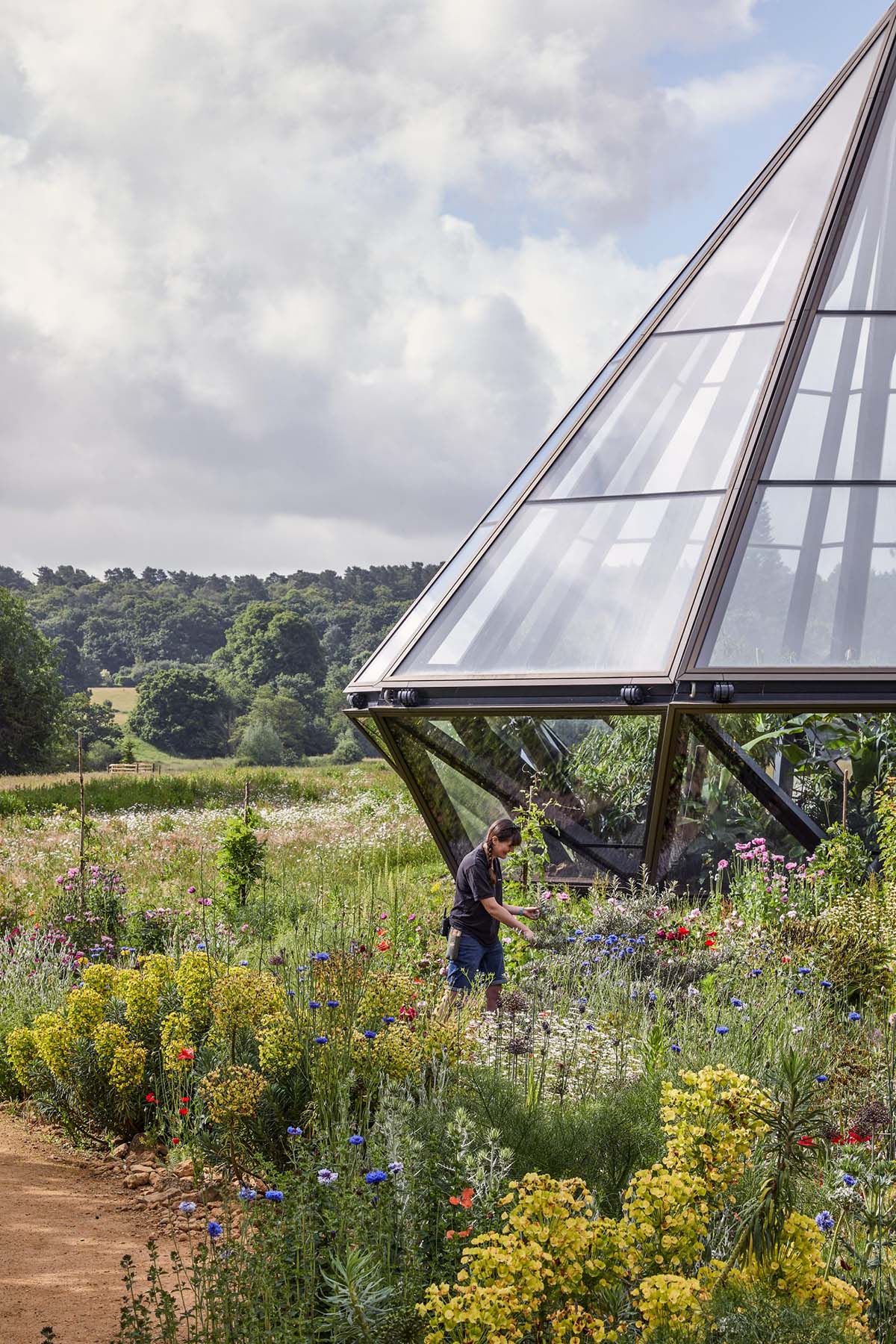 Image © Raquel Diniz
The structure's hydraulic mechanism was realized by London-based engineering firm Eckersley O'Callaghan, which uses then hydraulic cylinders to move the sepals around their hinges.
The Glasshouse joins a water feature has been designed by British sculptor William Pye and a noble neo-classical folly by Philip British architect Jebb.
Image © Raquel Diniz
Image © Hufton + Crow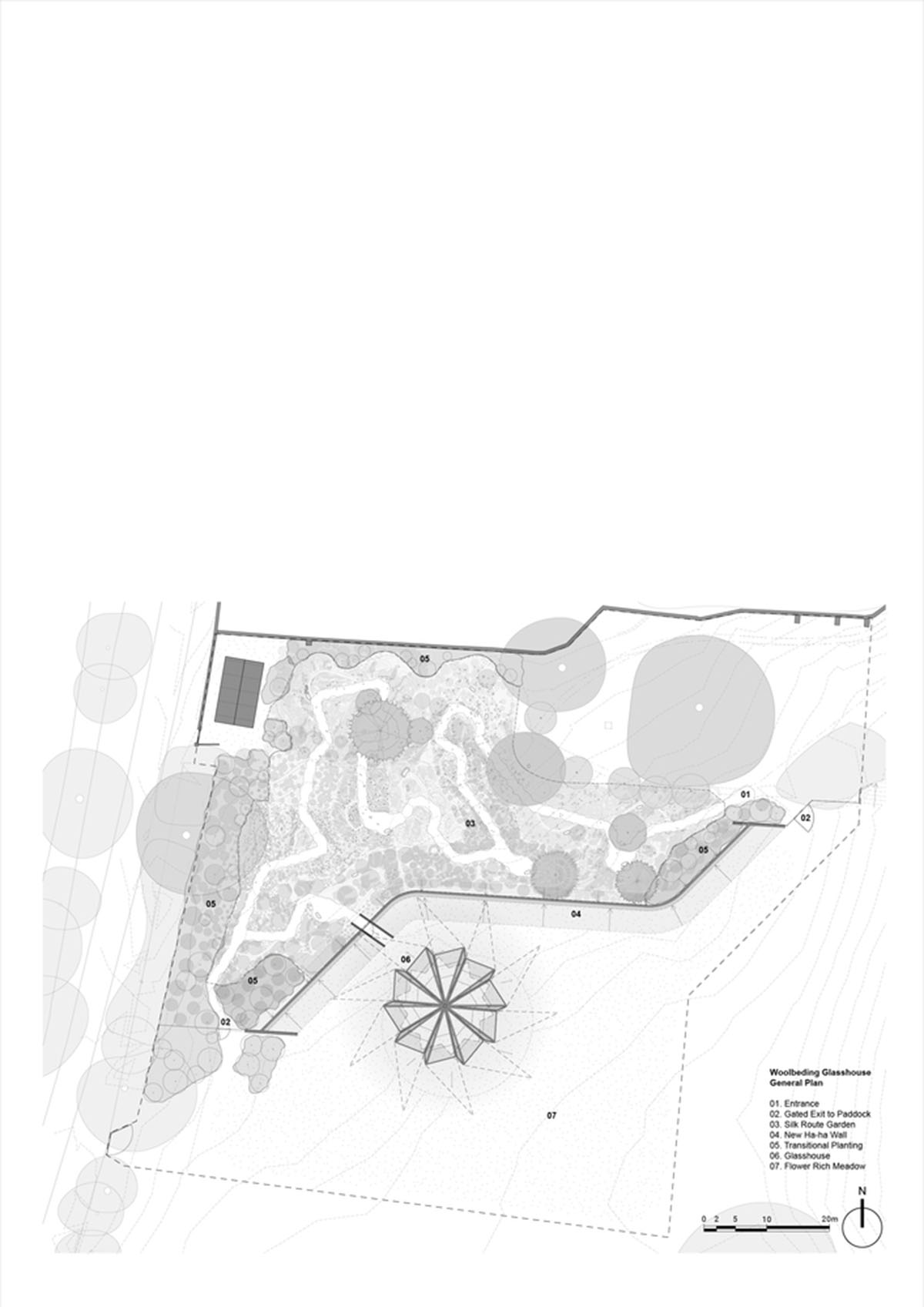 Site plan
Roof plan
Floor plan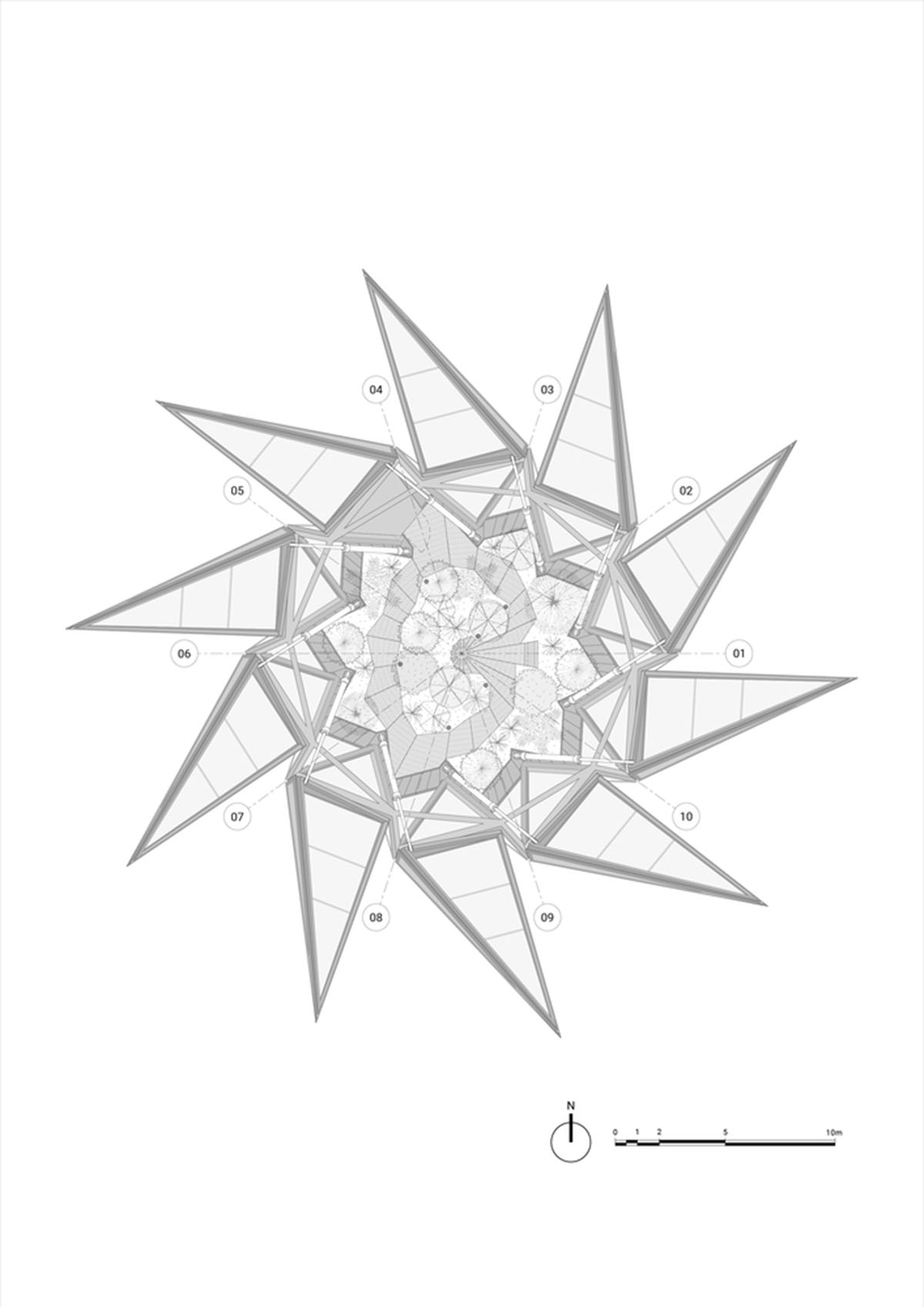 Floor plan
Section
Section
Section
Section
The Glasshouse at Woolbeding Gardens and the Silk Route Garden are open on Thursdays and Fridays from 28 April to 30 September.
Top image © Hufton + Crow.
All drawings © Heatherwick Studio.
> via Heatherwick Studio & National Trust