MAD creates reflective cube that touches the ground from a single point at Milan Design Week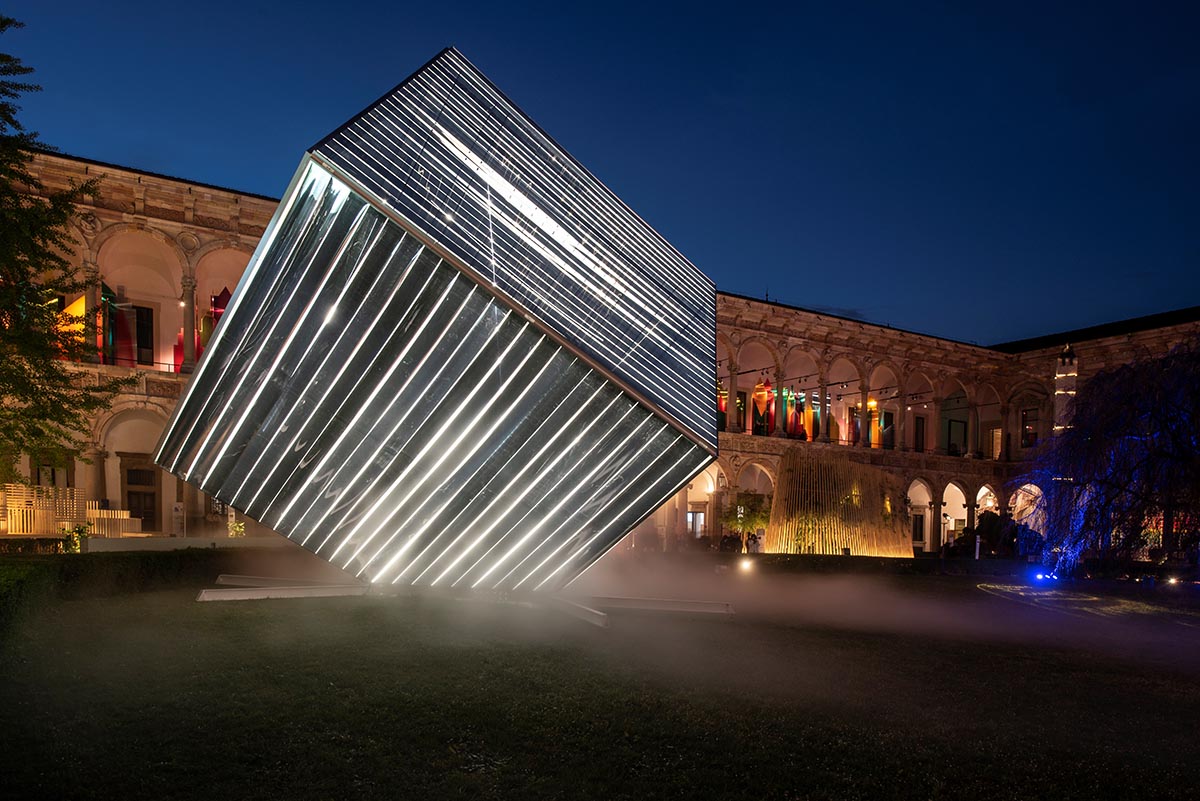 MAD has created a simple cube that touches the ground from a single point at Milan Design Week 2023.
Called Momentum, the cubic installation, led by Ma Yansong, is situated at the courtyard of the University of Milan, presented in collaboration with Interni and AXA IM ALTS.
Milan Design Week, also known as Salone del Mobile is the world's largest design and furniture fair. It takes place from April 18 to 23 at Fiera Milano exhibition centre in Milan, Italy.
Image © Andrea D'Antrassi
Reaching at 12.5-metre height, it measures 8 meters by 8 meters and is wrapped by (Ethylene tetrafluoroethylene) ETFE polymer - which is known as a fluorine-based plastic that mimic glass-like surfaces.
Momentum aims to freeze the moment of art creation by interacting the visitors arount it. The installation is envisioned as the simplest cube that is intended to be used as "a space to undertake different forms of art expression."
Image © Moreno Maggi
"Momentum, exhibited during the Salone del Mobile, hopes to evoke the solidification and refinement of time with this form," said MAD.
Commisioned by investment firm AXA IM ALTS, the installation was realized with Luce & Light for the Interni Design Re-Evolution exhibition.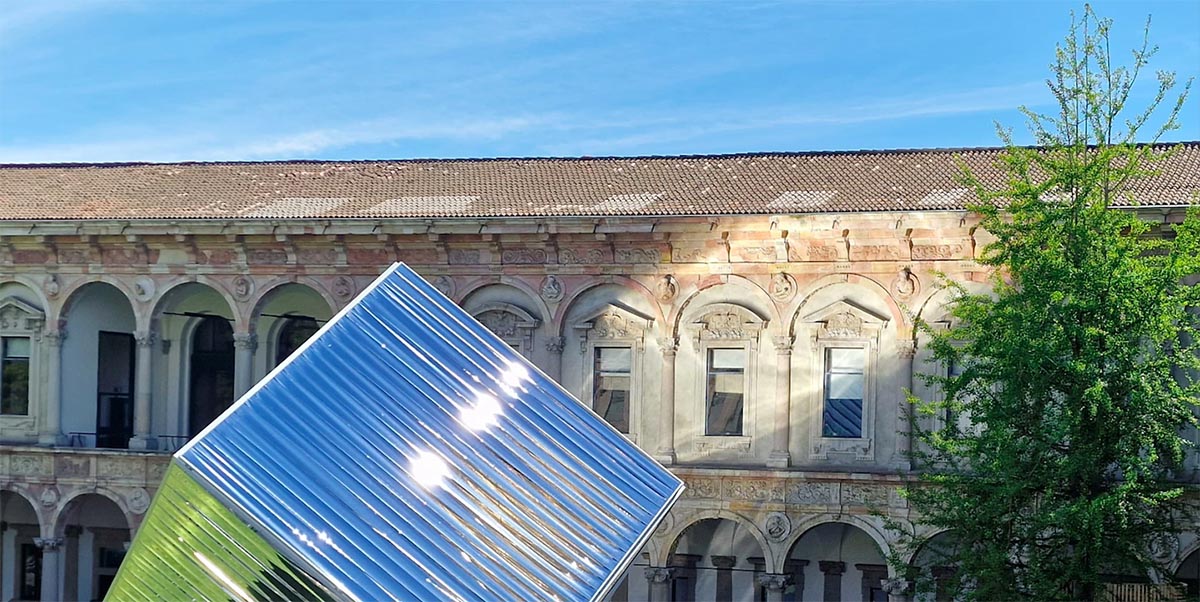 Image © Matteo Vercelloni
Through its reflective skin, in the daytime, the installation reflects the surrounding environment of the courtyard of Statale University, becoming a forever-changing art form of its own.
As night falls, and the installation turns transparent and ethereal, the lighting inside illuminates a new character.
Image © Moreno Maggi
Alongside its dynamic skin, Momentum is also powered by a combination of virtual art and a physical installations.
Upon approaching, visitors can experience fantastical virtual art with an AR (Augmented Reality) by scanning a QR code on Instagram, becoming a creator of their own.
During this, MAD's fourth time participation in Milan Design Week with main installation, the works brought have been accompanied by a breakthrough of boundaries and the integration of diverse arts.
Image © Andrea D'Antrassi
With the end of the Covid pandemic, the studio has placed more consideration on communication and the interchange of multiculturalism.
MAD designed three three major installations at Milan Design Week 2021. Other works of MAD include installations; Invisible Border in 2016 and Fifth Ring in 2018.
Other installations at the 2023 Milan Design Week include OMA and SolidNature's Beyond The Surface exhibition and Italo Rota and Carlo Ratti Associati-designed Walk the Talk, an installation becomes "the world's largest board game".
Read more on WAC's Italy Country page.
Project facts
Project name: Momentum
Architects: MAD
Location: Milan, Italy
Material: P.A.T.I. ETFE polymer
Dimensions: 8m * 8m * 12.5m
Design Team
Design team: Ma Yansong, Dang Qun, Yosuke Hayano, Andrea D'Antrassi
Partner with: Interni, Axa Immobiliare, Alts
Engineering: Maco Technology srl, Roberto Maffei
Light Design: Luce & Light
Motion Designer: Studio AIRA
Fog Effect: Nephos
Top image © Moreno Maggi.
> via MAD