Alper Derinbogaz will talk about his new book Geospaces in WAC's live talk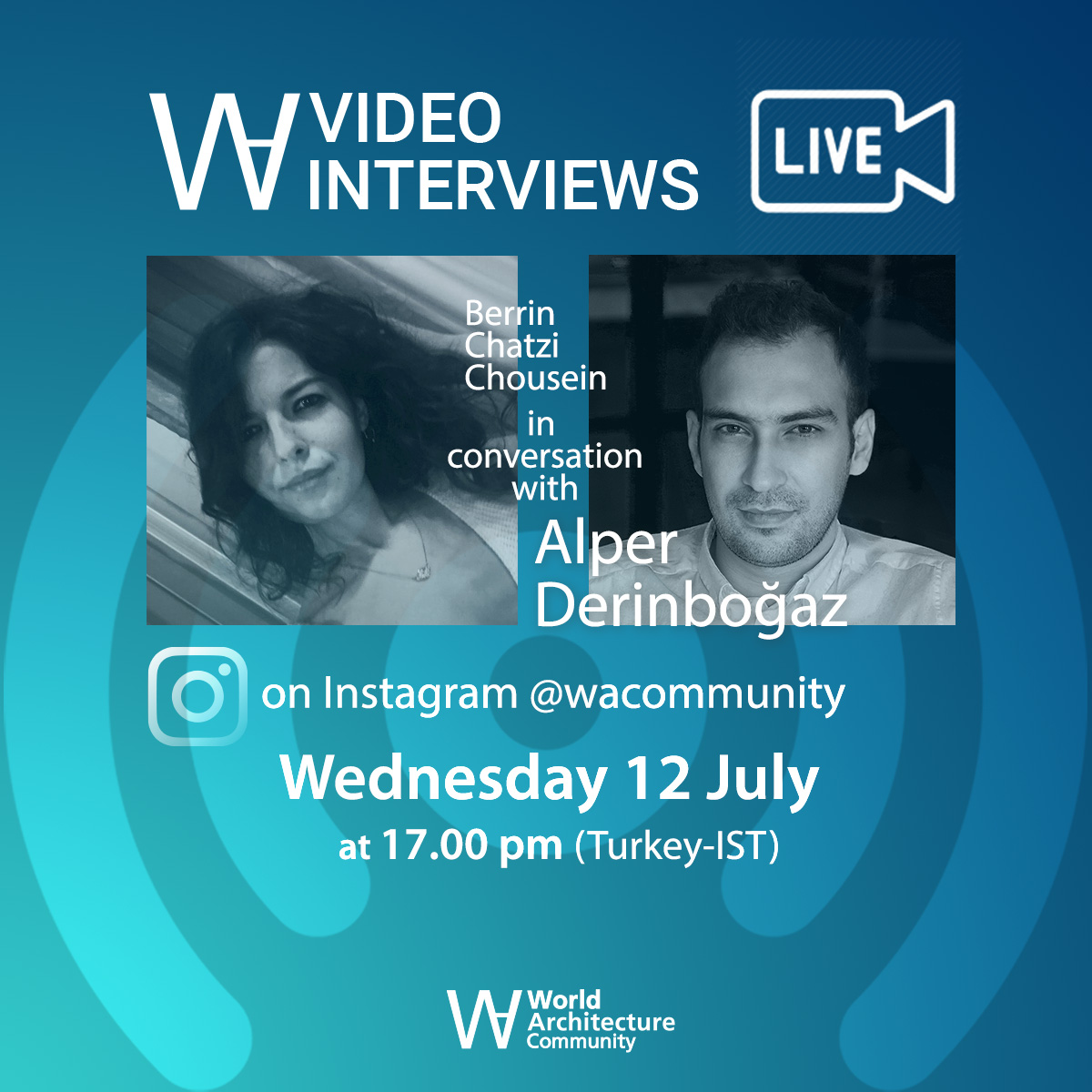 Salon Alper Derinbogaz founder Alper Derinbogaz will be WAC's new guest architect in WAC's Live Interview Series. Derinbogaz, one of prominent and young contemporary architects of its generation both in Turkey and Europe, will talk about his design philosophy and newly-published book, entitled Geospaces.
In addition to the discussion of Geospaces, the talk will explore the architect's creative processes that shape his projects and the relationship between the context and the impacts of advanced technologies on architecture.
Derinbogaz's designs are deeply rooted in "seeking communal relationships between environment and spatial elements through scientific strategies."
Earth, context, topography, geology, nature and hybrid technologies are the key features that drive the architect's design philosophy.
Alper Derinbogaz will be in conversation with WAC editor-in-chief Berrin Chatzi Chousein on Wednesday, July 12th at 17:00pm on WAC's Instagram account.
Alper Derinbogaz. Image courtesy of Salon Alper Derinbogaz
Alper Derinbogaz launched his new book, Geospaces, at AIA New York on February 15, 2023, where a panel discussion took place with Alper Derinbogaz alongside Ferda Kolatan, Michael Young, and Ariane Harrison on how buildings could be evaluated as "iterations of nature rather than artificial objects."
The panel discussion can be watched through WAC's previous story.
Salon released Geospaces exploring the idea of "empathy with the earth". Image courtesy of Salon Alper Derinbogaz
The book, published by Actar Publishers in September 2022, is illustrated through a range of ideas, images, drawings, graphics, and projects across 224 pages, focusing on the work of Alper Derinbogaz over the past decade.
Geospaces, introduced with a foreword by architect and critic Luca Molinari, suggesting Salon's work is based on "a conscious sense of restlessness and tension, and the constant aim to experiment with form, space and new media, it is a perfect representation of the spirit of this time."
He describes the architect as "always seeking as meaningful link with the context, they are able to build relationship that do not wear out easily over time".
The book is divided into four main sections; Earth Shapes, Iterations, Evolutions and Future Hybrids.
Ecotone, a flexible and post-pandemic workspace proposed in Istanbul by Salon Alper Derinbogaz. Image courtesy of Salon Alper Derinbogaz
Presenting a selection of the studio's projects, among these projects are Villa Topos in Turkey, Reflect Studio Store in Istanbul, a flexible and post-pandemic workspace Ecotone in Istanbul, Fitas Passage adaptive re-use project in Istanbul and the Istanbul City Museum project.
Salon, led by Alper Derinbogaz, is an internationally-renowned architecture studio. The office has offices in Istanbul, Berlin, New York and Los Angeles.
Deribogaz's experiments are ranging from installations to cultural projects, including the new City Museum which is nearing completion.
He is also leading an architecture studio at Istanbul Technical University (ITU).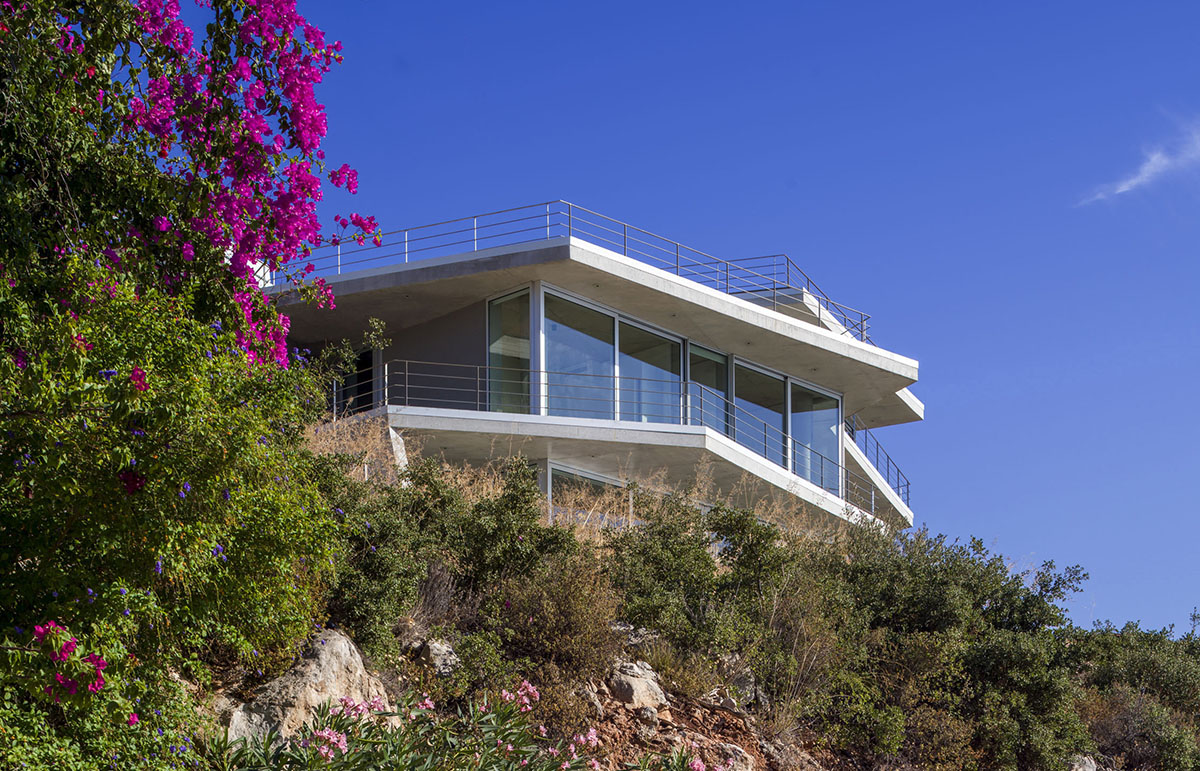 Villa Topos by Salon Alper Derinbogaz was completed in 2022. Image © Cemal Emden
Derinbogaz is a Fulbright Scholar and winner of the UCLA graduate award, and in 2019, he was awarded the European 40 under 40 Award by the European Centre for Architecture Art Design and Urban Studies and the Chicago Athenaeum: Museum of Architecture and Design.
His research has been exhibited in biennales and museums including the Venice Architecture Biennale in 2014, curated by Rem Koolhaas, with his work "Modalities of the Spontaneous", an in-depth study of the urban developments in relationship with geography.
Salon's projects won numerous awards at the international architecture competitions from Songdo Library in Korea to Kaunas Science Island in Lithuania.
Salon's National Science And Innovation Centre Of Lithuania won the WA Award in the 24th Cycle, Office Central in Turkey won the WA Award in the 22nd Cycle and Parkopera in Turkey won WA Award in the 23rd Cycle.
You can purchase the Geospaces book here.
WAC Instagram Live Interview
Theme: Geospaces
Host: WAC editor-in-chief Berrin Chatzi Chousein
Date: Wednesday, July 12, 17:00pm Turkey Time.
Venue: WAC Instagram