SOM releases design for new Public Health Laboratory with diagonal metal clad façade in Harlem
Skidmore, Owings & Merrill (SOM) has released design for a new public health laboratory building in Harlem, the new, state-of-the-art facility will replace an existing laboratory in Kips Bay owned by New York City's Department of Health and Mental Hygiene.
The 10-story building, covering a total of 21,367-square-metre area, will house various kinds of programs such as testing and monitoring services for a wide range of clinical and environmental health concerns.
Located adjacent to the Harlem Hospital complex on 137th Street, the building will serve for different health areas starting from microbiology and virology to immunology and biosafety.
Considering a variety of health issues caused by the pandemic, the building's laboratory is aimed to focus numerous areas and expected to be in flexible scheme needed to adapt for its capability to respond to a variety of pressing public health issues.
"Established in 1892 to address New York's diphtheria outbreak, the New York City Public Health Laboratory was the first municipal bacteriological laboratory in the world. Last year, during the initial outbreak of Covid-19, it was the first laboratory in the city to perform Covid-19 testing," according to SOM.
Last month, the project was named one of 14 winners of the Public Design Commission's Award for Excellence in Design, which recognizes civic projects that promote health and wellbeing.
"This extraordinary urban laboratory will provide the New York City Department of Health and Mental Hygiene with a facility that will bolster their ability to protect the city from familiar threats, as well as unknown public health challenges that lie ahead," said SOM Design Partner Mustafa Abadan.
The building is designed in two parts, and creates an urban-scale glass in a cubic laboratory volume rising from a pedestrian-scale masonry podium.
On the ground level, it consists of a three-story podium that houses essential support functions as well as the facility's community-facing program. Another floor directly atop the podium offers administrative functions and a partial green roof.
Above this rise, there are five floors for state-of-the-art laboratories equipped to support a wide range of testing needs and designed to accommodate future changes spurred by public health events.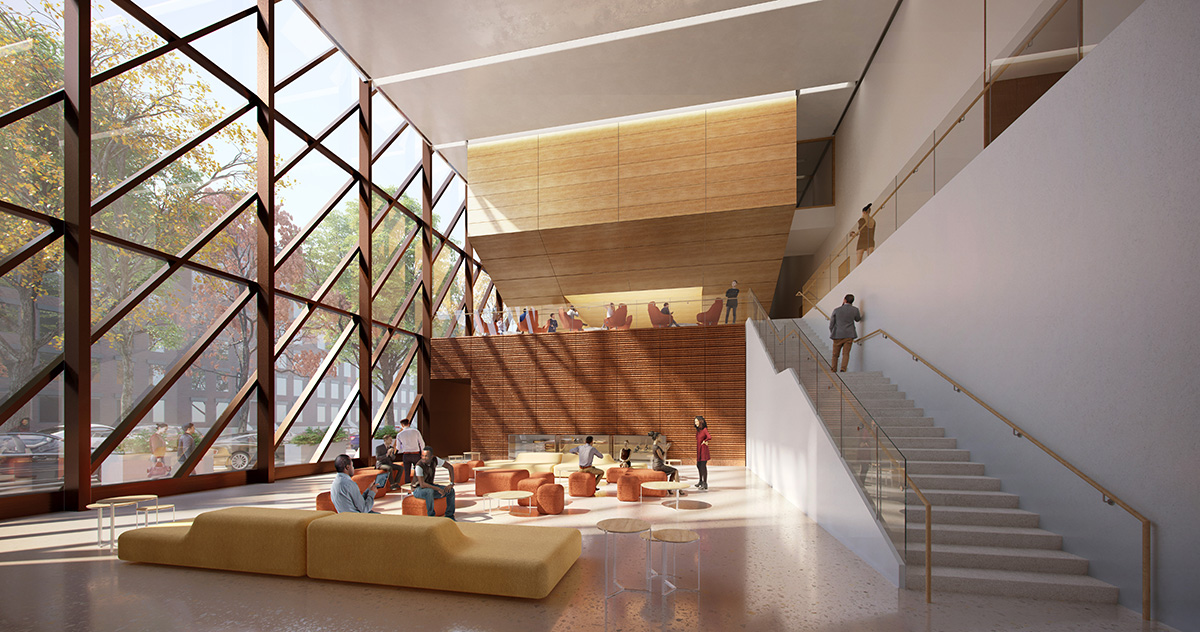 Lobby view
The outer language of the building is characterized by a structural diagrid elaborated in diagonal glass and metal cladding. On the south side, the volume steps outward to accommodate various laboratory sizes dictated by necessary vertical and horizontal adjacencies, with the resulting massing providing passive solar shading.
"Designed with staff wellness in mind, the laboratory will comply with New York City's new, ambitious resiliency and sustainability regulations," SOM added.
The building is designed to serve the local community to increase public engagement although the building has a secured access. The building is aimed to broaden the laboratory's public health mission and embrace its role as an active participant in its vibrant Harlem neighborhood. The new facility includes several resources—a testing facility, training lab, and auditorium—available to the surrounding community.
"The design of the new laboratory is the culmination and celebration of mission, culture, and place," said Scott Habjan, senior designer for SOM's New York Health and Science practice.
"It moves beyond familiar institutional aesthetics to convey the duality between the building's precise, rigorous laboratory environments and its dynamic Harlem context," added Habjan.
SOM and TranSystems are also working on the redesign of Chicago's oldest State/Lake elevated station. SOM is also designing a 83-storey tower that will replace Trump's Grand Central Hyatt in Midtown Manhattan.
SOM completed the Moynihan Train Hall expansion for NYC's Penn Station.
All images © SOM | ATCHAIN
> via SOM