Masquespacio reflects Barcelona's artistic creativity into club's interiors for Lynk & Co
A green-colored gigantic castle, a whale-formed car and artful furniture pieces are scattered randomly in a club for a mobility brand Lynk & Co in Barcelona, Spain.
Named The Barcelona Club, the project, deigned by Valencia-based interior design studio Masquespacio, represents the first project of the studio designed for Chinese-Swedish automobile brand Lynk & Co in Barcelona.
Inspired by Barcelona's artistic creativity merging disciplines like art, design and music, the design of interiors is conceived as a unique experience that "not only reinvents mobility, but also provides a creative and sustainable meeting place."
The goal of the project is to evoke Lynk & Co's philosophy to "not pretend to be a conventional brand, but offer itself as an option for the new generations in search of a sustainable lifestyle fill of experiences that get away from the standard."
"Undoubtedly, the best meeting point for anyone who is willing to explore a new concept of mobility where the experience comes before everything else," said Masquespacio, who is known for colorful interior designs.
The club is situated in Paseo de Gracia, like if it were a world of utopias.
Considering the context itself, the Spanish design studio searched to connect the different spaces with the Barcelona known for its creativity and distinguished all around the world for being a hub of artistic disciplines like art, design and music.
The main goal of the project was "to respect the interior architecture of the space with its brutalist style" filled with full of imperfections. This style would create the perfect connection point with the style applied in other Lynk & Co clubs, according to the team.
The design team has added different spaces where each has their own representation and use, inspired by a theme related to creativity like architecture, movies and music amongst others.
For instance, upon entering, visitors are welcomed with a gigantic castle with a reflecting green color that contains the fitting rooms with a distorted effect that shows clearly that in the new Lynk & Co in Barcelona, nothing is traditional.
A car is situated in a whale form made of 3D, while in the bathrooms visitors find a show of lights and sounds that will remind them to their favorite childhood movie.
"In the space above visitors can find exposition zones with sustainable objects Lynk & Co selected, together with unexpected areas for co-working like the swimming pool that is behind an old safe door that was in the space before," added the studio.
According to the studio, the new Lynk & Co in Barcelona offers a versatile place and can be adapted to any event, with a colorful and at the same time sophisticated design, full of utopias to be discovered.
Lynk & Co has come up with the perfect alternative to spending the morning negotiating at the dealership: clubbing.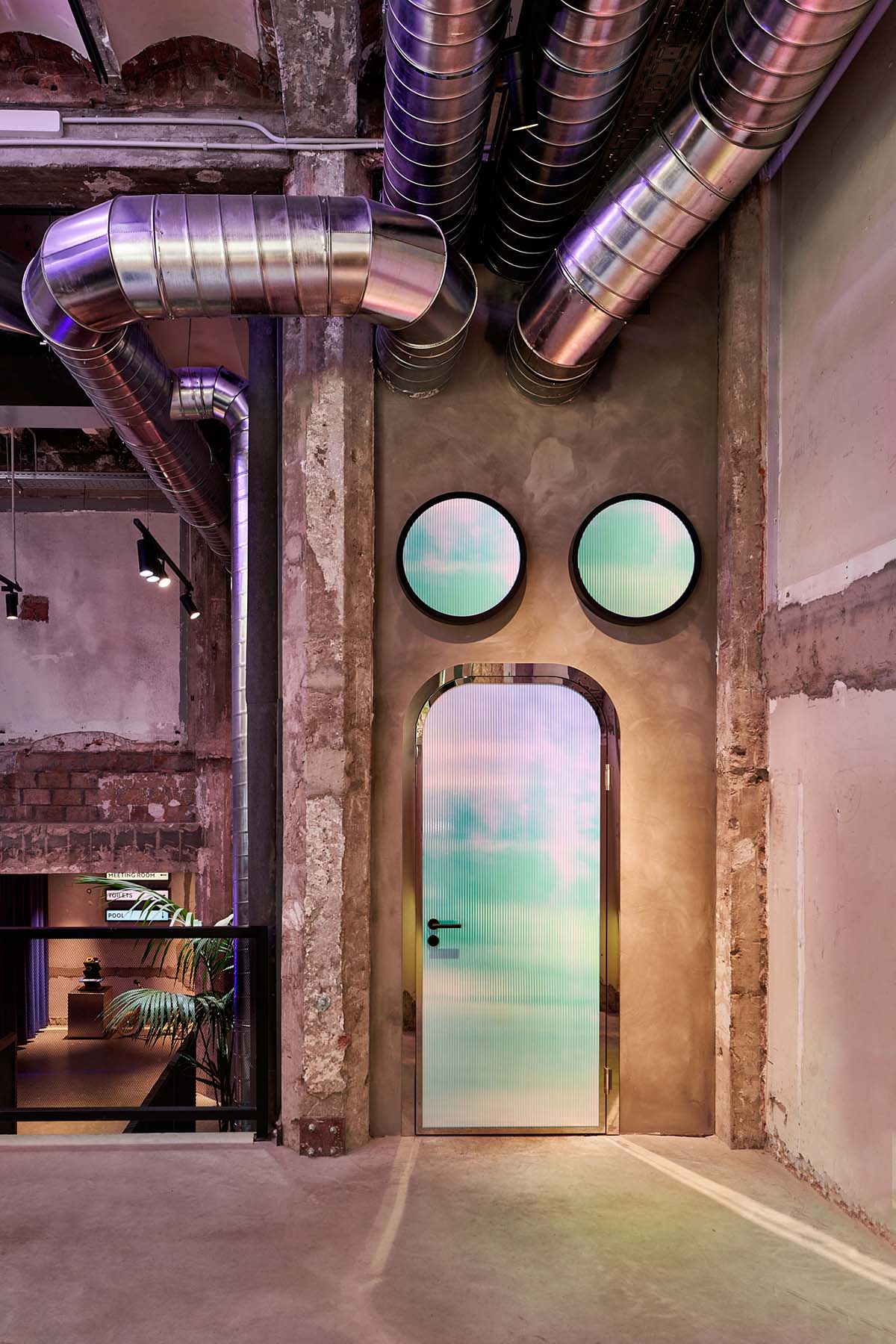 Floor plan
Sections
Details
Masquespacio recently designed a bakery filled with colors, metallic finishes and water-inspired elements in Al Khobar, Saudi Arabia. The firm also designed a restaurant featuring cave-like corners dressed with different hues of pink and brown in this restaurant in Valencia, Spain.
Masquespacio is an award creative studio founded in 2010 by Ana Milena Hernández Palacios and Christophe Penasse. The studio is known for its boldly use of colors in projects.
Project facts
Project name: The Barcelona Club
Architects: Masquespacio
Location: Barcelona, Spain
Surface: 400 m2
Client: Lynk & Co
Opening: September 2022
All images © Luis Beltran.
All drawings © Masquespacio.
> via Masquespacio