ORO Editions reveals its 2022 architecture books that need to be discovered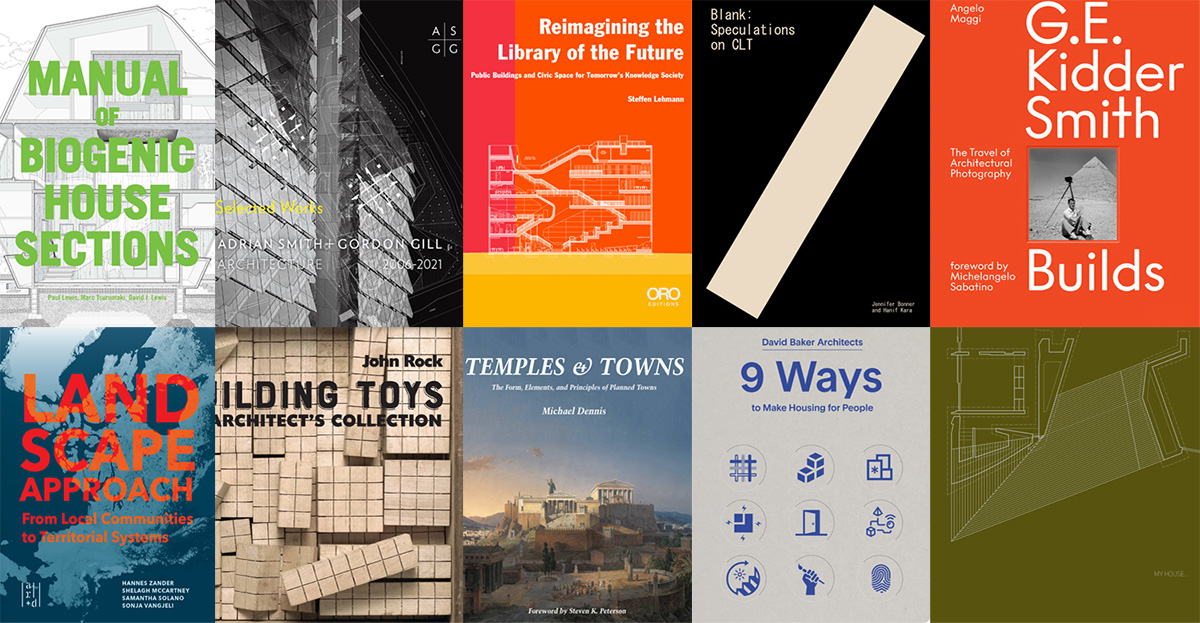 US-based publishing house ORO Editions, together with its research-based publishing arm Applied Research and Design Publishing (AR+D) in the fields of architecture, landscape architecture, urbanism, and design, have shared its ten recently-published architecture books with the World Architecture Community.
The selected titles range from the importance of materials contributing to global warming, a monograph of an architecture studio, the speculations of cross-laminated timber to the future of public and academic libraries and a selection of comprehensive case studies of housing.
These ten books, selected by ORO Editions are specially recommended to WAC readers as part of ORO Editions-World Architecture Community collaboration and revisit many topics that need to be explored.
Scroll down to read more about the ten books that are ready to purchase on ORO Editions:
---
Manual of Biogenic House Sections
"Recognizing that buildings are a major contributor to global warming and the critical role of embodied versus operational carbon, the book focuses on houses built from materials that either sequester carbon (plants), use materials with very low embodied carbon (earth and stone) or reuse substantial amounts of existing materials. Organized by those materials (wood, bamboo, straw, hemp, cork, earth, brick, stone and re-use), and incorporating life cycle diagrams demonstrating how the raw material is processed into building components, the book shows how the unique properties of each material can transform the ways architects conceive the sections of houses.
The house was selected as the vehicle for these investigations due to its scale, its role as a site of architectural experimentation, and its ubiquity. Building on the techniques of the Manual of Section, the book is comprised of newly generated cross-sectional drawings of fifty-five recent, modestly sized houses from around the world, making legible the tectonics and materials used in their construction. Each house is also shown through exploded axonometric, construction photographs and color photographs of the exterior and interior. Introductory essays set up the importance of embodied carbon, the role of vernacular plant-based construction and the problems of contemporary house construction. Drawing connections between the architecture of the house, environmental systems and material economies, the book seeks to change how we build now and for the future."
Purchase the book over this link.
ISBN: 978-1-957183-09-1
Binding: Soft Bound
Pages: 352pp
Publication Date: December 2022
Size: 7.5" x 11" Portrait
World Rights: Available
My House is Better Than Your House
"In the South of France, sited on a hill of olive trees, pinus pinea, and a vineyard, a family retreat was designed with a key mission of maintaining the vitality of the site. A small agricultural plot, the site offered the possibility of amplification. With the introduction of a garden and many outdoor living spaces, the family had the intention of cultivating the landscape as part of their stewardship. In part a response to a programmatic brief, but moreover, a discursive response to architectural predicaments of geometry, typology, and anomaly, the house is also a response to Preston Scott Cohen's pedagogies on architecture."
Purchase the book over this link.
ISBN: 978-1-951541-34-7
Binding: Soft Bound
Pages: 120pp
Publication Date: Spring 2022
Size: 10 x 10″ Square
World Rights: Available
Adrian Smith and Gordon Gill
"Adrian Smith + Gordon Gill Architecture's, 2006-2021 monograph showcases the spectacular work of the firm from the first 15 years of its practice through drawings, renderings, model photography, photography of built work, competition entries, exhibition materials, master plans, interiors, and special research projects and publications.
The projects featured in the monograph cover a wide variety of AS+GG's high-performance, energy-efficient, aesthetically striking architecture on an international scale in a wide range of typologies and scales, from low- and mid-rise residential, commercial, and cultural buildings to mixed-use supertall towers. Projects explored include supertall towers, large-scale mixed-use complexes, corporate offices, exhibition facilities, cultural facilities and museums, civic and public spaces, hotels and residential complexes, institutional projects, and high-tech laboratory facilities."
Purchase the book over this link.
ISBN: 978-1-954081-35-2
Size: 9.25" x 9.25" Square
Binding: Hardbound
Pages: 540pp
Publication Date: August 2022
World Rights: Available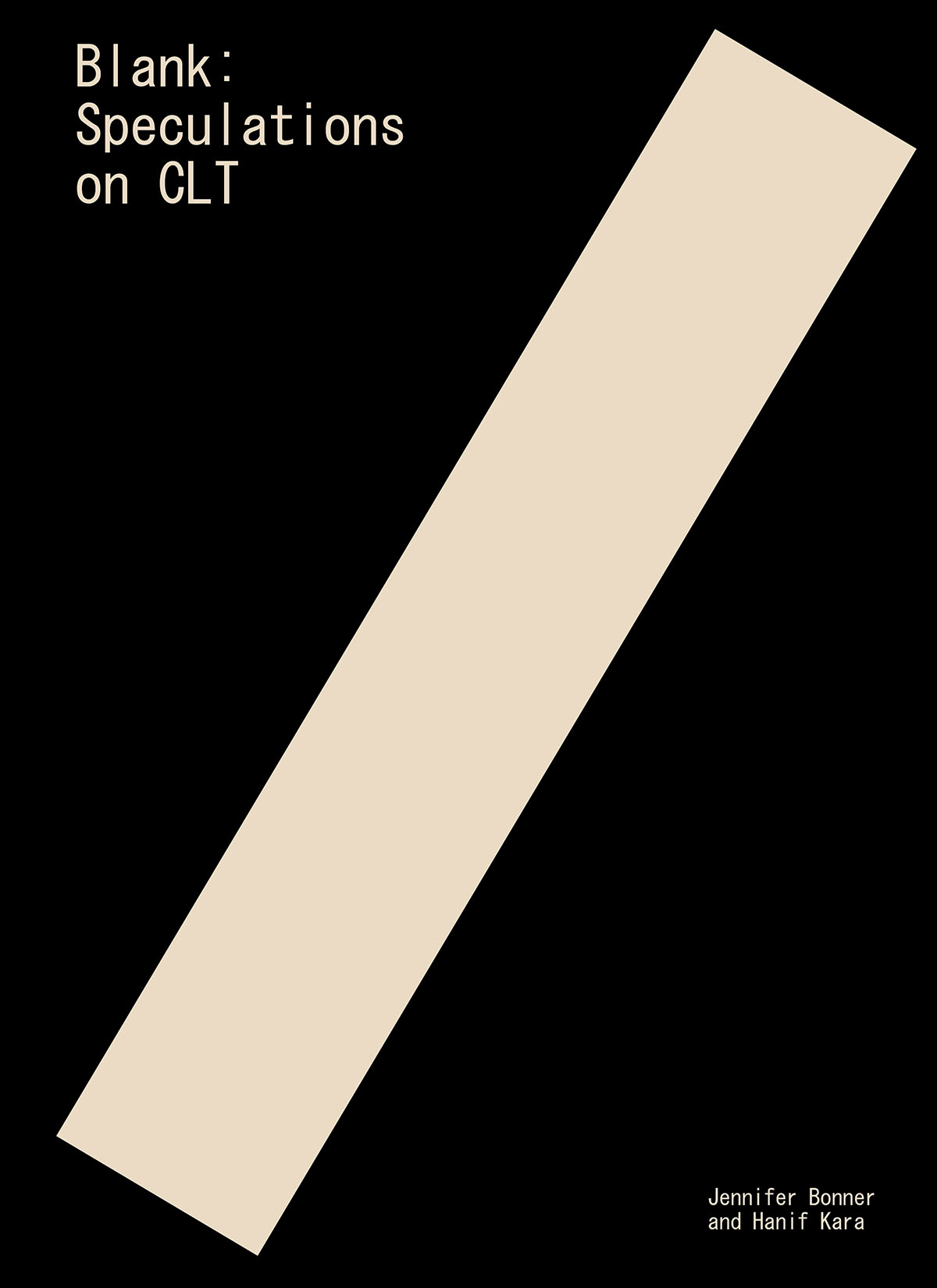 Blank: Speculations on CLT
"This book weaves a much needed and transformational narrative about making architecture through paying close attention to cross-laminated timber as a material for today. The material becomes the site of experimentation, innovation, and research in search of specific meanings of CLT in architecture at various scales by selecting the "CLT Blank" as the building unit. The structure of the book brings together work and texts from a diverse group of theorists and practitioners, who make material central to their inquiry, to suggest design approaches that will broaden the cultural, spatial, and technological significance for architecture, education, engineering, and industry.
The outcome focuses on materiality through fast slippages between art, architecture, and science, that we hope will invigorate and expand new discourse to act as an antidote to the current conversations about the material, that is fixated on its making and mass production, disappointingly portraying it as a bland and lifeless product—a notion we want to be distant from in preference to seeking areas we feel were not yet conceptualized or theorized . The potential to see the spatial properties of its use and what kind of world that might suggest is shown in the book, with selected striking visual materials, to reposition its architecture though new forms of representation and responses that continue to stay in touch with pragmatics. Aesthetics of CLT with a connection to wood and art practice is a central thread though the book."
Purchase the book over this link.
ISBN: 978-1-954081-02-4
Binding: Hard Bound
Pages: 240pp
Publication Date: Spring 2022
Size: 8″ x 11″ Portrait
Reimagining the Library of the Future
"The study 'Reimagining the Library of the Future' investigates the various models of public buildings and civic space through the lens of the library. It takes a critical look at the history, present, and future transformation of this significant building typology that has recently emerged as a redefined community place, social condenser, and urban incubator for knowledge generation, storage, and sharing. In particular, the library has evolved as a vibrant and vital member of community development and as a basis for outreach efforts.
This book presents 40 recent public and academic libraries from around the world, with over 200 images. As the survey of precedents shows, the historical cases have informed the design of the recent libraries and the continuous development of the building type over time. Well-designed libraries are now in abundance, and the wider view of this study includes mediatheques and learning centers. The selection of contemporary projects focuses on urban libraries in Europe (Germany, Italy, Austria, Netherlands), the US, Canada, Mexico, Australia, Japan, and China."
Purchase the book over this link.
ISBN: 978-1-951541-98-9
Binding: Softbound
Pages: 220pp
Publication Date: July 2022
Size: 7" x 9" Portrait
World Rights: Available
G. E. Kidder Smith Builds
"George Everard Kidder Smith (1913–1997) was a multidimensional figure within the wide-ranging field of North American architectural professionals in the second half of the twentieth century. Although he trained as an architect, he chose not to practice within the conventional strictures of an architecture office. Instead, Kidder Smith "designed," researched, wrote, and photographed a remarkably diverse collection of books about architecture and the built environment. His work and life were deeply interwoven and punctuated by travel related to the research, writing, and promotion of books that sought to reveal the genius loci of the countries whose built environments he admired and wished to share with a broader audience. From the early 1940s to the late 1950s his interest in architecture led him to describe visually the architectural and historical identity of many European countries. After his far-flung travels over the decades, with his wife Dorothea, Kidder Smith focused on his own country and produced a series of ambitious books focused on the United States. Kidder Smith's vision and narrative betray the gaze of the traveler, the scholar, and the architect."
Purchase the book over this link.
ISBN: 978-1-954081-53-6
Binding: HardBound
Pages: 272pp
Publication Date: August 2022
Size: 8″ x 11″ Portrait
Rights World: Available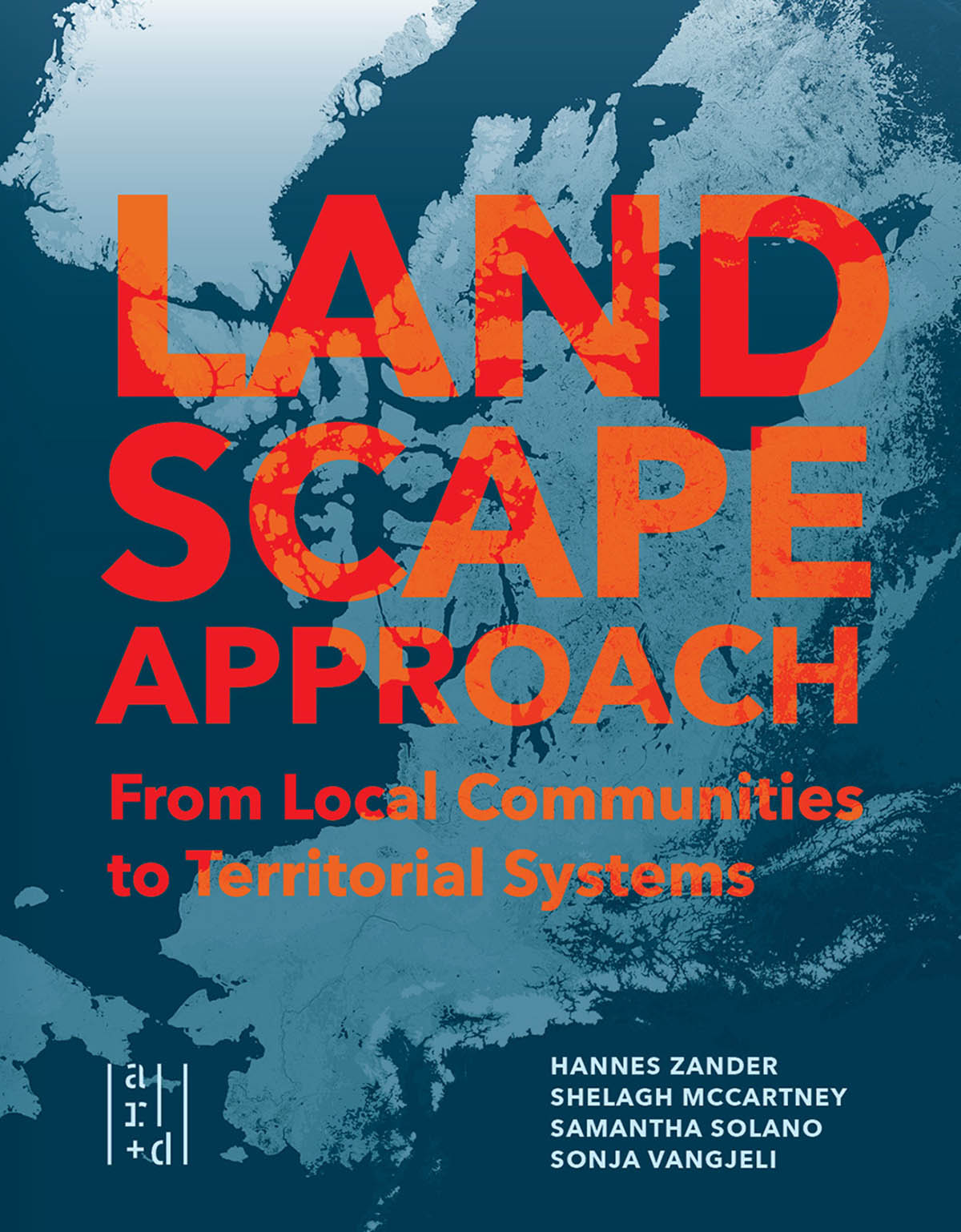 Landscape Approach
"The book promotes a landscape approach as a method for understanding and addressing the complex interdependent issues of environmental and climatic change, ecological degradation, and socio-cultural inequalities. The twenty-three book essays are structured into five sections around concepts of urban landscape systems, ecology, politics, territory, and practice. By linking individual sites and local communities to territorial socio-ecological systems and processes, they discuss issues of urban growth and development, remote areas of extraction and production, environmental degradation and transformation, and social inequality and discrimination. While the book allows for parallel readings of such issues in multiple cultural and geographical contexts, a geographic focus is placed on Canada and other environmentally complex and sensitive northern regions. One key theme is the integration of Indigenous knowledge, experience, and storytelling throughout several of the chapters. The book draws lessons that are grounded in inclusive, contextual, and multi-scalar readings which suggest landscape-informed practices that are both socially and environmentally resilient, just, and sustainable."
Purchase the book over this link.
ISBN: 978-1-954081-23-9
Binding: Softbound with flaps
Pages: 304pp
Publication Date: October 2022
Size: 7.1" x 9.5" Portrait
Rights World: Available
Building Toys
"The book is organized by toy material (natural wood, metal, plastic, etc.), creating six "chapters." It includes a two-page introduction which reflects the author's role as architect, photographer, and collector. There are approximately 250 pages giving a dynamic visual portrayal of a seldom seen world…"
Purchase the book over this link.
ISBN: 978-1-954081-98-7
Binding: Softbound with full flaps and case
Pages: 252pp
Publication Date: September 2022
Size: 8.7" x 11.5" Landscape
World Rights: Available
Temples and Towns
"This book traces the historic evolution of urban form, principles, and design; it serves as a compendium, or reference, of city design; and is a polemic about the necessity for the recovery of the city and a contemporary urban architecture. It begins with the planned cities of Greece and the Roman Empire from about 500 BC, through the late-medieval Bastides, the Ideal Renaissance cities, and Baroque new towns, to the urban planning strategies of the nineteenth and early twentieth centuries. It covers anti-urban modernist architecture and the resulting disintegration of the city. It concludes with late-twentieth-century efforts to recover the city, a contemporary urban architecture, and urbanism's potential contribution to the contemporary ecological crisis. The book is project oriented and extensively illustrated. It may be read graphically, textually, or both. As such, it falls into the long tradition of illustrated treatises in which theory is embedded in the projects, with only occasional assistance or clarification from the text. Architecture and urban design are physical arts, not verbal arts, and they are best understood from graphic representations."
Purchase the book over this link.
ISBN: 978-1-957183-02-2
Binding: Softbound
Pages: 504pp
Publication Date: November 2022
Size: 10.5" x 10.5" Square
World Rights: Available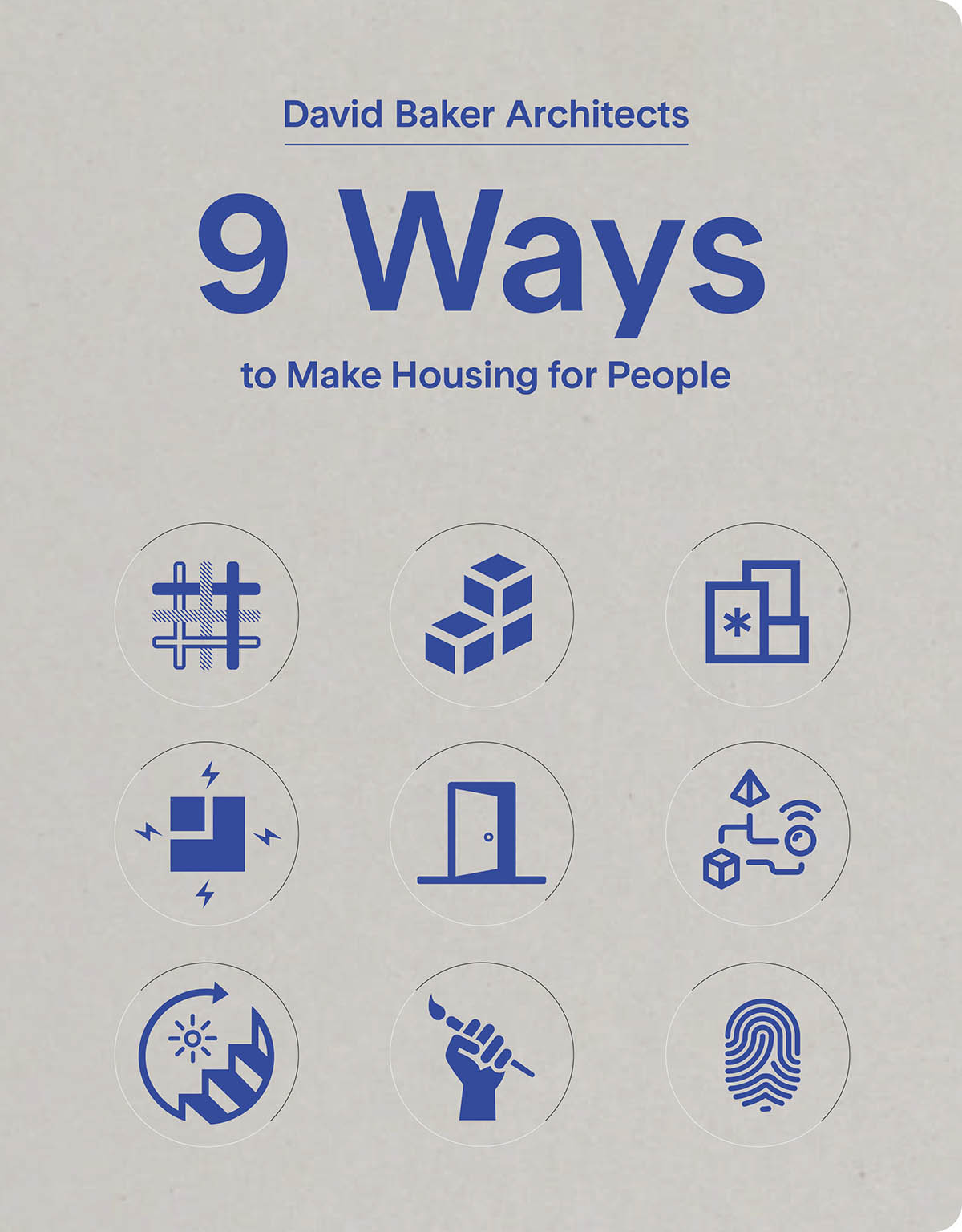 9 Ways to Make Housing for People
"Combining how-to with why-to, '9 Ways to Make Housing for People' lays out the core principles that David Baker Architects uses to help communities develop great urban housing. Written for architects and residents—as well as officials, developers, and planners—this book is a kit of parts: nine proven strategies for getting the best outcomes for housing in urban contexts. Detailed explorations and comprehensive case studies show how to apply and combine the principles creatively to meet the needs of sites, people, and budgets. Pragmatic and imaginative, '9 Ways' is a modern manual for urban housing—getting it built and making it great."
Purchase the book over this link.
ISBN: 978-1-935935-40-7
Binding: Hardbound with exposed binding
Pages: 260pp
Publication Date: December 2022
Size: 8.5″ x 11″ Portrait
All images courtesy of ORO Editions.
> via ORO Editions
architecture book book cross-laminated timber ORO Editions publication