SelgasCano creates bulbous-formed food market with transparent ETFE membrane at Design District
Spanish architecture studio SelgasCano has created a bulbous-formed food market with transparent ETFE membrane at Design District in London, United Kingdom.
Named Design District Canteen, the 660-square-metre building, located at the main pedestrian access to the Greenwich Peninsula, has been realized as part of a larger masterplan, including 16 different buildings commissioned by Design District.
SelgasCano's design is basically conceived as a food market, consisting of a bar, stall, plant room, storage, market area, lift on the ground floor. The upper floor includes resting area, floating table, movable tables and lift.
Designed as an irregular, bulbous-formed transparent structure, the whole structure is covered by a stressed clear ETFE membrane with a central spine in which the stalls and a seating area are placed on top level.
Interiors of the food hall are highlighted with yellow-colored surfaces and floors, which are commonly seen in the works of the studio, such as Second Home's Hollywood campus with yellow working pods, completed in 2019.
"The market celebrates its visible condition by being as transparent as possible," said SelgasCano led by Jose Selgas and Lucia Cano.
"A very light metal structure and a stressed clear ETFE membrane cover a central spine in which we place the stalls and a seating area on top. This spine is the market itself."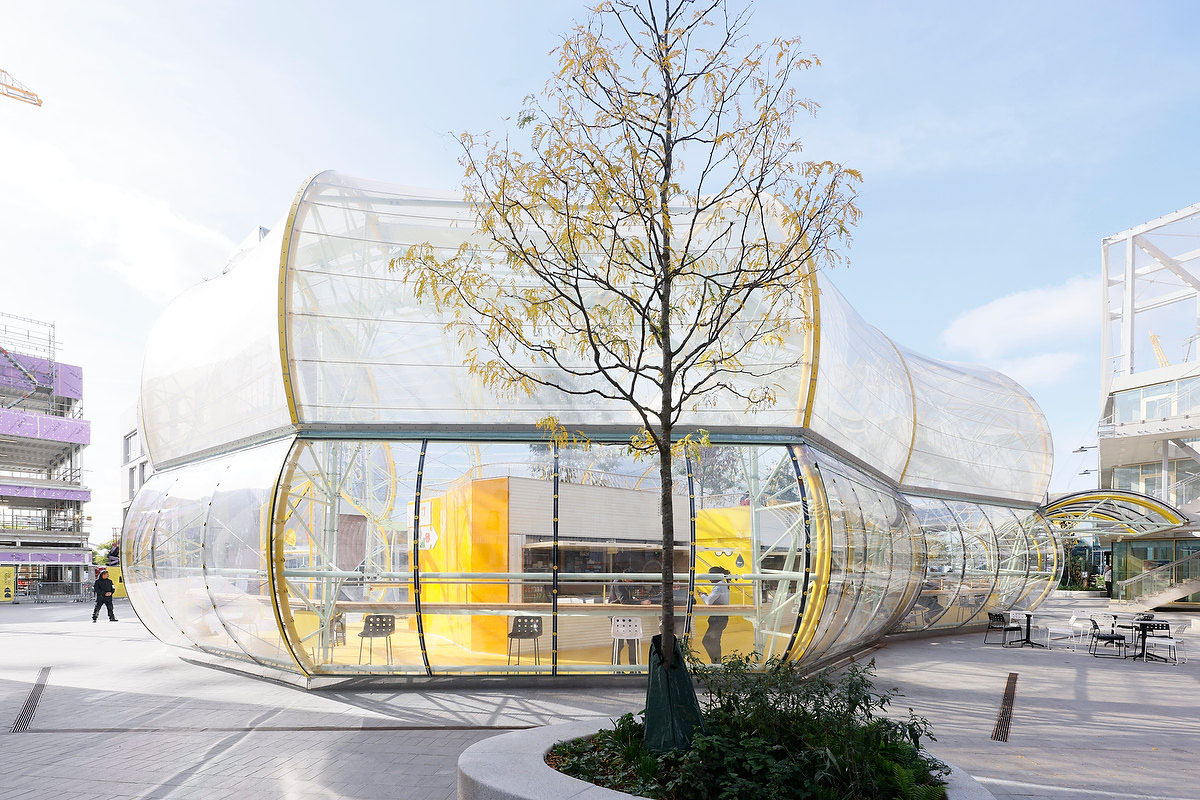 The studio arranges the stalls at each side of the spine on the ground level while a seating area is provided just above it and under the tree canopies.
The whole spine is built from translucent backlight materials to act as a big lamp that illuminates the market and the ETFE membrane, according to the studio, this allows the whole market to shine at nights and become a focus point in the neighborhood.
The market has its main access doors at both extremes of it while it is also accessible from the other sides. The structure is made of operable panels at the base level and are built with polycarbonate panels to avoid any possible vandalism.
The studio subdivides ETFE membrane into different panels to serve for both reasons: one reason is that some of them are made to be operable for ventilation inside, and the other reason is to provide the wonderful feeling of being in a street market.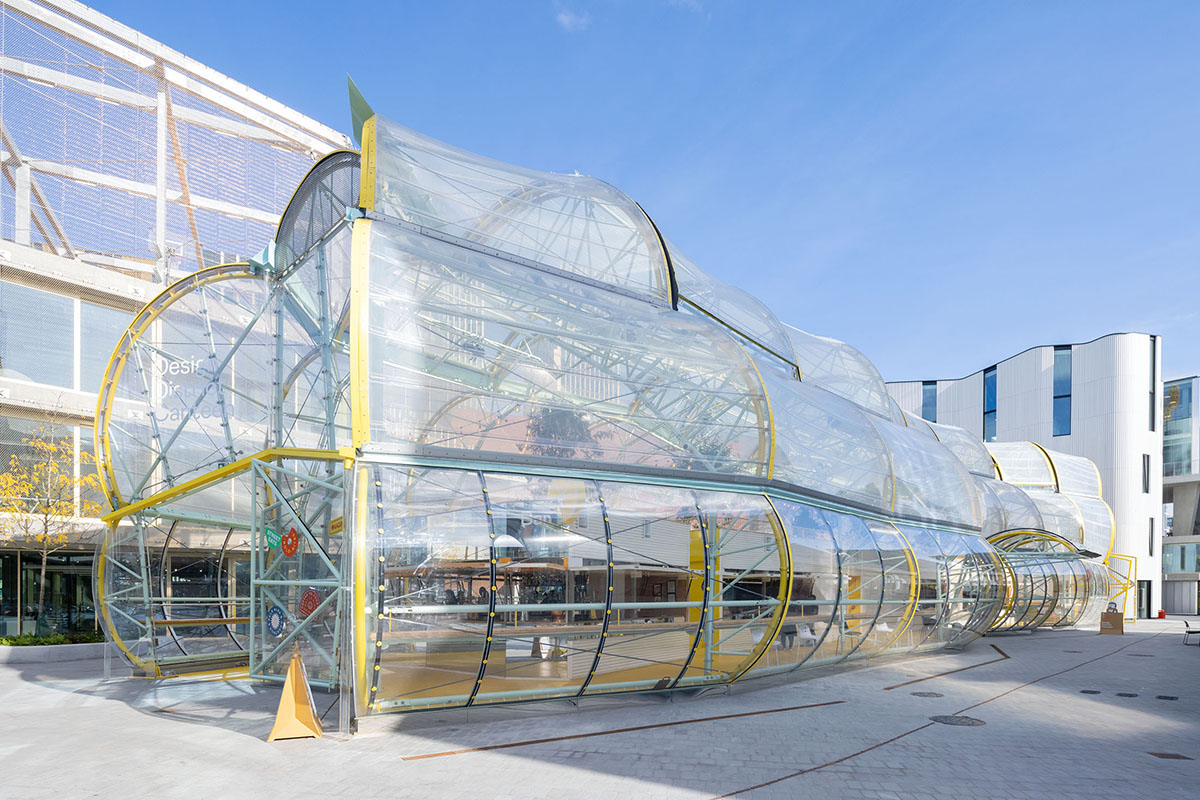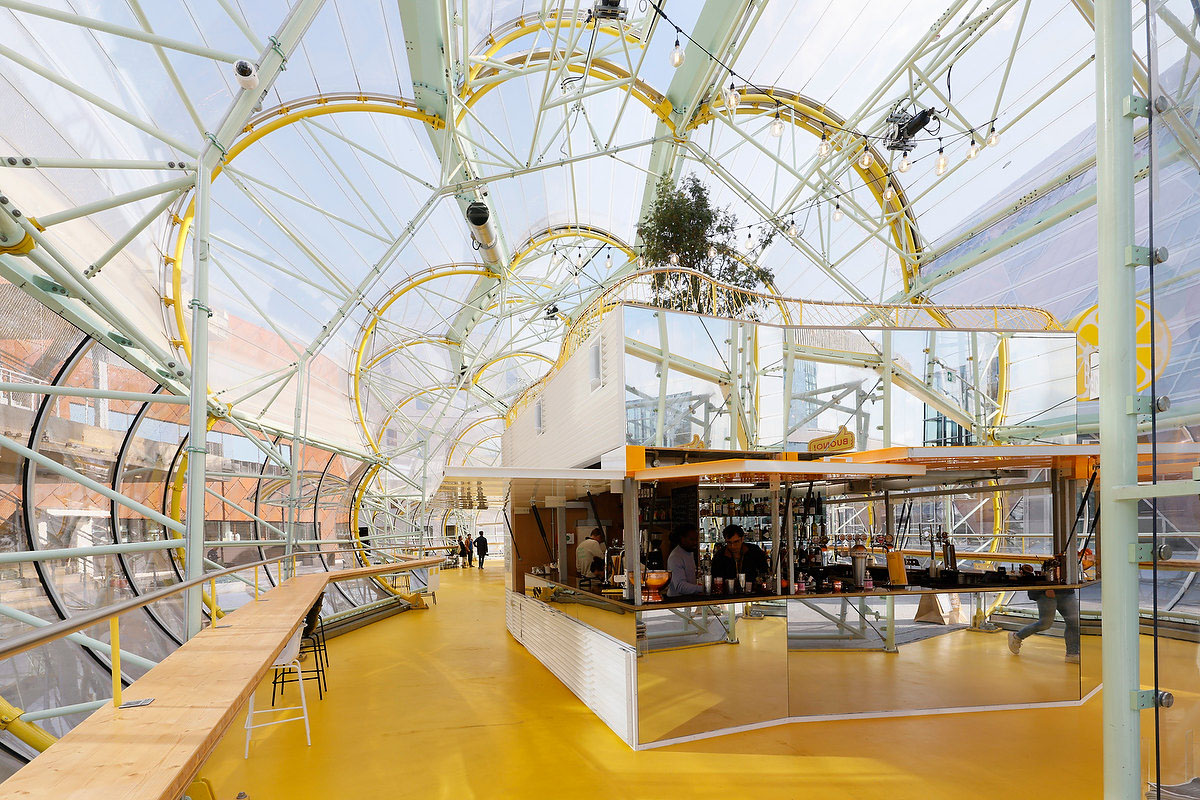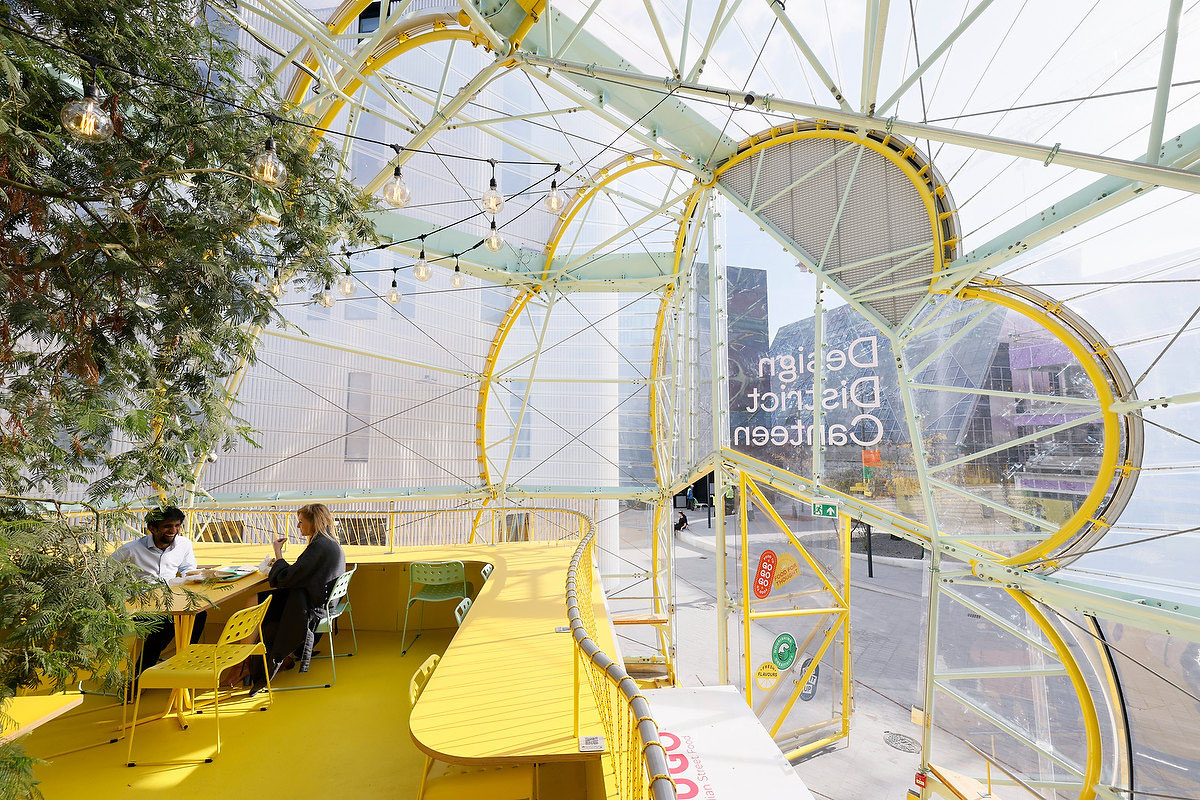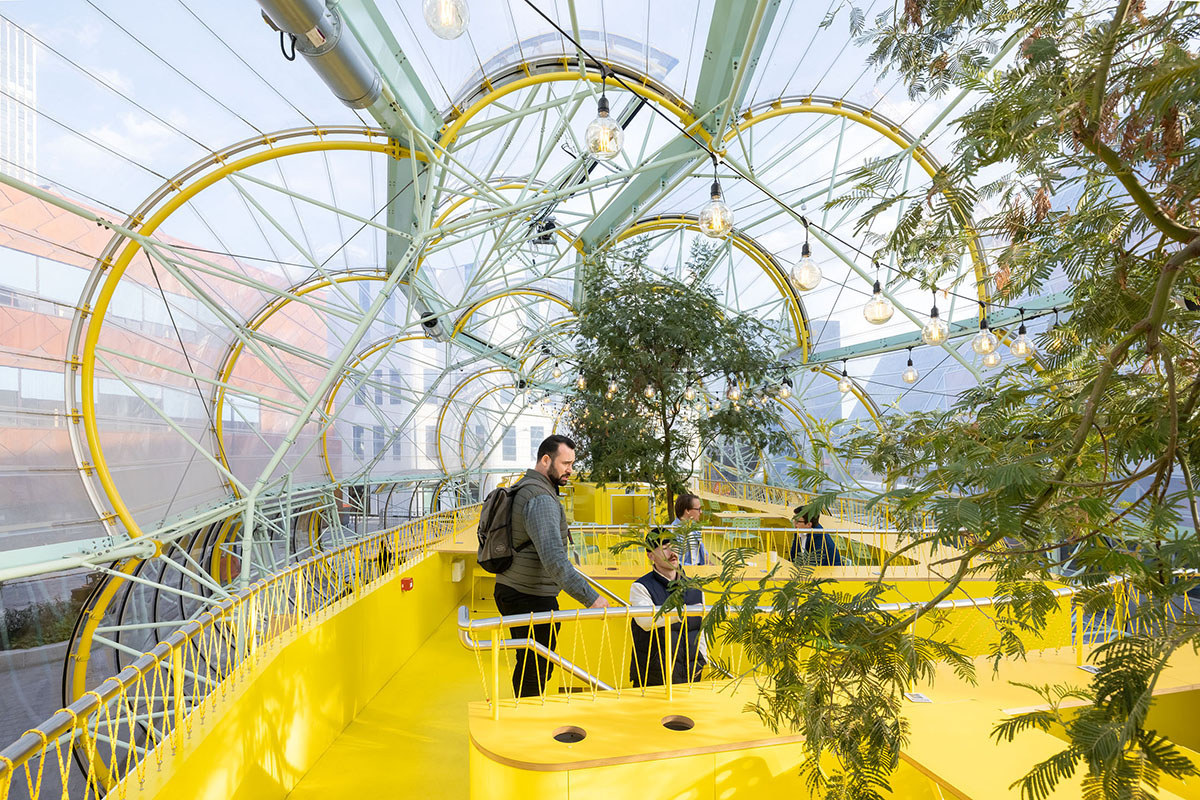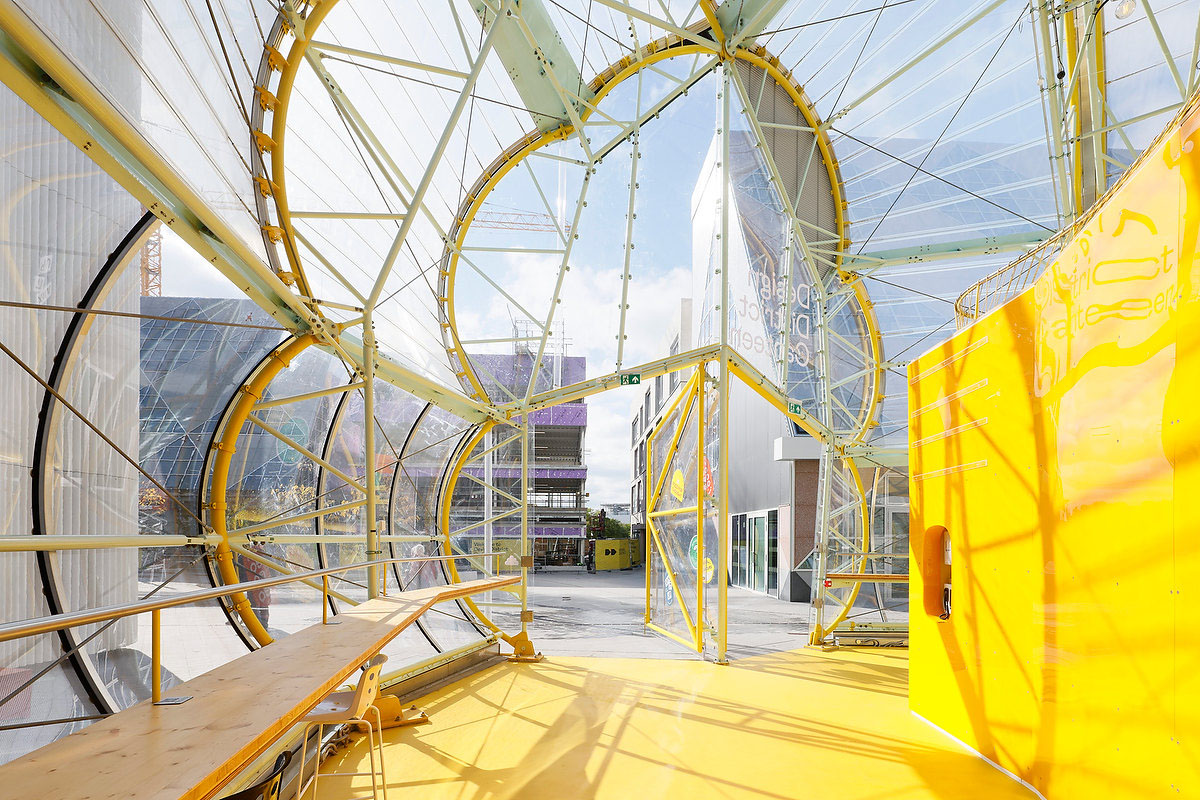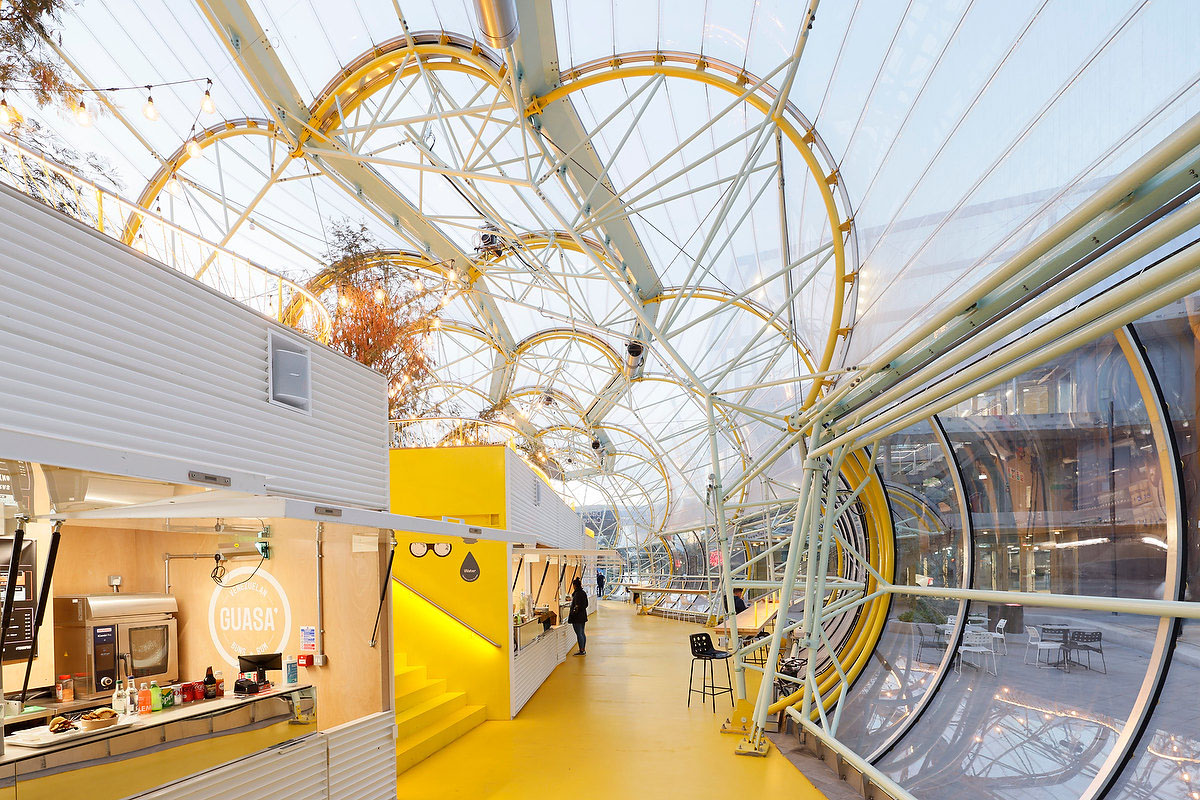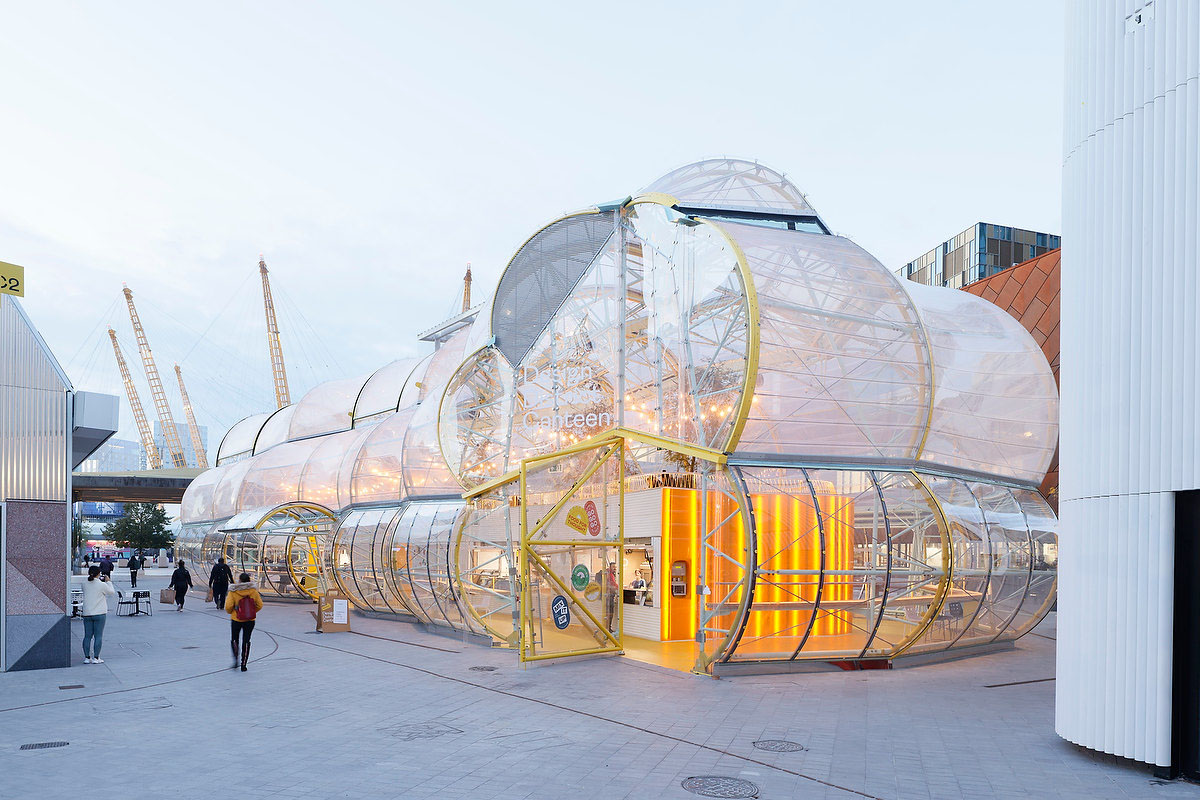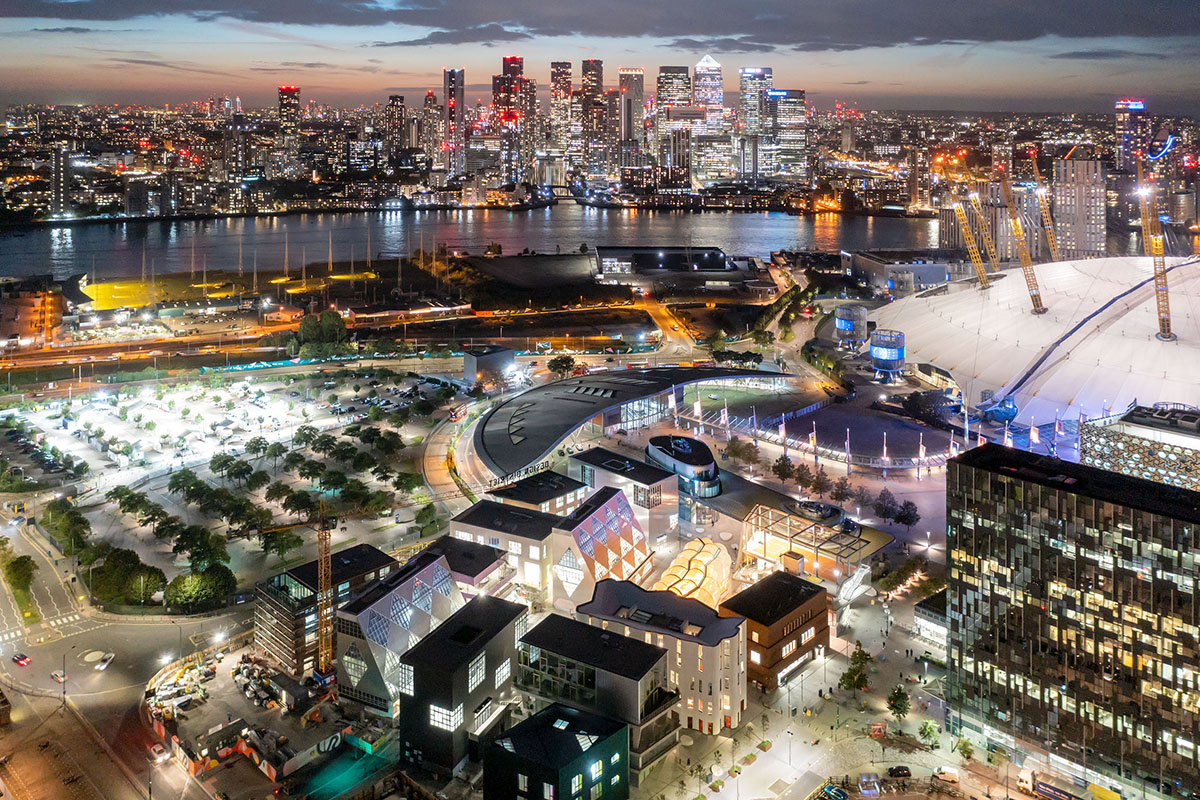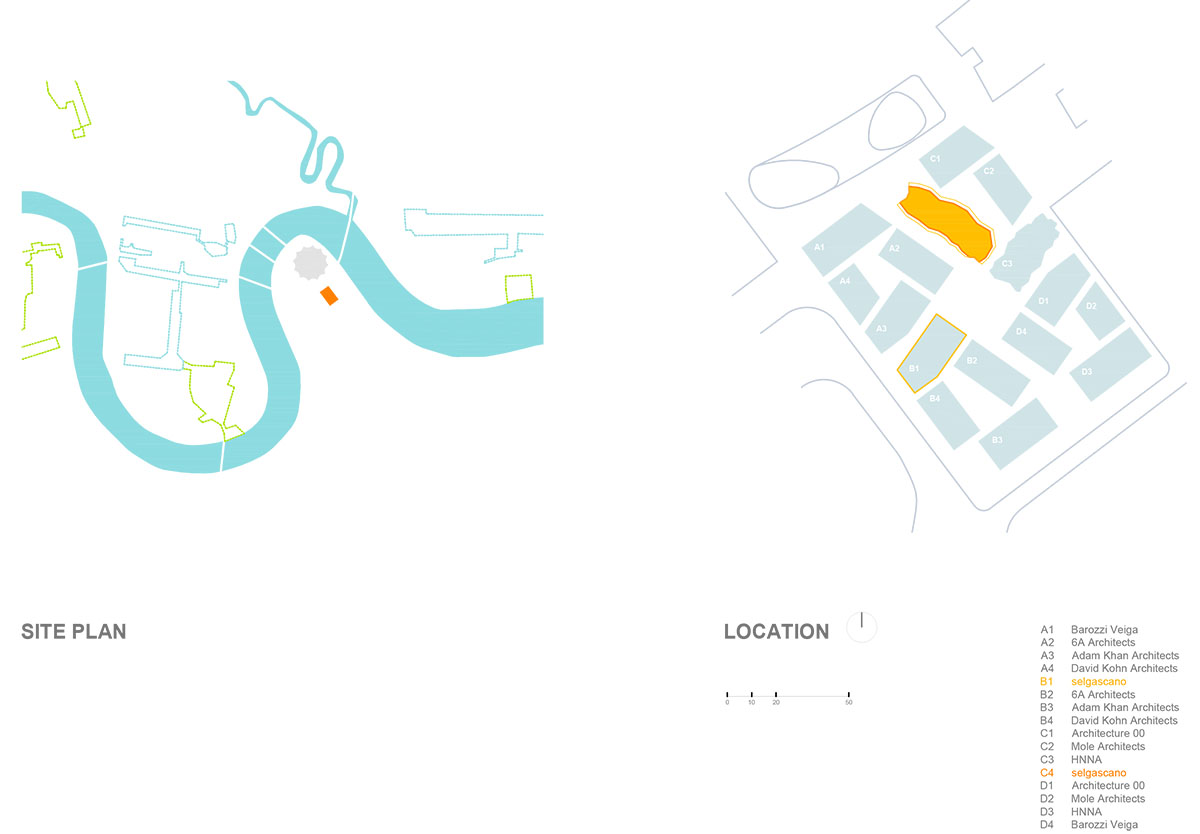 Site plan
Ground level plan
Upper level plan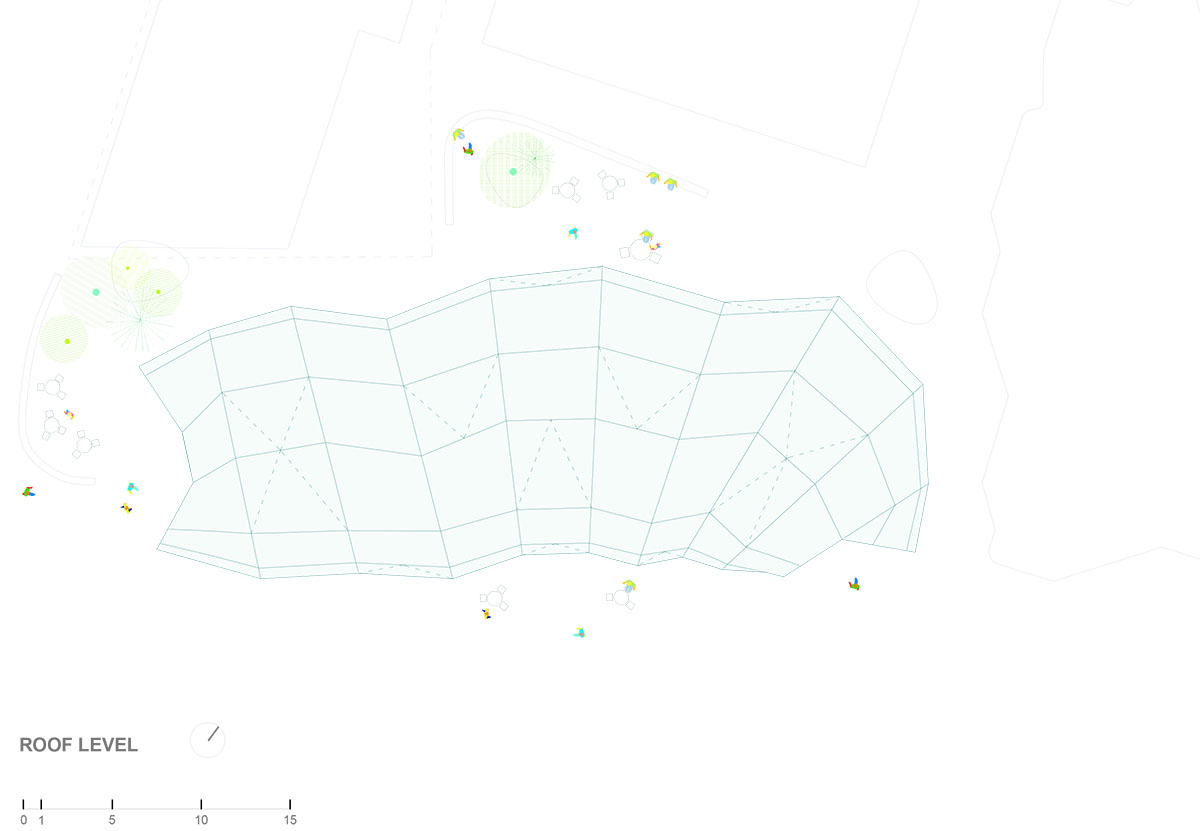 Roof level plan
Section A
Section B
Structure scheme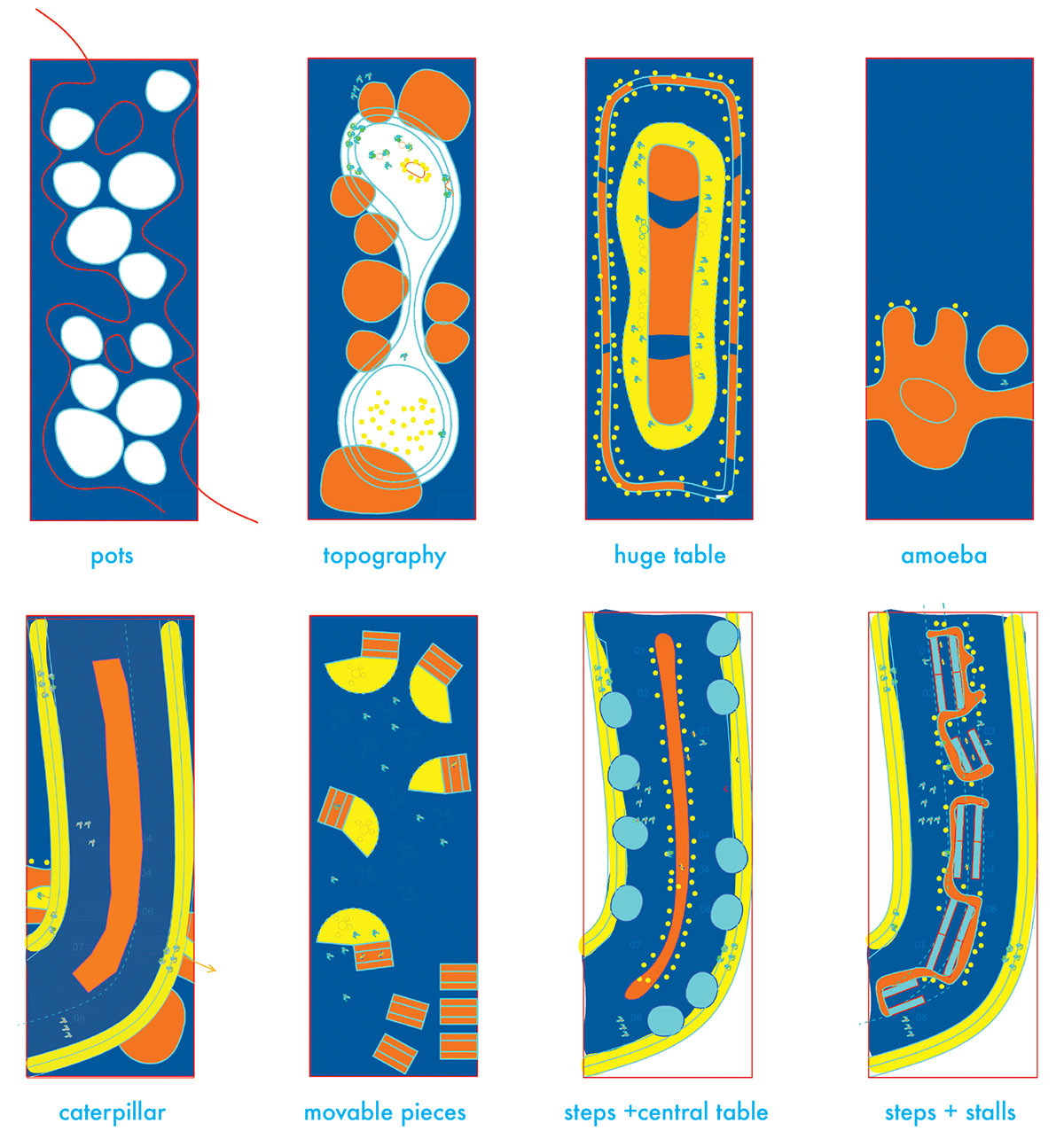 First concept schemes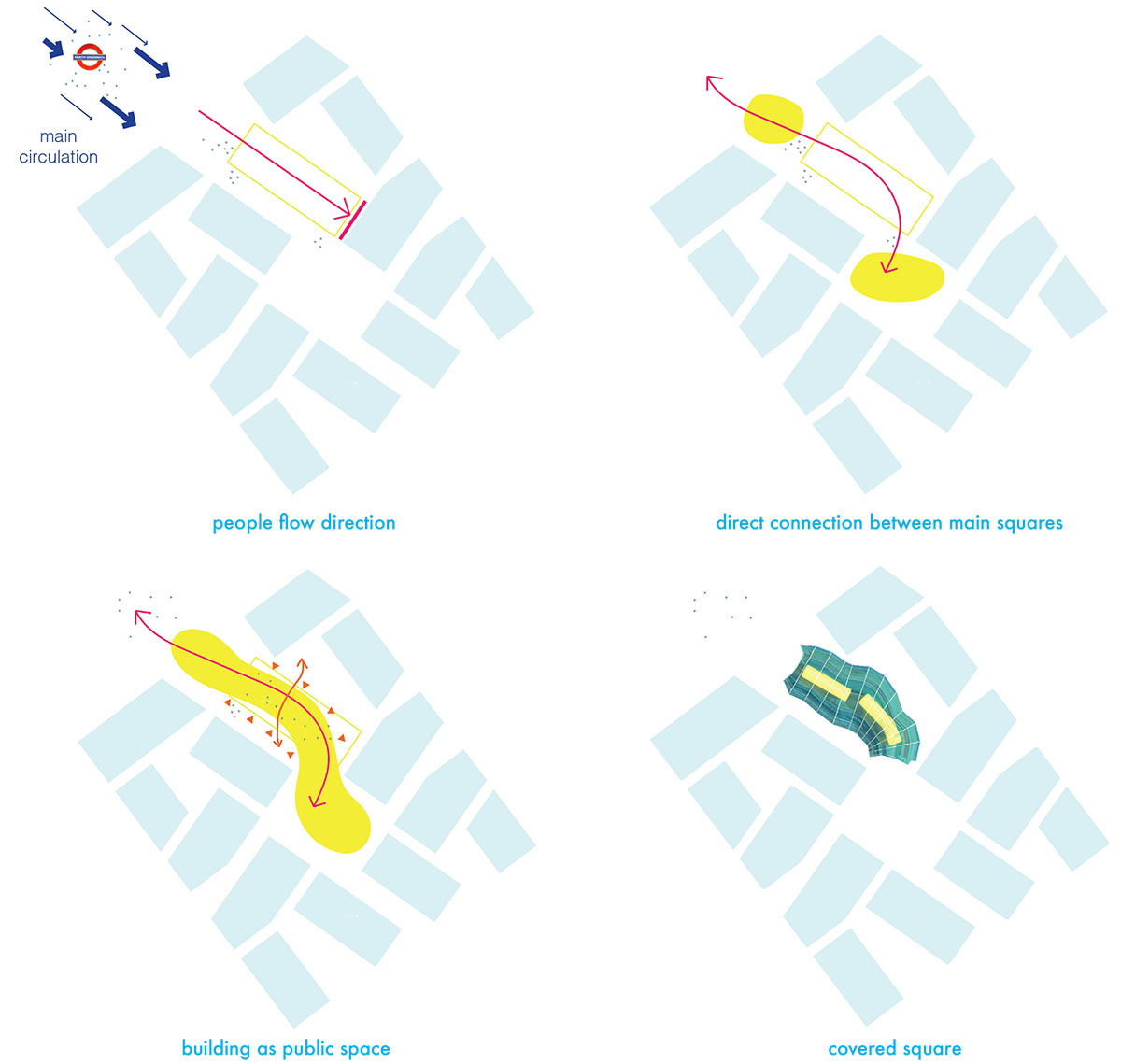 Design District schemes
Structure perspective diagram
Model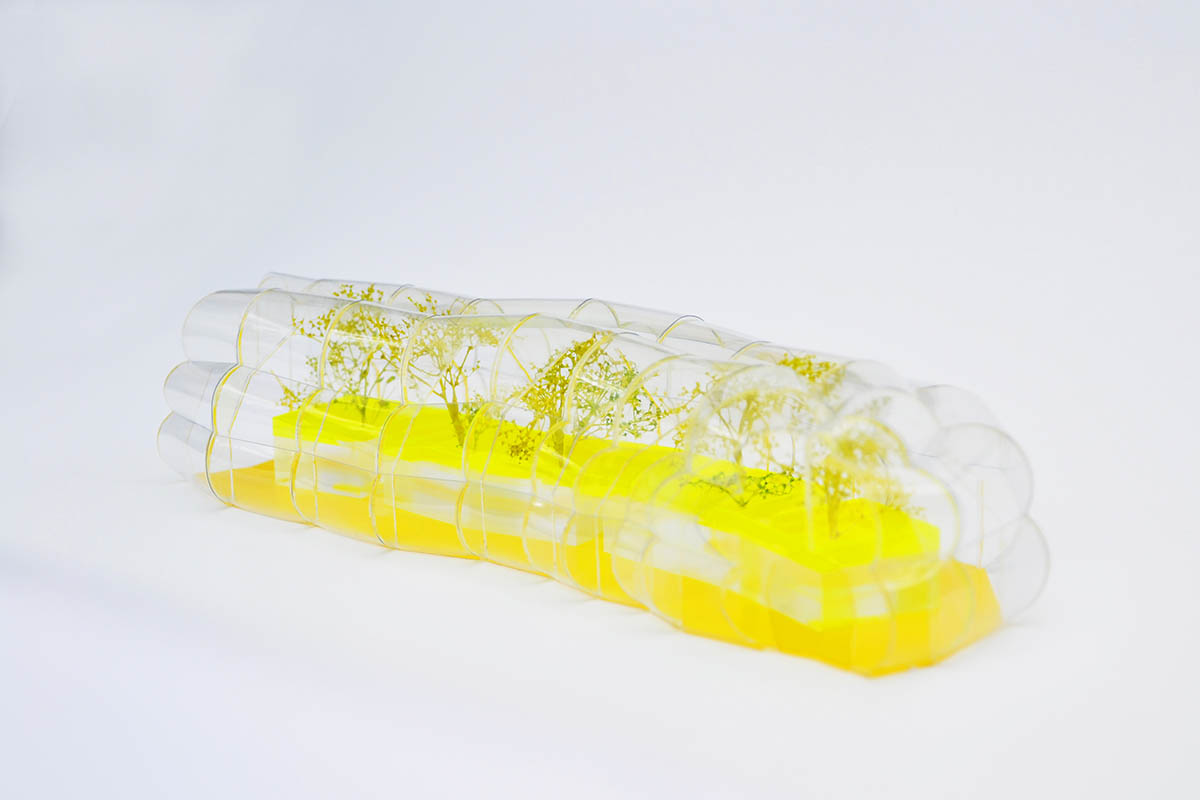 Model
Model
The studio worked with London-based structural engineers Momentum and Whitby Woods on the project, while landscape architecture was designed by Danish firm Schulze+Grassov and SelgasCano.
SelgasCano designed the 2015 Serpentine Pavilion in London. Other key projects of the studio include Pavillon Martell - a vast paper forest, made of "an onduclair PLR material" - in France and a rock-formed Plasencia Conference Center and Auditórium in Plasencia, Spain.
Project facts
Project name: Design District Canteen
Architects: SelgasCano
Design years: from 2017 to 2019
Construction year: from 2019 to 2021
Project team: Víctor Jiménez, Paolo Tringali, Juan José Muñoz, Catalina Vázquez, Sara Ouass, Inés Olavarrieta.
Client: Knight Dragon Developments Ltd
Model maker: Gilberto Ruiz Lopes
Consultants:
Structural engineer: Momentum, Whitby Woods
Facades: Albany Façade Engineering, Vector Foiltec
Mechanical engineer: Skelly & Couch
Interior designer: SelgasCano
Landscape architect: Schulze+Grassov + SelgasCano
General contractor: Ardmore
Building area (footprint area): 495m2
Total floor area: 660m2
All images © Iwan Baan.
All drawings & models © SelgasCano.
> via SelgasCano