"Green Dip digitally reimagines metropolises as typical set of green space" says Winy Maas
reSITE, a global architecture and urbanism platform, has kicked off the second season of its podcast "Design and the City" series, the digital series aim to share ideas on how to create more livable and lovable cities through as many different lenses as we can.
Initiated as a continuation of reSITE's architecture and urbanism events, in the second season, the series will feature bi-weekly episodes featuring interviews with architects involved in all aspects of city-making, urban development, architecture and design, including Vishaan Chakrabarti, PAU, William W. Wurster Dean of the College of Environmental Design at the University of California, Berkeley, Gary Hustwit, Filmmaker, Urbanized, Helvetica, Stefan Sagmeister, Graphic Designer, Sagmeister, Inc., and more.
In this first episode, Winy Maas, co-founder of MVRDV and founder of The Why Factory, has been interviewed by reSITE's founder Martin Barry, and discussed his recent projects, his interdisciplinary studies at this year's Manifesta 13 Biennial and his new concept, called Green Dip, which is the subject of a new upcoming book of The Why Factory.
Winy Maas at reSITE 2017. Image courtesy of reSITE
"The Why Factory's Green Dip digitally reimagines metropolises, like New York and Hong Kong, and rethinks the typical set "green space", merging it with the existing urban fabric and transforming concrete jungles into green ones," said Dutch architect Winy Maas.
"Think: skyscrapers completely covered in plant life, a site that transforms the skyline into a living urban canopy."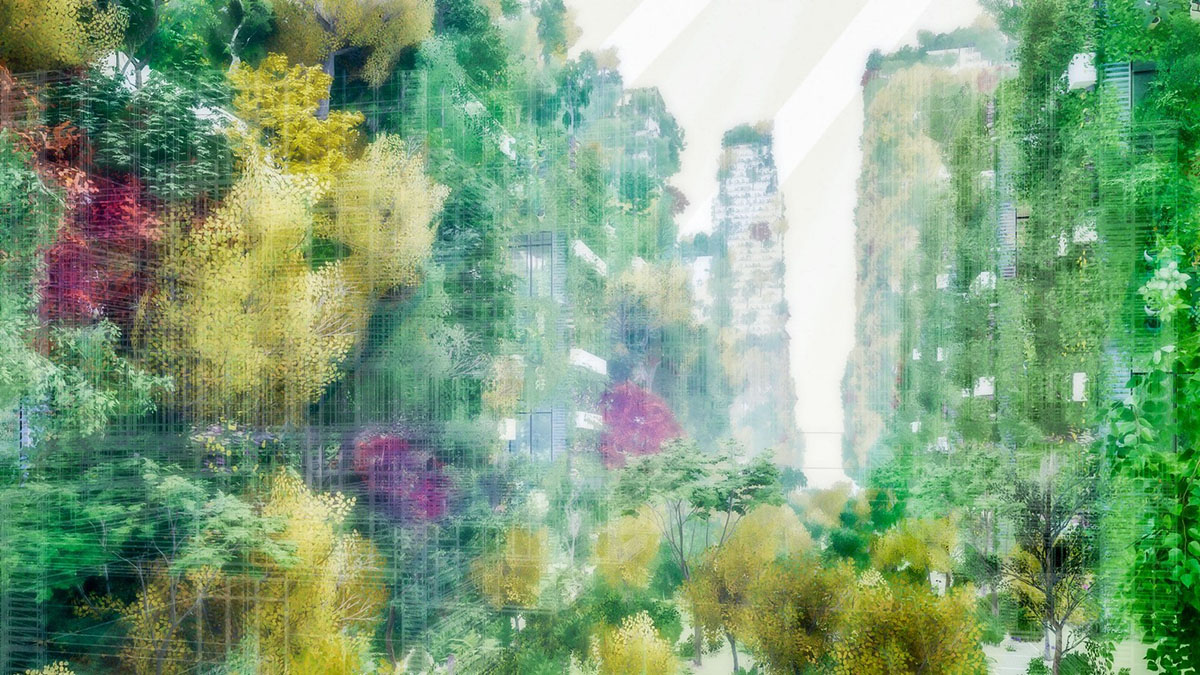 The Green Dip © The Why Factory
The Green Dip will based on a software and data that calculate the amount of carbon dioxide that could be captured by cities. The concept will also be enriched by films that will be accessible and three-dimensionalized to be able to provide an overall image of a city.
"Critics say it costs a lot, in maintenance, which is true. But anyway, we have to maintain our lives, and our planet, how much water it costs, or how much it can store, how much "Earth" it costs, and how much structure it costs, etc, so we made that script in the Why Factory, like a year ago," said Winy Maas.
In this 1-hour episode, as he always reiterates the question of "What's next?", Maas discusses innovative ideas that are seemingly larger than life, and push the boundaries of our urban potential. In the episode, he also spoke about his recent projects, including the retrofitted abandoned shopping mall close to the Taiwaneese city of Tainan.
Tainan Urban Lagoon And Park in central Tainan by MVRDV. Image © Daria Scagliola
His global firm MVRDV is known for projects like Rotterdam's Market Hall, the Art Depot, or the Taipei Twin Towers, The Stairs installation, theTianjin Binhai Public Library in China.
MVRDV's one of the latest projects includes a vegetable market in Tainan, developed as part of a wider masterplan to rejuvenate the area that includes a circular food market, with a multipurpose roof, used for growing the produce that will be sold below.
The Stairs in Rotterdam by MVRDV. Image © Ossip van Duivenbode
Maas also spoke about the projects his think-tank, "The Why Factory", is involved in, the imaginative Green Dip that rethinks what a "green city" can look like, and the Manifesta 13 Biennial that took place this year in Marseille. MVRDV along with Maas's think-tank, The Why Factory played a central role in this year's European Nomadic Biennial, Manifesta 13, which took place in Marseille, France.
They led a pre-biennial interdisciplinary urban study focused on the southern French city, named "Le Grand Puzzle."
MVRDV and The Why Factory (Delft University of Technology)'s Le Grand Puzzle, a comprehensive urban study with ambitious ideas for Marseille as part of Manifesta 13 Marseille. Image courtesy of MVRDV
As Winy put it, the publication shows the urban possibilities and impossibilities of Marseille, through conversations, analyses, maps and ideas - a "manifesto" for the city - serving as a platform to develop artistic and cultural interventions during the biennial in 2020.
reSITE is a global platform connecting people and ideas to improve the urban environment, and typically, this would happen though live events hosted in Prague and other European cities. Design and the City by reSITE has been launched to explore the ways we can use design to make cities more livable and lovable.
"The podcast is an ideal format to tackle the same issues in the virtual environment and stay connected to discuss a better future, together," said reSITE.
The first season of Design and the City included prominent architects like Thomas Heatherwick, Chris Precht, Ravi Naidoo and more, all can be seen on this page.
The Gazprom building in Saint Petersburg by MVRDV. Image courtesy of MVRDV
In the episode, Maas also spoke about his project in Saint Petersburg, the Gazprom building, which project came second in an international competition.
As Winy refers, this building "would have been the world's largest timber building and a CO2 storage deposit that would not consume any fossil energy."
Winy Maas. Image © Barbra Verbij
The proposal came for oil giant Gazprom Neft's headquarters in St Petersburg.
MVRDV entered the competition as Winy put it "after considerable debate" and internal discussions over the merits of working for a client that is a heavy polluter, ultimately deciding to uphold their dedication to sustainable design.
Top image: Tainan Market. Image courtesy of MVRDV
> via reSITE