Fran Silvestre Arquitectos completes House of Sand with cantilevered volume in Valencia
Valencia-based architecture studio Fran Silvestre Arquitectos has completed a residence and studio for a musician in a residential area near Valencia, where neighboring houses are very close to each other.
Named House of Sand, the house is comprised of a pair of all-white volumes, one is placed perpendicular to the other one.
The house is located in front of the Mediterranean, in a place where an imposing dune protects the coast from storms.
"This starting point defines the configuration of the project. The house is materialized with two volumes arranged perpendicular to each other," said Fran Silvestre Arquitectos.
The house has been decided to generate a semi-buried volume on the ground floor that configures the recording studio. A concrete enclosure, within another concrete enclosure, with highly studied acoustics.
In order to have views of the sea, the program of uses of the house is inverted as opposed to the traditional scheme, the day area is arranged on the upper floor to be able to look over the top of the dune and uses the lower level roof as a belvedere.
The night area is located on the entry level, perpendicular to the sea. The circulation is arranged in the most public part of the plot open to the pool area, while the rooms open onto a beautiful garden consolidated with small species that existed in the place.
The cantilever of the upper floor ends with a kind of cloister open to the sky that allows the main room to be illuminated from the south while maintaining privacy, and at the same time casts the necessary shade on the lower level.
"The staircase is drawn at the intersection of both volumes, marking the access point of the house," added the studio. "Ultimately, two volumes adapted to enjoy the surrounding conditions, the views, the shade ... nothing more, nothing less."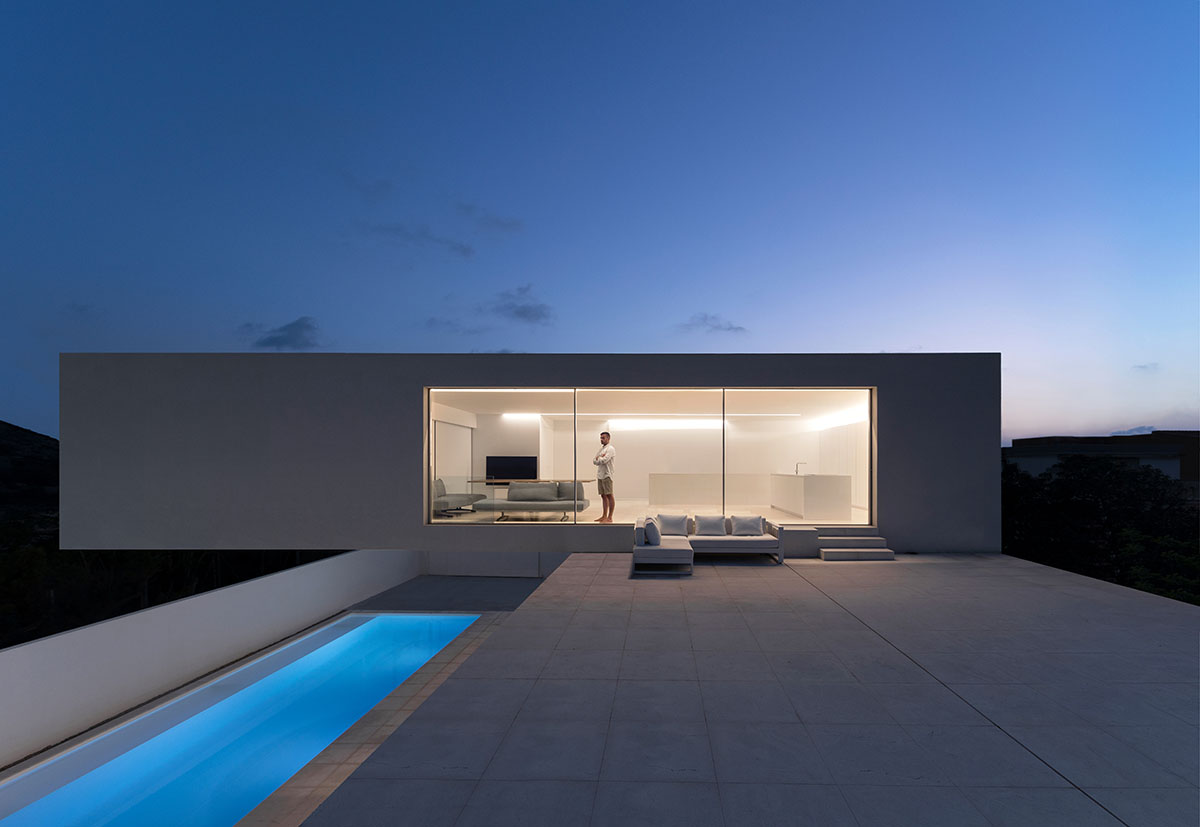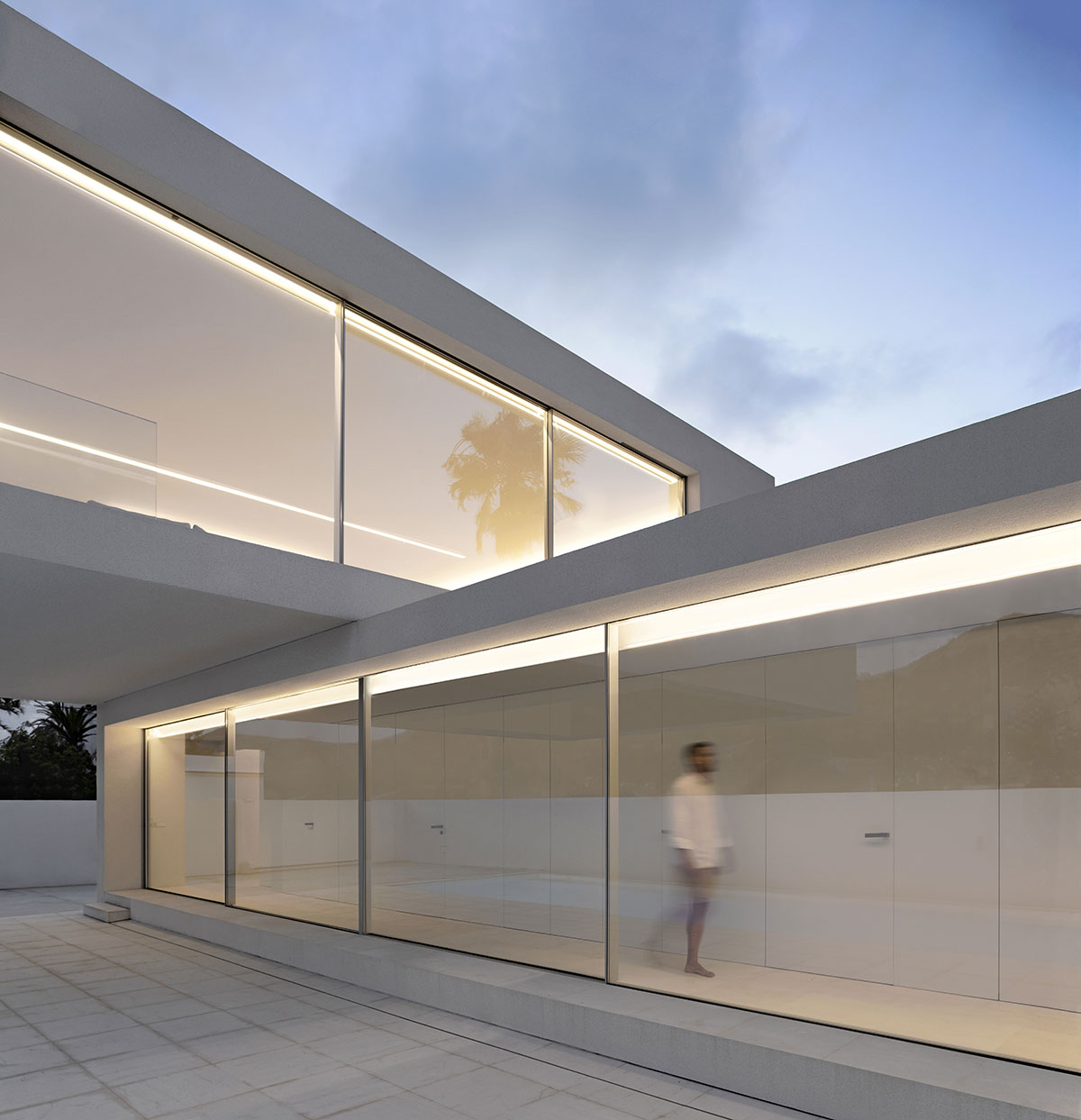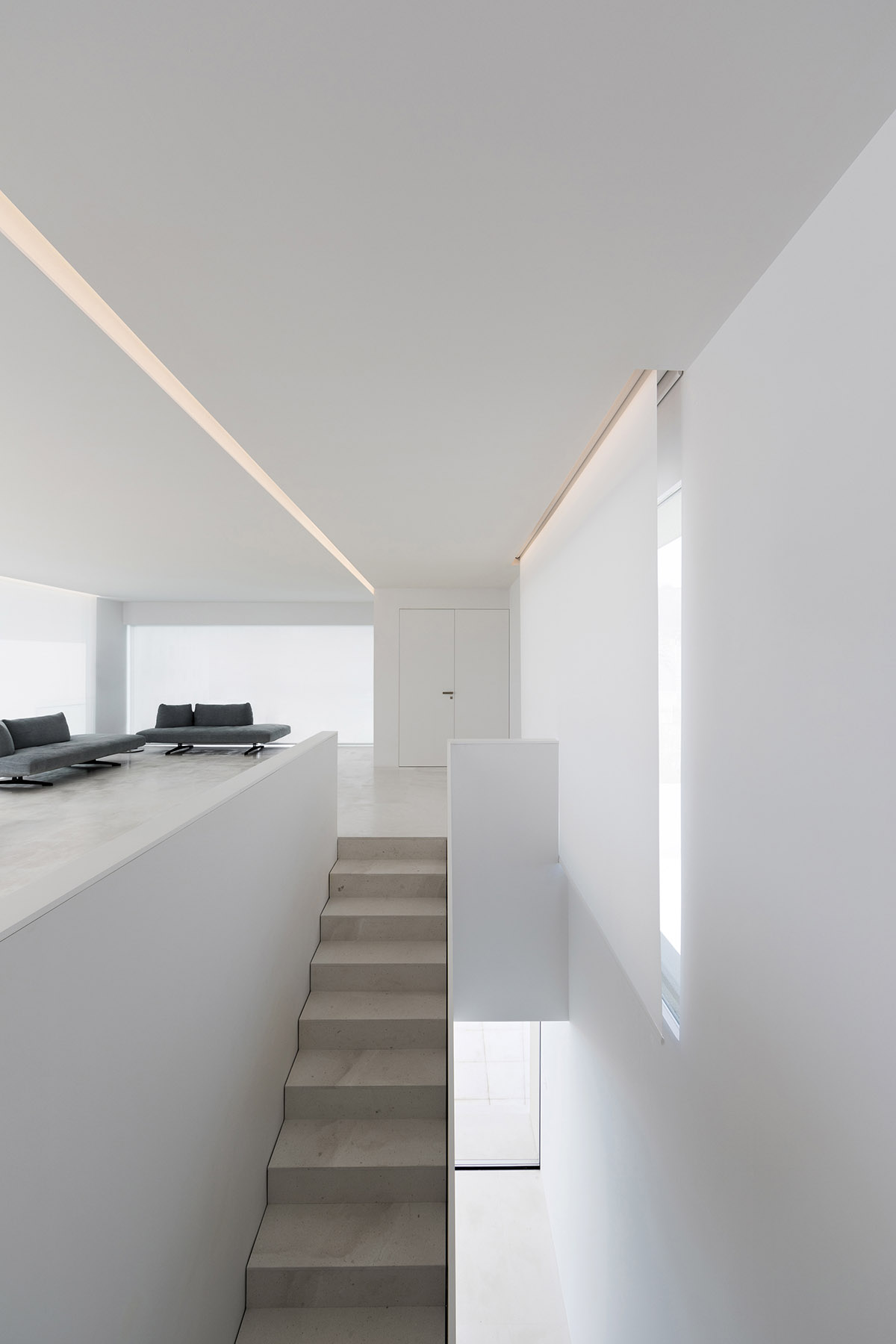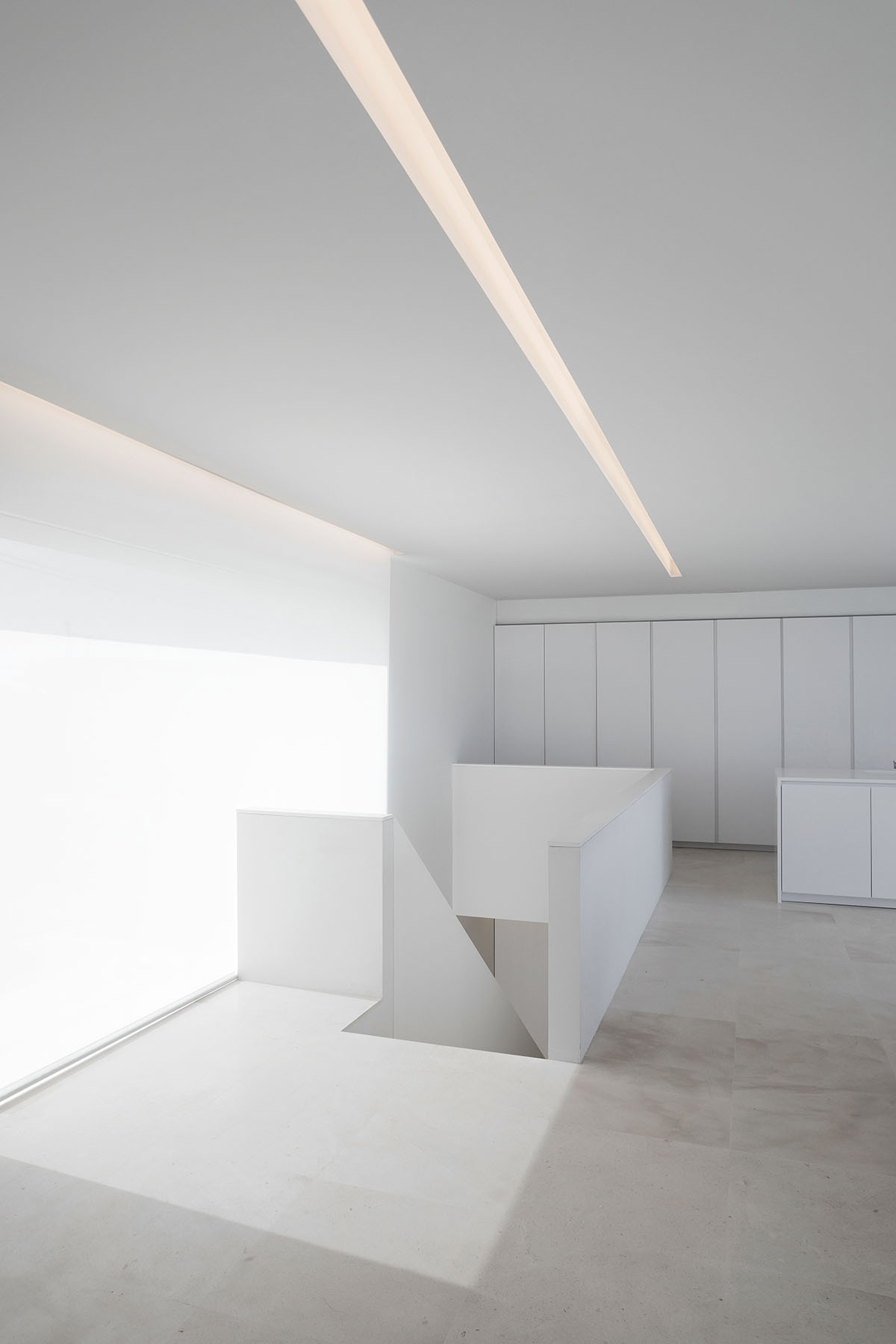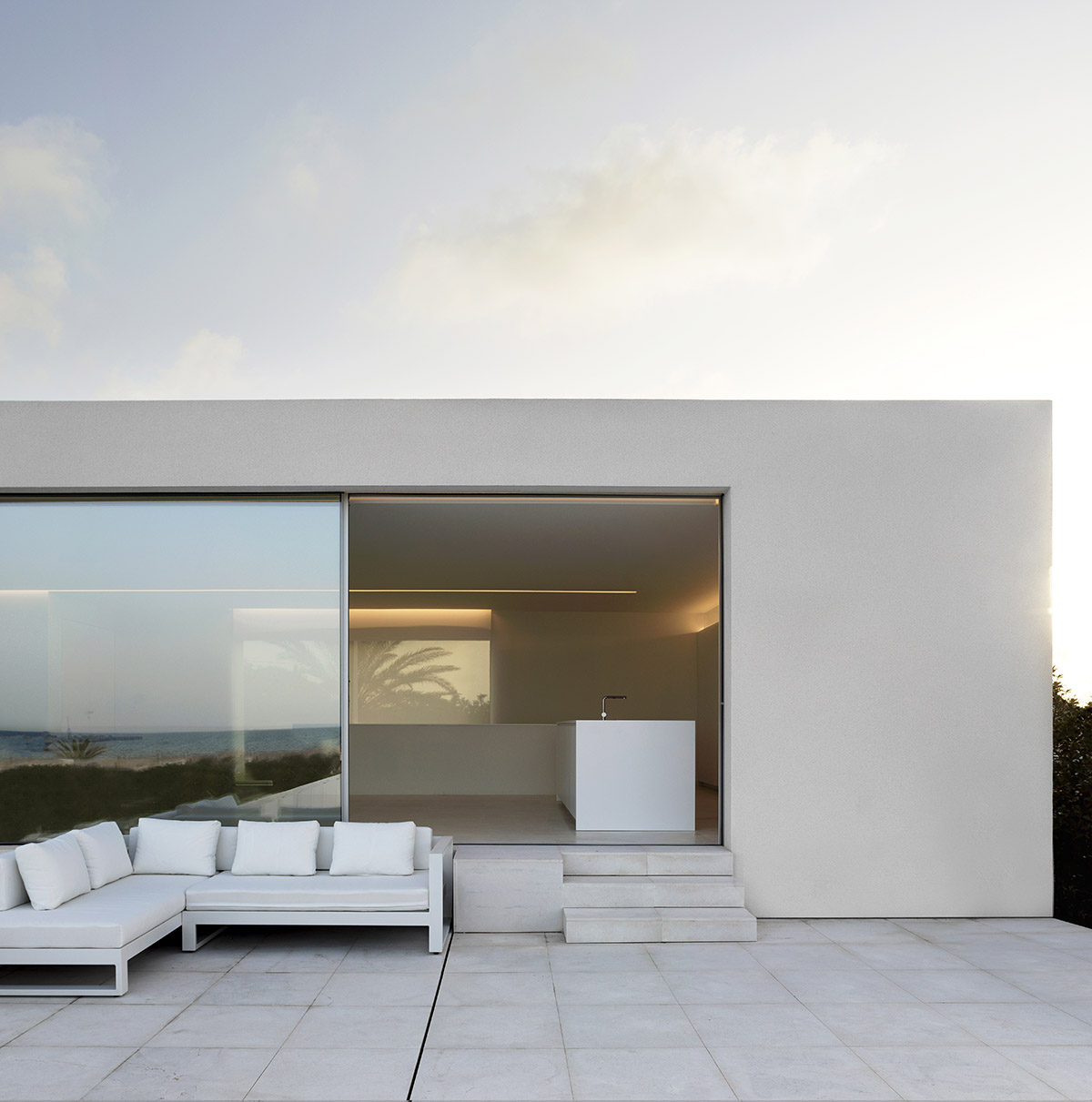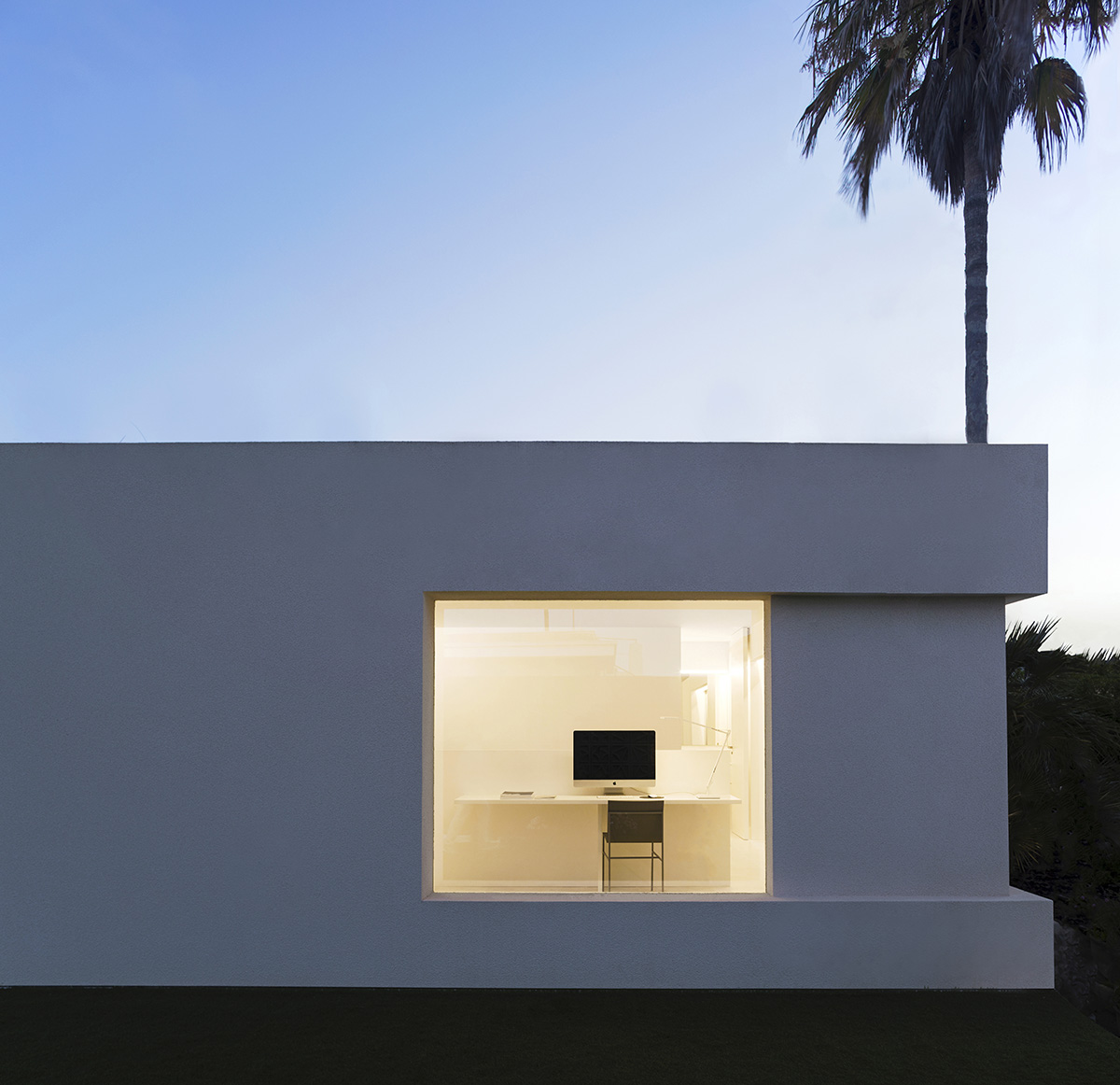 Ground floor plan
First floor plan
Roof plan
Section
Section
South elevation
West elevation
North elevation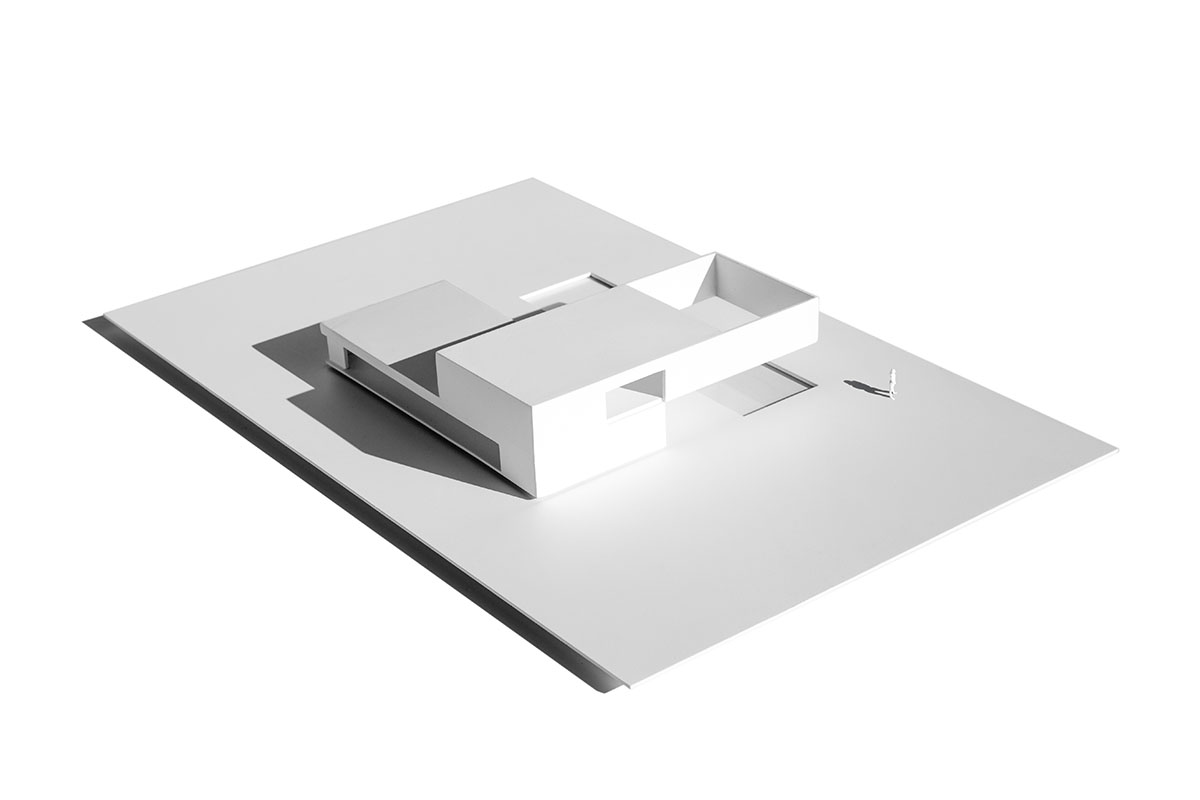 Model
Sketch
Founded by Fran Silvestre in Valencia, Fran Silvestre Arquitectos is known for clean and all-white geometries and the studio designs many private house across Spain and other countries.
The firm previously completed House of Silence, Hofmann House with extruded roof in Valencia and a volume-shifting house between the pine forest of Spain.
Project facts
Project name: House of Sand
Architecture: Fran Silvestre Arquitectos
Location: Calencia, Spain
Interiors: Alfaro Hofmann
Building engineer: Enrique Alario
Structural engineer: Estructuras Singulares
Construction: AT4
Project team: María Masià, Fran Ayala
All images © Diego Opazo
All drawings © Fran Silvestre Arquitectos