Precht discusses his nature-driven approach and new generation of architects in reSITE's podcast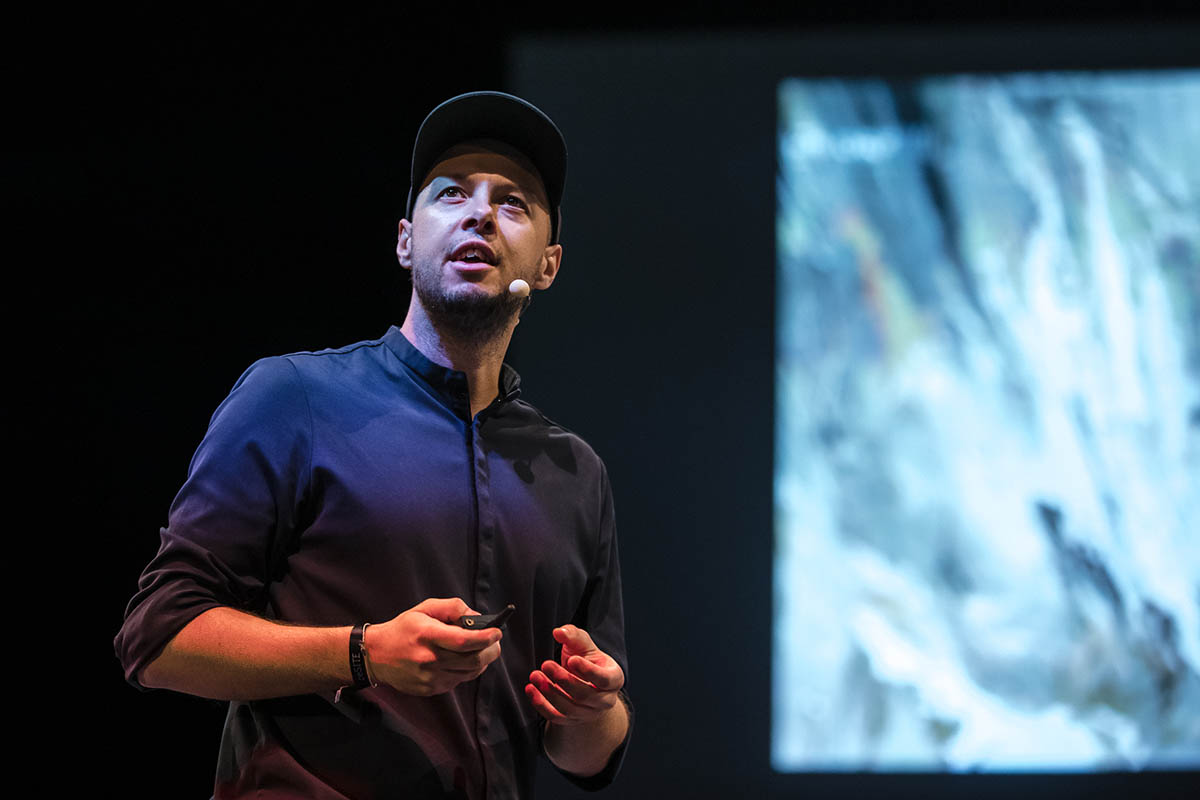 Chris Precht, co-founder of Austria-based architecture practice Studio Precht, is the second guest of reSITE's podcast series, titled "Design and the City" which was announced in February 2020.
The podcast series "Design and the City", was launched by reSITE and features conversations with outstanding architects held during the 2019 REGENERATE conference as part of the conference's theme.
In the second episode, Chris Precht discusses his nature-driven approach and shares his thoughts on the new generation of architects, concerning the self-sufficient buildings, climate change and combining architecture with agriculture, bringing back food production into our cities.
Chris Precht at the 2019 reSITE's stage. Image © Tomas Princ
Precht also delivered a lecture in reSITE's REGENERATE conference, by pointing out "how cities should be a part of food consumption".
Studio Precht is known for its modular buildings with interwoven, natural geometry bringing "being green" to a whole other level.
The studio's buildings are all variations on a theme - vertical farming meant for city-living - and aim to reconnect our lives to our food production by bringing it back into our cities, and our minds through architecture.
Tel Aviv Tower inspired by Bauhausian neighbourhood. Image © Penda Austria
In the episode, meanwhile, he discusses the importance of authenticity, creating spaces that activate our senses, and connecting ourselves to our objective reality to solve the problems of our time.
Chris Precht is an Austrian architect and raised in the Austrian mountains. He co-founded the Beijing-based studio Penda in 2013, then he founded Studio Precht with his wife Fei Tang Precht in 2017. They develop concepts and new projects in various scales and sizes by adopting the green design approach.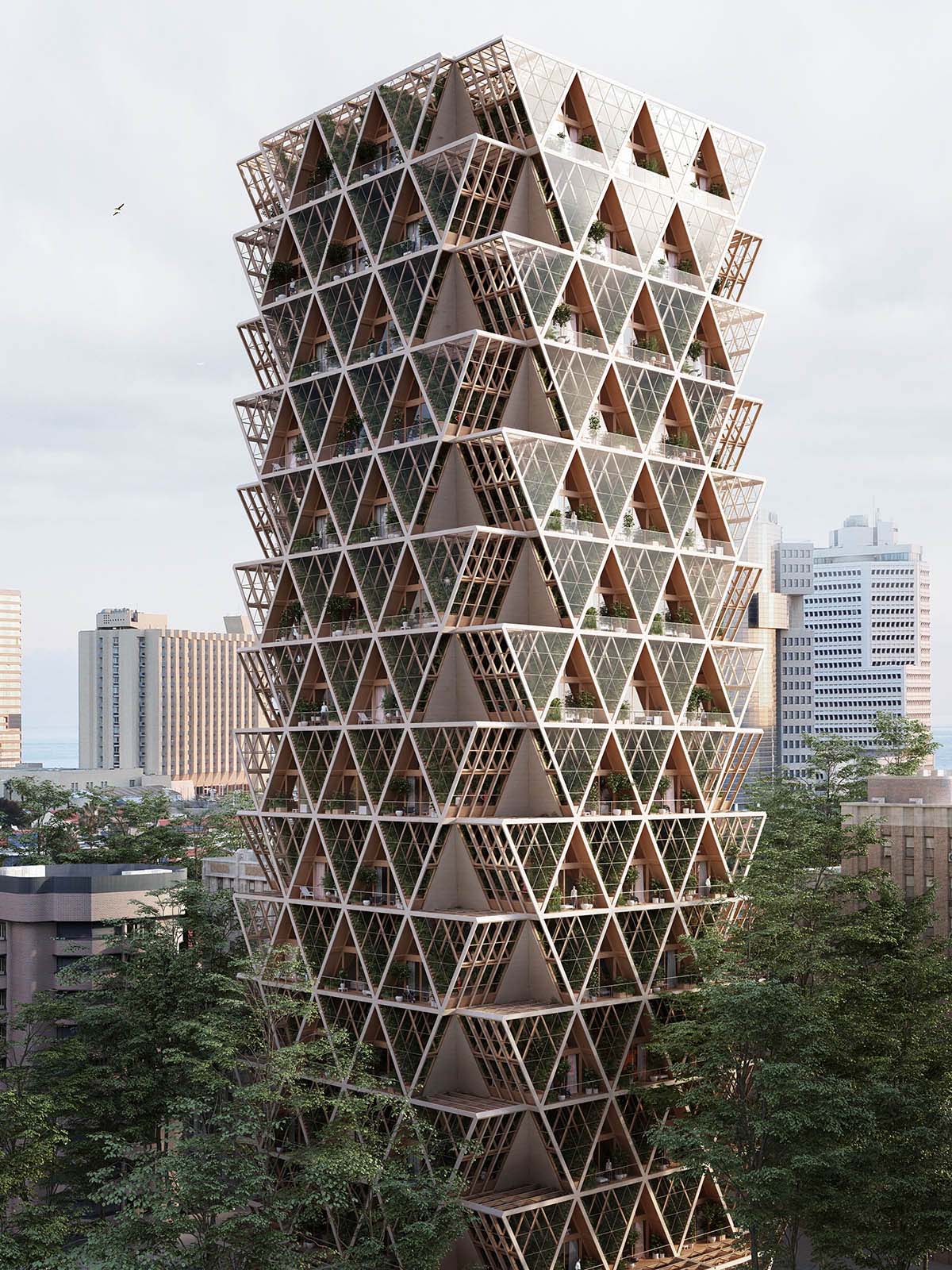 Studio Precht's Farmhouse that connects architecture with agriculture. Image © Studio Precht
"Architecture was always driven by fictional stories. We built the pyramids for Gods, castles for Kings, palaces for Queens, now we are building to make a profit in an economic system," Precht says.
"We all care about those stories, but our planet doesn't. If we are not able to connect ourselves to our objective reality, then I do not see any chance that we are able to solve the problems of our time."
"We are a generation that asks what is possible and not necessarily what is profitable. I have a big hope that we are a generation of architects that do not build for fictional stories, but for an objective reality," adds the architect.
Chris Precht at the 2019 reSITE stage. Image © Jakub Cervenkai
Precht also shares his views on the problems of today's architecture and urbanism in which many of buildings are designed based on the economic models and profit.
He says that many buildings sometimes are built with "very cheap materials and materials with a very high ecological footprint - that is a big problem."
Boulder Houses by Studio Precht. Image © Studio Precht
"We also create spaces that really connect to all of our senses. We create spaces that we want to touch, because we use haptic materials, we can listen to, because birds and bees are nesting into our buildings, and we can smell, taste, and eat parts of our buildings," Precht continues.
"So really buildings that connect to all of our senses. Then it creates different city centers. City centers that are not defined by banks or corporations but rather by health and vitality."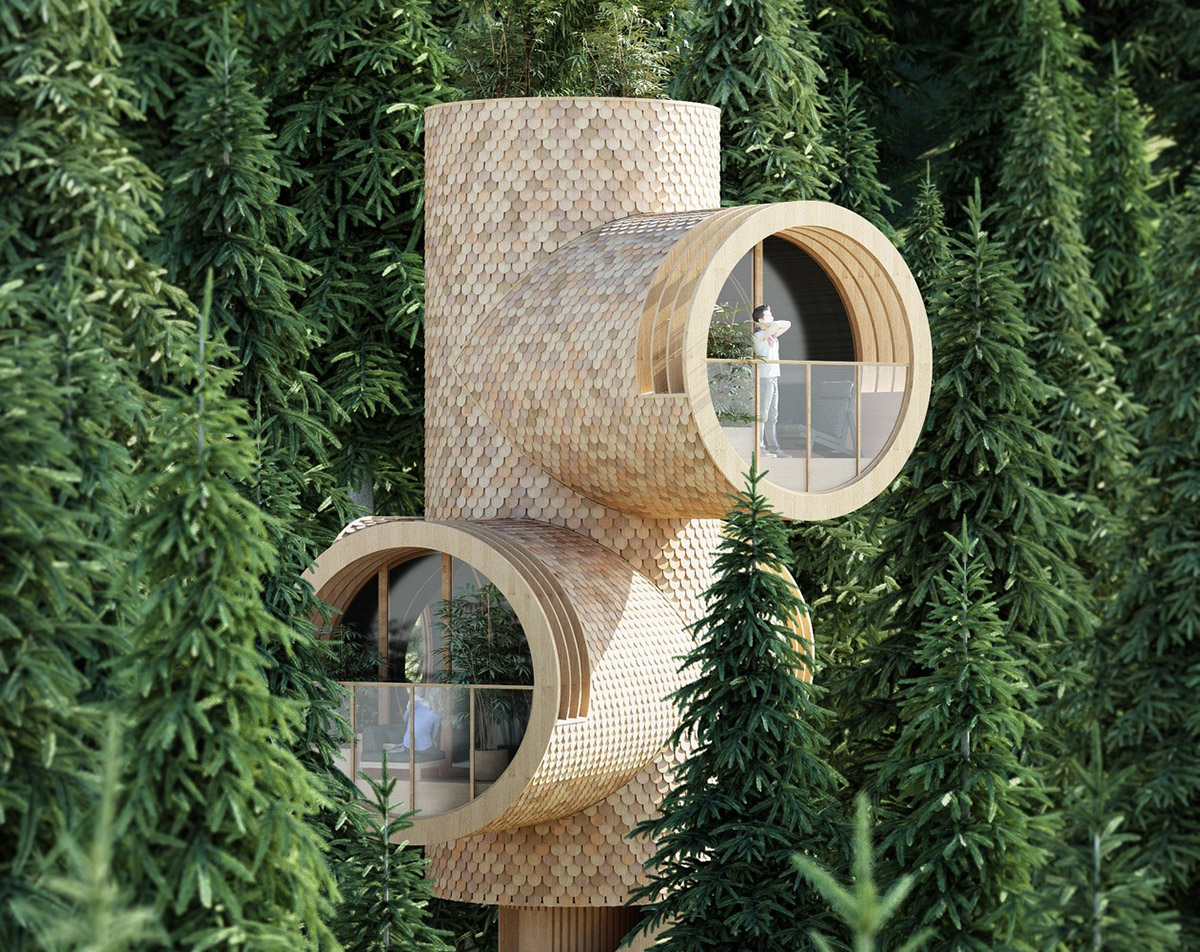 Studio Precht's modular Tree House inspired by cartoon characters. Image © Studio Precht
Studio Precht's HIlton Hyderabad. Image © Studio Precht
Design and the City is a podcast series produced by reSITE, aiming to find the ways we can use design and to make cities more livable and lovable.
As a global non-profit organization, reSITE acts to improve the urban environment, both on the stage at our events, and off. The organization works at the intersection of architecture, urbanism, politics, culture, and economics, acting as a catalyst for social action and innovative leadership.
WAC will be releasing a new podcast from reSITE 2019 with a new guest.
World Architecture Community was Media Partner of reSITE 2019 and covered the summit in detail. Read more about WAC's previous coverage about speakers, discussions and sessions on WAC's Urbanism page.
Top image © Tomas Princ
> via reSITE