Watch Exclusive Keynote Of Marc Koehler At WAF 2019
The World Architecture Festival (WAF) has shared its eighth keynote of Marc Koehler, Founder of Marc Koehler Architects from the WAF 2019 stage. WAC releases exclusive lectures each week as part of WAC's media partnership with WAF.
WAF's 2019 talks & keynotes series bring exclusive talks of outstanding architects to audience who was not able to participate to the festival in 2019.
Following the releases of Elizabeth Diller, Massimiliano Fuksas, Eva Franch, Ben van Berkel, Peter Cook, Petra Blaisse, Mario Cucinella, Kim Herforth Nielsen and Andrew Whalley's keynotes, Koehler discusses selected works of the firm and explains his Open Building, a new online platform featuring current developments with developers, architects, and inhabitants. Open Building is an emerging group of Dutch architects and engineers who "are devoted to radically changing the building industry and the built environment to enable a sustainable and personalised way of living."
Koehler is co-initiator of the program, alongside Jacob van Rijs of MVRDV, Olaf Gipser of Olaf Gipser Architects, Robert Winkel of Mei Architects and Planners. Marc Koehler Architects is also the initiator of Superlofts - which is a system for new ways of living that puts people in control with a flexible, modular, co-creative approach to the ultimate urban space: the loft.
In his 40-minute keynote, Koehler talks about the significance of creating an open building, which is fully adaptable to the users' needs and transformative for different kinds of purposes in the future. He briefly touches upon the 25 important points of Open Building in his lecture.
"Every project has its own unique facilities, sometimes it has a shared workspace in the lobby, sometimes it has a roof terrace, sometimes it has electric cars in the basement," said Marc Koehler.
"You need to identify the need and the market and also sell it well because these are not obvious investments, people always think they are too expensive. But we help developers to build their business case," he added.
Koehler's lecture, titled Open Building: A Future Perspective on Habraken's Heritage, tackled the legacy of Professor N. John Habraken, who in the 60s promoted Open Building as "a radical shift in decision-making for mass customized housing and a new way to harness the power of industrial production."
Architect and academic Habraken composed the first guidelines of Open Building in the sixties: he described ways to compose buildings with a multipurpose structure and flexible infill, to address the different wishes and needs of inhabitants.
During the lecture, Koehler elaborated on three themes: Open Architecture, Open Development, and Open Systems, and connect the principles of Open Building to new ways to incorporate circularity, sustainability and the influence of individuals and communities into residential projects.
Superlofts Houthavens, Amsterdam (2016). Image © Marcel van der Burg
Based in Amsterdam, Marc Koehler Architects is an international design agency founded in 2005 by Dutch architect Marc Koehler. The practice comprises a multidisciplinary team of 25 architects, designers and engineers.
The studio makes meaningful spaces and products that reflect new ways of co-living and explore a socially responsible way of making buildings.
Superlofts Buiksloterham, Amsterdam Noord (2016). Image courtesy of MKA
"We try to create valuable connections between buildings and their environment, the culture of its users and the latest technical possibilities," said Koehler in WAF's website.
"We aim to improve people's lives by giving special attention to details in everyday situations and turning them into unique moments, using simple means. Architecture is thus not a luxury product but a creative mindset that can be applied at any spatial scale."
Poppies, one of the most circular developments in Amsterdam. It will be built in fully of wood (It is ongoing development in Amsterdam). Image courtesy of MKA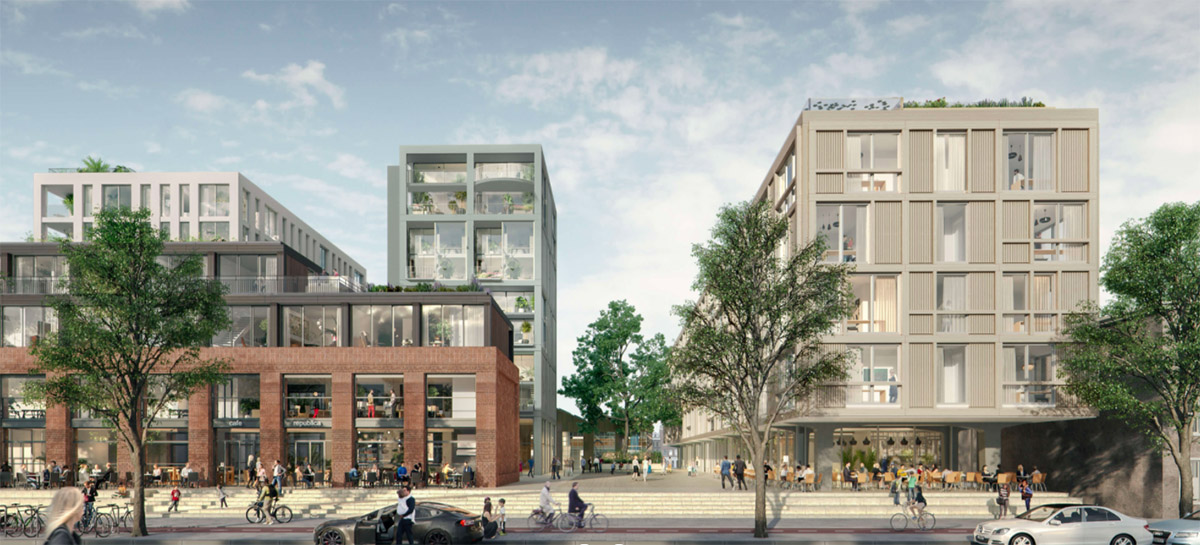 Republica is developed as a vertical village or "city in the city" as part of Buiksloterham's transformation from an industrial harbour towards a vital mixed- use city district and circular economy (It is ongoing development). Image courtesy of MKA
The World Architecture Festival, with its sister event World Festival of Interiors (INSIDE), are organized annually and WAF hosts a number of distinguished architects discussing a specific theme each year over the three-day festival, as well as its global awards program. Architects and designers present their projects live to a panel of expert judges.
This year, WAF and INSIDE, which are still planned in typical way despite of the pandemic, will take place between 2-4 December, in Lisbon. But entry deadline for WAF and INSIDE have been extended to 14 August, 2020. Start your entry from here.
World Architecture Community is official Media Partner for this year's festival and offers to its Professional Members 10% discounted tickets over regular festival prices during WAF registration and their entries per project submission! All you have to do is to upgrade your World Architecture Community membership to Professional here or visit your WAC Settings page and send us ([email protected]) an email to get your promo code for your WAF registration!
Top image courtesy of WAF.
> via WAF