Construction begins on Studio Gang's Populus, the "first carbon positive hotel of the US"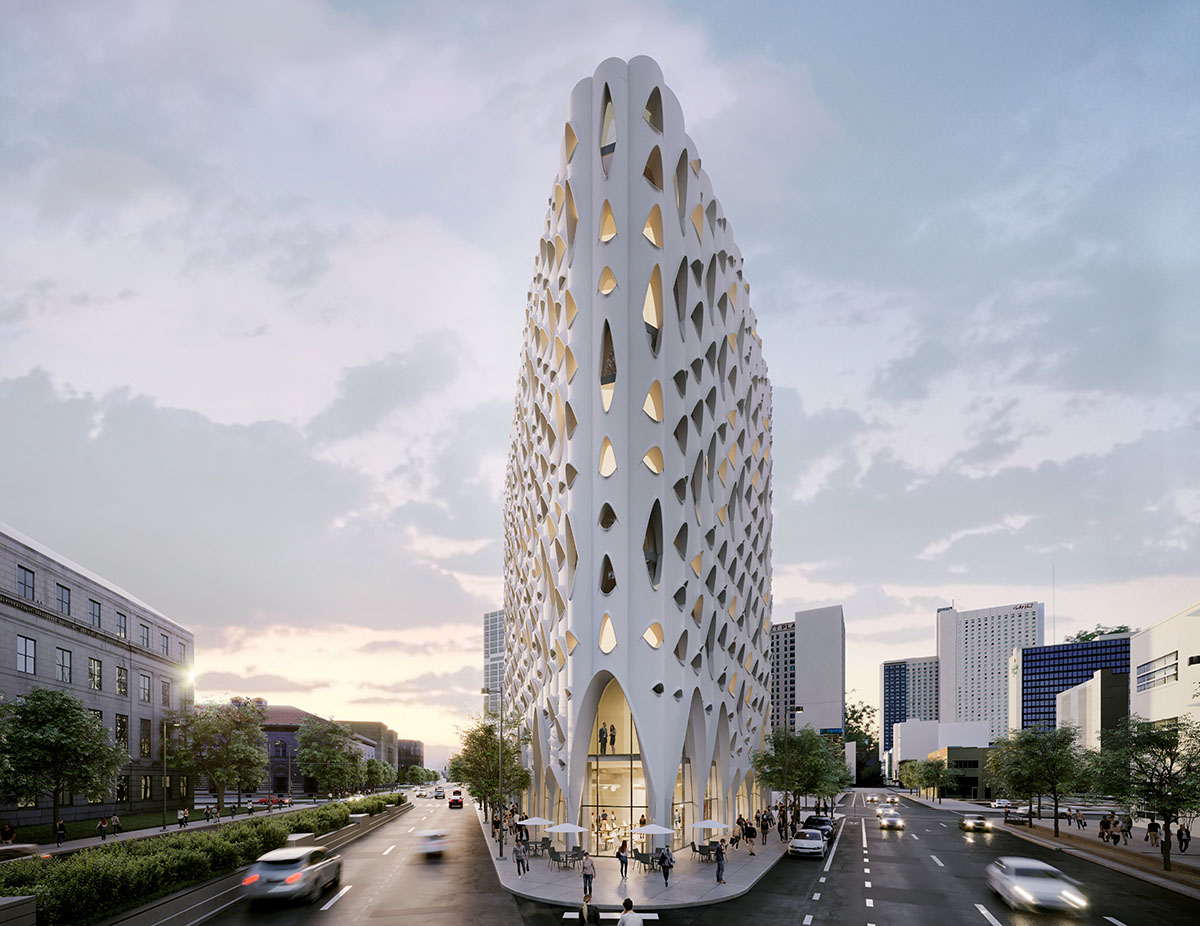 Construction work has begun on Studio Gang's new mixed-use hotel, called Populus, which will be the "first carbon positive hotel of the US".
The 13-storey hotel has broken ground in Colorado and is set to open in late 2023.
Described as "the first carbon positive hotel in the Unites States" by the team, the 265-room hotel will be a new landmark in downtown Denver, featuring a distinctive façade.
Situated on a prominent corner site, the hotel will consist of hotels rooms on the upper levels, and lobby, restaurant, and amenity spaces will be designed on street level of the building.
To create this intrinsic façade, Studio Gang takes inspiration from the growth process and characteristic patterns of Aspen trees (Populus tremuloides), an instantly recognizable symbol of Colorado.
Image © Studio Gang
The building's distinctive windows echo the "Aspen eyes" while also designed to perform efficiently in Denver's varied climate. The texture and rhythm of the façade is optimized according to the program inside, and they are called as "lids" over each window extending slightly outward to shade the interior of the building and improves energy performance.
According to the team, these "lids" will also help to channel rainwater to keep the façade of Populus looking continually clean and bright.
Studio Gang first revealed the design in February 2021 and the studio had emphasized that the façade of the hotel was considered according to the thermal comfort and efficiency of the building, to be able to perform efficiently in the Denver climate.
Image © Studio Gang
In the interiors, guests will see the changing sizes of windows to reflect the public or private nature of various spaces. A the building's base, windows reaches up to 30 feet (2,78-metre) high to frame entrances and views into the lobby and amenity spaces.
Inside the rooms, hotel guests have immersive mountain and city views through windows, while the windows base also become occupiable space, transforming into seats or desks that further connect occupants with the outdoors.
The ground will feature a lobby, café, and wine bar, while the second floor will be dedicated for a flexible area that can accommodate large business meetings, co-working areas, weddings and celebrations, or pop-up events.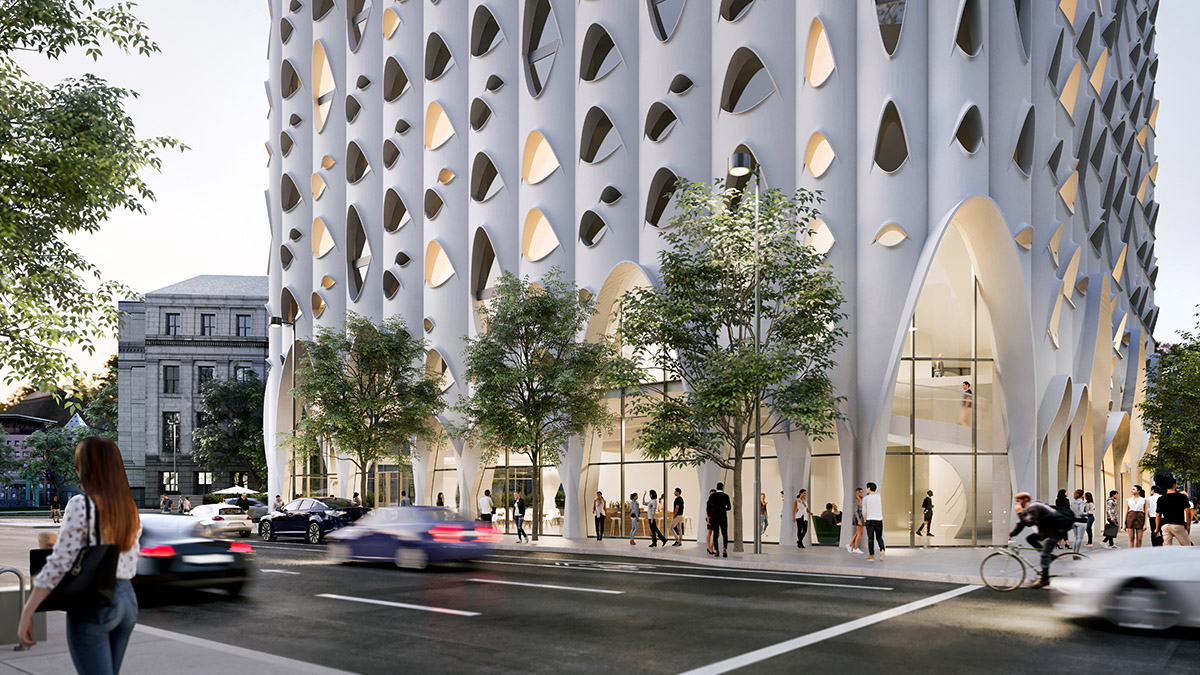 Image © Studio Gang
The top floor will feature a series of hospitality-style suites, bookable for private social or corporate events. The public rooftop will feature an expansive garden terrace planted with regional vegetation, which serves as a lush place to socialize and a visual representation of Populus' green ethos while naturally cooling the building.
The team stated that Populus will be entirely carbon positive starting with its construction and continuing through to its ongoing operations, in addition to a substantial ecological effort offsite, including an initial commitment to plant trees that represent over 5,000 acres of forest - removing the equivalent of nearly 500,000 gallons of gas from the atmosphere.
Aiming to minimize its carbon footprint in the development stage, the building will be built from low-carbon concrete mixes and high-recycled content materials. The process will be maximizing structural efficiency, using fewer finish materials, minimizing waste, and more.
"This considers every stage of Populus, beginning with the origin of materials, as well as the carbon footprint of creating and transporting them," said the team.
"Populus' ongoing operations will also be carbon positive, so that the hotel's overall use (operational carbon) along with every guest stay will be offset in addition to the building's embodied carbon."
The project will also follow U.S. Green Building Council codes, while targeting LEED Gold certification.
"Improving the resiliency of our cities has never been more urgent—and it includes reducing carbon emissions as well as strengthening community bonds," says Jeanne Gang, founder of Studio Gang.
"We've designed Populus to be a new destination in downtown Denver that combines these environmental and social ambitions. With its distinctive aspen eye windows, the building cultivates a lively pedestrian scene in its neighborhood, while simultaneously connecting you with views of the natural wonders beyond the city limits."
"The windows and façade are also tuned for high environmental performance—self-shading, insulating, and channeling rainwater—as part of the architecture's larger green vision," said Gang.
Image © Studio Gang
The project is developed by Urban Villages, a leading real estate developer and environmental steward. "To truly impact our earth, carbon neutral developments are no longer enough. Populus will be entirely carbon positive starting with its construction and continuing through to its ongoing operations while acting as a vibrant social center for locals and visitors," said Grant McCargo, Urban Villages' Co-Founder, Chief Executive Officer, Chief Environmental Officer, and Partner.
"Not only will Populus be the country's first carbon positive hotel, but it will be a stunning architectural landmark by Studio Gang that will forever alter Denver's skyline and contribute to the architectural legacy of the entire Mountain West," McCargo added.
US architecture firm Studio Gang completed a residential tower overlooking Forest Park in St Louis, Missouri in the United States. The firm's Arkansas Museum Of Fine Arts is under construction in Little Rock.
Top image © Studio Gang
> via Studio Gang & Urban Villages