Studio Gang creates sculptural façade for mixed-use hotel evoking aspen trees in Colorado
US architecture firm Studio Gang has unveiled design for a new mixed-use hotel that features a sculptural façade in Denver, Colorado.
Named Populous, the 13-storey hotel has been designed to become an energetic new social center in downtown Denver, with its distinctive façade character.
The building, located on a prominent corner site, the building greets the neighborhood equally on all three sides, is aimed to open itself to the city and to the Rocky Mountains beyond. It will welcome all visitors and residents and connect Denver's civic, arts, and commercial districts.
Covering a total of 135,000 square foot (12,541-square-metre) area, the building will contain hotels rooms on the upper levels, while lobby, restaurant, and amenity spaces will be placed on street level of the building.
On the roof level of the hotel, there will be an extensive green roof terrace which will be planted with regional vegetation, and will offer extensive views towards the city. The terrace will be a lush place to socialize and attractive habitat for local wildlife and insects.
"At the building's base, the windows grow up to 30 feet (2,78 meters) in height to frame entrances and views into the lobby, restaurant, and amenity spaces," said Studio Gang in a project description.
Studio Gang creates a characteristic façade by using special texture and rhythm that "is strongly tied to the building's hotel function."
As the studio explains, each vertical scallop is developed with the width of a hotel room, and its windows change in size in response to public and private spaces.
Studio Gang draws inspiration from the growth process of Aspen trees (Populus tremuloides), an instantly recognizable symbol of Colorado.
"As the trees grow, they shed their lower branches, leaving behind dark, eye-shaped marks on the papery bark of their trunks," added the studio.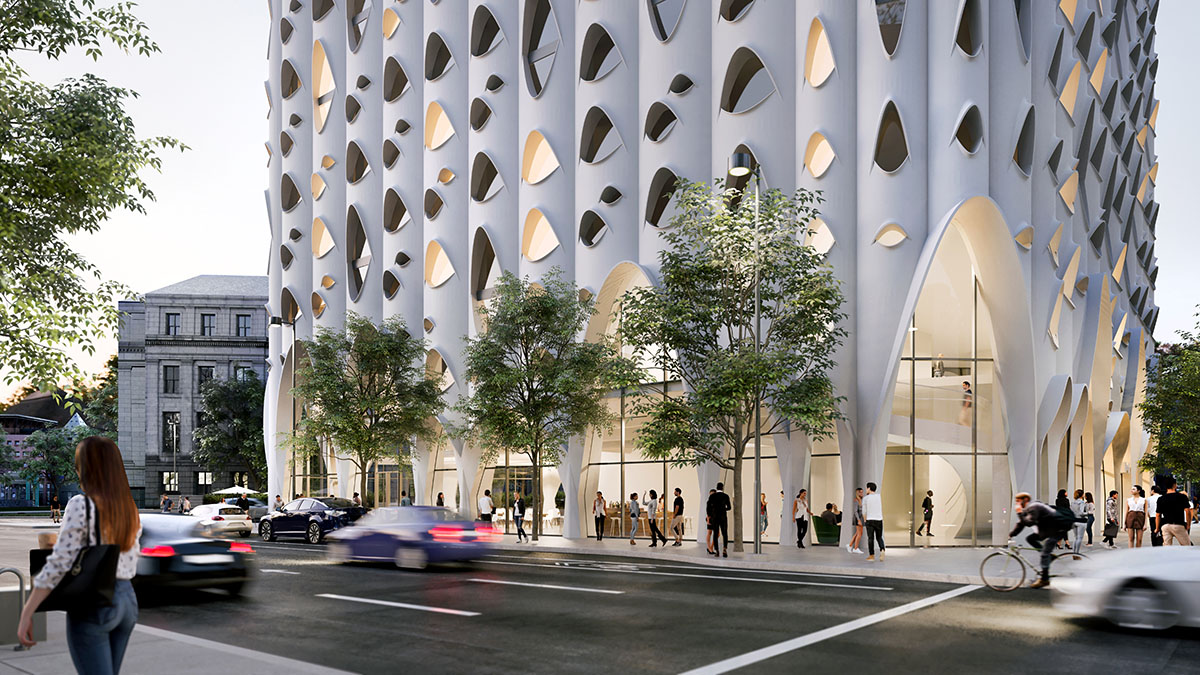 The façade of the hotel is considered according to the thermal comfort and efficiency of the building, to be able to perform efficiently in the Denver climate.
"On the exterior, the "lids" of each window stretch outward according to solar orientation to shade the interior, improving the building's energy performance," added the studio.
"They also neatly channel rainwater to keep the façade looking fresh over time."
Upon entering their rooms, hotel guests are greeted with immersive views of the nearby State Capitol and Civic Center Park and the mountains beyond through the generous windows. In some rooms, the windows also become occupiable, transforming into seating or desks that bring guests closer to the outdoors.
Populus is currently in the building permit stage, and if everything goes on a plan, the hotel is scheduled to begin construction later this year and expected to open in 2023.
Studio Gang was founded by Jeanne Gang in 1997. Having offices in Chicago, New York, San Francisco and Paris, the studio produces different types of projects, ranging from urban design, interior design, and exhibitions to research.
Studio Gang recently completed the transformation of a former coal-burning power plant into a student union for Beloit College in Beloit, Wisconsin, and the firm completed the MIRA tower in San Francisco.
Project facts
Project name: Populous
Location: Denver, CO
Status: In Design
Client: Urban Villages
Type: Hotel
Size: 135,000 sf / 159 ft / 13 stories
Consultant Team
Structural engineer: Studio NYL
Interior design: Design Agency
Civil engineer: Kimley-Horn
MEP/FP and sustainability consultant: WSP
Acoustic engineer: Arup
Lighting consultant: LS Group
Vertical transportation consultant: Lerch Bates
Code consultant: Advanced Consulting Engineers
All images courtesy of Studio Gang.
> via Studio Gang