MICROHOME 2021 architecture ideas competition launched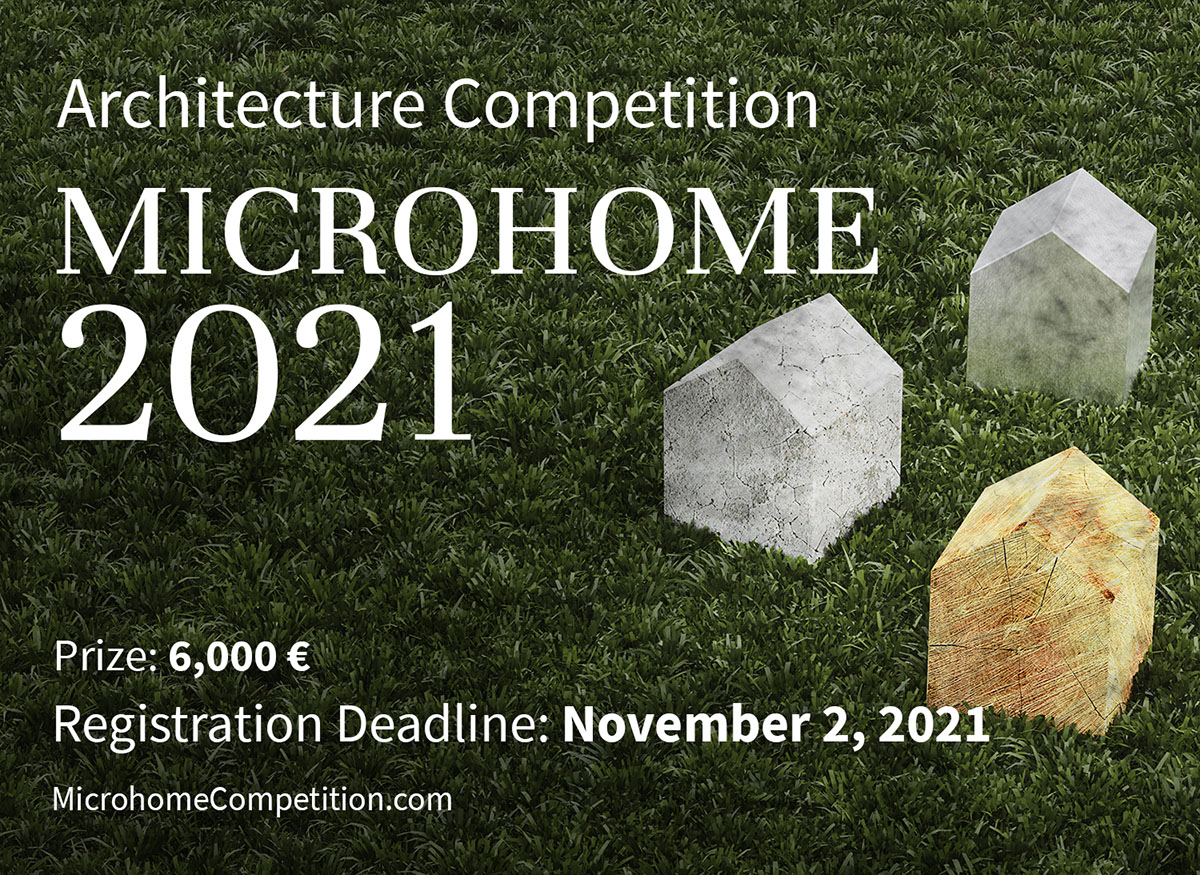 The third annual MICROHOME architecture competition is part of the Bee Breeders Small Scale Architecture Appreciation Movement, which hopes to highlight the fact that bigger isn't always better. With great design and innovative thinking, small-scale architecture could change how this and the next generation view residential property.
For the MICROHOME 2021 architecture competition, participants are invited to submit their designs for a micro home – an off-grid modular structure that would accommodate a hypothetical young professional couple (which will be used as an example of family size throughout the competition series). The only requirement is that the structure's total floor area does not exceed 25 m2 ; beyond that, participants are encouraged to be as creative as possible.
Participants are encouraged to rethink spatial organisation and incorporate unique aesthetics, new technologies, and innovative materials that will make the micro home an entirely new form of architecture.
As there is no specified competition site, project designs can be set within any hypothetical site of any size, in either a city or countryside location anywhere in the world. The jury will favour sustainable designs and those projects that look to solve economic, social, and cultural problems through the establishment of new architectural methods.
Download full competition brief for more information from the competition's website.
Competition is open to all. No professional qualification is required. Design proposals can be developed individually or by teams (4 team members maximum). Correspondence with organizers must be conducted in English; All information submitted by participants must be in English.
Prizes
1st Prize: 3,000 € + Publications, Certificate of Achievement
2nd Prize: 1,500 € + Publications, Certificate of Achievement
3rd Prize: 500 € + Publications, Certificate of Achievement
ARCHHIVE Student Award (MORE DETAILS): 500 € + 50 € ARCHHIVE BOOKS Gift Card, Publications, Certificate of Achievement
BB Green Award (MORE DETAILS): 500 € + Publications, Certificate of Achievement
+ 6 HONOURABLE MENTIONS
Jury panel
Patrik Schumacher, DIRECTOR AND SENIOR DESIGNER AT ZAHA HADID ARCHITECTS, UK
Anne Cecilie Haug: DIRECTOR OF STAFFING, SENIOR ARCHITECT, AND MEMBER OF THE RESEARCH AND INNOVATION TEAM AT THE OSLO OFFICE OF SNØHETTA, NORWAY
Carlo Ratti, DIRECTOR OF THE RESEARCH INITIATIVE AT MIT SENSEABLE CITY LAB AND FOUNDED CRA-CARLO RATTI ASSOCIATI, USA
Jemuel Joseph, CO-FOUNDED COVER TECHNOLOGIES, USA
Brian Gaudio, CEO OF THE MODULE HOUSING, USA
Francesca Perani, ARCHITECT AND FOUNDER OF FRANCESCA PERANI ENTERPRISE, ITALY
Sheri Koones, AUTHOR AND JOURNALIST, USA
Jury members shall under no circumstances be contacted by competition participants or their representatives. Participants who attempt to contact jury members, shall be disqualified. All jury members are involved in the evaluation based on their availability at that time.
All communication regarding the competition should only be carried out with Bee Breeders staff. For any questions please contact us on [email protected].
Schedule
Closing date for registration: 02 November, 2021
Closing date for project submission: 07 November, 2021 (11:59pmGMT+0)
Announcement of the winners: 15 February, 2022
Registration fees
Advance Registration: 12 May - 07 September
- Architects / Enthusiasts / Companies: 90 € +21% VAT
- Student: 80 € +21% VAT
Last Minute Registration: 08 September - 02 November
- Architects / Enthusiasts / Companies: 110 € +21% VAT
- Student: 90 € +21% VAT
Student Registration Requirements
Contact us to receive special student rates for group registrations (discount applies for 3+ registrations from one university/school) and to receive further information and support for getting your students involved in architecture competitions. Send us ([email protected]) request from your university email address along with basic information about yourself and your university/school. Please note that only recognized university staff can apply for the reduced student rate.
Read all details about the competition on the competition's website.
Top image courtesy of Bee Breeders.
> via Bee Breeders