MAD-designed Lucas Museum Of Narrative Art opening postponed to 2023 due to Covid-related reasons
The opening of MAD-designed Lucas Museum Of Narrative Art (LMNA) in Los Angeles has been postponed to 2023 due to Covid-related reasons in the construction site.
Health and safety measures and protocols have slowed down all progress in MAD's $1-billion Lucas Museum of Narrative Art, according to Museum Director Sandra Jackson-Dumont, she told in an email to Los Angeles Times.
"Substantial construction," was expected to be finished this year, but it is now expected to continue until 2022, said Sandra Jackson-Dumont.
The Lucas Museum has also confirmed its new opening date on its website, and said the Lucas Museum Of Narrative Art is scheduled to open in 2023.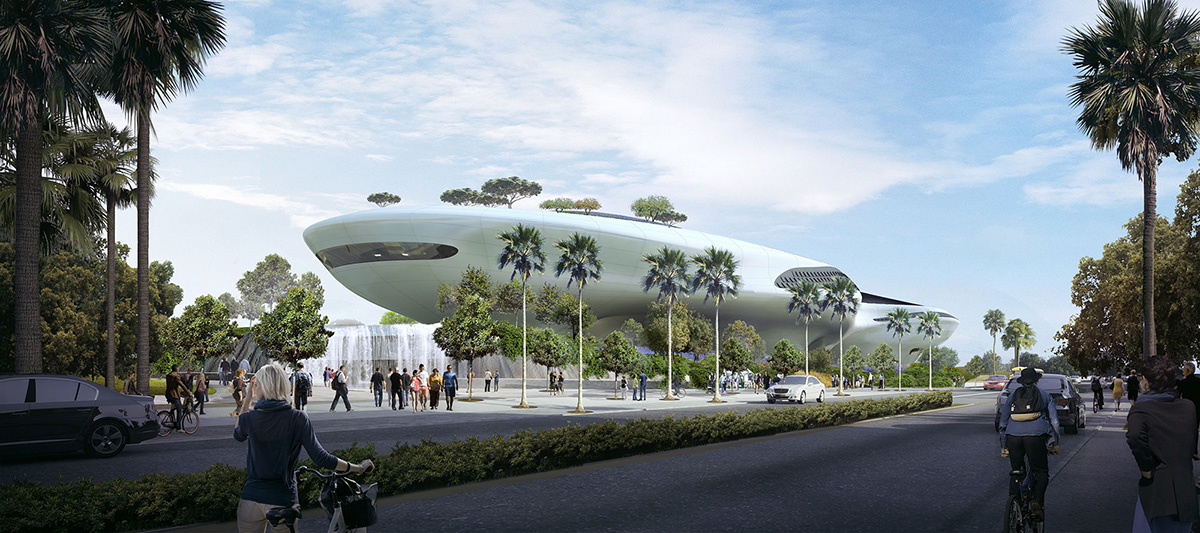 In 2016, MAD presented two conceptual projects the Lucas Museum of Narrative Art, offering dual projects for two different sites - San Francisco and Los Angeles.
In January 2017, the Lucas Museum of Narrative Art has announced that the new museum will be built in Los Angeles' Exposion Park.
Construction began on site in March 2018, but due to the pandemic-related reasons, the museum didn't hold a typical topping-out ceremony although the last beam was put in place in March 12, as Sandra Jackson-Dumont explains in the same article.
Privately-funded by George Lucas and his wife, MAD's Lucas Museum of Narrative Art will house Lucas' personal collection of 100,000-object fine art and popular art and the museum will be the keystone of the visual storytelling in a setting focused on narrative painting, illustration, photography, film, animation and digital art.
Situated at Exposition Park in Los Angeles, the museum has visual and functional connections with the Natural History Museum to the Northeast, Museum park to the East, and the LA Memorial Colosseum to the East.
The building will cover approximately 400,000 square-foot (37,161 square meters) space with gallery, theatre, education, offices and restaurant functions.
The exterior language of the building is smooth and organic, reflecting the surrounding neighbourhoods and landscape. Guests of the museum and the public will be reflected in the metal façade, highlighting a surreal and dynamic experience.
Reaching to 115 feet (35 meters) height, the museum will have four stories in total, raised on amorph-shaped legs. The LMNA will also include two levels of parking below the museum and a separate below ground parking structure with up to three level of parking located South of the museum building.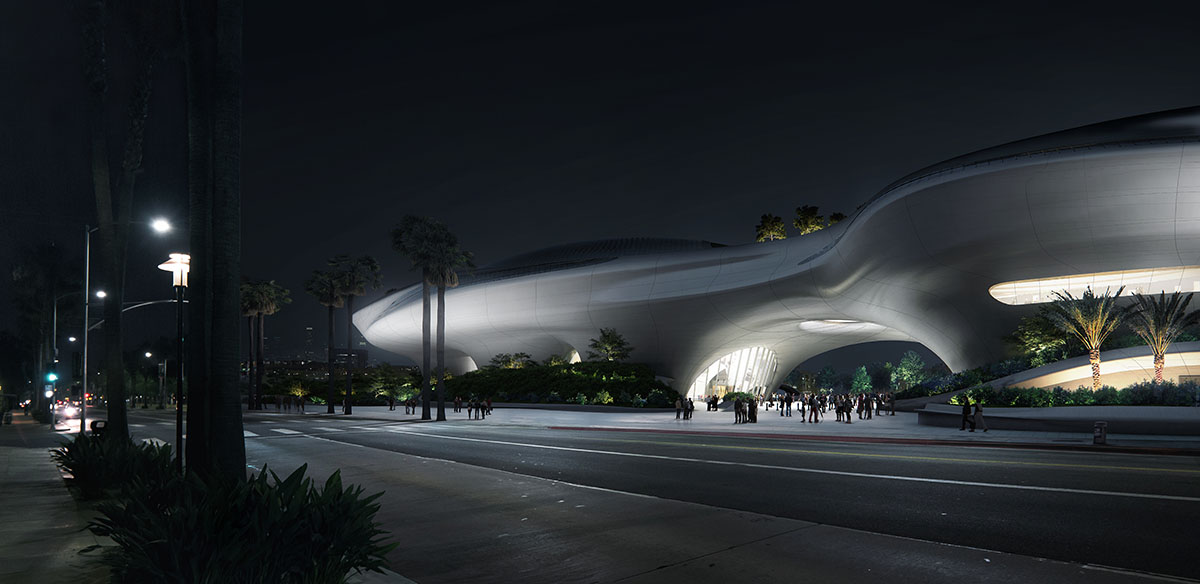 Even if the official opening of the building is delayed, according to the article by Deborah Vankin, the museum is continuing to work on interior build-outs of core areas, such as two theaters and fourth-floor galleries.
The Lucas Museum of Narrative Art is a record-breaking candidate in history with its highest budget after Peter Zumthor's LACMA, slated to cost $650 million, or Renzo Piano-designed the Academy Museum of Motion Pictures in Los Angeles, estimated at $482 million, just adjacent to LACMA.
All images courtesy of Lucas Museum of Narrative Art.