Demolition started for Peter Zumthor's LACMA on Wilshire Boulevard
The Los Angeles County Museum of Art has announced that the construction work of Peter Zumthor-designed LACMA has officially started as it is planned.
The $750-million project has been controversial for years and the plans were revised many times. In April 2019, the LACMA received a planning approval and started to move forward.
Peter Zumthor's sinuous building, made of sand-colored structure, branches over Wilshire Boulevard in Los Angeles. The building's main exhibition level is extended over Wilshire Boulevard to the Spaulding lot on the southeast corner of Wilshire Boulevard and Spaulding Avenue.
The project comprises new outdoor landscaped plazas, public programming, educational spaces, sculpture gardens, and native and drought-tolerant vegetation integrated with the museum building, LACMA's West Campus, and existing uses of Hancock Park.
However, due to the global coronavirus pandemic, construction sites are one of the affected areas in the architecture industry, which propounds many questions on the continuity of the projects.
LACMA's construction site and workers follow comprehensive health measures
In LACMA's latest announcement, it said that: "Our building project is continuing on schedule, thanks to the hard work of many over the last several years. Both the County and City of Los Angeles have declared building construction to be an essential activity, and the County has strongly urged us to continue moving forward."
"All of the enabling activities required in advance of construction were completed before the coronavirus crisis unfolded, allowing us to continue hazmat abatement and internal demolition and proceed with hard demolition as planned."
"Beginning this week, hard demolition has started and will continue for several months in accordance with all applicable guidelines. We are also making every effort to keep our neighbors informed of the work schedule and are responding to any concerns about the ongoing construction," read the statement.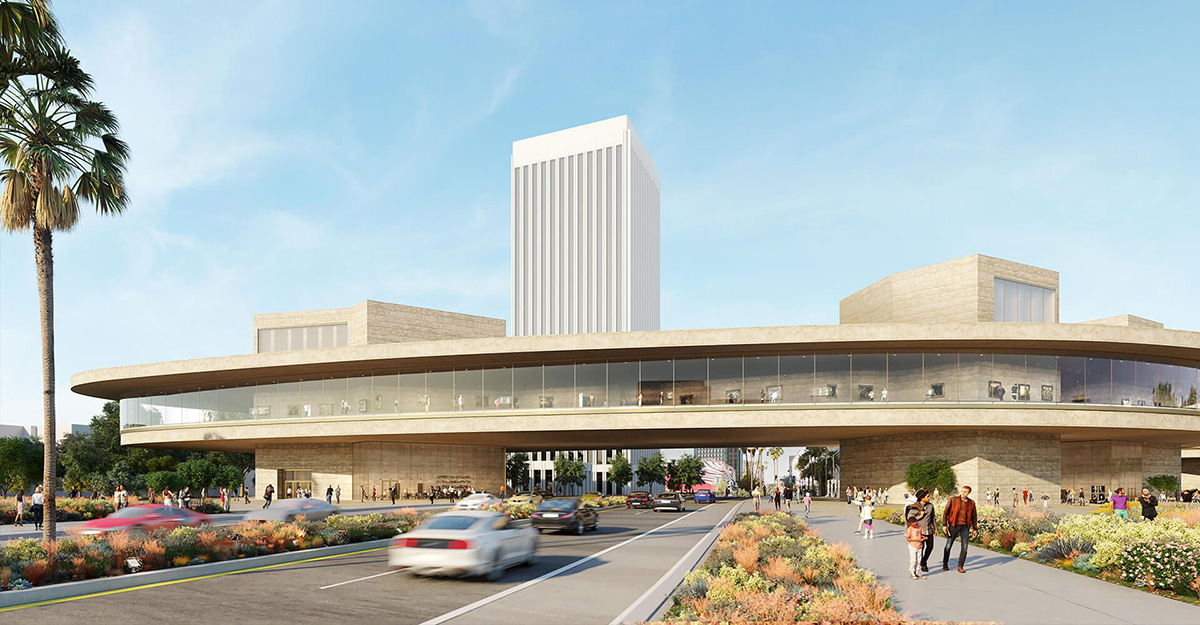 Managed by LACMA's general contractor Clark Construction, the statement added: "Both LACMA and our general contractor, Clark Construction, are working diligently to ensure a safe work environment for the crews working on the site."
"To that end, Clark Construction and its subcontractors have taken all necessary protective measures in accordance with government guidelines."
"Hazmat abatement and internal demolition crews are fitted with full-body clothing/hazmat suits, gloves, eye protection, and breathing equipment, and all personnel working outside the buildings are required at all times to wear protective gloves, eye protection, face covering, and head protection."
"All workers are required to exercise social distancing of six feet or more, and all indoor meetings have been eliminated.Additional hand washing stations have been installed and the frequency with which they are cleaned and supplied has been increased."
"Workers are encouraged to wash hands frequently and anyone who exhibits any respiratory symptoms is required to quarantine at home," it explained.
With the project, the LACMA expects its project to be an important source of job creation, with as many as up to 4,000 people working on our construction project through the next four years.
The project has already gained $650 million in campaign pledges and almost 90% of the total campaign goal completed, LACMA's board of trustees reaffirmed its commitment to the project two weeks ago.
The new building is expected to be a powerful and visible signal to Los Angeles of renewed vitality and an engine for recovery after this crisis. Construction is expected to be completed at the end of 2023 when the new Metro station will open across the street from the museum.
All images © Atelier Peter Zumthor & Partners / The Boundary unless otherwise stated.
> via LACMA