Building the future with robots for fabrication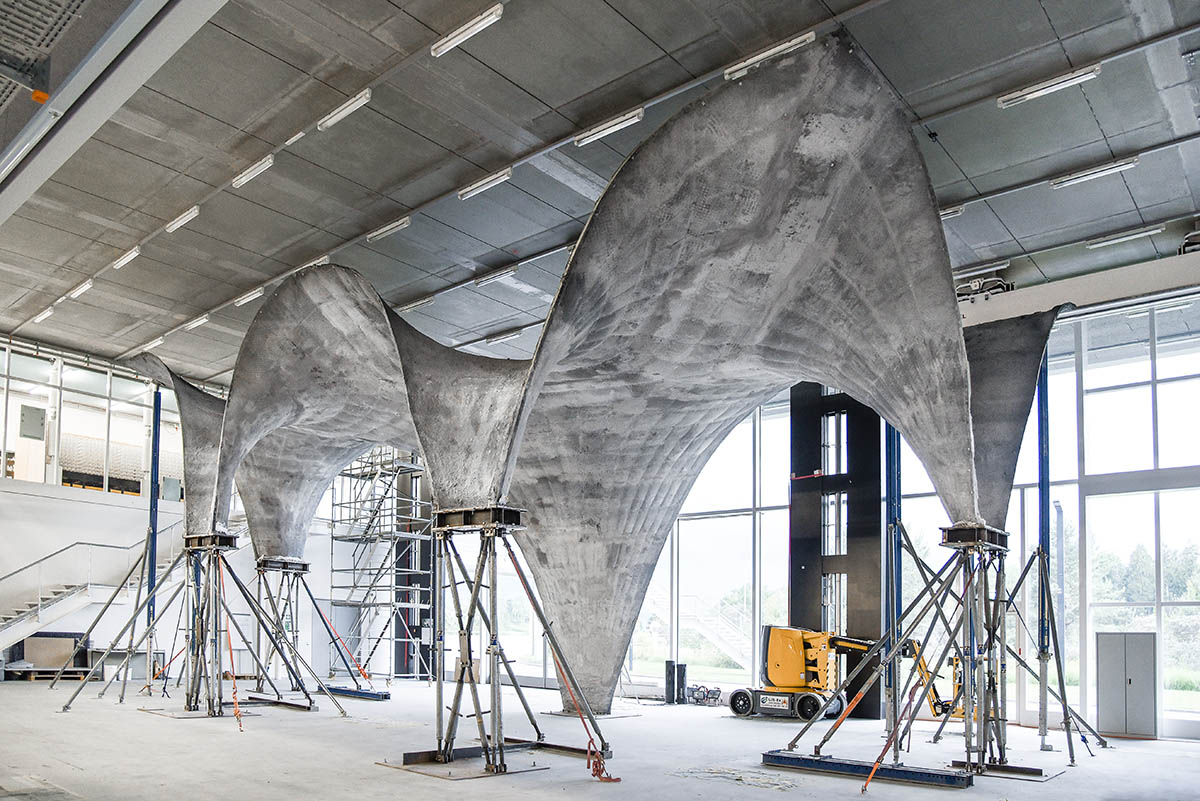 Zurich, CH The fourth edition of the ROB|ARCH conference series, hosted by the National Centre of Competence in Research (NCCR) Digital Fabrication at ETH Zurich with the support of well-known industry partners, took place from 9th–14th September 2018.
The event brought together more than 400 academics and practitioners from the fields of architecture, engineering, computer science, robotics and materials science to discuss and experiment with current advances in the field of robotics in architecture, art and design.


Panel discussion on day 1 of ROB|ARCH (Chris Leubkeman, Shiho Kawashima, Fabio Gramazio, Hanif Kara Gudela Grote, Judit Solt, Margharita Chli). Image © Eduard Meltzer
Initiated in 2012 by the international Association for Robots in Architecture, the ROB|ARCH conference series is one of the world's leading forums for the discussion of and hands on experience with robots in architecture. This year's event was supported by well-respected industry players such as Autodesk, Kuka, Arup, the Boston Consulting Group, Sika, ERNE AG Holzbau, Moog, and Bachmann Engineering.
The event was split into three days of workshops, followed by two days of academic conference with 35 paper presentations, four keynotes and two panel discussions. A clear highlight was the opening keynote and panel discussion, which also served as the closing ceremony of this year's sister conference, Digital Concrete 2018, the 1st RILEM International Conference on Concrete and Digital Fabrication. The international premiere brought together close to 300 experts in robotics and concrete science to discuss innovation in digital fabrication with cementitious materials.


3D printing on arbitrary surfaces using clay. Image © Eduard Meltzer
Real world design solutions
ROB|ARCH 2018 kicked off with 11 hands-on workshops. All were led by international experts from academia and industry, exploring themes from 3D printing on geometrically complex surfaces through multi-robotic construction in limited spaces, to using augmented reality to refine building processes and using a robotic chainsaw to create custom wood joints from tree trunks.
The workshops allowed participants to learn new design and building methods and experiment with new robotic fabrication techniques and tools. The excitement of the 150 participants was palpable, with ETH Zurich's Robotic Fabrication Lab buzzing with both anticipation and caffeine as researchers jointly explored the potential of new fabrication techniques in terms of novel architectural expressions, material efficiency, new materials and process efficiencies.
Robotic fabrication using interactive holographic instructions for assembly. Image © Eduard Meltzer
New faces and established experts
The two day academic conference followed the workshops, with the opening keynote by Chris Luebkeman from Arup Foresight who passionately spoke about design with digital fabrication. His speech was followed by the opening panel comprised of six respected players from both academia and industry, discussing interdisciplinarity, societal impact, sustainability and the challenges of transferring research into practice.

Keynote lecture delivered by Chris Leubkeman. Image © Eduard Meltzer
Panellist, robotic vision professor Margharita Chli noted that she does not, "Feel that there is opposition between robots and humans, that maybe we need to just start thinking, well if I can't do it, maybe a computer can". During the following days, additional keynotes were delivered by Mette Ramsgaard-Thomsen, Professor of Architecture and Digital Technologies and Head of CITA at KADK; Phillip Yuan, Professor at Tongji University in Shanghai, China, and Founder of Archi-Union; and Jonas Buchli, Former Professor of Agile and Dexterous Robotics at ETH Zurich and now researcher at Deepmind. Buchli, who delivered the final keynote, gave the industry one final push for collaboration, saying that "You cannot do things like digital fabrication in a single discipline, experts must sit together and be open minded".
EMPA Nest Building. Image © Wernersobek
The successful conference concluded with a trip to the EMPA – Swiss Federal Laboratories for Materials Science and Technology in Dübendorf to visit the NEST project and view the DFAB HOUSE. Visitors were able to experience the results of digital fabrication brought to life in the first ever building to be predominantly built using different novel digital construction technologies.
Moving towards a digital future
As digital fabrication becomes a more established discipline, Switzerland has clearly established its position on the global map, and the Swiss NCCR Digital Fabrication continues to foster interdisciplinary research and discussions on an international level to further advance the implementation of digital technologies in architecture and construction. Conference participants and the International Association for Robots in Architecture are already looking forward to the next edition of ROB|ARCH, which will take place in Beijing, China, in 2020.
If the conference interests you, check out also one of the keynote speakers Philippe Block's talk about complex geometry.
Top image: A shell is part of a roof-top apartment unit called HiLo that is planned to be built next year on the NEST, the living lab building of Empa and Eawag in Dübendorf. Image © Block Research Group, ETH Zurich / Michael Lyrenmann
> via NCCR Digital Fabrication