SOM designs the world's first floating "eco-park" in Chicago
Beginning of this month, international architecture, design, and planning firm, SOM unveiled their design for "Wild Mile Chicago", the world's first eco-park along the Chicago River. The project sited between Chicago and North avenues along the east side of Goose Island is originally a part of the North Branch Framework Plan. It was approved by the Chicago Plan Commission in early 2017.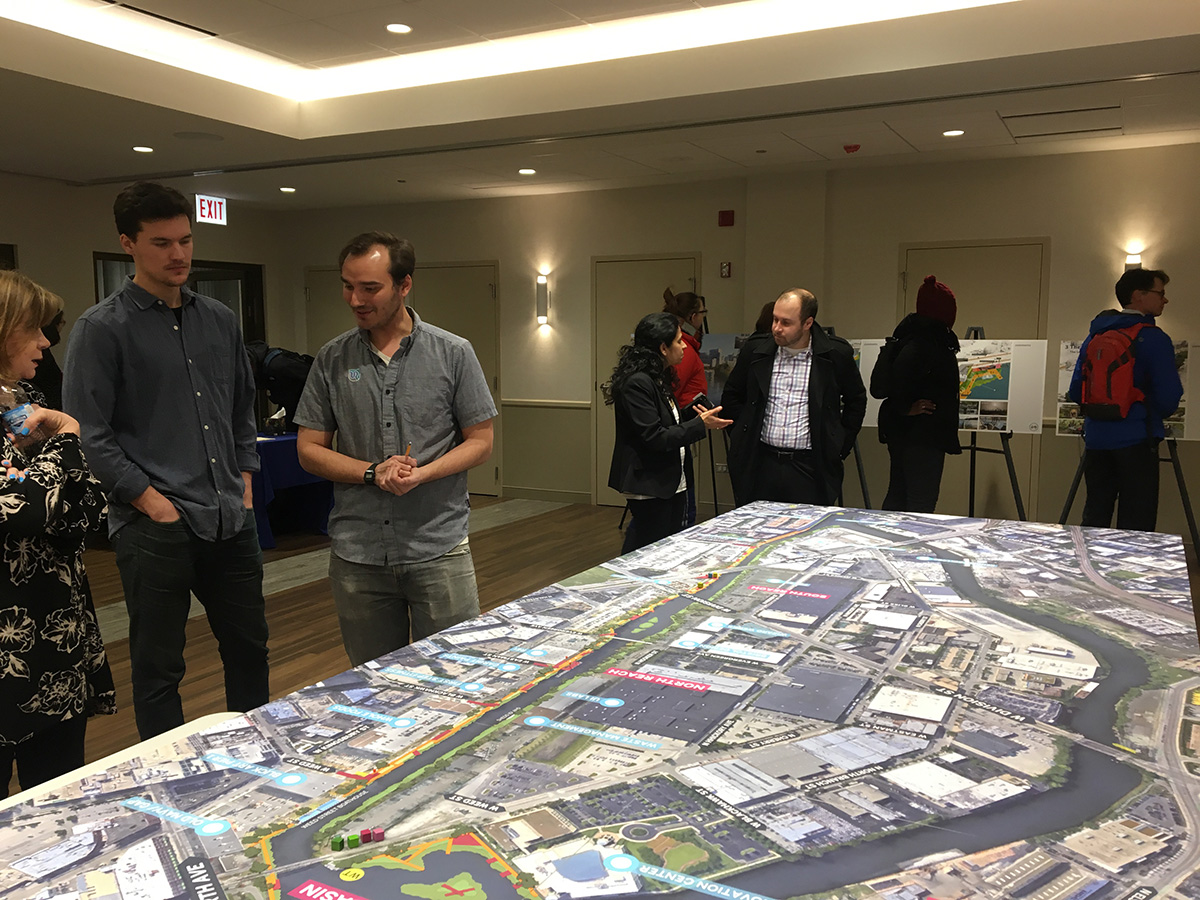 Residents look over proposals for the "Wild Mile Chicago".
During summer 2017, Urban Rivers, a group of ecologists and entrepreneurs looking to convert city rivers into wildlife sanctuaries, worked independently to install about 1,500 square feet of greenery on the river.
Wild Mile Chicago Rendering.
Now, the team also includes Skidmore, Owings & Merrill, Friends of the Chicago River, O-H Community Partners, Near North Unity Program, Omni Ecosystems, Tetra Tech, Active Transportation Alliance and d'Escoto, alongside Urban Rivers and the city's Department of Planning and Development.
Wild Mile Chicago Rendering.
"The first-ever floating eco-park of its scale in the world. By 2020, we will complete a mile-long park of floating gardens and forests with public walkways and kayak docks in the Chicago River," said Urban Rivers.
The intent of the project is to breed the natural habitat in the city's channel system using the pre-existing channel walls to support the floating wetland and aquatic habitats. The project will include new wildlife, recreational and educational additions to the river's North Branch.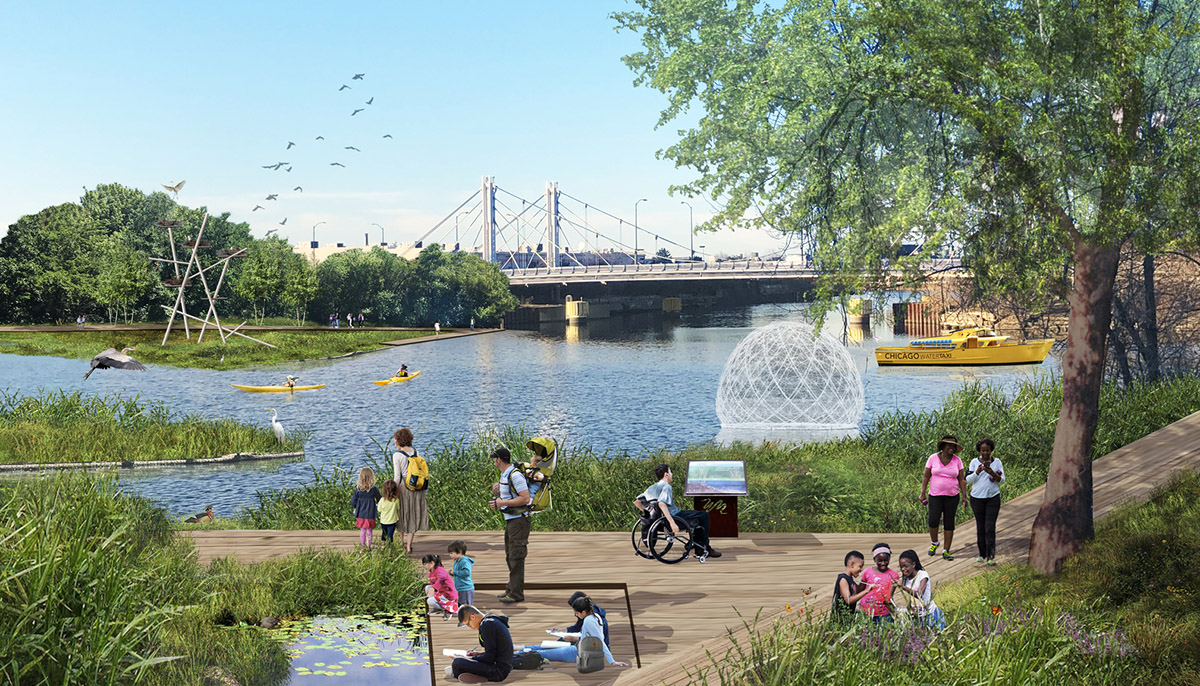 Wild Mile Chicago Rendering.
"The Wild Mile will provide vital habitat for native wildlife and function as a public park, open-air museum, botanical garden, kayaker destination, and classroom for the community," added Urban Rivers.
A volunteer-led initiative of The Wild Mile called River Rangers, do daily reports throughout the site on specific subset of plants. Each volunteer keeps track of pollinators, local wildlife, plant health, and other conditions. The data collected is then recorded on an app built by The Wild Mile team to maintain timely details regarding the success of each plant.Wild Mile Chicago Rendering.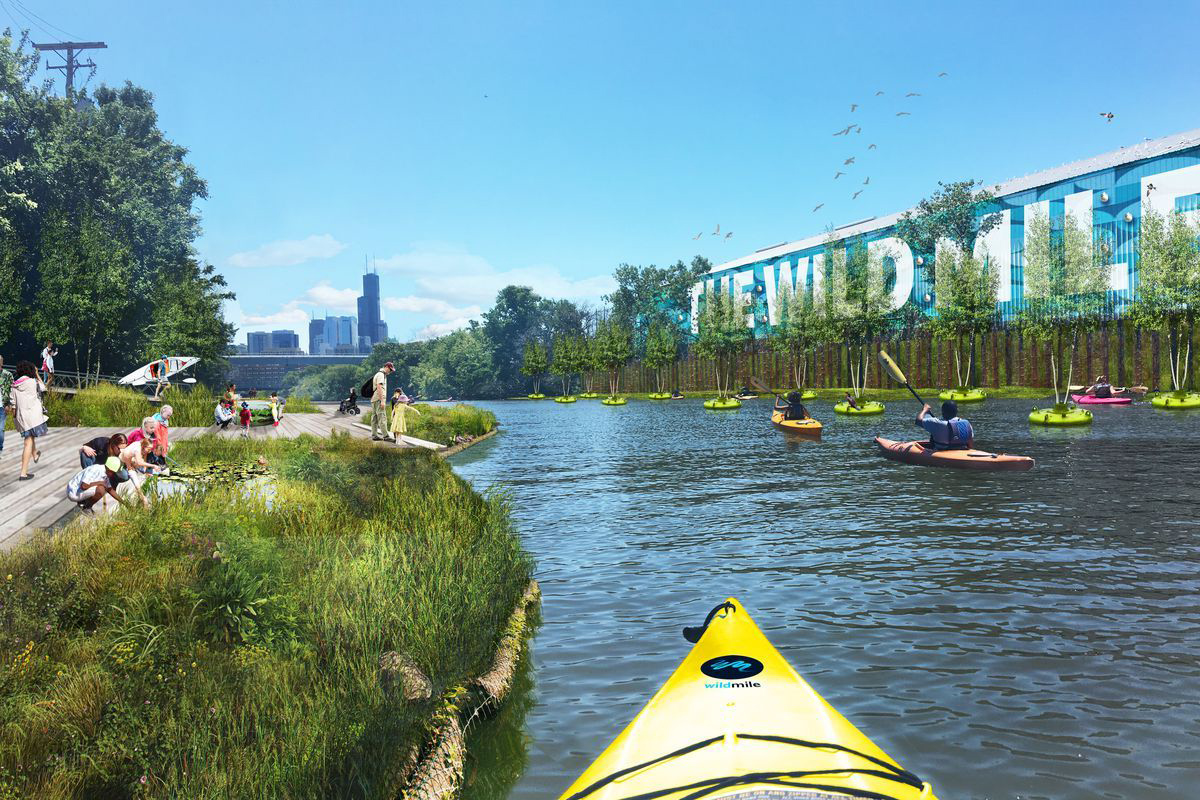 Wild Mile Chicago Rendering.
As of now, the intent is to finalize the plans by March 2019, and the project completion is scheduled for mid-2020.
All Images © SOM
> via Chicago Sun Times