How is Bosnia and Herzegovina struggling with energy poverty?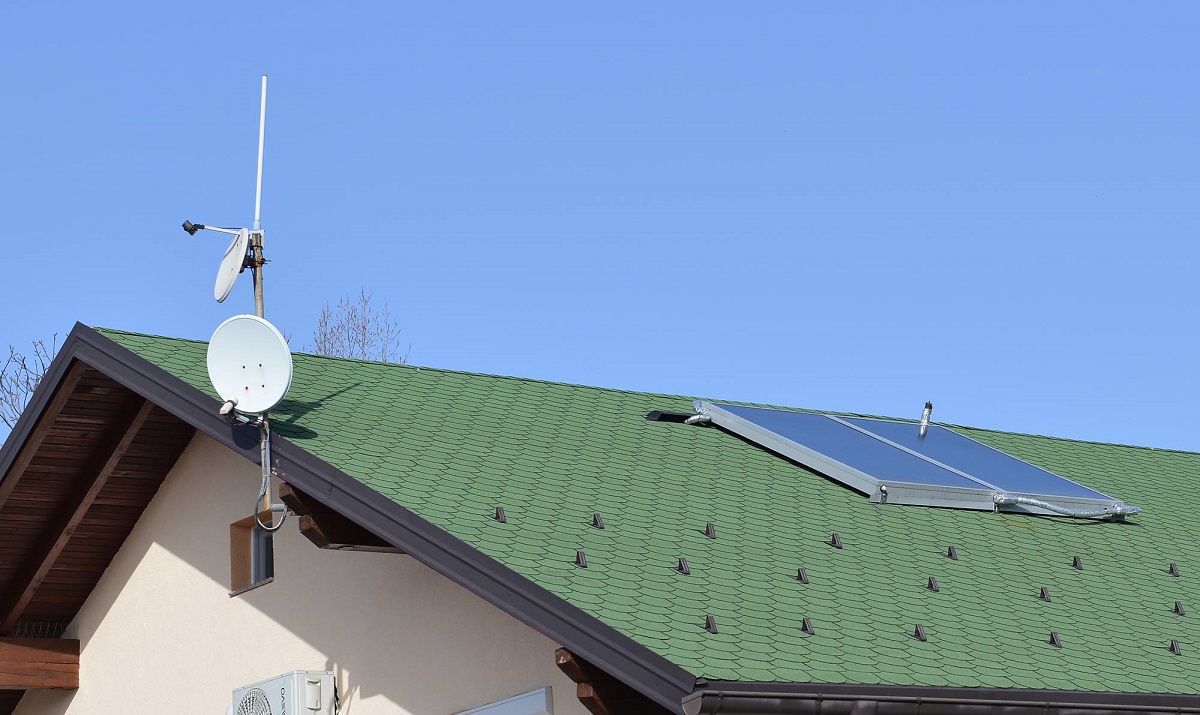 Energy poverty affects architecture and its consumers. While the prices are growing higher, home owners are struggling with higher and higher energy bills and many other housing bills therefore homes become expensive and quality of living decreases. What does actually energy poverty mean in terms of architectural design and poverty in general? Already mentioned in articles, the Center for Ecology and Energy (CEE)'s ongoing LINK project, titled Energy Crisis in Europe and News on the LINK Project, has a strong focus on the following: energy efficiency in building design and energy management. As per energy efficiency certification programme, energy efficient buildings have decreased energy bills and electricity bills in short term and long term in Bosnia and Herzegovina.
Image is about the use solar power plants on the flat roof of the sport centre building in the municipality of Kalesija during winter, solar energy production and innovations in roof design. Image is courtesy of Nezavisni kalesijski portal.
New solutions to decrease housing bills in not only in housing but also in industrial level
Architectural design of new buildings and reconstruction projects for existing buildings includes design of different energy and other types of installations. In addition, energy efficient building design in new construction and renovation projects have become a sort of standard in project requests. Therefore many home owners usually search for new solutions to decrease their housing bills to a certain level. There are many examples of EE projects and open calls in local communities in BH. New solutions to decrease housing bills and build efficiency, smart and healthier is visible not only in housing and apartments as even industrial, public and other buildings such as schools, industrial buildings, cultural centres, healthcare and elderly care centres are adding. For example, addition of solar panels to their roofs, as written in the article titled Using Solar for Renovations, and addition of roof windows for more sunlight, restoration of buildings with thermal insulation for better thermal comfort and replacement of windows with new windows to get better energy efficiency in buildings are a few of them. Another example of quality innovations in buildings is hybrid solar and green roof design which is shown on the top image.
A handbook guide explores measurements to improve energy efficiency
Energy Efficiency (EE) has already become an important element of the EU politics and initiatives. To get a better understanding and introduction to energy efficiency in building design and construction find more in WAC's previous article.
A handbook guide, titled Energy Efficiency, written by WAC's Bosnia and Herzegovina Country Reporter Emina Čamdžić as an Energy Efficiency Research Project, gives expert advice on EE and climate change for residents and building users then on public investment with examples how the following: building renovation, thermal insulation, replacement and installment of new windows of different materials has an impact on building functioning and healthier, better comfort for its residents and users. This handbook is made for house or apartment owners, while also for any public or private buildings owners and users, also heritage buildings that need renovation and restoration. The handbook guide "Energy Efficiency" is made with the purpose to show measures of minimal investments for improvement of EE of buildings with short term investment return and measures of high investment for improvement of EE of buildings with higher and long term investment with examples of buildings in Bosnia and Herzegovina. This handbook "Energy Efficiency" can also be an example of green smart growth and clean energy initiative in Bosnia and Herzegovina. Mentioning PVC windows and doors these are widely spread in use of façade design although plastic is not an environmentally-friendly material and recycling of PVC products is very trendy and very environmentally conscious. To read more about usage of plastic products and building materials towards sustainability and realization of the SDG goals read WAC's previous article.
Bosnia and Herzegovina focuses on more action plans in energy efficiency
The framework for sustainable development considers solutions more to be in focus of the industry. It is mentioned in the Framework for Realization of the SDG Goals in Bosnia and Herzegovina that the green smart growth and clean energy are increasing new profiles of work employment and education. The published framework gives important information on action plans for Energy Efficiency (EE) and renewable energy resources in Bosnia and Herzegovina also considers decreasing energy poverty and ensuring the measures for energy efficiency of public buildings such as schools, healthcare buildings and hospitals. The renovation and new building EE projects include short term and long term energy efficiency projects.
According to a research publication Overview of the Energy Poverty Situation in Zenica – Doboj Canton in 2018 by the Centre for Ecology and Energy (CEE) in the city of Zenica and municipality of Zavidovici, from the number of 1000 households those affected by energy poverty are 74%, while these households were given advice on measures for energy efficient renovation and ways of decreasing energy bills.
According to a German independent political foundation Heinrich Böll Foundation, the publication, titled Energy Poverty, Vulnerability and Human Rights in Bosnia and Herzegovina: Analysis from a Historical and Contemporary Perspective1, reveals more insight into the energy poverty, while explaining that poverty and energy poverty are not the same. The report also mentions that the number of persons that are affected by energy poverty has risen. The publication gives different examples of other publications to read and understand this theme more and resources on energy poverty in the region.
Image is about the use of solar panels and solar energy. Image © Andreas Gucklhorn (Unsplash) via Energetski portal.
Major steps and new projects in Bosnia and Herzegovina
The Centre for Energy and Ecology NGO with local climate experts at CEE website mention new projects that are currently ongoing in Bosnia and Herzegovina as major steps and specific projects such as the "Project for Innovation in Energy Efficiency and Renewable Energies for Better Climate Change Adaptation and Decreasing Poverty in Tuzla Canton". This project is ongoing in Tuzla Canton and Zenica-Doboj Canton and several araeas with EE measures on 24 public buildings, database for local strategies, photovoltaic cells solar energy models for school education and lifelong education on EE and renewable energy sources. These projects are another example of green smart growth and clean energy initiatives in local communities in Bosnia and Herzegovina.
Smart growth includes as it is given in detail of the Framework for Action Plans in Bosnia and Herzegovina on climate and energy efficiency, that considers healthy life and wellbeing of all people, no matter the age, then ensure inclusive and quality education and promotion of possibilities of lifelong learning, also taking actions on stopping climate change and its effects.
---
1. Energy Poverty, Vulnerability and Human Rights in Bosnia and Herzegovina: Analysis from a Historical and Contemporary Perspective (Copy-paste this link into your browser: https://ba.boell.org/sites/default/files/2022-11/energetsko-siromastvo-ugrozenost-i-ljudska-prava-u-bih-bh-28-11-2022.pdf).
Top image is about solar panels use on angled roofs of individual houses in the town of Tuzla, solar energy and innovations in building's roof design. Image is courtesy of Solarni kolektori BH facebook page.