Lina Ghotmeh reveals 2023 Serpentine Pavilion encouraging the idea of "togetherness and community"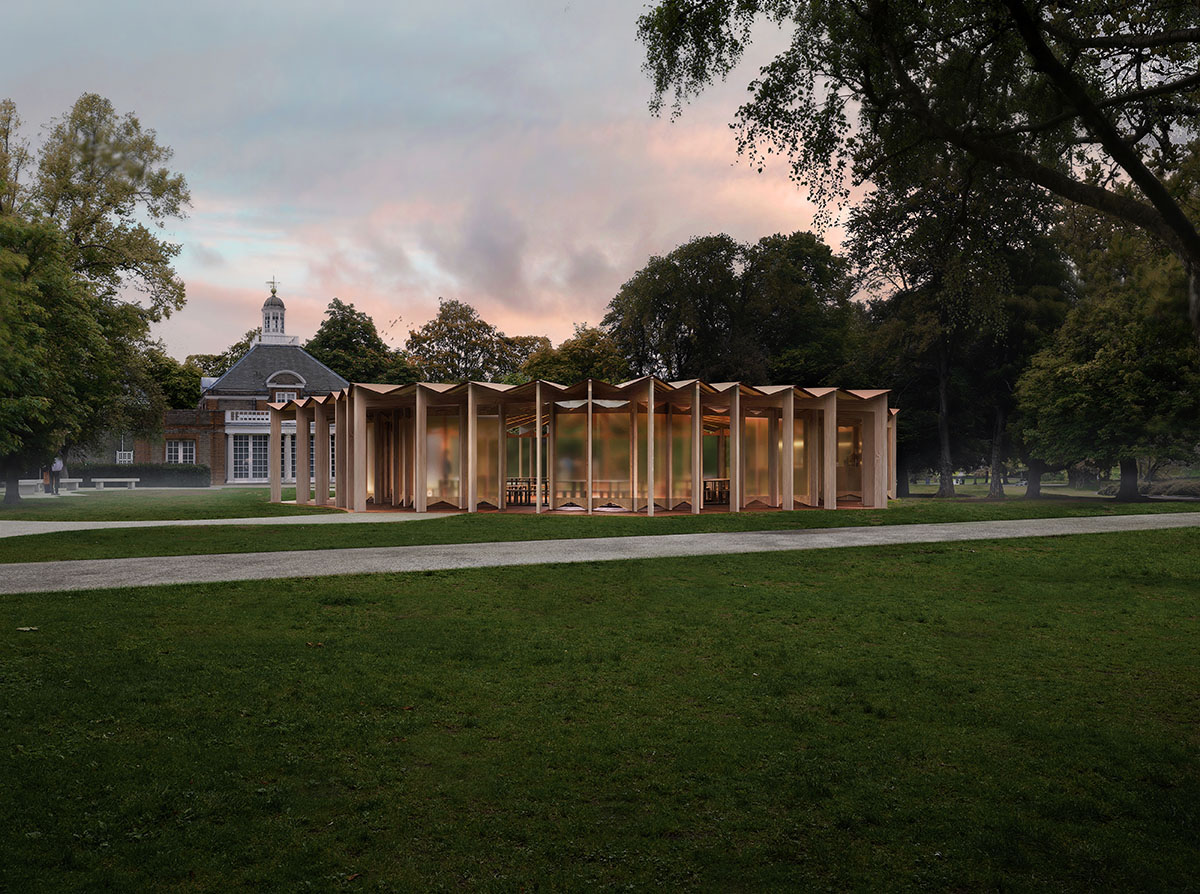 French-Lebanese architect Lina Ghotmeh, the founder of Lina Ghotmeh - Architecture, has been selected to design the 2023 Serpentine Pavilion to be built in London's Kensington Gardens, United Kingdom.
Ghotmeh has been announced as the architect of the 22nd commission by the Serpentine and the pavilion is set to be built in Serpentine South in June 2023.
The 2023 Serpentine Pavilion, called À table, is a circular-shaped timber pavilion that encourages the idea of "togetherness and community", and an organically-formed table aims to invite people for human interactions.
Lina Ghotmeh - Architecture's works are orchestrated as an "Archeology of the Future" based on contextually and materially sensitive approach and explores notions of memory, space and landscape through the architect's own personal methodology.
The design of À table calls people to sit down together at a table and is aimed to allude to "a sense of unity with the form of its structure and an organic design of a table as well as seating formation inviting human interactions."
The architect is inspired by nature to design the pavilion. The design is echoing the grounds and canopies of the trees and its surroundings, while it is contributing to the idea of togetherness and community.
Lina Ghotmeh. Image © Gilbert Hage
"An invitation to dwell together"
"À table is an invitation to dwell together, in the same space and around the same table," said Lina Ghotmeh.
"It is an encouragement to enter into a dialogue, to convene and to think about how we could reinstate and re-establish our relationship to nature and the Earth."
"The Earth that embraces us is our first source of sustenance; without it, we living beings, could not survive. Rethinking what and how much we eat – how we 'consume' and how we weave our relationships to one another and the living world – moves us towards a more sustainable, eco-systemic communion with the Earth."
"Our 'cuisine' grounds us home; it reminds us how linked we are to the climates in which we grew up. As a Mediterranean woman, born and raised in Beirut, and living in Paris, I feel a deep belonging to our ground, to what it contains, and to what it embraces: from the buried yet weathering archaeologies of past civilisations to the embedded living world that spurs green life to sprout from every crack in the streets," she continued.
Taking nature and sustainability to the core of design, Ghotmeh's pavilion is made of sustainably-sourced timber ribs, a suspended pleated roof, and semi-transparent walls.
Thanks to its bio-sourced and low-carbon materials, the design aims to minimise its carbon footprint and environmental impact, in line with Serpentine's sustainability policy.
Made of predominantly timber, the pavilion will be a light-weight and fully demountable structure, paying attention to sustainably sourced materials and giving the reusability of the structure after its time installed at Serpentine. The pavilion will be able to be disassembled and reassembled, allowing it to be built in other area after removed from the Serpentine site.
"In my practice as an architect, I excavate to design (and learn) from the traces of the past and I listen to the voices of my ancestors as well as those of our living world," said the architect.
"These voices vividly resonate with future structures as ways to influence and challenge tomorrow's architecture."
"In today's changing times, this Pavilion offers a celebratory space. It is endowed with a table, around which we will sit together in a modest, low structure and in an atmosphere reminiscent of Toguna huts of the Dogon people in Mali, West Africa, designed to bring all members of a community together in discussion. Here we can eat, work, play, meet, talk, rethink, and decide," she added.
"Echoing the structures of tree leaves, the Pavilion embraces the nature of the park in which it emerges. Reminding us of the many lives blossoming beneath our feet, the concave lines of its perimeter are drawn from the forms in the stems and canopies of adjacent trees."
While rooted in its place and welcoming the space of the park with its open gallery-like envelope, the Pavilion grows as an adaptable system. It can be disassembled and reassembled, allowing it to live beyond its Serpentine site, while holding the memory of its original ground," Ghotmeh continued.
Interior view from the Serpentine Pavilion 2023 designed by Lina Ghotmeh — Architecture Design render, exterior view. Image © Lina Ghotmeh — Architecture, courtesy of Serpentine
"Lina Ghotmeh's first structure in the UK"
"We are thrilled to present Lina Ghotmeh's first structure in the UK here at Serpentine next summer," said Bettina Korek, Chief Executive, and Hans Ulrich Obrist, Artistic Director.
"Her design for À table draws on natural elements that reflect its surroundings in Kensington Gardens and expands on our mission of creating connections between architecture and society by promoting unity and togetherness in its form and function."
"We are endlessly grateful to our loyal partners and supporters, for making Ghotmeh's brilliant concept for a Pavilion built from state- of-the-art sustainable materials into an inspiring reality, for the people of London and for our visitors from around the world to enjoy all summer."
"As Etel Adnan once told us, The world needs togetherness, not separation. Love, not suspicion. A common future, not isolation," Korek and Obrist added.
This year's pavilion selection was made by Serpentine Artistic Director Hans Ulrich Obrist, CEO Bettina Korek, Director of Construction and Special Projects Julie Burnell, Director of Curatorial Affairs and Public Practice Yesomi Umolu, and Curator at Large Natalia Grabowska together with advisors Sir David Adjaye OM OBE and David Glover.
Ghotmeh's commission follows Chicago-based artist Theaster Gates' 2022 Serpentine Pavilion, which was realized with the architectural support of Adjaye Associates.
Previous Serpentine Pavilion architects include Sumayya Vally, Bjarke Ingels, Junya Ishigami, Frida Escobedo, Francis Kéré.
Last year, Lina Ghotmeh spoke to WAC's Netherlands Reporter Lola Kleindouwel in an exclusive live interview, as part of WAC's Live Interview Series. Watch our talk with Lina Ghotmeh in two episodes: episode 1 and episode 2.
Top image: Exterior view of the 2023 Serpentine Pavilion by Lina Ghotmeh. Image © Lina Ghotmeh — Architecture, courtesy of Serpentine.
> via Serpentine
bio-sourced carbon Lina Ghotmeh London pavilion Serpentine Pavilion