Ukrainian architects and designers raise their voices as Russia's invasion continues
On the 15th day of Russia's invasion of Ukraine, the world is still witnessing the war. According to Reuters, the death toll in the country has reached to 1,335 since the invasion started by Russia on February 24, and nearly 2 million people left the Ukraine in just 12 days, according to an independent, nonprofit media organization NPR.
On the other hand, the United Nations expects that 4 million refugees can flee Ukraine in the coming days and weeks, and this is considered to be "an incredibly fast and largest exodus of people since the Balkan wars," according to the UN refugee chief Filippo Grandi.
While many architectural associations, organizations and cultural institutions strongly condemned the war, world-renowned architectural offices, including MVRDV, Zaha Hadid Architects, David Chipperfield Architects, UNStudio, Foster + Partners, suspended their projects in Russia and condemned the violence.
The tragic results of the war are not limited to these, while the largest and important cities of Ukraine have been destroyed - including Kharkiv, Chernihiv, Mariupol, Zhytomyr, Sumy - the historical monuments and landmark buildings of the country are in serious danger of extinction such as the Derzhprom Palace of Industry built in 1928, the Slovo House in Kharkiv built in 1920s, Kyiv's Holocaust memorial Babyn Yar, reported by Bloomberg CityLab.
Recently, a group of volunteers from Western Ukraine have created an interactive website showing the demolished buildings and cities in Ukraine, including the names of cities and pictures and the dates they were demolished.
How are architects, designers and the creative industry dealing with the war in their neighborhood? Ukrainian architects and designers have spoken to World Architecture Community to share their experiences and raise their voices to the whole world.
World Architecture Community is sharing experiences and insights of architectural and design community with WAC readers:
---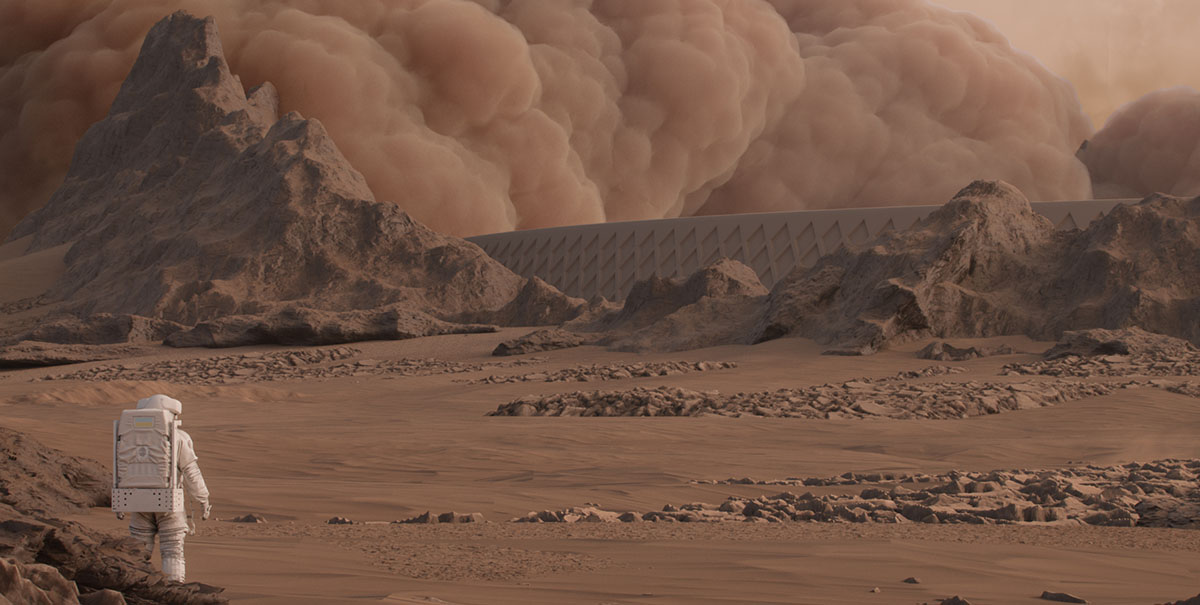 Plan C project was proposed by Makhno Studio. Image courtesy of Makhno Studio.
"Millions of Ukrainian people spent nights in the subway and lived in bomb shelters"
Mary Fedko, communication manager of Ukrainian architecture firm Makhno Studio, told World Architecture Community: "On February 24, all of Kyiv's residents woke up from explosions. Putin started a full-scale war against Ukraine."
"All members of our team were forced to leave their homes and flee to villages, Western Ukraine or Poland. Some of them, including our relatives and my dad, are now working in the territorial defense and defending our country from Russian aggressors."
"Millions of Ukrainian people spent nights in the subway and lived in bomb shelters. Our cities and houses were destroyed, innocent citizens were killed. And despite this horror, 390 children were born in Kyiv in 8 days."
"For the first days of the war, it was very difficult to leave the city, there were terrible traffic jams everywhere. For example, I was evacuated to the small city near Ivano-Frankivsk, which took me 2 days, instead of the usual 6-7 hours. It is still difficult to move to Western Ukraine."
"No, our office and ceramic workshop are closed. All our equipment remained in Kyiv. Honestly, we do not know when we will be able to return to Kyiv to start working. We are currently thinking about a solution to this problem," Fedko continued.
"Ukraine is bravely fighting back and confronting one of the largest armies in the world. Putin thought he would destroy our country, but he united the Ukrainian people like never before. Citizens without any weapons on their own stop Russian tanks. We are brave, we are powerful, and we are ready to continue to defend our culture, democracy, freedom, our lives."
"We are really grateful for the help we receive from all over the world now. And we call everyone to stop crimes against humanity. Please support our Ukrainian Army."
"Our Army is our hope. The whole world stands for Ukraine. The whole Ukraine fights to save the world. We are fighting for peace in the whole world."
---
Janna Kiseleva, architect and founder of Odessa-based firm JK Lab Architects, told WAC that "I'm now at Odessa, we are waiting for Russians, sometimes we hear bombing, but not in the city center [today].
"We have closed our office first day of War."
"I want to stop war in my country. I want to say "We don't need Russian here, we are Ukrainians and we are together here, we will win!."
On February 28, Janna Kiseleva also shared a video on her Instagram to share information about shelters in the flats and gave some instructions to Ukrainians to show positions or locations in their apartment or in their house, in which place people can feel safe.
---
Hotel on the Beach project was designed by Sivak+Partners Studio. Image © Alexey Gulesha
"Half of our team is separated on different countries in EU"
Alexey Gulesha, co-owner of Kyiv and Odessa-based design firm Sivak+Partners Studio, told WAC that "We spent almost half a day in the bomb shelters. We closed all the offices."
"We try to help our army, donate blood. Half of our team is separated on different countries in EU. And another half is in Ukraine, mostly in Odessa district."
"This war is not about Ukraine. It is a war against freedom which putin want take away from us. And if we will not stand it, it will impact straight on EU. What we really need is to close the air space."
"We have not enough supplies and resources to do it by ourselves." "Some of our big cities are almost destroyed: Mariupol, Kharkiv, Sumy."
"We already lost a lot of good architecture treasures and a lot of civil people died." "So our massage is pretty simple and understandable: there is no time to postpone and think. We need EU to take a part of responsibility on Europe's safety and act."
"We are greatful for a huge help and donation that we are receiving daily from different countries. Really it means a lot and it is very helpful. I want to thank to Moldova, Romania and Germany for giving a settle for my colleagues and designers of my studio."
---
"I am trying to work from entrance hall as well as bomb shelter on my computer"
Liza Miadzel, a Ukrainian architect, 3d artist and interior designer, shared that "I live in Kyiv and I stayed here with my family since the war has started. I live in a 1-room apartment in the brick house with only one external load-bearing wall."
"So that is way we need to react and run immediately to the bomb shelter under the house or to the entrance hall near the house stairs when we hear the sirens. And, many times during the day."
"I write to World Architecture Community at night on the 4th of March and I don't know if my family and I would be alive when you would read it. This is because the Russian forces are trying to invade in Kyiv and we suffer from attacks every day," she added.
"In peacetime I had an experience working in Ukrainian architectural and design studios, but last year I was working almost only for the foreign companies remotely. So that is why I don't go to the office every day."
"I am trying to work from entrance hall as well as bomb shelter on my computer (that stays in the apartment) using the remote access program. All of the Ukrainian architectural and design studios are closed now."
"My colleagues and I help our country in every possible way: make both individual donations and from studios, cook the food for Ukrainian soldiers, volunteer on cars, do the information tasks from our Parliament, try to keep domestic animals in safe and in general help each other everything we can," Miadzel concluded.
---
Samna Restaurant was completed in 2021 by Kyiv-based design studio YOD Group. Image © Andriy Bezuglov
YOD Group told WAC that "At the moment nobody is working in the studio as this situation is bad and a lot of people is trying to evacuate Kyiv."
---
"Mostly all architectural bureaus in Kyiv have suspended their activity"
Ukrainian architect Alina Holovatiuk told WAC that "I'm currently in Kyiv. On February 24th at 5:19 I woke up from the sounds of explosions. Russia has launched a full-scale war, entering the territory of Ukraine from the North, East, and South. During the last few days, Ukrainian cities have been suffering from airstrikes and shelling."
"Hundreds of civilians have been killed. The largest cities in Ukraine viz. Kharkiv, Chernihiv, Mariupol, Zhytomyr are under threat of destruction. Historical landmarks dated from XI AD are also at the risk of eradication. Russian forces have been hitting the nuclear plant in Zaporizhzhia. It's the biggest nuclear plant in Europe and one of the biggest in the world."
"From the 24th of February, mostly all architectural bureaus in Kyiv have suspended their activity. Some of them are switched to volunteering, some have joined Kyiv Territorial Defense Forces., some are fleeing to Western Ukraine or abroad. There were more than 10 airstrikes in Kyiv and after the 25th of February, I'm remaining days and night at home."
"When the siren calls, we shelter ourselves in the bathroom, covered with blankets and with the pillows in our hands. Since the beginning of the war, there have been more than 70 sirens that warn of a possible airstrike. Moreover, sabotage groups are operating in the city and street battles are constantly blown out with them. We are shocked, stressed but standing strong!."
"I would like to share a message with the architecture community and all the companies involved in construction and architecture all around the world," she continued.
"The Ukrainian architecture community trying to find solidarity and support from international partners to suppress aggression, human losses, destruction of the Ukrainian nation and cities. I am personally asking architecture-related organizations to call to react to this to stop war escalation and prevent World War."
"I understand that some steps are decisive but while you hesitate all Ukrainians including the army, territorial defense forces, and civilians undergo prolonged bombing and shooting; they are not stopping throughout these war days."
"I believe that all together we could remain world in peace!"
---
Say No Mo Beauty Salon was designed by balbek bureau in 2021. Image © Yevhenii Avramenko
Kyiv-based architecture and interior design studio balbek bureau told WAC that they temporarily closed thier offices.
"Several members of balbek bureau's team have taken up arms to defend our country, while others are relocating to the west of Ukraine where the things are relatively calm and safe to continue work on the studio's international projects," balbek bureau told World Architecture Community.
"We need to support our team and Ukraine's economy," balbek bureau added.
---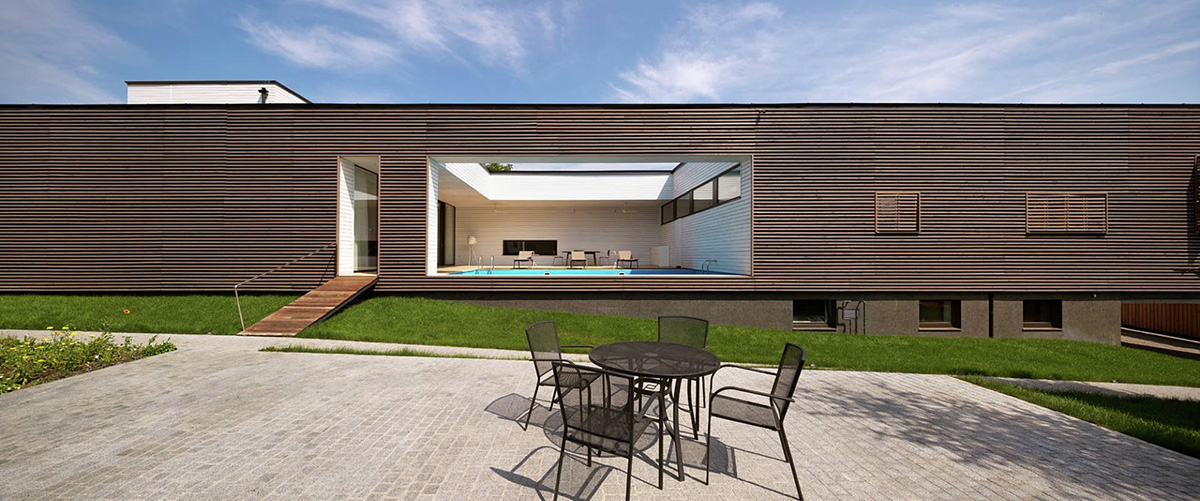 House in Kharkiv was completed in 2015 by Drozdov & Partners. Image © Andrey Avdeenko
"It's hard to believe and put into words"
Ukrainian architecture practice Drozdov&Partners told WAC that some of the studio members are trying to "survive in shelters under bombardment", some of them "are safe assisting the army and refugees."
The firm said it shut down its office, located in 450 metres to the Kharkiv regional government building "which was destroyed this morning by Russian army by an airstrike," Drozdov&Partners explained.
"Our office is divided by circumstances into two groups, some busy surviving in shelters under bombardment and others who are safe assisting the army and refugees," said the studio.
"Now we are just Ukrainians. In next future will be architects."
"At this very moment Russian's army is killing Ukrainians, bombing our homes, kindergartens and hospitals, using prohibited weapons and many other terrible things. It's hard to believe and put into words. This war is also informational. It is a result of false Putin's propaganda."
"We ask you to resist it: to apply severe sanctions against Russia organising mass protests around the world. While innocent people in Ukraine are dying, most Russians are sitting in their offices refusing to react and to do something about the war they are responsible for. Please help us reach their minds and hearts. Our army is fighting for our and your freedom," Drozdov&Partners concluded.
Read WAC's comprehensive coverage about Ukrainian crisis on Ukraine Country Page.
---
Top image: The top photography shows an administrative building in Kharkiv after Russian shelling on March 1. Image © Sergey Dolzhenko/EPA-EFE/Shutterstock, via CNN.