Architects, artists, architectural organizations, cultural institutions show support for Ukraine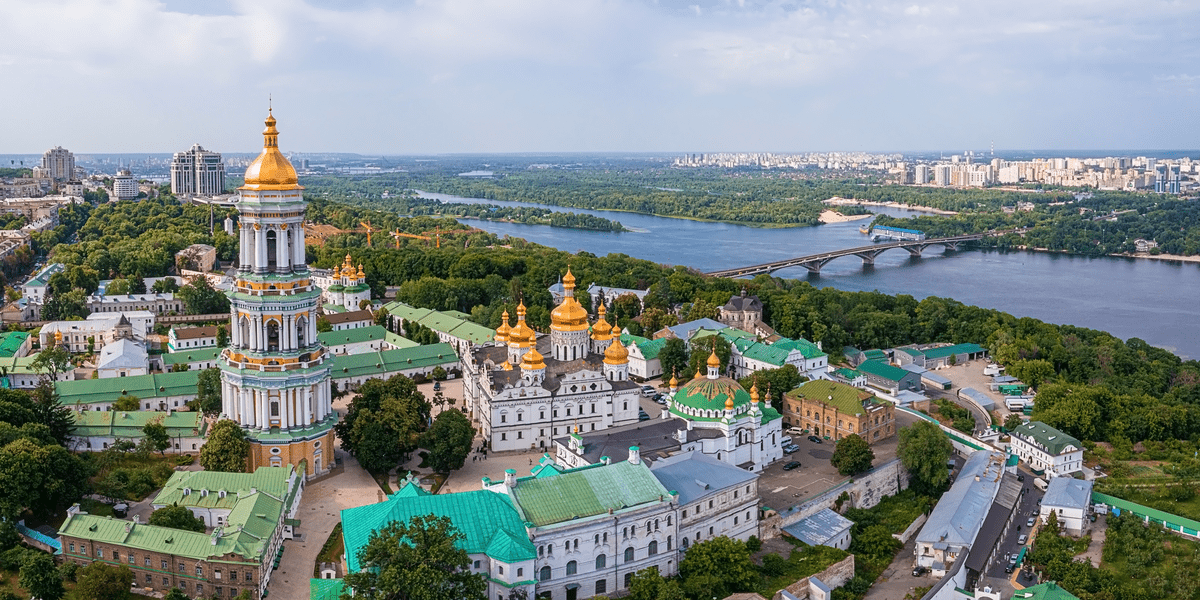 The Architects' Council of Europe, the International Union of Architects, world-renowned Dutch firm MVRDV, the curator and artists of the Russian Pavilion at the 59th Venice Art Biennale are among institutions and individuals showing their support and solidarity for Ukraine after the conflict began by Russia on 24 February.
The Architects' Council of Europe expressed their support to the National Union of Architects of Ukraine.
In a press statement by the Architects' Council of Europe (ACE) sent on 25 February, the ACE President Ruth Schagemann said "we would like to express to you our support for all Ukrainian architects in the face of the political situation in which Ukraine and its citizens find themselves."
"ACE finds it unacceptable"
"The Architects' Council of Europe finds it unacceptable that one country grants itself the sovereign right to shape the borders of another sovereign country."
"For years we have been developing international cooperation with partners from Eastern Europe and we want to strengthen it. We share a common history and past experiences, as well as the same challenges of the present and the future."
"We believe that support for each other among architects in Europe is fundamental, both for the development of our organisations in times of peace and in the event that one of us is affected by a crisis."
"We declare our support to the National Union of Architects of Ukraine and its members in this difficult time," concluded Ruth Schagemann.
"UIA expresses its unwavering solidarity"
The International Union of Architects, an international non-governmental organisation based in Paris, has also expressed their "unwavering solidarity" for Ukraine.
"In the face of the mounting tragic events in Ukraine, the International Union of Architects (UIA) expresses its unwavering solidarity with all those affected and calls for unity and peace among nations," said UIA President José Luis Cortés.
"On behalf of the international community of architects, we condemn any act of violence or war affecting the well-being and dignity of humans, join the global appeal against war and call for the immediate restoration of peace."
"The UIA was founded in 1948 - after the Second World War - to unite architects around the world and actively participate in the reconstruction of devastated cities and villages. We continue to believe that the greatest obligation of humanity is the preservation of peace."
"As the leading global organisation of architects committed to creating safe and healthy environments, we also call for the protection of the invaluable architectural heritage threatened by this conflict," José Luis Cortés added.
Russia's participation to Triennale Milano has been withdrawn
Italian architect and urban planner Stefano Boeri announced on Triennale Milano's Instagram account that he has withdrawn the invitation to the Russian government to attend Triennale Milano with its own pavilion.
Boeri announced that "the invitation to the Russian Government to take part in the international exhibition with a pavilion of its own has been withdrawn."
The artists and curator of the Russian Pavilion resigned their positions at Venice Art Biennale 2022
In response to the ongoing conflict in Ukraine, artists Alexandra Sukhareva and Kirill Savchenkov, and Raimundas Malašauskas, the curator of the Russian Pavilion, announced their resignation on social media on Sunday, February 27 from the Venice Art Biennale 2022.
The Russian Pavilion, located in the Giardini, will remain closed for the 2022 edition of Art Biennale, announced by the Russian Pavilion on Instagram.
Giardini at Venice Biennale. Image © Andrea Avezzù, courtesy of Venice Architecture Biennale
Venice Biennale "expresses its complete solidarity for this noble act of courage"
Following the resignations of the artists and the curator, the Venice Biennale issued a statement and showed their support for Ukraine.
"La Biennale expresses its complete solidarity for this noble act of courage and stands beside the motivations that have led to this decision, which dramatically epitomizes the tragedy that has beset the entire population of Ukraine," said the organizers of the Venice Biennale.
"La Biennale remains a place where peoples meet in art and culture, and condemns all those who use violence to prevent dialogue and peace."
MVRDV stops its Russian projects
Dutch firm MVRDV, who is currently designing RED7 mixed-use tower in Russia, released a statement and said "they have stopped their Russian projects". MVRDV expressed that "they strongly condemn the violence."
"We are thinking about our friends, partners, and clients that are in danger at this moment. We support our colleagues who are worried about their country and their loved ones."
"We stand in solidarity with all the people who are defying and protesting against this war, and we strongly condemn the violence. As architects and urbanists, we work in many countries to make a difference and we believe wholeheartedly in international dialogue and in peace. For this reason, we have immediately stopped our involvement in projects in Russia until further notice," the firm added.
"As a practice, we are affected twofold. Our projects in Ukraine have sadly been put on hold by the atrocities. Right after the start of the invasion, we began contacting our Ukrainian friends and partners in support and we try to remain in touch."
"They are brave and they are experiencing incredible hardship. We have stopped our Russian projects, even though this means we have to stop collaborating with people we have known for years, and who are dedicated to bringing a more collaborative international outlook to Russia," MVRDV added.
"Our thoughts are with all those affected by the ongoing crisis in Ukraine"
Meanwhile, UNStudio has shared a statement with World Architecture Community and said "First and foremost, our thoughts are with all those affected by the ongoing crisis in Ukraine."
"We are currently considering how best to handle this situation on a case-by-case basis and are assessing the impact it has on our staff and projects in both countries," UNStudio told WAC.
UNStudio, one of the leading architecture practices, has projects in Russia, such as a community-focused residential complex in Moscow and an "inclusive masterplan" for Sochi Waterfront in Russia.
World Architecture Community contacted other architecture firms who are building projects in Russia. WAC has not yet received a response from other offices.
Garage Museum of Contemporary Art stops work on all exhibitions
Moscow-based privately funded art gallery Garage Museum of Contemporary Art announced that they have stopped all work on all exhibitions.
"The team at Garage Museum of Contemporary Art has decided to stop work on all exhibitions until the human and political tragedy that is unfolding in Ukraine has ceased. We cannot support the illusion of normality when such events are taking place," it said.
"Garage has always been an international institution open to a plurality of voices. We are categorically opposed to any and all actions that sow division and create isolation. We see ourselves as part of a wider world undivided by war."
"We will fulfil our obligations to the artists whose projects are being postponed and who have worked with us with trust and enthusiasm."
Strelka Institute suspends all all work and programs indefinitely
Meanwhile, Strelka Institute, a Moscow-based non-profit organization for Media, Architecture and Design, released a statement that they "are putting all work and programs on hold indefinitely."
"We consider it impermissible to carry on business as usual in the present situation while lives in Ukraine are being lost," said Strelka Institute.
"Since its foundation, the Institute's work has been focused on researching cities and developing ideas for a planetary future. While this mission remains essential, for a productive conversation about the future, there needs to be peace."
"Establishing dialogue and cessation of hostilities in Ukraine is the single most important goal right now." "Strelka Institute stands in solidarity with everyone pleading for an immediate end to this armed conflict," it said.
V-A-C Foundation suspends its all public program
Similarly, Moscow-based cultural institution V-A-C Foundation said that "GES-2 House of Culture cannot turn a blind eye to the tragic events we have all become witnesses to," wrote on GES-2 House of Culture's Instagram account.
"GES-2 holds in equal respect the feelings of our audience and the decisions of the artists we work with. In line with this, there will be changes to our programme," at the building, recently designed by Renzo Piano Building Workshop.
"GES-2 is a cultural institution made by and for people. Each of us is experiencing our own emotions and feelings at present."
"In these circumstances, all of our work will be aimed at bringing people closer to one another and supporting our visitors and employees. We will continue to hold those events which it is possible to hold," GES-2 House of Culture added.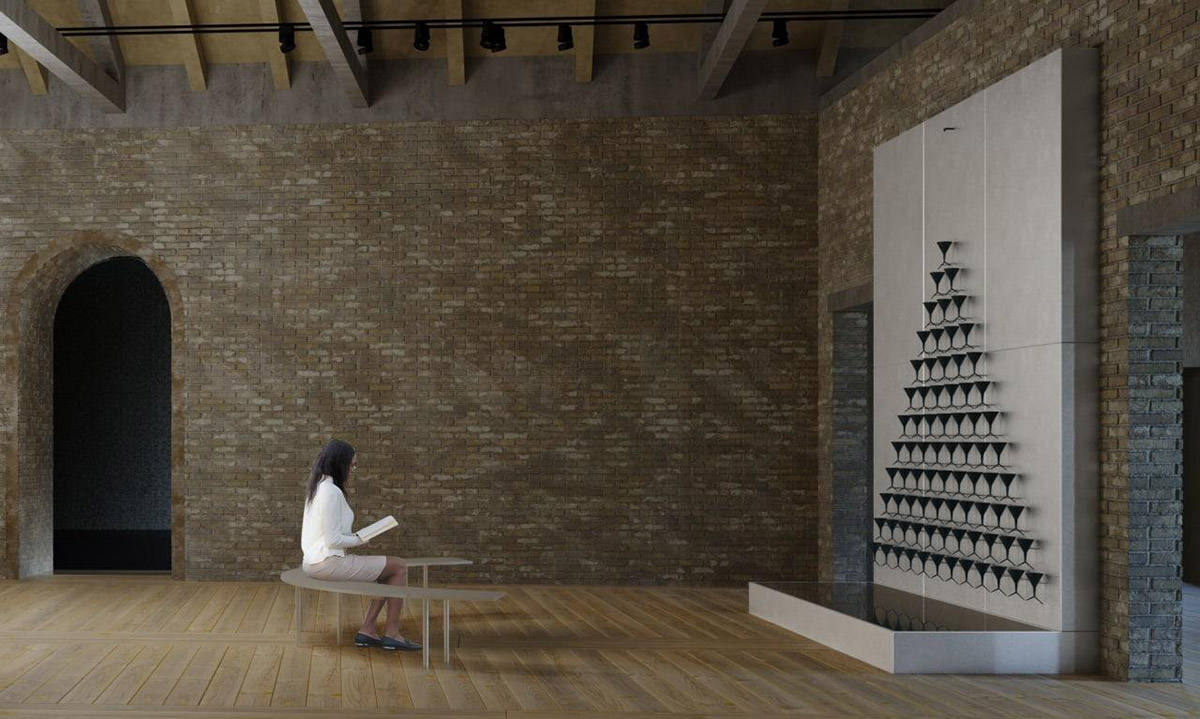 A rendering of the Ukrainian Pavilion project at the 59th Venice Art Biennale by ФОРМА. Image courtesy the Ministry of Culture and Information Policy of Ukraine, The Naked Room, and Borys Filonenko.
The artists and curator of the Ukrainian Pavilion at Venice Art Biennale 2022 suspend all activities related to the installation and exhibition
A group representing the Ukrainian Pavilion have announced on the Ukrainian Pavilion's Twitter account that they have suspended all activities related to the installation and exhibition until the conflict within Ukraine's borders are resolved.
"At the moment this statement has been published, we are not in immediate danger, but the situation is critical and changes every minute," the statement read.
"Presently, we are not able to work [on the] pavilion due to the risk to our lives."
"If the situation changes, and it is safe to continue our work and travel, we will be in Venice," the group's statement added.
"We can not confirm yet that our project will be completed, but we can promise that we will do everything possible to save unique artwork produced by Pavlo Makov and our big team specially for the upcoming biennial during the past five months."
The Ukrainian Pavilion at Venice Art Biennale 2022 are held as a result of a collaboration of three independent curators: Maria Lanko, Lizaveta German and Borys Filonenko. The Ukrainian Pavilion would reintroduce the practice of Ukrainian artist Pavlo Makov to the art world.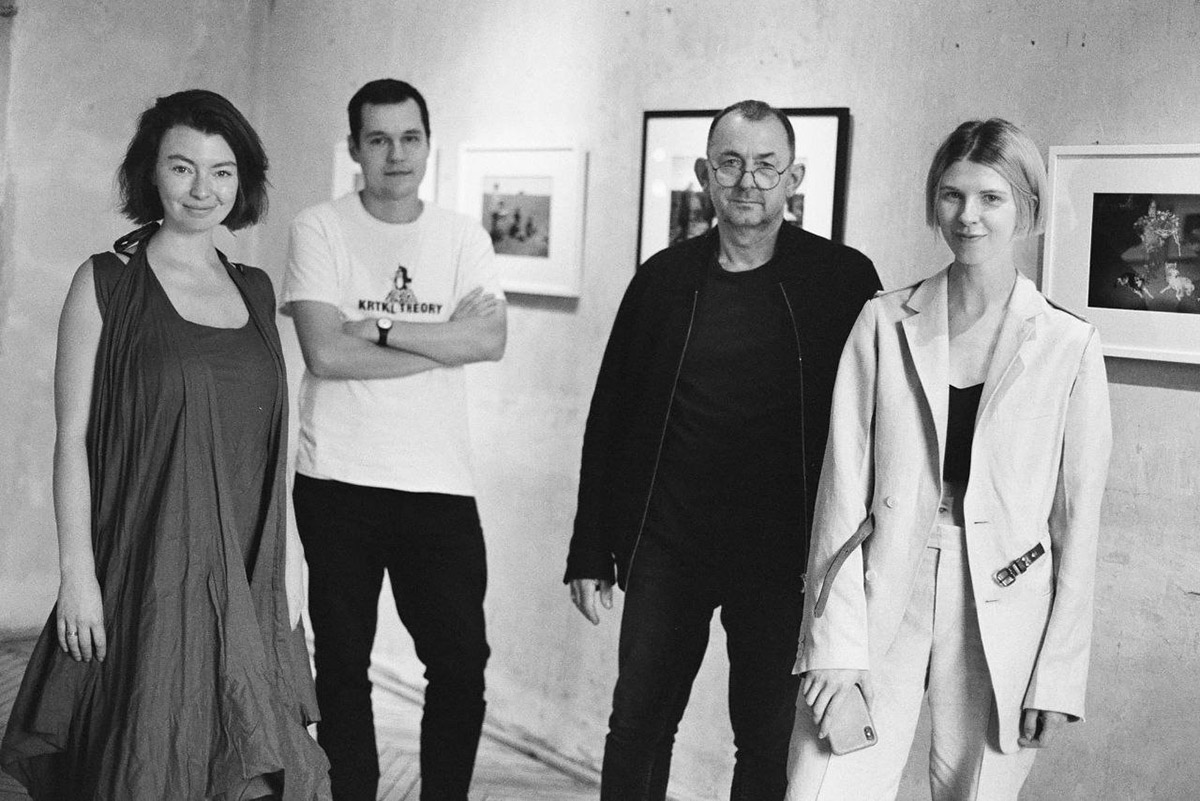 Image: (left to right) Lizaveta German, Borys Filonenko, Pavlo Makov, Maria Lankro, curators and the artist at the Ukrainian Pavilion at Venice Art Biennale. Image © Eugene Nikiforov
Ukrainian architecture offices are temporarily closed
Following the crisis in Ukraine, World Architecture Community contacted Ukrainian architects and designers. Kyiv-based architecture and interior design studio balbek bureau said "the office is temporarily closed."
"Several members of balbek bureau's team have taken up arms to defend our country, while others are relocating to the west of Ukraine where the things are relatively calm and safe to continue work on the studio's international projects," balbek bureau told World Architecture Community.
"We need to support our team and Ukraine's economy," balbek bureau added.
Kyiv-based design studio YOD Group said "At the moment nobody is working in the studio as this situation is bad and a lot of people is trying to evacuate Kyiv."
Oleg Drozdov, founder of Drozdov&Partners. Image © Ekaterina Pereverzeva
"It's hard to believe and put into words"
Ukrainian architecture practice Drozdov&Partners told WAC that some of the studio members are trying to "survive in shelters under bombardment", some of them "are safe assisting the army and refugees."
The firm said it shut down its office, located in 450 metres to the Kharkiv regional government building "which was destroyed this morning by Russian army by an airstrike," Drozdov&Partners explained.
"Our office is divided by circumstances into two groups, some busy surviving in shelters under bombardment and others who are safe assisting the army and refugees," said the studio.
"Now we are just Ukrainians. In next future will be architects."
"At this very moment Russian's army is killing Ukrainians, bombing our homes, kindergartens and hospitals, using prohibited weapons and many other terrible things. It's hard to believe and put into words. This war is also informational. It is a result of false Putin's propaganda."
"We ask you to resist it: to apply severe sanctions against Russia organising mass protests around the world. While innocent people in Ukraine are dying, most Russians are sitting in their offices refusing to react and to do something about the war they are responsible for. Please help us reach their minds and hearts. Our army is fighting for our and your freedom," Drozdov&Partners concluded.
Founded in 1997 in Kharkiv, Drozdov&Partners is one of leading architecture practices in Ukraine. The studio's founder Oleg Drozdov delivered a lecture, titled "Ruralism vs Urbanism: New Forms of Accommodation", in the Architecture of the Future Conference, which was held on October 4-5, 2018 Kyiv.
World Architecture Community will update the story as new information becomes available.
Top image: Magical aerial view of the Kiev Pechersk Lavra near the Motherland Monument. UNESCO world heritage in Kyiv, Ukraine. Kiev Monastery of the Caves. Photography © Ingus Kruklitis, courtesy of UIA.