SOM completes 800 Fulton Market office tower that becomes "Chicago's Smartest Building"
Skidmore, Owings & Merrill (SOM) has completed a new mixed-use office tower in Chicago, United States.
The 326-foot-tall (99.3-metre) tower is located at the threshold of one of Chicago's fastest growing neighborhoods, the Fulton Market District - taking its name from the neighbourhood.
Named 800 Fulton Market, the 19-story building, described as "Chicago's Smartest Building", expands the ways of working in the office spaces.
Considering the consequences of the pandemic, the design incorporates pandemic-responsive design features, from seven landscaped terraces that allow for indoor/outdoor workspaces, to assistive smart building systems.
SOM's mixed-use office tower features advanced capacity-monitoring technology and ample outdoor space aiming to promote tenant safety, health and wellness.
Designed by SOM, the project was constructed by Lendlease for Thor Equities and QuadReal in collaboration with Omni Ecosystems, engineering firm dbHMS, Engage Civil, VDA, theatre planning and lighting design firm Schuler Shook, Ava Grey Designs, CDC and Teligan.
SOM's design adds a special rhythm and scale of the neighborhood's historic low-rise streetscape as well as Chicago downtown high rises through a series of stepped terraces.
To create this cascaded form, which are used as terraces, SOM draws inspiration from the industrial character of the neighborhood. The façade of the tower features a composition of different elements such as brick, glass and exposed structural steel bracing.
It creates generous landscaped outdoor spaces with native plantings and trees offering tenants access to the outdoors.
"It had always been part of Fulton Market's historic, industrial character"
"We set out to design a building that would feel like it had always been part of Fulton Market's historic, industrial character, but also recognized the pressures and concerns of the new vibrant neighborhood," said Brian Lee, SOM Consulting Design Partner.
"This sensitivity informed everything from our material choices to the gracefully stepped form, in conversation with both its immediate context as well as Chicago's famous skyline," Lee added.
Giving much attention to the internal mechanisms of the project in terms of sustainability, 800 Fulton Market is designed based on a range of smart building systems, helping to promote wellness, sustainability, and energy efficiency.
"To best support tenants and maintain the building, Thor engaged Buildings IOT to deliver cloud-based machine learning insights to the property team for resolution and observation," said SOM in a press release.
"The technology monitors spaces and circulates fresh air throughout the building."
The building also features electronic charging stations and scooters for tenant use, a centralized tenant mobile app to house access control, and offers employees the ability to reserve amenities," SOM added.
SOM's extensive analyses for the building's life cycle and sustainable design program helped to reduce its enclosure and structures embodied carbon by 65 per cent when compared to an industry average commercial office. This amount meets the 2030 target reduction set by AIA, according to the firm.
The tower is distinguished by its external large-scaled steel X-braced frames, which strongly becomes part of SOM's design approach for structurally expressive architecture.
These frames are engineered to resist against Chicago's harsh winters and strong winds, meanwhile, the frames are designed to contract in cooler weather and expand in warmer temperatures.
"Together with an offset core made of glass suspended along the north side of the building, this unique structural system enables large, open floor plates and flexible, light-filled workspaces," SOM added.
Inside, SOM creates a nearly 40-foot (12,19-metre) tall main lobby that is defined by a cantilevered staircase and mezzanine, while it is perceived like layered spaces of activity.
For the material palette of the interiors, the firm uses exposed concrete, wood and red brick that matches the tower's exterior and reflects the neighborhood's industrial character.
In workspaces, flexible seating and informal spaces are created for working and collaborating, the lobby becomes a place of exchange that blends seamlessly into the busy streetscape.
A vibrant mix of retail, community and conferencing spaces, a fitness center and lounge become activating program elements throughout the day.
On the 18th and 19th floors, a rooftop bar and terraces provide space for visitors to enjoy panoramic views of Chicago. The walls of the spaces are featured by six site-specific murals, all completed by Chicago-based artists.
The project is certified with LEED Platinum, WiredScore Platinum, SmartScore Platinum and targets WELL Building Standard certification, and is home to offices for leading companies such as The Aspen Group and John Deere.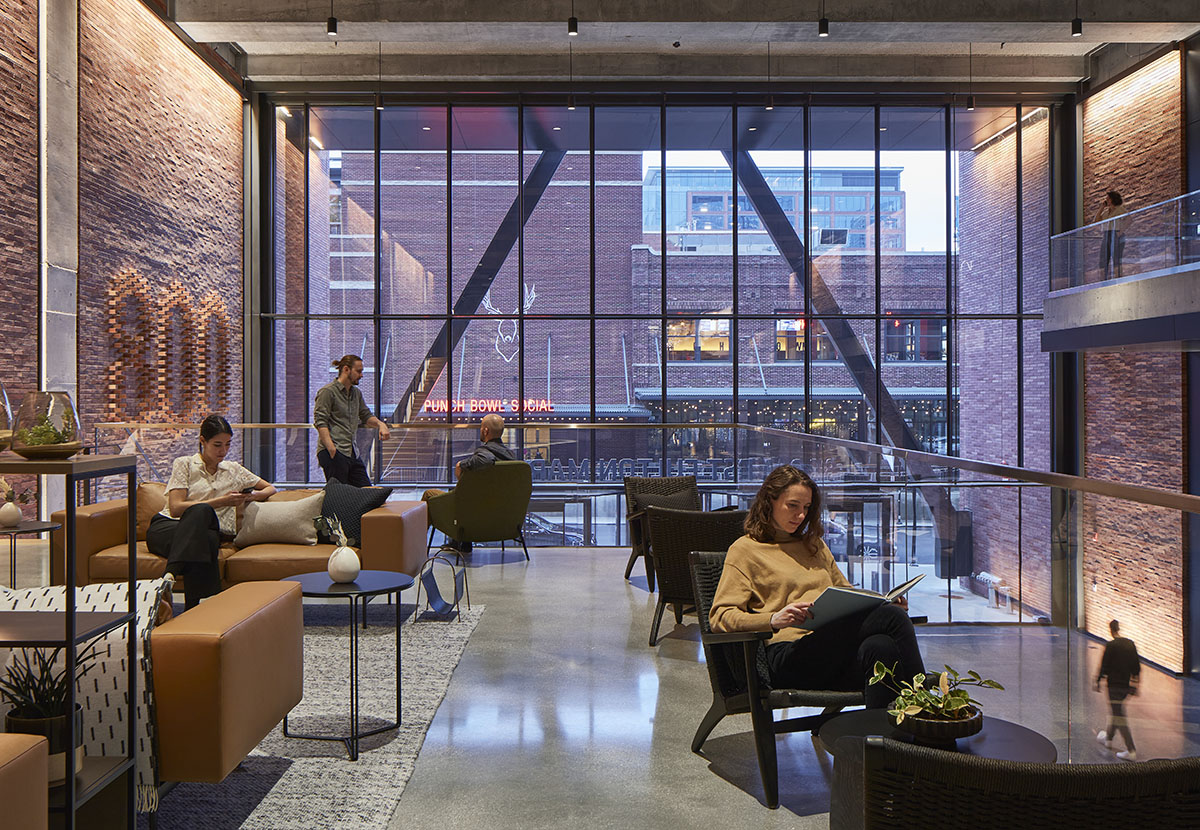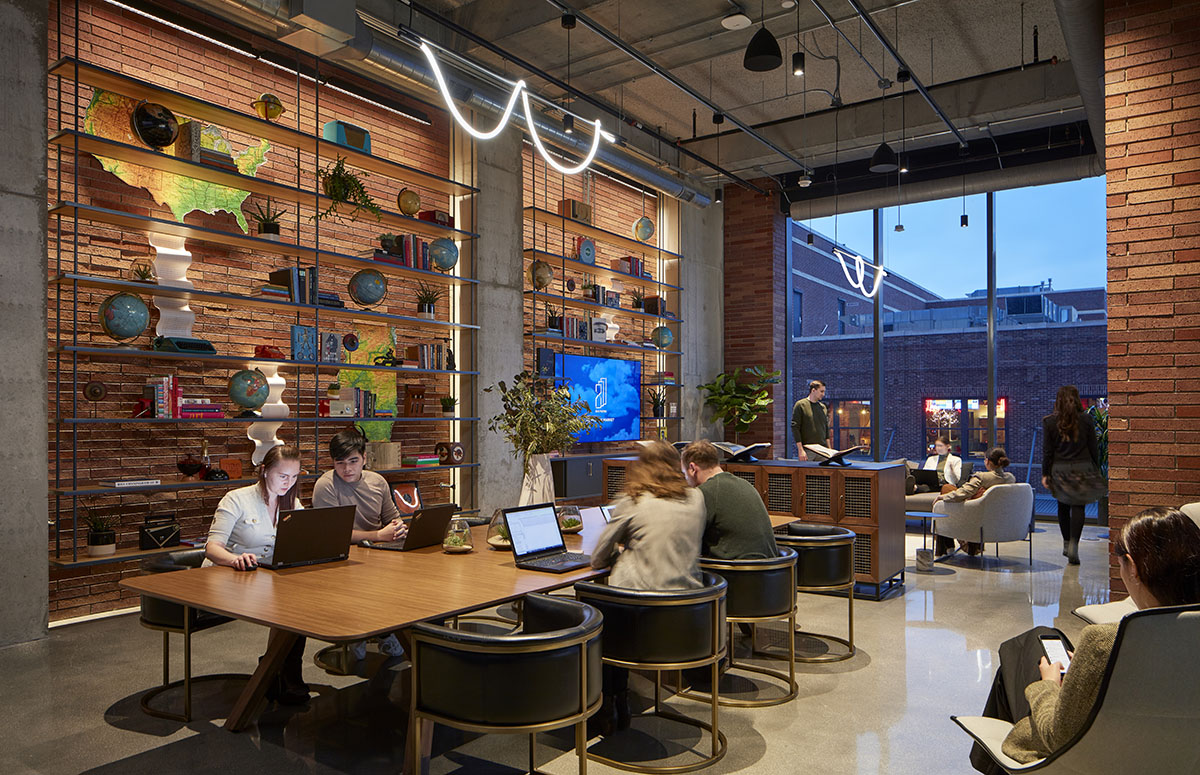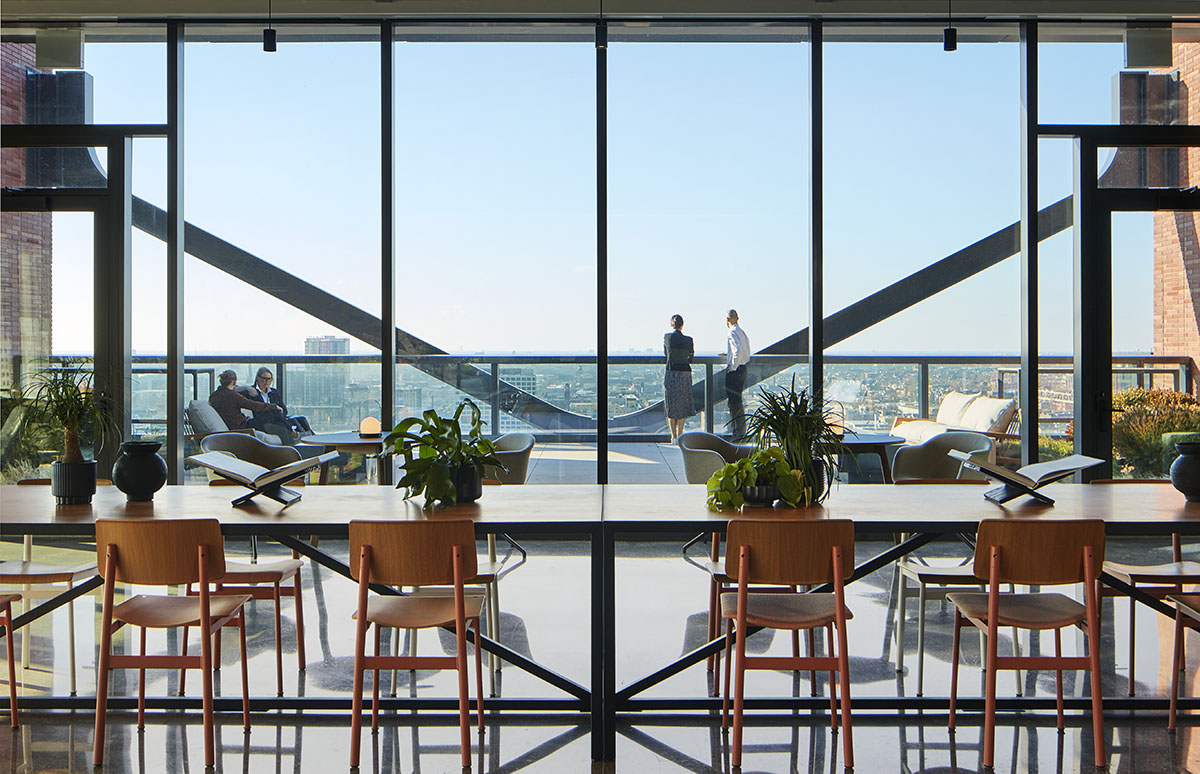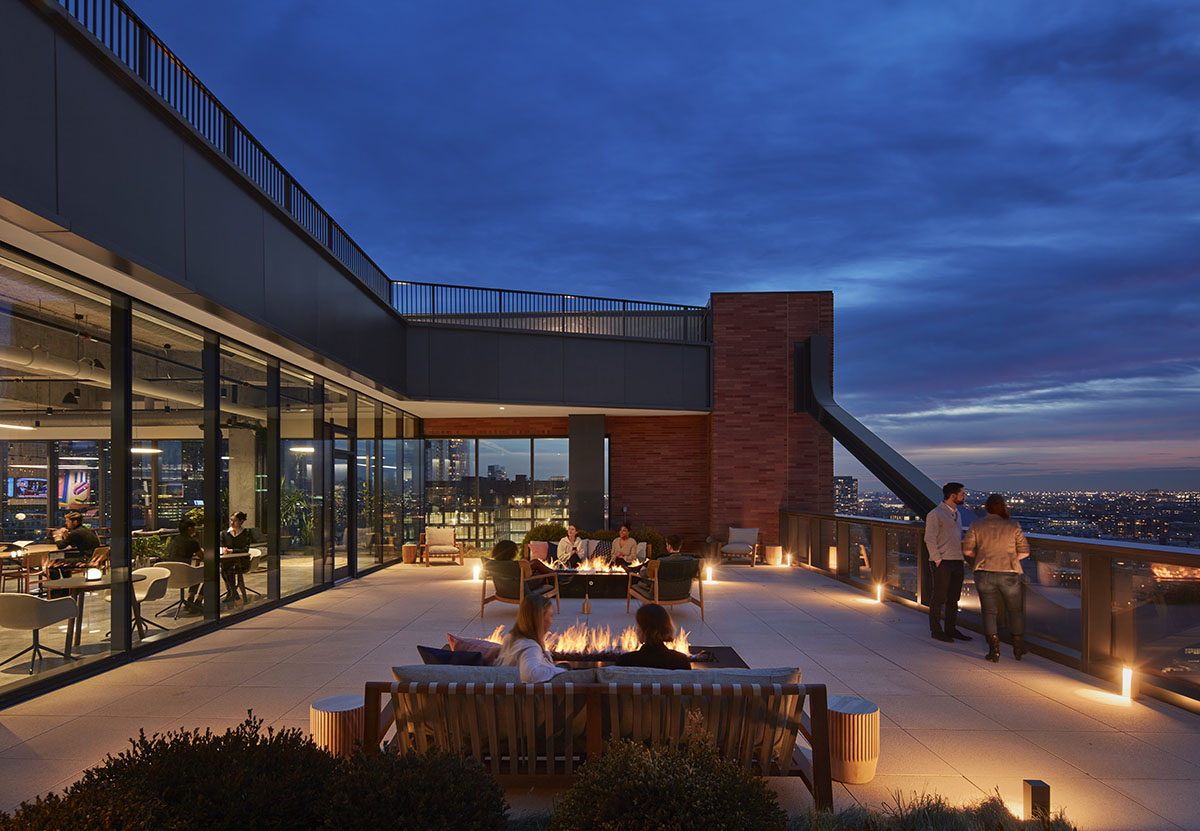 Basement floor plan
Ground floor plan
4th floor plan
7th floor plan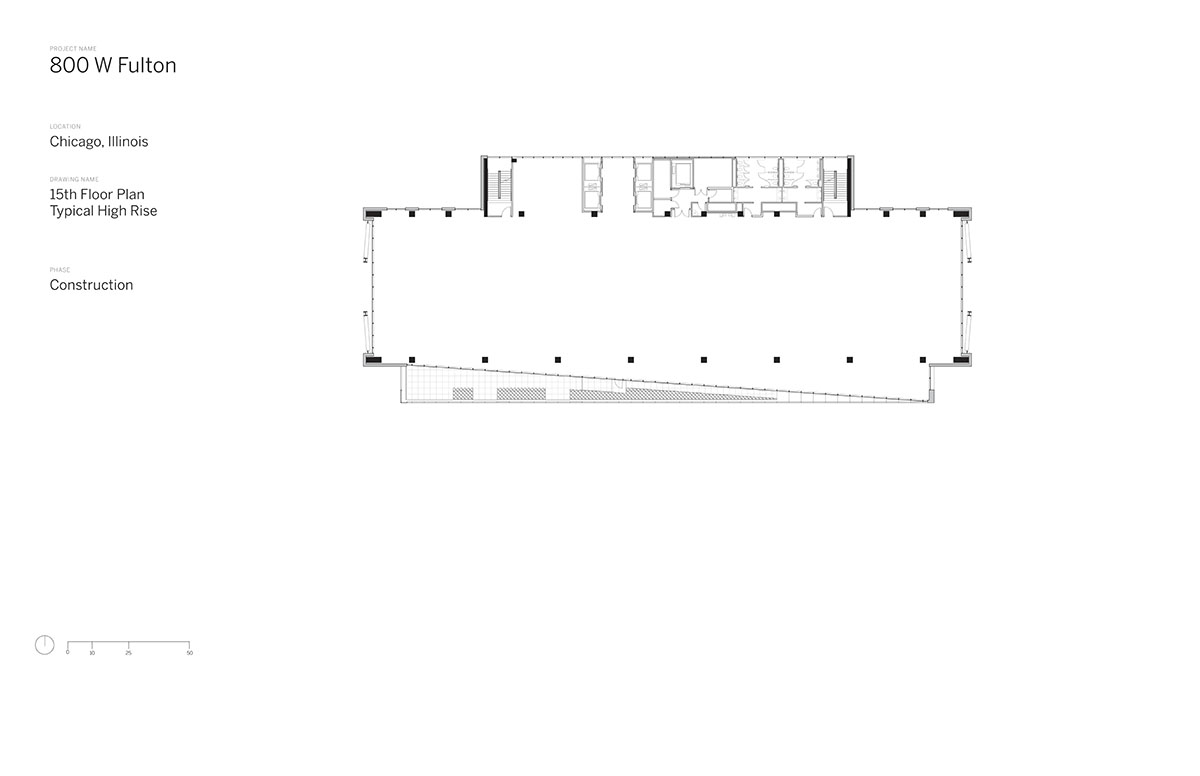 15th floor plan
Elevation
SOM is currently working on the renovation of the iconic modernist office building Lever House in New York. The firm completed a bank's new headquarters enclosed by an external diagrid in Shenzhen, China.
Skidmore, Owings & Merrill (SOM) is a collective of architects, designers, engineers, and planners working together to build a better future.
Originally founded in Chicago in 1936, SOM is responsible for some of the world's most technically and environmentally advanced buildings and significant urban spaces and the practice is constantly innovating new ways of living, working and learning to bring lasting value to the built environment.
Project facts
Project name: 800 Fulton Market
Architecture: SOM
Interior Design: SOM
Structural + Civil Engineering: SOM
Sustainable Design: SOM
Location: Chicago, IL
Completed: 2021
Client: Thor Equities, LLC, QuadReal
Site Area: 37,576 sf
Building Gross Area: 475,000 rsf
Stories: 19
Building Height: 326 ft
All images © Dave Burk
All drawings © SOM
> via SOM