Lamplighter School Receives a Light-Filled Innovation Hub
A classic architecture from the 1960's rich in heritage, The Lamplighter School was designed by O'Neil Ford. The original plan highlighted open learning spaces, connection to nature and a composition that drew from the idea of the "village". In 2014, the school decided to undergo a massive renovation and further transform their campus. The new masterplan pushes vehicular circulation to the periphery, and highlights the central landscape. The new proposal also includes designs for an Innovation Lab and a Teaching Barn.
The Innovation Lab, approximately 10,000 square foot, serves the 450 students from Pre-K through 4th grade. The building includes hands-on learning classrooms, woodshop, robotics lab and a teaching kitchen. The design draws from the Lamplighter Schools pedagogy that suggests that education spaces should combine design, systems and relationship no nature. The Innovation Lab building, nods to the existing fabric of the original campus while bringing a contemporary identity to the campus.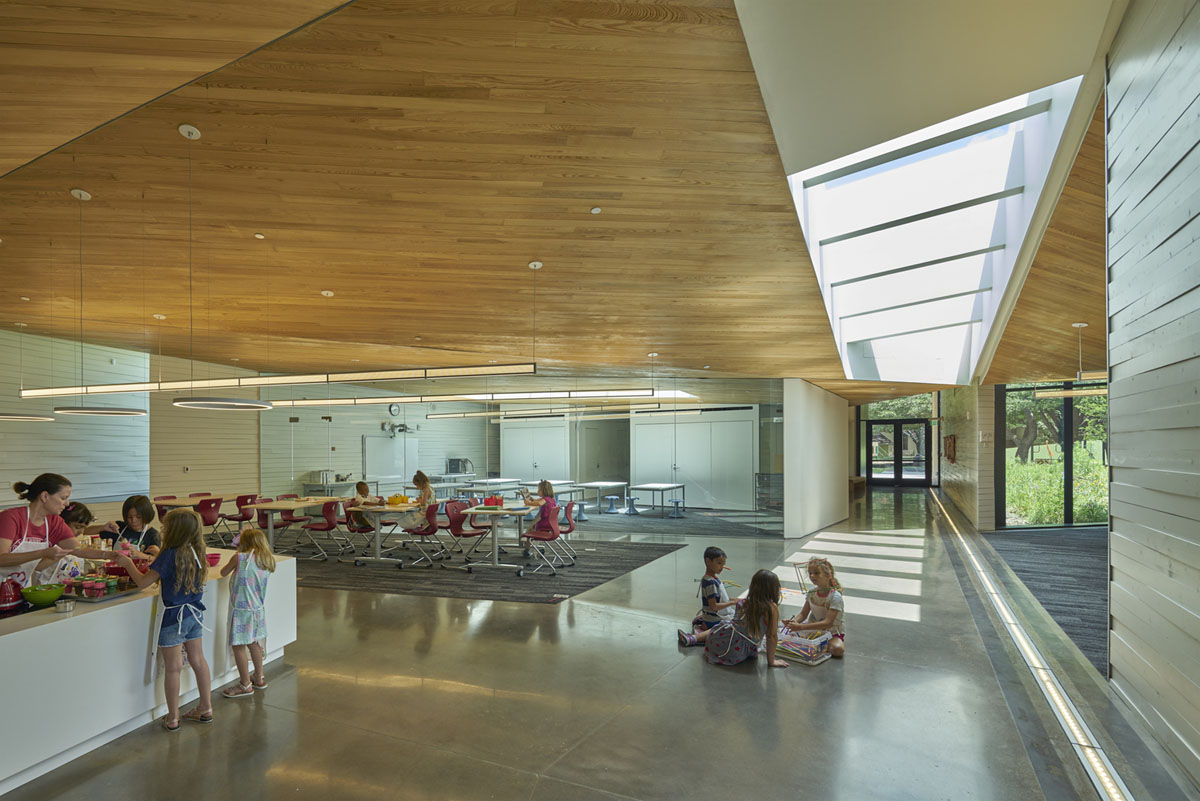 The building wraps itself in copper, while the cut-outs from the building form creates the porches, which are lined with wood planks. This combination provides an established, firm, but also warm look to the building and compliments the original campus building. The form provides light-filled and open interiors that change form as the roof changes its pitch and rolls throughout the plan of the building to accommodate varying educational programs. The single bend in the plan establishes the alignment of the exterior walls with the significant campus features and makes up the entrances, at the east and the west sides. At this folding point of the building, a third entry is revealed. This entry starts with the scale of a child, expanding upwards as users move through the interior spaces, and to the teaching kitchen, located at the intersection of the east west axis of the building.
Project facts
Architects: Marlon Blackwell Architects
Location: Dallas, United States
Area: 10000 m²
Year: 2018
Lead Architects: Marlon Blackwell
Clients: The Lamplighter School
Contractor: Hill + Wilkinson
Engineering: Reed, Wells, Benson and Company.
Consultants: Essential Light, Access by Design.
All Photographs © Timothy Hursley
The drawings © Marlon Blackwell Architects