nArchitects transforms Brooklyn's old warehouse into an artistic creative space for MINI
A/D/O is a new, low-rise, multi-coloured, fresh, fully-open and very artistic creative space for designers and young initiatives located in Greenpoint, Brooklyn. A/D/O was designed by Brooklyn-based architecture firm nArchitects in collaboration with famous car brand MINI to provide a new platform for designers and young creatives, aiming to foster a broader conversation across and beyond disciplines. MINI is a huge and renowned car brand that supports many innovations in design industry and urban life as part of the company's own design practice and principle.
Founded by MINI, the new design space intends to create free-living communal workspace and fabrication lab, serving to the basic needs of public in the city. A/D/O is a newer, colorful-schemed and playful addition to the city's infrastructure-look like 'a mega urban sketch' along the street.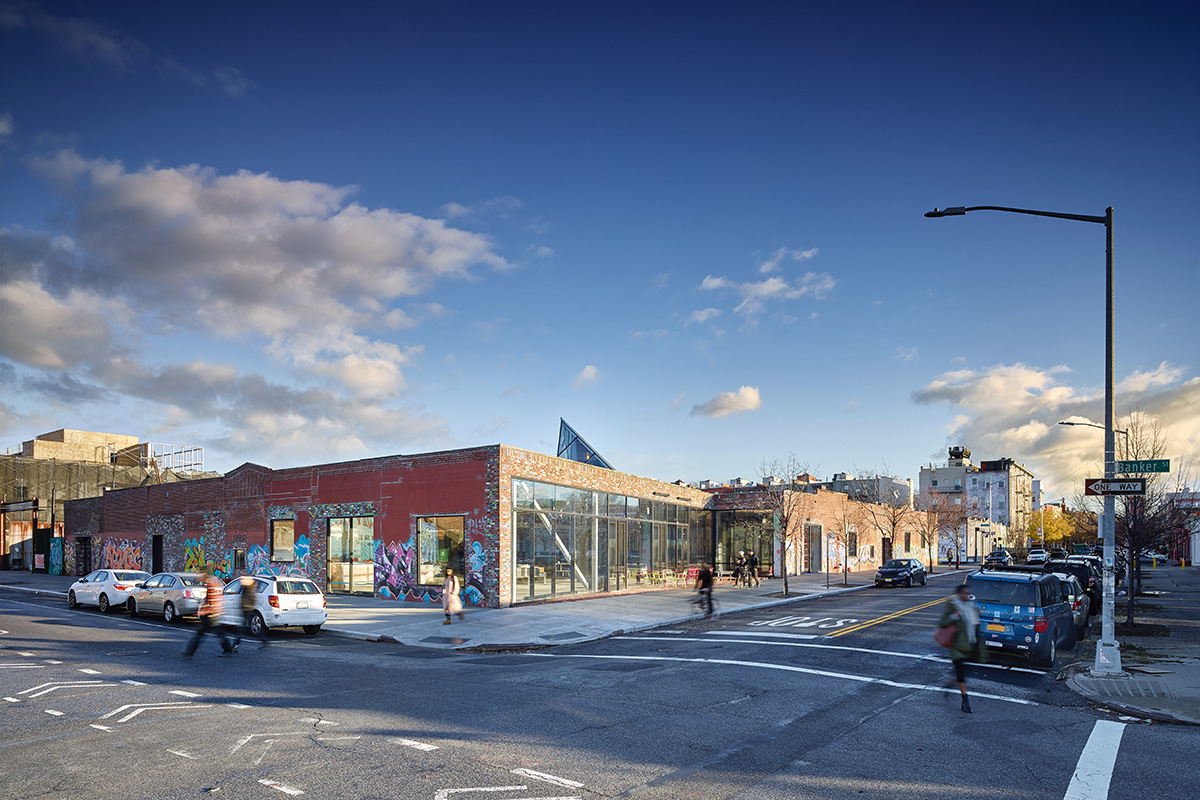 Occupying a 2,136 square-metre (23,000 ft) space at a former warehouse, the new space is comprised of free communal space, a fabrication lab, a restaurant and a design shop, which are all open to new combinations of spaces for events, exhibitions and design education. The building will also host Urban-X events, organised by MINI and SOSV, which supports startups working on products and services to improve urban life. The construction of the building was completed but A/D/O will officially open to the public in January 2017.
nArchitects' design philosophy is actually based on 'remix' of old and new within the space since the building will actively encourage the cross pollination of creative ideas. For this reason, the term 'remixing' perfectly fits to both morphology of the building and operation of the space.
''This ideas of remix-which we applied to both the physical building and its program -involves placing existing and new conditions into varying and often ambiguous relationships,'' says Eric Bunge, nArchitects Principal.
''Rather than simply dividing the existing warehouse into various zones for different activities, or, on the other hand, creating a continuous and undifferentiated space, we chose to create variable connections between gastro, event, design, exhibition and retail spaces. Neither rooms nor an open hall, the spaces kind of bleed into each other, allowing people who are curious to see what would normally be going on behind closed doors.''
''Some aspects of the existing building have been maintained,'' Bunge continues, ''while other have been rebuilt in ways that make it sometimes initially unclear which part is new and which part is old. In other places we have sought to create tension or contrast between existing and new conditions or between different materials,'' Bunge adds.
One of the most radical interventions for the building, the studio removed the triangular section at the main entrance of the building and replaced it with a new 'porch', which creates an opaque facade with full glazing and offers wide views down Wythe Avenue from within. Another notable and dynamic intervention in the building is the 'graffiti colouring' on the walls of the building because the studio reconstituted new graffiti layout by only using original graffiti covered bricks. This is a good example of how façade introduces itself as a new 'element of architecture'.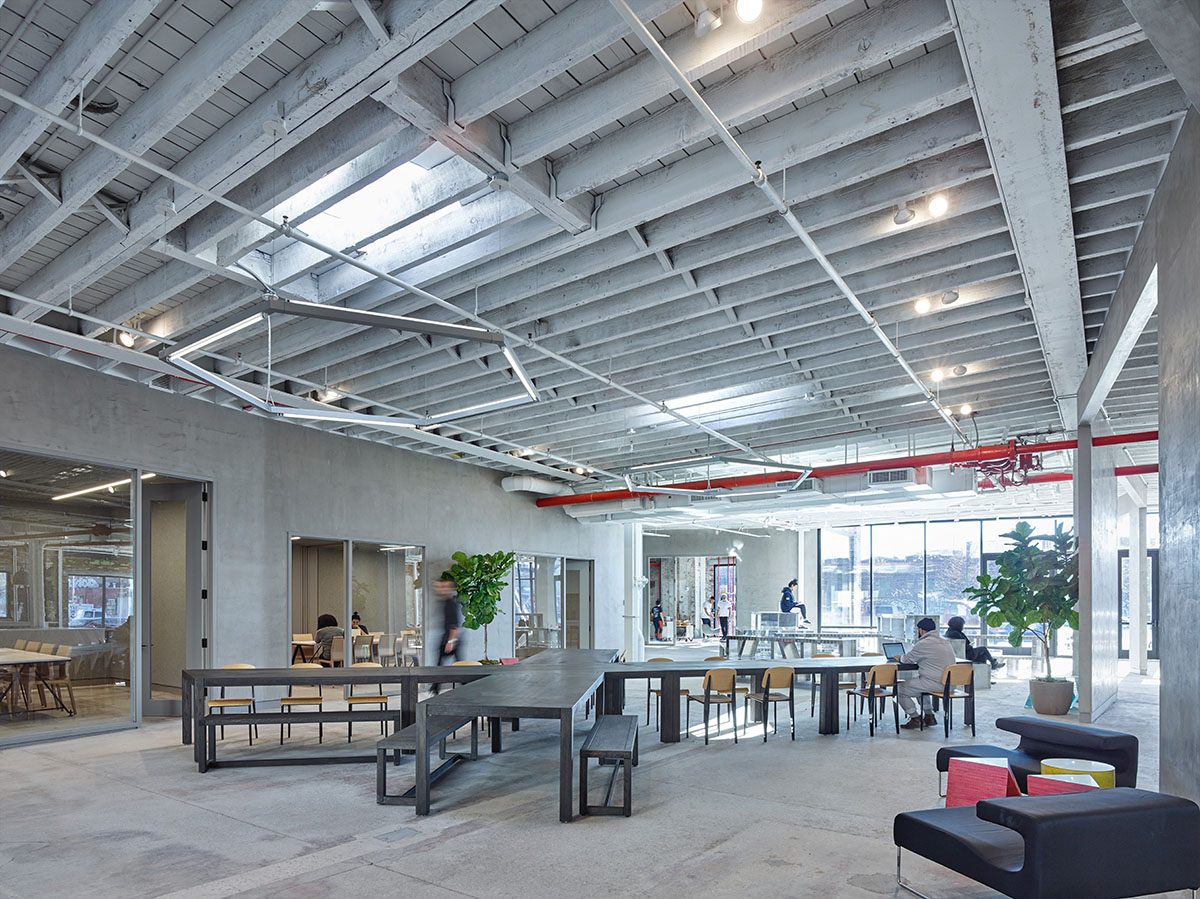 Mimi Hoang, Principal of nArchitects, explains this intervention as the 'layering of history' and adds that ''what was really important to us to create a project with rich layers of history-of the building, and of the community.''
''The design of the space emerges from a kind of urban approach, in which we want the street and public to flow through the building,'' says Bunge. ''It's a very democratic space that welcomes the public to engage in design in ways they might be accustomed to.''
The other most striking feature in the building is a prism-shaped large kaleidoscopic periscope designed on the roof of the building, which filters the light in different shapes in the interior and combines the Brooklyn and Manhattan skylines into a single horizon. This method remixes urban scale both visually and metaphorically, bringing two cities into the space. ''We wanted to create a new perspective on the changing city around us,'' says Bunge.
A/D/O's restaurant and cafe also feature new inserted elements with the rough existing brick walls, which creates a deep contrast in the space in terms of its diverse material use and zig-zag shaped curtain wall.
Specially designed zig-zagging curtain wall allows the restaurant to be closed off from the public space during the events. The architects have remixed inside and outside by removing the roof over part of the building and replacing it with an open steel frame, resulting in an outdoor dining and event space.
nArchitects' has also designed custom reconfigurable furnitures of the project, which are scattered around randomly. The X-shaped modular 'crosstalk table' and the 'pie lounger' function as both seating and a stage; the 'design library' bleacher seating, and custom tables are placed throughout the restaurant.
Even if these rigid steel frames are conceived as rigid, emotionless forms for much more serious talks, but the flexible nature of this furniture allows these free-flowing spaces to double as platforms for A/D/O programming.
A/D/O is currently receiving applications to provide a workspace, exhibition area, suite of tools in fabrication lab from across disciplines. It is also accepting applications to become a teacher and partner in A/D/O for a long-term collaboration.
The workspace provides full-membership opportunities giving an access to the full suite of A/D/O Workspace resources: state-of-the-art tools, studio support staff, fabrication resources, dedicated desks, and opportunities to use A/D/O as a platform to display their work. The cost of the full-membership is $600 per month.
nArchitects, led by Eric Bunge and Mimi Hoang, focuses on more contemporary issues in architecture through conceptually driven, socially engaging and technologically innovative projects. nArchitects recently completed Cleveland Cafe in the Cleveland's Public Square, Chicago's Navy Pier, a new public realm within the scope of masterplan by James Corner Field Operations for Pierscape and Carmel Place in New York-the project becomes New York's first micro-unit apartment.
World Architecture Community also interviewed with Mimi Hoang during the reSITE: Cities and Migration conference.
All images © Matthew Carbone
> via nArchitects