BIG's first L.A housing project embedded into a giant concrete framework
BIG has unveiled a mixed-use scheme for its first Los Angeles project, reclaiming the L.A River waterfront, transforming a former industrial site to create a new focal point for the Arts District and East Los Angeles.
BIG's proposed superstructure of giant concrete frames will be customizable by each tennant to fit their specific and changing needs. The fit-out of each space creates an open and inviting architecture with generous outdoor space, as each of the frames is topped with a landscaped terrace.
Named 670 Mesquit, the superstructure aims to transform and regenerate the neighbourhood of Arts District and East Los Angeles with its emblematic scheme. The Gallo family, owner of the Rancho Cold Storage facility on Mesquit Street and real estate firm V.E. Equities have teamed up with Bjarke Ingels to revitalize the area with 670 Mesquit megaproject, connecting two bulky buildings at the highest level.
The buildings reach 30 stories at the highest level and includes 74,000 square-meters (800,000 square feet) of office space, 250 rental apartments and two boutique hotels as well as shops and restaurants.
670 Mesquit hopes to give a place to a small museum or public sculpture park connected to a broad deck that would extend over the train tracks that divide the Rancho property from the Los Angeles River.
But, the deck in the waterfront is the most compelling and the most speculative part of the plan, before BIG's progress, some of agencies and companies including Los Angeles County Metropolitan Transportation Authority, Amtrak, Metrolink and rail giant BNSF need to make a general consensus and cooperation on the proposal.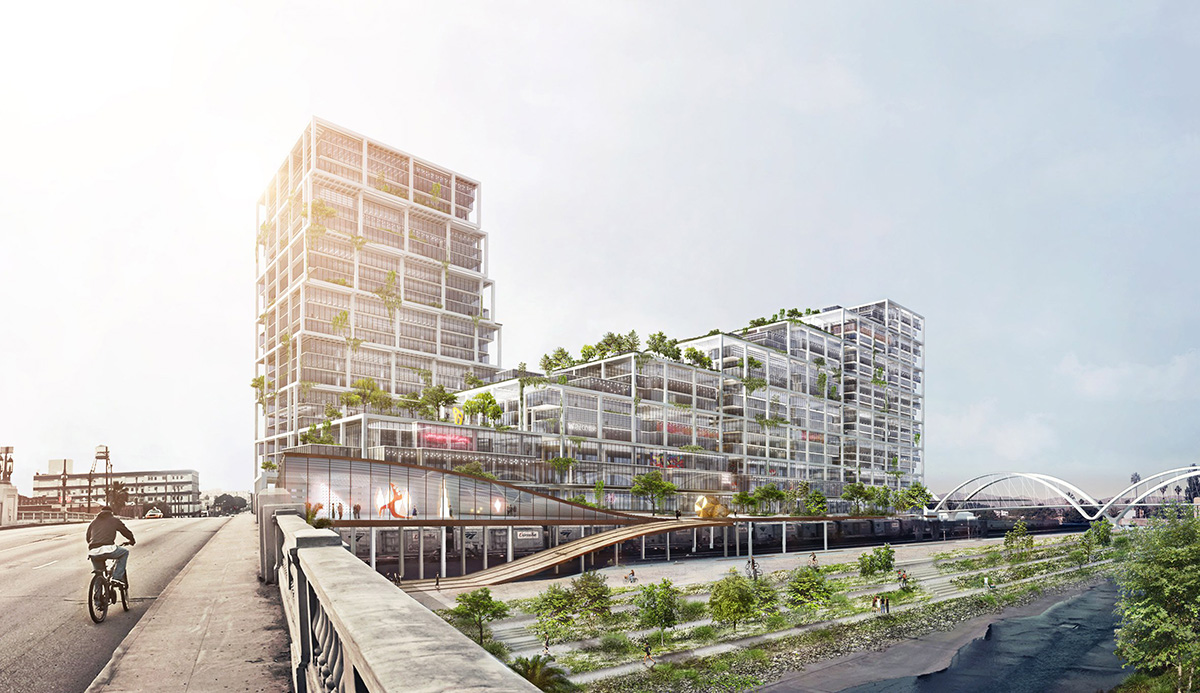 "The Arts District is experiencing a rapid renaissance drawing creatives from all fields – from fine arts to engineering,'' said Bjarke Ingels

"We have asked ourselves if we can renew the arts district by embracing rather than replacing the qualities that have spawned this unique urban culture. We have imagined a hybrid of two unique local typologies: the downtown warehouse and the case-study house,'' he added.
"Like a flexible framework the project operates on two scales: the big bare bones of the buildings and the human-scale completion for its individual inhabitants," Ingels said. "The freedom of the warehouse loft meets the individual customization of the stick-built case study house."
"As a gateway to the Arts District and the LA river, it will constitute a major step toward reclaiming and transforming the river bank into a vital new urban landscape that can be enjoyed and appreciated by residents and visitors to this vibrant part of Los Angeles," said Ingels.
All images courtesy of BIG
> via BIG