New Taipei Performing Arts Center by OMA is set to open in summer 2022, new photographs revealed
Described as Asia's most important cultural development in 2022, the new Taipei Performing Arts Center by OMA is set to be opened in summer 2022.
As the monumental 59,000-square-metre complex is nearing completion, the building is marked with its three-lifted theaters from the central cube: multiform theatre, grand theatre and proscenium theater, Globe Playhouse.
A sphere-formed auditorium, floating above the front façade of the building, becomes a protagonist of the building.
Designed as a new spectacular landmark of Taiwan, the arts center will become the epicentre of the island's vibrant contemporary culture where no subject matter and technical demand is off limits.
Commissioned by the Taipei City Government to foster the development of the arts, the project has been under construction since 2014. A set of new photographs were revealed for the project in 2019.
The design is led by Pritzker-Prize-winning architect Rem Koolhaas and OMA's Managing Partner David Gianotten, in collaboration with local architecture firm KRIS YAO | ARTECH and engineering company Arup.
The complex floats above the bustle of Taipei's famous Shilin Night Market, renowned for its pulsating street life and as an international foodie destination.
OMA's futuristic design reverses the standardised model of contemporary theaters and embraces "inclusivity, reflecting the liveliness and open-mindedness of Taipei and its people."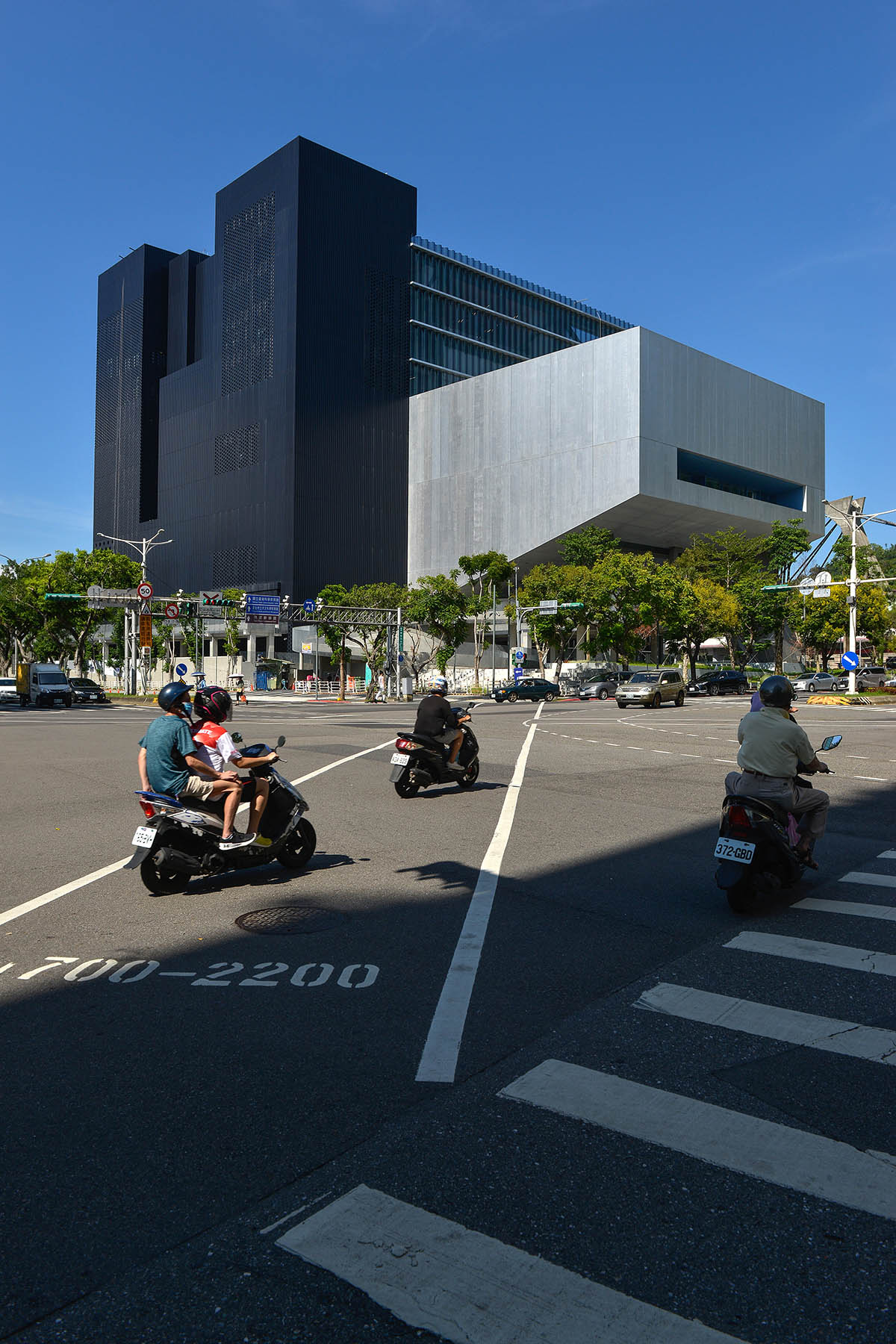 Taipei Performing Arts Center comprises three theaters plugged into a lifted central cube that invites the city's street life on site.
The spherical 800-seat proscenium theater, Globe Playhouse, resembles a planet docking against the cube, while the Grand Theater is a 1500-seat space for a wide variety of performing arts genres.
Opposite to it and on the same level is the 800-seat multiform theater, Blue Box, for the most experimental performances.
When coupled, the two theaters become the 2,300-seat Super Theater, a massive space with factory quality. Equipped with facilities to meet the most challenging pyrotechnical demands of contemporary theater, the spaces have been specially designed to offer new theatrical opportunities.
"Intelligent icon that encapsulates the city's creativity"
"Taipei has a unique kind of creative energy that extends to every aspect of life," said Rem Koolhaas, OMA Founding Partner.
"Taipei Performing Arts Center, formed with a strong technical core and the more emotional theaters docked against it in mutual dependency, at once embodies new organization for theater, and works as a fresh, intelligent icon that encapsulates the city's creativity."
"With three theaters plugged into a central cube and a public loop, Taipei Performing Arts Center creates new internal workings of performing spaces, inspiring unimagined theatrical possibilities," said David Gianotten, OMA Managing Partner – Architect.
"This is a new kind of theater for artists, audiences, and the public to explore the creative life in novel ways."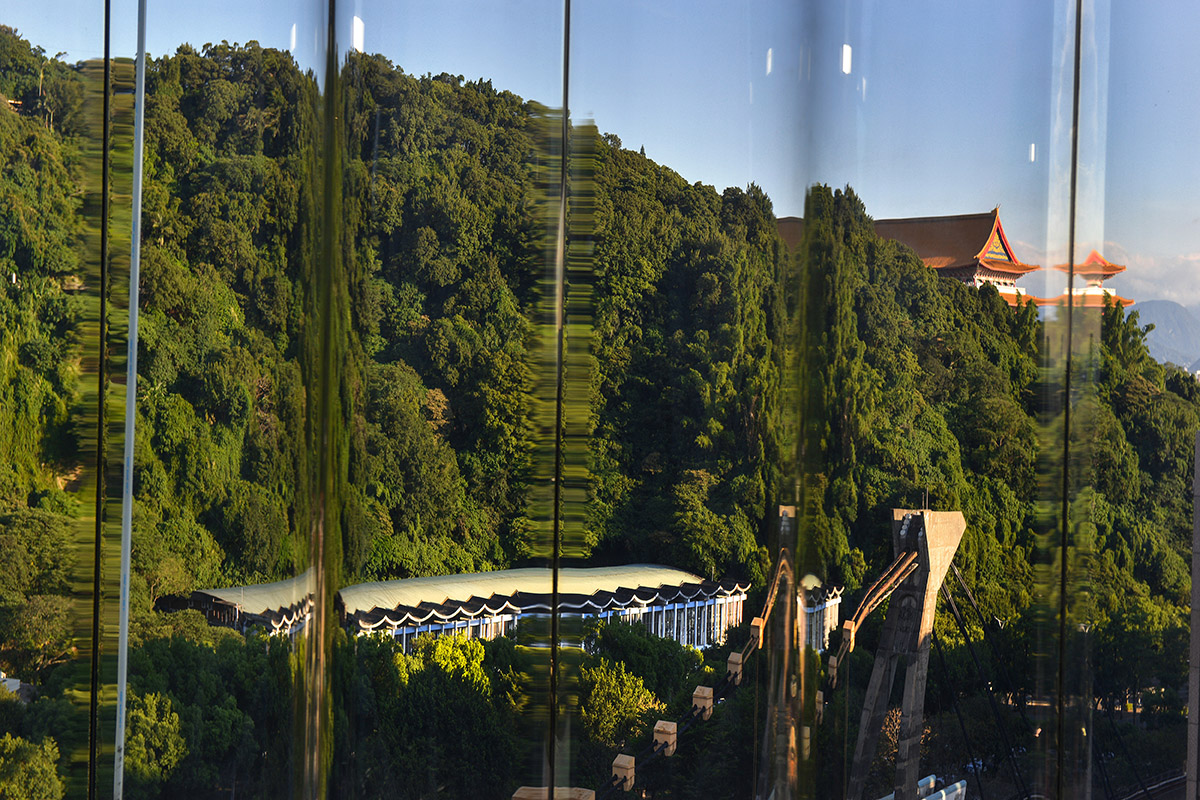 The general public, with or without a ticket, is invited into the center through a public loop that runs through the theater's infrastructure and production spaces typically hidden from view. Portal windows along the loop allow visitors to peer into performances and technical spaces between the theaters.
Taipei Performing Art Center will become the new headquarters for Taiwan's numerous performing arts groups embracing cutting-edge theater, contemporary dance, musical theater, traditional opera and puppet theater, children's theater as well as serve as a laboratory for cross art-form experimentations and new creations.
"OMA has created for Taipei a world class arts centre for the world. We look forward to welcoming audiences as well as artists from across the globe to work with Taiwanese artists to create new works that respond to most urgent issues facing our time," said Liu Ruo-yu, Chairman of Taipei Performing Arts Center.
"We hope Taiwan will learn from the world through these international collaborations, as the world gains a greater understanding of the history, culture and people of Taiwan."
Image © Shephotoerd Co. Photography
"The opening of Taipei Performing Arts Centre is a major milestone for Taipei becoming an international cultural arts hub. What started as an idea in 1997 and became a visual concept designed by OMA in 2007, is now an exciting reality for 2022 for all our public to enjoy," said Austin Wang, CEO of Taipei Performing Arts Center.
"Our mission is to become the centre of creativity for Taiwan's contemporary life, where diverse talents and points of views across generations can mingle and flourish."
As OMA states in its project description, "Taipei Performing Arts Center is an architecture in limbo: specific yet flexible, undisrupted yet public, iconic without being conceived as such."
The building will feature opaque facades, these theaters will appear as mysterious elements against the animated and illuminated central cube clad in corrugated glass.
There is a landscaped plaza beneath the compact theatre is a further stage for the public to gather, at this dense and vibrant part of Taipei.
OMA/Jason Long recently completed an adaptive reuse of historic US Post Office in downtown Houston, Texas. OMA and Buro Happold are currently working on an autonomous health district in Doha targeting low-cost construction.
All images © OMA by Chris Stowers unless otherwise stated.
> via OMA