Gruppo Saviola, Carlo Ratti and Italo Rota reveal pavilion wrapped by discarded wooden objects
Gruppo Saviola, Carlo Ratti Associati and Italo Rota have revealed design for a pavilion wrapped by discarded wooden objects, which will be installed at this year's Salone del Mobile, one of the most prestigious fairs in the design industry.
Milan Design Week 2023 takes place from April 18 to April 23, 2023 in Milan, Italy.
Named Wood You Believe?, the project, designed by Gruppo Saviola, Carlo Ratti Associati and Italo Rota, will be exhibited at Fiera Milano - Pavilion 10, C04 - between April 18 and 23, 2023.
The cubical pavilion's façade is clad by four tons of post-consumer wooden objects, while inside is turned into an experimental space to reach circularity goals.
Referring to circular economy, the pavilion's façade features three-dimensional wooden furniture pieces to act as a reminder of the colossal amount of waste produced by the furniture industry.
Inside, the pavilion also features an immersive room clad in ecological panels that emphasizing the potential of digital printing in realizing impactful and sustainable bespoke designs.
Coinciding with its 60th anniversary, Gruppo Saviola participates in the Salone del Mobile for the first time with an installation created in partnership with international design and innovation office CRA-Carlo Ratti Associati and architect Italo Rota.
The pavilion aims to reflect the full process of transformation of wood waste.
Inside the Wood You Believe? pavilion
Gruppo Saviola was ahead of its time when it started producing ecological panels from recycled wood in the 1990s. Its decades-long endeavor culminates in the installation at Salone del Mobile 2023 that imagines future scenarios in interior design.
Drawn on a cubical structure, each façade of the pavilion features a set of modular claddings, above which scrapped wooden desks, chairs, pallets, fruit crates, and other wooden objects are stacked together.
The pavilion recreates what one would see in a wood recycling facility, intending to be a reminder of a large amount of waste produced by the furniture industry.
"By reintegrating everyday objects into our living spaces, the design complies with the principles of the circular economy to stretch their longevity and functionality beyond their intended life cycles," said the team.
"Post-consumer wood eliminates the need of cutting down trees"
"Our industrial production line has become a benchmark for design through its advanced technology and quality. The ecological panels are highly versatile, encompassing 70,000 different patterns and textures," Alessandro Saviola, President of Gruppo Saviola, said.
"At the core of our products is a sense of commitment to sustainability. The use of post-consumer wood eliminates the need of cutting down trees – ten thousand of them have been saved every day thanks to that."
"The use-and-dispose consumption pattern is one of the main underlying causes of the environmental problems we are facing now," said Carlo Ratti, founding partner of CRA and director of MIT Senseable City Lab.
"Wood You Believe? taps into an enormous pool of resources that has always been available to us. With the support of digital technologies, what was made redundant becomes something to treasure."
The interior space of the pavilion accentuates Saviola's use of advanced fabrication technologies in the production of customized panels.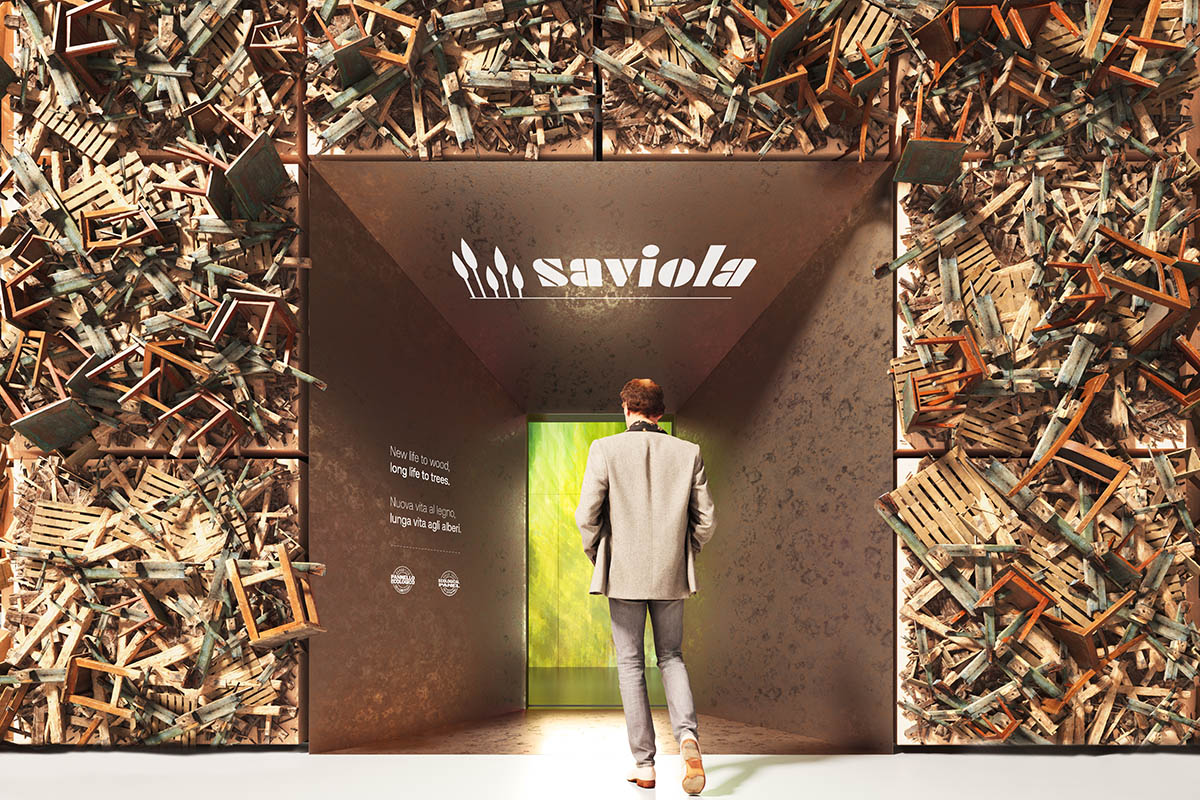 A close view from the Wood You Believe? pavilion
Passing through the portal, visitors are transported into an immersive space constructed out of more than one hundred panels from the brand's trademarked "pannello ecologico" technology.
Made of fully recycled wood, these panels are digitally treated to display a wide range of textured finishes that complement different design typologies.
Using artificial intelligence tools, CRA and Rota generated an abstract landscape that highlights the product's design potential.
"Our collaboration with Gruppo Saviola shows that design aspires to reduce waste and is simultaneously inspired by it," said Rota.
"The catalyst behind the monumental pavilion facade is a desire to salvage nature through the use of advanced artificial devices," Rota added.
Wood You Believe? is built by CRA Make, the design and construction unit of CRA-Carlo Ratti Associati.
Project facts
Project name: Wood You Believe?
Design: CRA-Carlo Ratti Associati and Italo Rota for Gruppo Saviola
CRA team: Carlo Ratti, Jelena Krco, Gary di Silvio, Pasquale Milieri, Gianluca Zimbardi
CRA Make team: Mykola Murashko (CTO), Sara Zampieron, Marco Guarany, Mohamed Yasser Hariss
Graphic design: Studio FM Milano
Location: C04, Pavilion 10, Salone del Mobile, Fiera Milano
Date: 18-23 April 2023
All renderings © CRA-Carlo Ratti Associati.
> via CRA-Carlo Ratti Associati