Yongwook Seong reimagines Inuit community's dwellings and cultures with Midjourney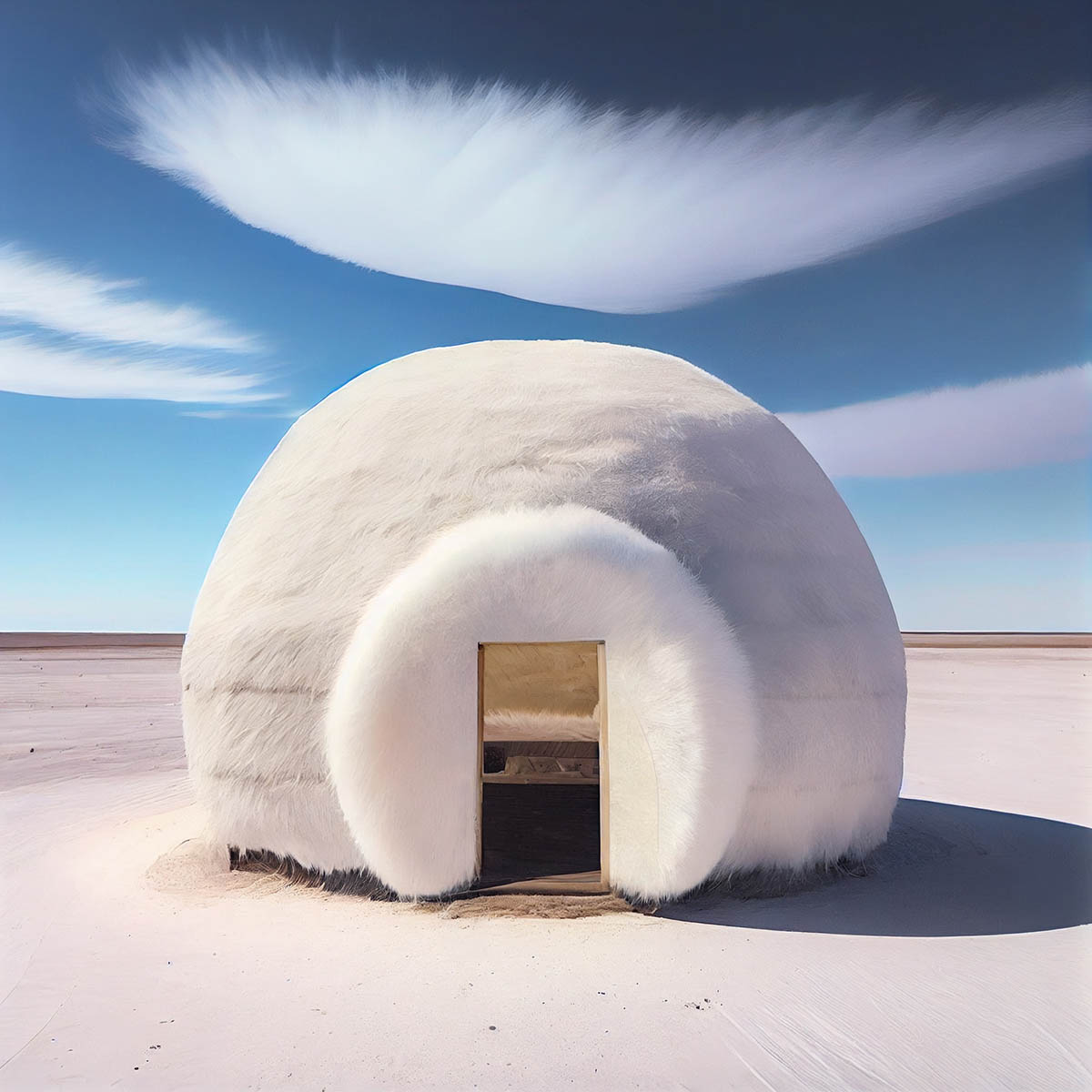 Canadian designer Yongwook Seong has reimagined the dwellings and traditions of the Inuit communities through the role of AI tools, like Midjourney, a text-to-image software.
The series, called Nuna, are a set of examples of fictional architecture showcasing various tech-driven versions of settlements of the Inuit communities in the Arctic and subarctic created with help of Midjourney.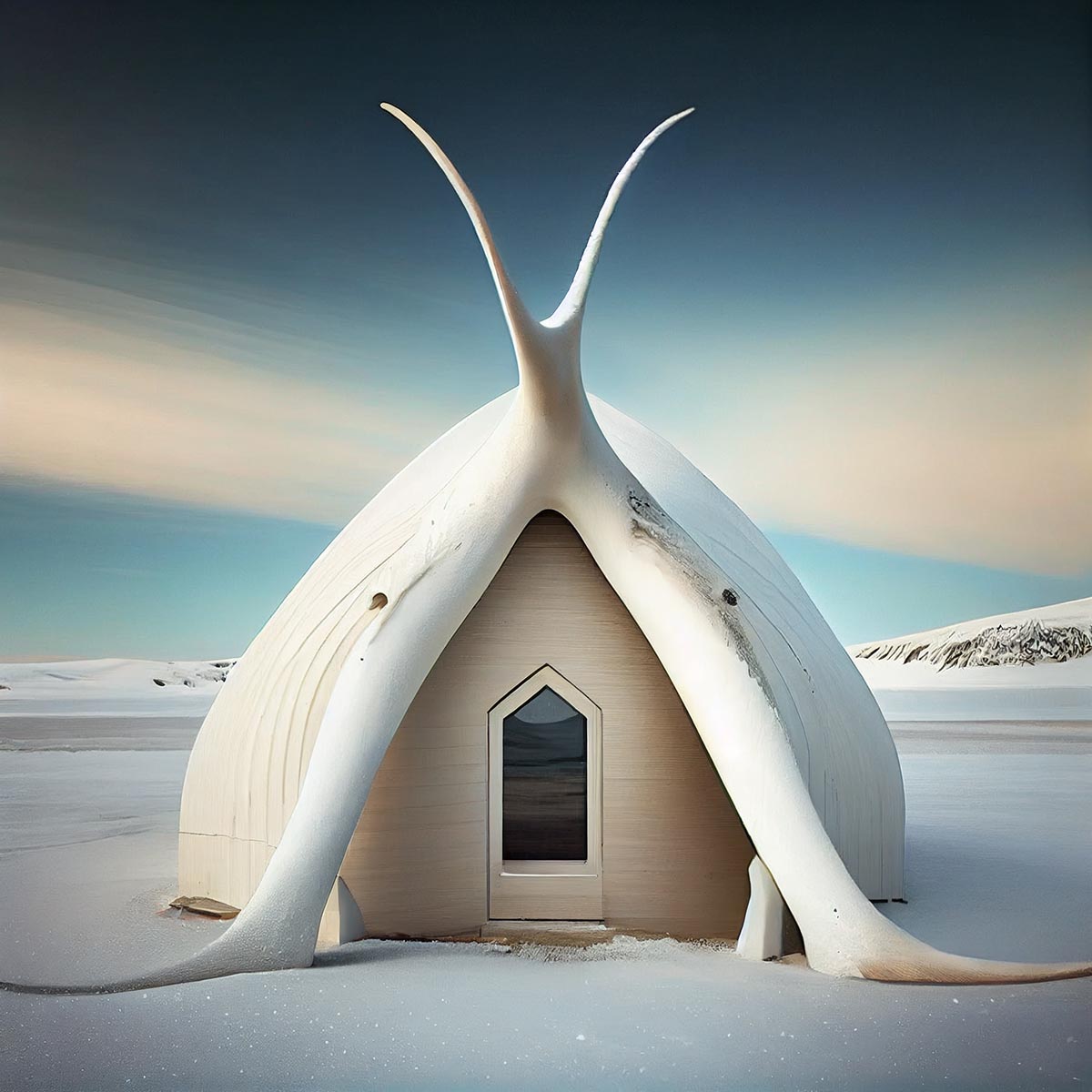 Aiviq House: Aiviq (walrus) turns himself/herself into a house
The dwellings, taking references from the Inuit communities' cultures and mythology, present 10 types of settlements that are shaped by locally-available materials.
Seong has used snow, ice, whale bones, Arctic and subarctic animal furs, sacred stones and earth to reflect the inhabitants' culture and traditions.
The Inuit and Yupiks are hunter-gatherers who form the largest group of Inuit-Aleut peoples, who live in Greenland, Labrador, Quebec, Nunavut, the Northwest Territories and Alaska, and who speak Inuit-Aleut languages, scattered across four countries in the Arctic region.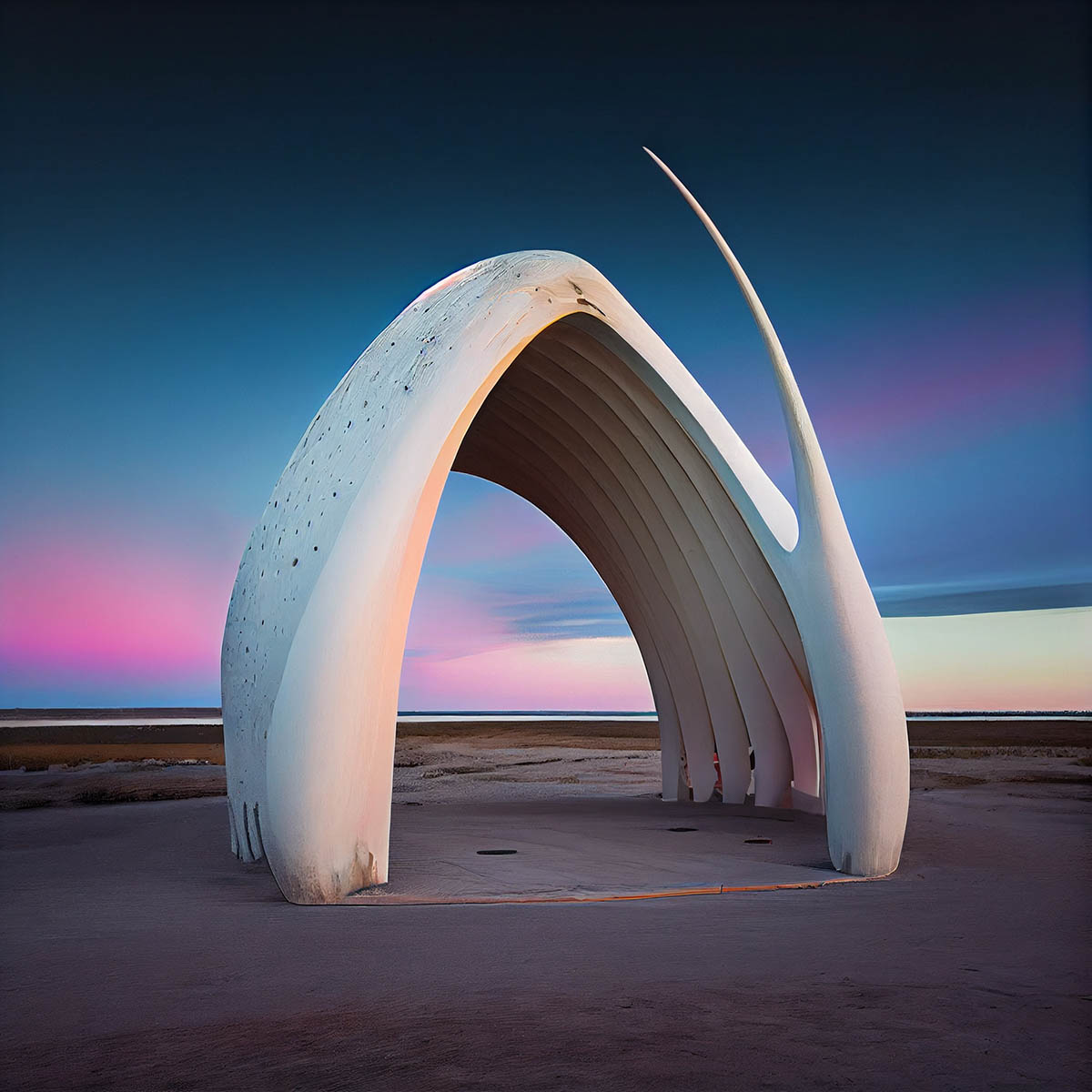 Arviq Pavilion: Arviq (bowhead) whale has long been an invaluable being for Inuit
For example, in the visual above, the designer has turned Arviq (bowhead) whale into a pavilion presenting smooth edges to shelter.
"As one of the most favourite beings by the creator in Inuit mythology, it provided Inuit with valuable resources for survival. The pavilion celebrates the return of Arviq and abundance of marine life," Yongwook Seong told World Architecture Community.
"Over a millennium, the Inuit have inhabited in the Arctic/Sub-Arctic areas, which include the currently northern regions of Canada," said Yongwook Seong, a Banff-based designer.
"The Inuit celebrates enriched histories that have long survived in the harsh environment. Today, Inuit cultures and traditions have remained resilient with active political activism and cultural renewal movements."
Ceremonial House
The above visual is Ceremonial House, clad in colorful 3D stones. The decorative elements of the door are also obtained by using the stone remains horizontally.
"Music and dance elevate Inuit and their spirit, and they are a medium to transcend their physical world and communicate with sacred realms and beings," according to the designer.
In the series, Seong attempts to imagine Arctic and Sub-Arctic architecture that are inspired by the Inuit traditions. The designer stated that "The Inuit have treated the land as a sacred being."
"It is the place where every animate and inanimate being is created from. Every entity is bonded with the land," he added.
"Likewise, a human being is deeply attached to the land and is therefore told to treat it as part of himself/herself."
While creating those realistic images, the designer has used only Midjourney, while Photoshop was also used to refine the images.
AI text-to-image softwares such as Midjourney, DALL-E, and Stable Diffusion push the boundaries in producing realistic architecture as AI technology tools.
Ijiraq
In the Inuit religion an Ijiraq is "a shapeshifting creature that is said to kidnap children, hide them away and abandon them."
The designer turns Ijiraq turns into a giant caribou to lure and hunt another caribou. Ijiraq is a mythical being that can transform into any form. It would be quite difficult to discern it as they can be disguised as animals or humans.
Issitoq Observatory
The word of Issitoq represents a flying eye and a deity that punishes those who break taboos. The designer has imagined the flying eye an observatory landing on the ground in search of taboo breakers.
"An alternative contemporary reflecting the Inuit's living traditions and mythology"
The designer explains his particular focus on Inut communities with these words: "Forced resettlements, cultural assimilation and religious conversion left a multi-generational vacuum within their communities for the past centuries."
"The aftermath has lingered for the prolonged period, and subsequently disrupted the self-sufficient way of nomadic life," Seong told World Architecture Community.
"Today, there have existed ongoing efforts to renew Inuit cultures and traditions."
"As part of paying a tribute to the communities and their efforts, I wanted to re-imagine an alternative contemporary reflecting the Inuit's living traditions and mythology," he emphasized.
Mosaic Igloo
Clad in colorful mosaic tiles, the tube-shaped dwelling, called Mosaic Igloo, is an architectural aspiration for "Cultural Mosaic."
The 10 types of arctic dwellings are Nunangat Vault, Amauti House, Nanuq Den, Ijiraq, Issitoq Observatory, Arviq Pavilion, Aiviq House, Stargazing Tepee, Ceremonial House and Mosaic Igloo.
Each home, covering approximately 5 to 8 square meters, has its own identity and a sculptural look, while the minimal footprint draws attention in the visuals.
Nanuq Den
The sculptural Nanuq Den has an undulating door and provides a minimalst shelter. Nanuq or Polar Bear is a highly regarded spirit among Inuit.
As Nanuq enters into a house (den), he or she removes fur skin and transforms himself/herself into a human being inside the house.
Nunangat Vault
Nunangat Vault takes the shape of ear canal with a layered entrance. The designer has reimagined the snow as a layered vault that leads to an archive of Arctic and subarctic storytelling and traditions. The entrance invites visitors to rich oral histories of Inuit cultures and traditions.
"According to Uqalurait (An Oral History of Nunavut), any objects contains a soul (inua). And these souls travel across different beings. Inuits are told to be respectful when they hunt animals as they share the same inua," Seong continued.
"It is believed that animals sacrifice themselves to one that they find worthwhile. And Inuit are not advised to show off their catch. When they mistreat a particular animal, the offended animal would make themselves impossible to be hunted by humans," he added.
Stargazing Tepee
A tepee, or tipi, in Inuit communities is made of animal hides or bark. In this visual, the designer has proposed this snow hut, named Stargazing Tepee, to provide a warm and intimate space for stargazing.
Top image of this article is Amauti House. Amauti (or known parka) is worn by Inuit women of the eastern area of Northern Canada. The designer has turned into Amauti into a house on her burial site.
Based in Banff, Yongwook Seong is a designer, holding a Master of Architecture degree from University of British Columbia, Vancouver. Seong's interest lies in various fields including architecture, furniture design, lighting design, visual arts.
All visuals by Yongwook Seong.
> via Yongwook Seong