Parmer Pond's "The Pitch" Meets With Austin FC Fans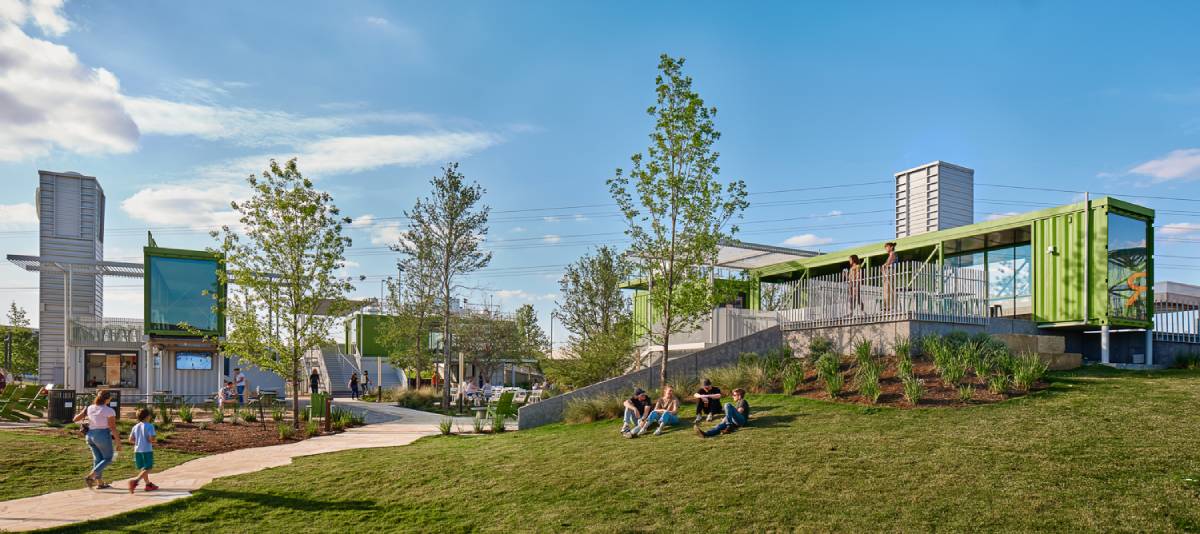 The developer, Karlin Real Estate's motivation has become the impetus behind this unique project, utilizing shipping containers to create a one-of-a-kind destination hub for hospitality, retail, food, office, and outdoor gatherings served from flexible two-storey repurposed shipping containers. Mark Odom Studio, the architecture office behind the design as well as the interior and exterior furniture selections and installation was a perfect match for such a project as they have designed many unbuilt projects using shipping containers, and are experienced in hospitality and retail programs. With the realization of such a project, The Pitch has become the first project of its kind in Austin and surrounding regions.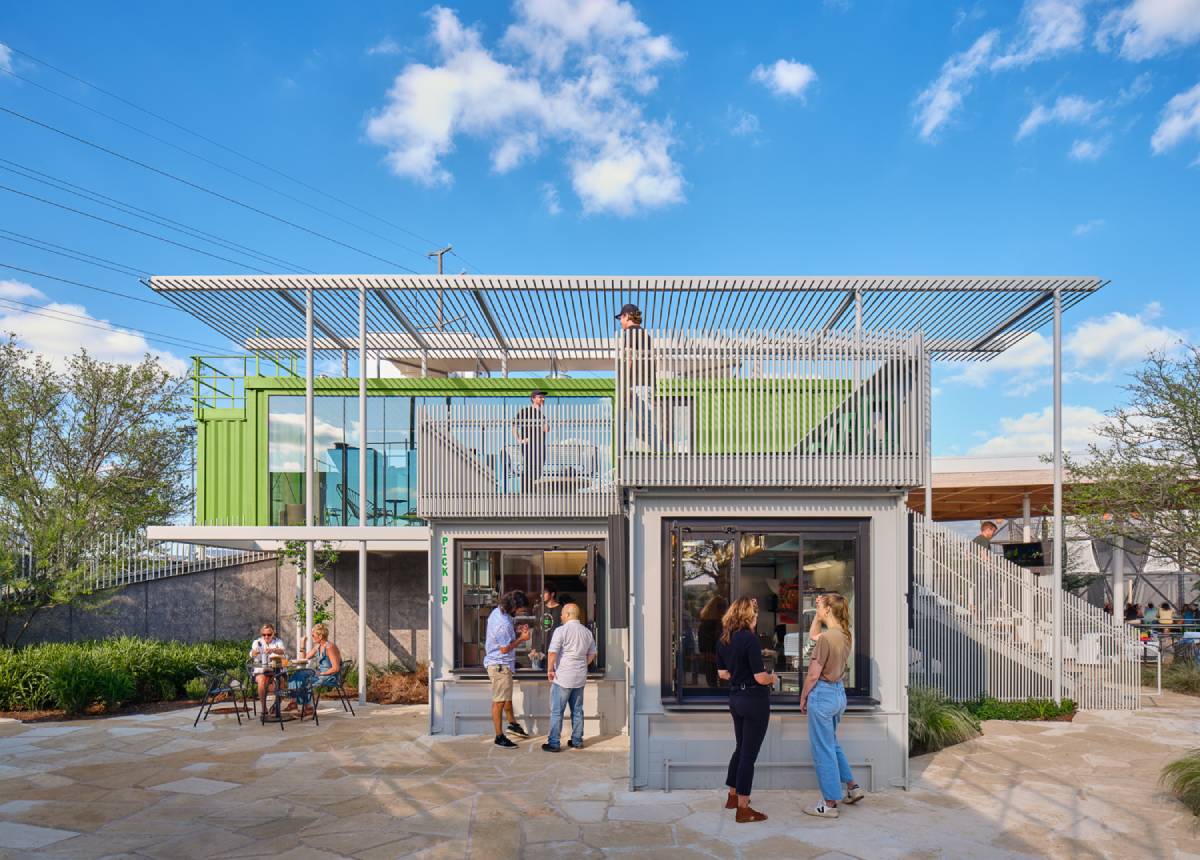 The complex utilizes 23 repurposed shipping containers of two standard container modular sizes: 8 X 20 feet and 8 X 40 feet. The containers were stacked to create two-story structures and clustered in five separate building pods. Each pod contained varying floor areas and programs for users, creating a dense visual and physical experience and view of the landscape.
Even though each building pod uses the same custom detailing, material, and color, they have been organized and stacked differently. Mark Odom Studio has done this to allow focus on the true form of each container to be consistent while providing a unique experience to the user at each part of the project. The once-flat site was intricately landscaped, and the containers were nestled and absorbed within the grade changes.
In the plan, the ground-level containers provide food and beverage outlets, while second-level containers stay more flexible. At this level, containers offer interior and exterior spaces for visitors to use as viewing decks, interior-conditioned gathering spaces, private office spaces, private party rooms, and Austin FC soccer game-watching parties. All these program spaces were then tied together with carefully designed custom stairs, vertical tube steel railings, and overhead trellises. Three 40-foot-tall containers were placed on ends to serve as anchors, provide wayfinding for visitors, and support programs such as restrooms and electrical rooms. A mass timber structure, serving as a pavilion activates the space between Austin FC practice stadium and The Pitch, while providing a unique landmark to the project.
Achieving the level of execution needed for this project was not simple. For this, Mark Odom studio worked closely with developers, Leap Structures, Citadel, and Makehaus. In Mark Odoms own words: "We approached this project as a collaborative team effort and the complexity required all disciplines to problem solve together from feasibility schematics through construction. The timeline was fast, and the team was pushing from start to finish; The entire team was crucial in making the deadline."
Project facts
Architects: Mark Odom Studio
Developer: Karlin Real Estate
Builder: Austin Commercial and Citadel Development Services
Fabricator: Makehaus Design and Fabrication Studio
MEP Engineers: Bay & Associates, Inc.
Landscape Architect: TBG Partners
Structural Engineers: Leap Structures
Civil Engineers: LandDev Consulting
Container Consultant: Falcon Structures
Food Service: Corner Kick Hospitality
General Manager: Team Orbis
Branding: Lauren Dickens Studios
Location: Austin, TX
Area:230000 ft² ( 21370 sq mt)
Year: 2022
Top Image © Casey Dunn
Photography © Casey Dunn
> via Mark Odom Studio
Architecture austin fc container football mark odom mass timber modular architecture shipping container soccer the pitch