Tamayouz Excellence Award launches the 2023 Dewan Award for Architecture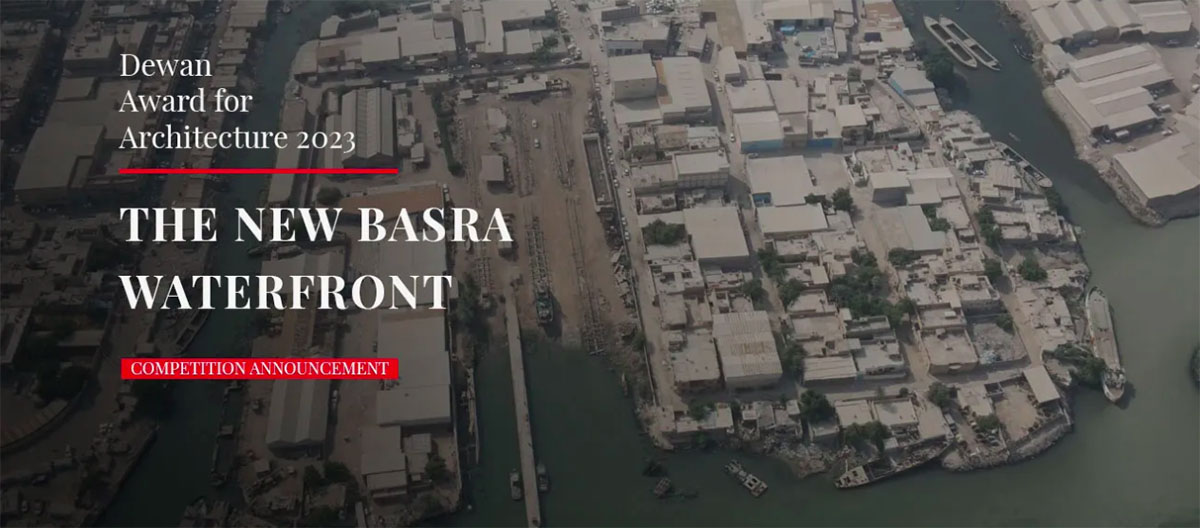 Tamayouz Excellence Award is proud to announce the launch of its Dewan Award for Architecture 2023, organised in partnership with Dewan Architects + Engineers, the thematic annual award calls on participants worldwide to respond to Iraq-specific design issues.
This year's theme for the Dewan Award is Basra's waterfront. The competition aims to encourage participants to submit their ideas on how to transform the underused Dakeer Island into a vibrant recreational urban destination for both locals and visitors.
Dewan Award for Architecture offers a unique opportunity for young architects, emerging studios and seasoned designers to showcase their talent, creativity, and innovation. Winners will be selected by an independent judging panel comprised of renowned architects, academics, and professionals from around the world.
The winners of Dewan Award will receive a range of prizes and benefits, including cash prizes, employment at Dewan Architects + Engineers, and the opportunity to present their work to a global audience at an awards ceremony. The award aims to provide a platform for emerging talent to connect with established professionals, institutions, and organizations, opening up new avenues for learning, collaboration, and career development.
The award is named after Dewan Architects + Engineers, one of the world's most established and leading architecture firms, particularly to emerge from the Middle East.
The submission period for the 2023 Dewan Award is now open and will close on October 1st, 2023.
The winners will be announced in November 2023.
The city of Basra
Basra city is the capital of Al-Basra Governorate, southeastern Iraq, and its only principal seaport. It is Iraq's economic capital. Basra has an estimated population of 3.2 million people. However, the actual number is not confirmed, due to the need for an updated census, to cover the recent uncounted growth, migration and unregistered squatters settlements. The total area of the governorate is about 20.000 SqKm.
Competition Site
Located on the Northeast side of Basra, The Dakeer Island was established in 1918 by the British forces as a shipyard for the flourishing naval trade and transport activities on Shatt Al Arab at that time, with direct access to the river, which is connected to The Gulf, where major waterways transport, trade and fisheries took place.
The British forces built the basin after their campaign to seize Baghdad from the Ottomans during World War I, and it was damaged during the Iran-Iraq war (1980- 1988) and survived the first and second Gulf wars, now it is in a state of neglect and disrepair.
Trade was active in the Dakeer throughout the past century due to its important geographical location. However, the conditions of Shatt al-Arab, such as the spread of floods and low water levels and sunken shipwrecks, have impeded the entry of ships to the ports of Basra and negatively impacted the Dakeer and resulted in its abandonment.
As of now, Dakeer Island is packed with illegal settlements, wholesale and storage warehouses, and waste dumping areas. The shipyard business no longer exists but the area still belongs to Iraqi Port Authority.
Vision
The Dewan Award for Architecture 2023 envisions Dakeer Island as a new thriving urban destination in Basra.
The redesigned Island will transform the Dakeer into a vibrant recreational and commercial waterfront, preserving Basra's identity as a port city and improving and celebrating its fishing industry and maritime heritage.
The redevelopment includes the sites of a new fish market, a river taxi station, a sailing club and urban links better connecting the Dakeer to the mainland.
The new inclusive and accessible waterfront will be a destination for locals and visitors to enjoy.
The Challenges
Basra is considered the wealthiest city in Iraq, mainly due to its abundant natural resources. It boasts of having some of the largest oil fields in the world, and its port serves as a vital hub for the country's oil exports.
Furthermore, the city's location on the Shatt al-Arab river provides opportunities for fishing and agricultural activities.
However, despite its strategic location and wealth, the city faces many challenges, including numerous urban planning challenges. The lack of a comprehensive urban planning strategy has resulted in unplanned urban growth, inadequate infrastructure, haphazard development and a lack of accessible and safe public spaces.
The existence of informal settlements that lack proper planning and building permits poses a risk to public health and safety, and they also lack basic infrastructure and services such as water and sanitation.
Transportation challenges such as traffic congestion, inadequate public transportation, and insufficient pedestrian infrastructure have resulted in a lack of mobility for residents, especially those who cannot afford private transportation.
Finally, environmental challenges such as air and water pollution, waste management issues, and inadequate green spaces require an integrated approach to design that prioritises sustainable development and environmental conservation.
Response
Participants are asked to transform the underused Dakeer Island in Basra into an influential urban destination as a vibrant recreational waterfront that contributes to the well-being and quality of life of Basra's residents.
The waterfront redesign should aim to establish an urban standard for sustainable, long-term development that balances economic growth with social responsibility and the enhancement of public spaces.
Schedule
April 2023 Competition launch
29 September Registration deadline
1st of October Submission deadline
October 2023 Shortlist Announcement
November 2023 Winners Announcement
All Deadlines are 6pm GMT (London).
Registration
Early Registration: $75
Standard Registration: $85
Late Registration: $100
Registration fees are for entry, regardless of the number of people in the team.
Institutional Registration
This option is open for institutions interested in sponsoring their students to participate in International competitions and showcase their students' work on a global platform.
For $500, your university can sponsor all its students and staff who wish to participate in the International Graduation Projects Award and Dewan Award for Architecture and its annual competition.
Eligibility
Architects, students, engineers, and designers are invited to participate in this competition. Participation can be on an individual or team basis (maximum of 8 members per team). We encourage the participation of multidisciplinary teams.
Prizes
The winners of the Dewan Award 2023 will receive the following prizes;
1st Prize: $6000 six Thousand US Dollars OR Six MONTHS EMPLOYMENT AT DEWAN ARCHITECTS + ENGINEERS (10000 AED = $2750/Month)* + Invitation to attend the Award Ceremony (Flights and Hotel)** + Certificate
*First prize will be a fully paid employment at Dewan for 6 months expandable to one year. If for any reason this cannot be achieved then a sum of $6000 will be presented.
2nd Prize $3000 Three Thousand US Dollars + Invitation to attend the Award Ceremony (Flights and Hotel)** + Certificate
3rd Prize: $1000 One Thousand US Dollars + Invitation to attend the Award Ceremony (Flights and Hotel)** + Certificate
Up to 7 Honourable Mentions: Certificates+Invitation to attend the Award Ceremony ***+ Published in the Annual book
Top 20: Published work in publications, on our website, on social media pages and in exhibitions.
Ceremony
Every ceremony Tamayouz Excellence Award invites architects, planners, artists and academics from around the world to celebrate architectural excellence within the region and worldwide. Our ceremonies mark a milestone in bringing people together and bridging cultures. Alongside the ceremony, we will be organising several Tamayouz. Talks which will open to the public during the ceremony week.
The Ceremony
An invitation to attend the Tamayouz Award Annual Ceremony for the Top 10 mentioned above, **A representative of each of the TOP 3 winners will have their Flight and Accommodation costs covered by the organisers of the prize; Tamayouz Excellence Award. *** Tamayouz Excellence Award will only cover the flight and accommodation for the Top 3 winners, Honourable Mentions will receive invitation to attend the ceremony, the invitation doesn't include funding of expenses **** Winners are responsible for all COVID-19 travel related arrangements such as visa, insurance, tests and vaccination certificates when required.
Jury Panel
Professor Wendy Pullan – Cambridge – Cambridge University
Professor Jala Makhzoumi – Beirut – UNIT 44
Dr Davide Ponzini – Milan - Politecnico di Milano
Dr Ahmadreza Hakiminejad - Coventry - Urbanist and Academic - Coventry University
Fuad AL Kindi - Muscat - President of Oman Society of Engineers.
Nadia Habash - Ramallah - Head Engineering Association in Palestine
Kathy Basheva – London – Studio Basheva
Dr Mohamed Al-Assam – Dubai – Founder of Dewan Architects and Engineers
Ahmed Al-Azzawi – Milton Keynes – Dewan Award coordinator of Tamayouz
Ahmed Al-Mallak - Founding Director - Tamayouz Excellence Award
Download the full competition brief here.
Read more about the competition here.
Top image courtesy of Dewan Award for Architecture.