10 significant projects of Anne Lacaton and Jean-Philippe Vassal
French architects Anne Lacaton and Jean-Philippe Vassal, founders of French studio Lacaton & Vassal Architectes, have been named as the Laureates of the 2021 Pritzker Architecture Prize.
The pair was applauded for their body of work that "reflects architecture's democratic spirit" and their "commitment to a restorative architecture that is at once technological, innovative, and ecologically responsive can be pursued without nostalgia," in the 2021 Jury Citation.
With this prestigious prize, Anne Lacaton has been the first French female architect who has won the prize, while becoming the sixth woman to receive the Pritzker Architecture Prize since it was founded in 1979.
Anne Lacaton and Jean-Philippe Vassal founded Lacaton & Vassal in Paris in 1987, and they have completed over 30 projects throughout Europe and West Africa.
Their body of work spans various types of projects, including private and social housing, cultural and academic institutions, public spaces, and urban developments, which were created under the studio of Lacaton and Vassal.
The renovation of three large blocks of social housing in Bordeaux, designed by Lacaton & Vassal Architectes, Frédéric Druot Architecture and Christophe Hutin Architecture, is among their key projects, which won the Mies Van Der Rohe Award in 2019.
The studio's other social housing project includes the Transformation of 100 Units, Tour Bois le Prêtre with Frédéric Druot in Paris, France, which was completed in 2011.
The studio also completed two major renovation projects for Palais de Tokyo museum in Paris. They won the Lifetime Achievement Award in the 2016 Lisbon Architecture Triennale.
"The demolishing is a decision of easiness and short term"
The pair's projects "reexamine sustainability in their reverence for preexisting structures, conceiving projects by first taking inventory of what already exists," as stated by the Pritzker Architecture Prize. The architects' works "prioritize the enrichment of human life through a lens of generosity and freedom of use, they are able to benefit the individual socially, ecologically and economically, aiding the evolution of a city," it added.
As Lacaton said, "Transformation is the opportunity of doing more and better with what is already existing.
"The demolishing is a decision of easiness and short term. It is a waste of many things—a waste of energy, a waste of material, and a waste of history. Moreover, it has a very negative social impact. For us, it is an act of violence."
"The architects have rejected city plans calling for the demolition of social housing"
Throughout their careers, the architects have rejected city plans calling for the demolition of social housing, focusing instead on designing from the inside out to prioritize the welfare of a building's inhabitants and their unanimous desires for larger spaces.
Current works of the studio include the housing transformations of a former hospital into a 138-unit, mid-rise apartment building in Paris, France, and an 80-unit, mid-rise building in Anderlecht, Belgium, the transformation of an office building in Paris, France, mixed-use buildings offering hotel and commercial space in Toulouse, France, and a 40-unit, private housing, mid-rise building in Hamburg, Germany.
To get to know the 2021 Pritzker Architecture Laureates better, we have picked up the 10 significant works of Anne Lacaton and Jean-Philippe Vassal.
See the 10 significant projects of Anne Lacaton and Jean-Philippe Vassal with short descriptions in chronological order:
---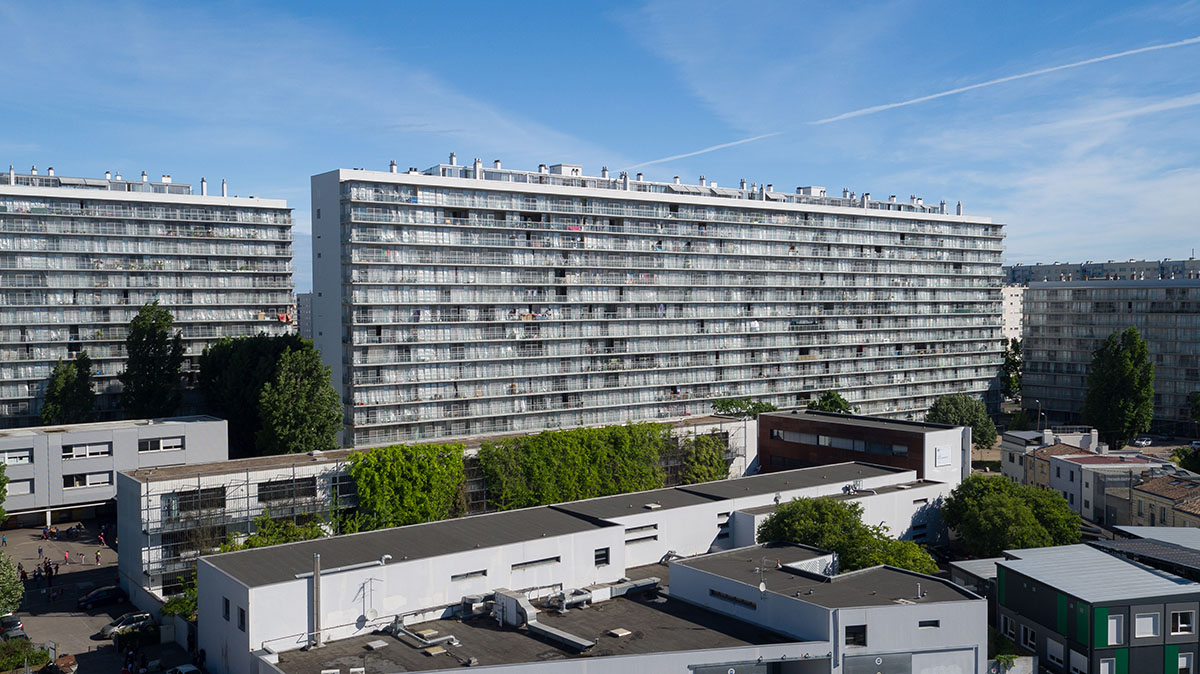 Image © Philippe Ruault
Transformation of G, H, I Buildings, Grand Parc, 530 Units, Social Housing with Frédéric Druot and Christophe Hutin, 2017, Bordeaux, France
Anne Lacaton and Jean-Philippe Vassal transformed the three buildings within this 1960s social-housing development, range from 10 to 15 stories and include 530 apartments.
Similarly to the transformation of Tour Bois le Prêtre - completed in Paris in 2011, qualities of space and comfort were achieved by removing the building facade and extending the interiors outward to create new spaces, forming bioclimatic winter gardens or balconies. The result was the near doubling of size of some units and a dramatic visual reinvention that challenges the aesthetic conventions of social housing.
Image © Philippe Ruault
Multipurpose Theater 2013, Lille, France
The project was built as part of the renewal of Parc Arras Europe in Lille, the theater functions as a multipurpose municipal hall that can accommodate an extensive range of programming. Thanks to its flexible floor plan, through the use of sliding doors and windows, modular and reconfigurable seating, the building's facade can be retracted in its entirety to extend the space outdoors onto a sloping public garden, opens up numerous possibilities for space and functions.
Image © Philippe Ruault
FRAC Nord-Pas de Calais 2013, Dunkerque, France
Rather than demolishing a postwar shipbuilding facility, called Atelier de Préfabrication no. 2 (AP2), at the shoreline of a waterfront redevelopment project, the architects chose to design a second building, which is identical in shape and size to the first. The secondary building was built from transparent, prefabricated materials, while providing unhindered views through the new to the old.
The original landmark, designated for flexible and changing public programming, and the newer structure, which houses galleries, offices and storage for the regional collections of contemporary art, can function independently or together. An internal street is located in the void between the old and new structures, and there are plans to connect this space to an exterior elevated walkway in the future.
Image © Philippe Ruault
129 Units, Ourcq-Juarès Student and Social Housing 2013, Paris, France
The building is situated on the outskirts of Paris along the Canal de l'Ourcq and next to La Petite Ceinture, an obsolete railway, this mixed-use building includes 98 student apartments, 30 residences, an assisted living facility, and three commercial spaces. Each residential unit features a balcony or winter garden and the assisted-care residents share a ground-floor outdoor garden space.
While the occupants range in family composition and demographics, the overall goals of resource and energy conservation are achieved through the careful siting and layout of the buildings along with design features in harmony with the climate and light.
Image © Philippe Ruault
Site for Contemporary Creation, Phase 2, Palais de Tokyo 2012, Paris, France
The architects carried out the second phase of development for Palais de Tokyo, took place one decade after their initial restoration of the space in 2002. Inspired from the idea that this is a museum that "visitors can make their own", the architects increased the interior by 20,000 square meters, in part by creating new underground space, and assured that every area of the building was reserved for the user experience.
Retreating from white cube galleries and guided pathways that are characteristic of many contemporary art museums, the architects instead created voluminous unfinished spaces. These spaces allow artists and curators to create free-flowing exhibitions for all mediums of art within a range of physical environments, from dark and cavernous to transparent and sunlit, that encourage visitors to linger late into the evening.
Image © Philippe Ruault
Transformation of 100 Units, Tour Bois le Prêtre, Social Housing with Frédéric Druot, 2011, Paris, France
The architects transformed the tower originally built in the 1960s, during an era of large-scale social housing construction, the Tour Bois le Prêtre was in dire need of infrastructure, plumbing, ventilation and electrical upgrades. Lacaton and Vassal rejected the city's plans to demolish the 17-story, 96-unit building, and instead modified it.
The architects increased the interior square footage of every unit by removing the original facade, extending the footprint of the building, and enclosing it with a new self-supporting facade. As a result, previously constrained living rooms now extend into terraces and flexible space featuring large windows for unrestricted views of the city. Residents were not displaced during the construction and a fixed rent was negotiated by the architects, thus reimagining not only the aesthetic of social housing, but also the intention and possibilities of such communities.
Image © Philippe Ruault
53 Units, Low-Rise Apartments, Social Housing, 2011, Saint-Nazaire, France
Designed as a low-income social housing, the building consists of 53 units organized in a series of three-story buildings, each with six apartments. The units include private gardens for each ground-floor residence and balconies or winter gardens on those of the upper floors. The architects' use of transparent, retractable polycarbonate panels and insulating thermal curtains throughout the interior rooms create comfortable environments full of light that are also ecologically and economically responsible.
Image © Philippe Ruault
École Nationale Supérieure d'Architecture de Nantes, 2009, Nantes, France
As commonly seen in all their projects, every nuance of this building and site was considered to accommodate the evolving teaching, learning and building needs of the growing student body. Located on the bank of the Loire River, this large-scale, double-height, three-story building features a concrete and steel frame, encased in retractable polycarbonate walls and sliding doors. Areas of various sizes exist throughout, and all spaces are deliberately unprescribed and adaptable.
An auditorium can open to extend into the street and high ceilings create generous spaces necessary for construction workshops. Even the wide, sloping ramp that connects the ground to the 2,000 square meter functional rooftop is intended as a flexible learning and gathering place. While the brief stipulated 15,150 square meters of space, the final result was significantly expanded by the architects through the addition of 4,430 square meters of internal space and 5,305 square meters of functional outdoor space, and for the same budget.
Image © Philippe Ruault
House in Bordeaux 1999, Bordeaux, France
The architects designed this private residence on the place of a former factory that operated without natural light. They removed portions of the roof and replaced by transparent polycarbonate panels to create an indoor courtyard and distribute sunlight throughout the entire home. Transparency is echoed throughout thanks to retractable walls, generous windows and an open layout of the home, providing unrestricted views from the front through to the back of the residence.
Image © Philippe Ruault
Latapie House 1993, Floirac, France
Latapie House was the first project of the architects that they applied greenhouse technologies to design a larger, efficient residence, creating space for the clients' children to run and grow, on a modest budget. By using retractable and transparent polycarbonate panels on the east-facing rear of the home, they created flexible spaces for the communal areas of the residence and enhanced flexibility of use. The project also extended outdoors, and allowed natural light and air to circulate through the dwelling.
---
Details about to the 43rd Pritzker Prize ceremony honoring 2021 Laureates, Anne Lacaton and Jean-Philippe Vassal, will be announced this summer, as stated by the Pritzker Architecture Prize.
Last year, a special video was produced and shared virtually to honor 2020 Laureates, Yvonne Farrell and Shelley McNamara, due to limitations associated with the Covid-19 pandemic. Created in lieu of an in-person ceremony for the first time in the 42-year history of the award, the video featured participants delivering their remarks remotely.
The Pritzker Architecture Prize was established by the Hyatt Foundation in 1979 to annually honor a living architect whose built work demonstrates a combination of those qualities of talent, vision, and commitment, which has produced consistent and significant contributions to humanity and the built environment through the art of architecture. It has often been described as "architecture's most prestigious award" or as "the Nobel of architecture."
Top image: Multipurpose Theater, photo courtesy of Philippe Ruault