Shio Kusaka and Toshiko Mori to Receive 2021 Isamu Noguchi Award
Japanese artist Shio Kusaka and world-renowned architect Toshiko Mori have been named as recipients of the 2021 Isamu Noguchi Award by the Noguchi Museum.
The prestigious award is conferred on individuals who share Noguchi's "spirit of innovation, global consciousness, and commitment to Eastern and Western cultural exchange."
The award will be presented at the Museum's annual benefit celebration on Tuesday, October 5, 2021.
"The Isamu Noguchi Award was created to recognize exceptional individuals whose creative practice shares a thoughtfulness and boundary-transcending point of view found in Isamu Noguchi's work and extends his ideals into our own times," said Noguchi Museum Director Brett Littman.
"We are honored to present this year's Award to artist Shio Kusaka and architect Toshiko Mori."
"Their very different work shares a profound sensitivity to nature, playful and clear-minded approaches to materials and function, and quiet reflectiveness, carrying forward and extending Noguchi's principles," Littman added.
Kusaka and Mori both born in Japan but moved to the United States to continue their careers in art and architecture, who became a prominent leader in their practice.
Jonas Wood & Shio Kusaka: Still Life with Pots. Image courtesy of Glenn Horowitz Bookseller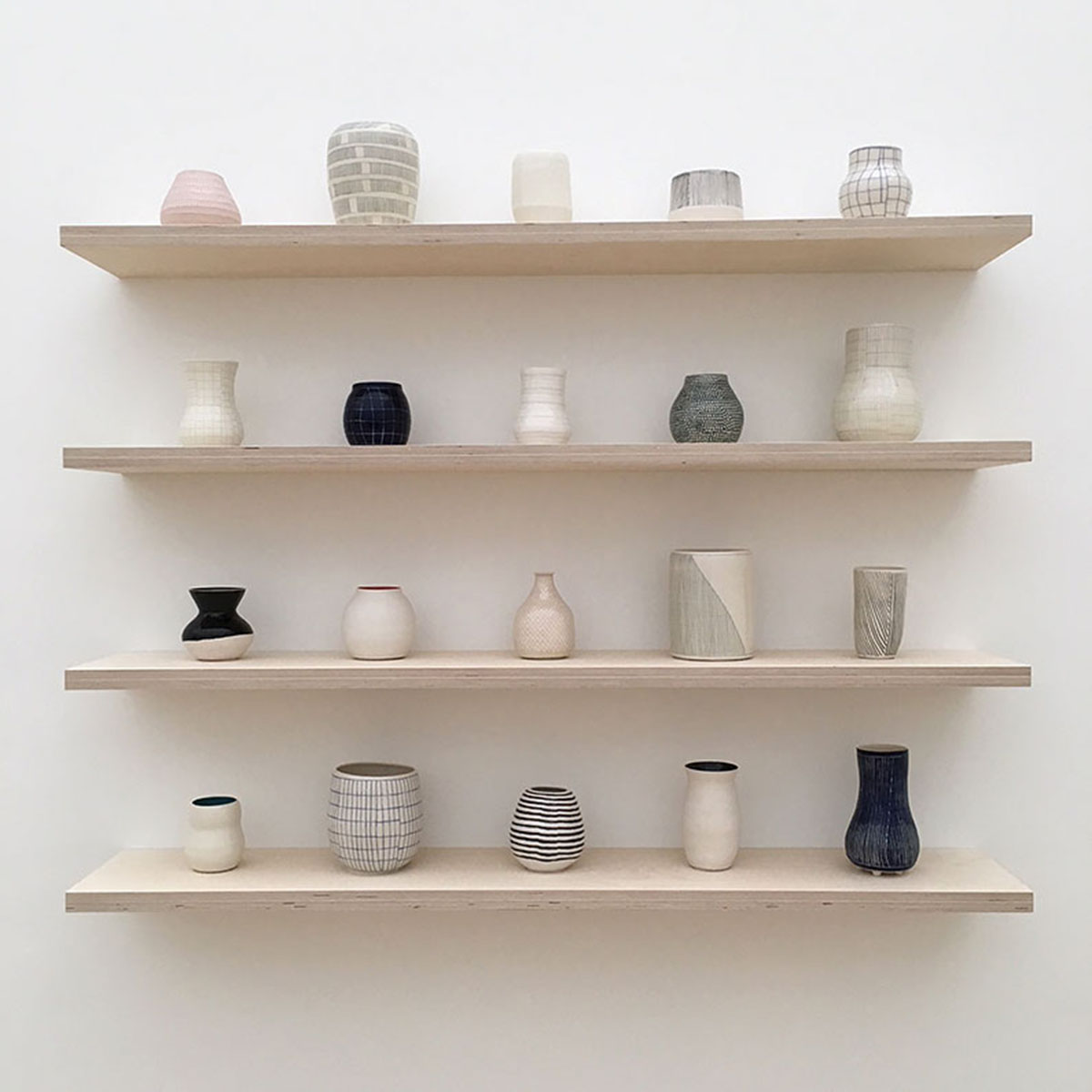 Vessels by Shio Kusaka. Image courtesy of Visual Strands
Kusaka, 49, born in Morioka, Japan, and moved to San Francisco in the early 1990s. After receiving her BFA in 2001 from the University of Washington, Seattle, she moved to Los Angeles, where she currently lives and works.
Shio Kusaka is known for her innovative and open approach to the ceramic medium, crafting vessels and forms that are both functional and abstract.
Painting and incising on thrown porcelain and stoneware surfaces, Kusaka merges sculpture and drawing, representation and minimalism. Her work synthesizes from a broad range of visual culture, from ancient Japanese pottery to Sol LeWitt's wall drawings, asserting the role of ceramics within the realm of contemporary art.
The Award is presented in recognition of her mastery of her medium, and the thoughtfulness with which she stretches and extends it—a quality she shares with Noguchi.
In early 2020, the historic Neutra VDL Studio and Residences in Los Angeles held a solo exhibition of Kusaka's work, curated by Douglas Fogle and Hanneke Skerath. Museum Voorlinden in Wassenaar, The Netherlands, held the two-person exhibition Shio Kusaka and Jonas Wood, in 2017.
Kusaka's work has also been included in important group exhibitions, such as the Whitney Biennial 2014; Going Public: The Napoleone Collection – International Art Collectors in Sheffield, Graves Gallery, Sheffield, England (2016), which traveled to Touchstones Rochdale Museum, Rochdale, England (2016–2017); Recent Acquisitions in Asian Art, Allen Memorial Art Museum, Oberlin, Ohio (2017); and Making Knowing: Craft in Art, 1950–2019, Whitney Museum of American Art, New York (2019–22).
Fass School and Teachers' Residence in Senegal. Image © Iwan Baan
Thread Artists' Residency and Cultural Center in Sinthian, Senegal completed, 2015. Image © Iwan Baan
Mori, 70, born in Kobe, Japan, is the founding principal of Toshiko Mori Architect, and the Robert P. Hubbard Professor in the Practice of Architecture at the Harvard University Graduate School of Design (GSD).
Through nearly four decades of influential projects, her practice has continually emphasized a sensitivity to ecology and history, innovative and intelligent use of materials and light, and functionality in the most 2 of 4 expansive sense.
The Isamu Noguchi Award is presented in recognition of her diverse body of work—from early work designing for clients such as Commes des Garçons and Issey Miyake, to exhibition designs for the Museum of Modern Art and Cooper Hewitt, to numerous residential, cultural, and civic projects around the globe.
Her integration of the surrounding environment in her designs, her thoughtful sensitivity in selecting materials, and her advocacy and activism for sustainability in architecture reflect values that she shares with Noguchi, with whom she interned while an architecture student at Cooper Union.
TMA's recent work includes master plans for the Brooklyn Public Library Central Branch and the Buffalo Botanical Gardens, Thread: Artists' Residency and Cultural Center in Sinthian, Senegal, Fass School and Teachers' Residence in Fass, Senegal, and the expansion of the Brown University Watson Institute for International and Public Affairs.
Toshiko Mori previously spoke to WAC's editor-in-chief Berrin Chatzi Chousein as part of WAC's Live Instagram Series. Watch Toshiko Mori's talk, titled Learning from the Context, on WAC's IGTV.
The Award will be presented at The Noguchi Museum's annual benefit, on Tuesday, October 5, 2021. Hosted by Museum Director Brett Littman, the evening will begin with a cocktail reception in Isamu Noguchi's former studio building, located across the street from the Museum and never before open for an event.
The program will continue with the presentation of the 2021 Isamu Noguchi Award. The event will then move across the street to the Museum, with a special freeform dining experience in the Museum's open-air sculpture garden and indooroutdoor gallery—the first dinner to take place among Noguchi's monumental later works.
In 2020, David Adjaye and Cai Guo-Qiang won the Isamu Noguchi Award. In 2017, John Pawson and Hiroshi Senju won the Isamu Noguchi Award.
Top image: (left) Shio Kusaka, courtesy of Noguchi Museum (right) Toshiko Mori, © Ralph Gibson.
> via Noguchi Museum