Complex is more: Philippe Block talking about complex geometries in Digital Concrete 2018
At Digital Concrete 2018 - the 1st RILEM International Conference on Concrete and Digital Fabrication, Philippe Block from the Block Research Group of ETH Zurich gave his perspectives on his research applying advanced computational design methods and novel digital fabrication processes to concrete construction.
Block Research Group. Image © Klemen Breitfuss
ETH Zurich Pavilion, New York City, NY, USA. Image © Albert Vecerka/Esto
Block is Professor of Architecture and Structures at the Institute of Technology in Architecture of ETH Zurich, Head of the Block Research Group and Director of the Swiss National Centre of Competence in Research (NCCR) Digital Fabrication. In their research, Block and his team investigate the potential of combining traditional building methods like unreinforced masonry structures, computational design optimization and fabrications.
Spatial Timber Assemblies at the ETH Zurich's Robotic Fabrication Laboratory. Image © NCCR Digital Fabrication / Roman Keller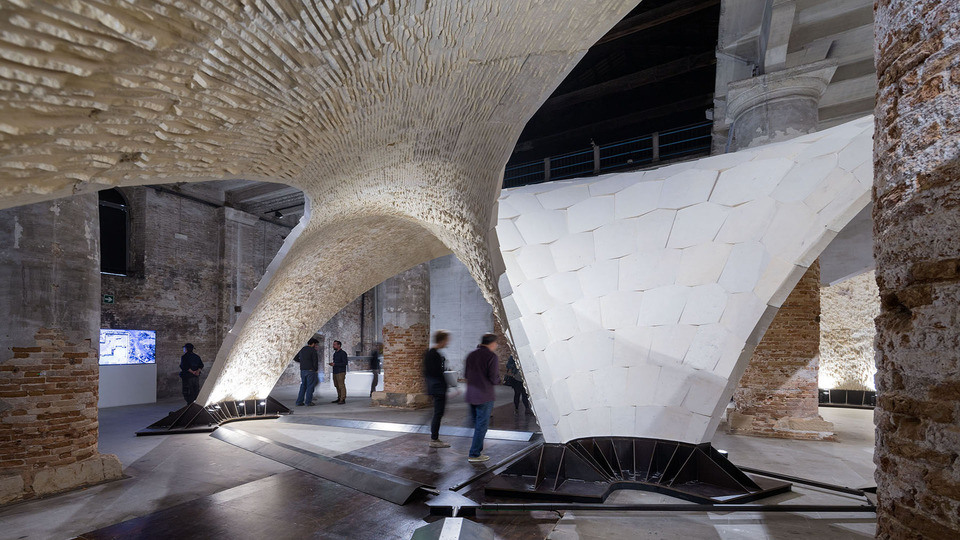 Armadillo Vault, Venice, Italy. Image © Iwan Baan
Their project Armadillo Vault nicely shows Block's interests in historic construction methods and how to invent them with new methods of design and fabrication. One of Block's favourite historic references are the Guastavino vaults, built using a self-supporting tile-vaulted system.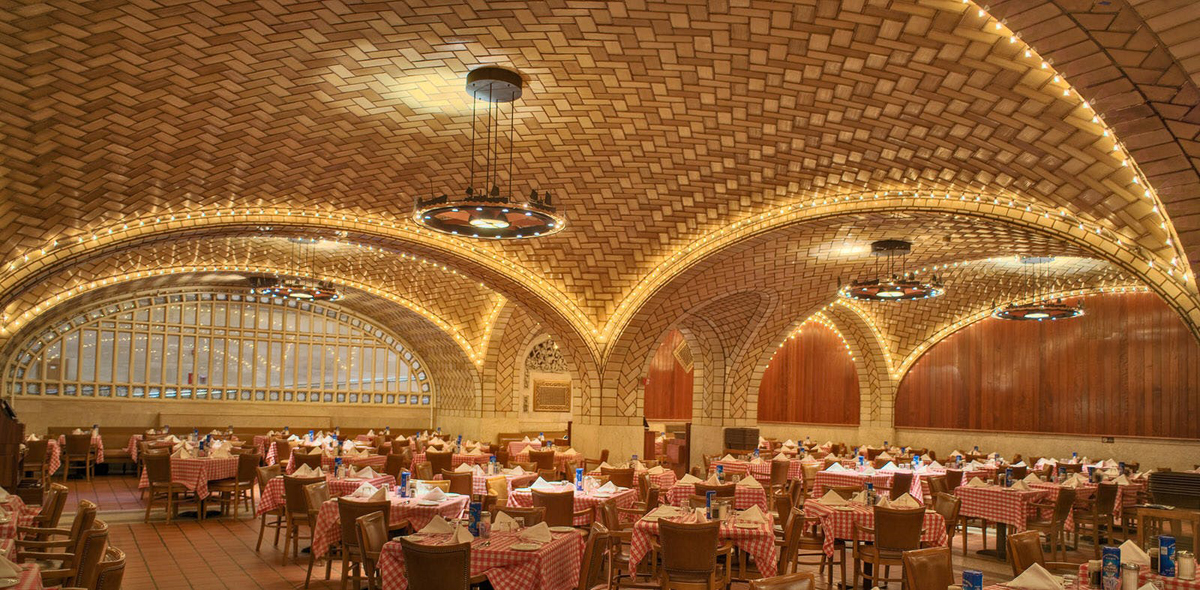 Constructed by three layers of tiles, the Guastavino vault system of the Oyster Bar in Grand Central Terminal was only bonded by cement mortar without additional structural reinforcement.
Image © Michael Freeman, Museum of the City of New York
Composed of 399 individually cut limestone blocks, unreinforced and without mortar, the stone shell spans 16m with a minimum thickness of only 5cm. Novel, computational, graphic statics-based design and optimization methods allowed the team to analyze each individual block's structural strength and to precisely plan their assembly.
The voussoirs are designed to be planar outside and curved inside to avoid the need to flip the stones during machining. Image © Anna Maragkoudaki


HiLo - Research & innovation unit for NEST building of Empa, Dübendorf, Switzerland. Image © Doug & Wolf

Block and his research group are also particularly interested in the structural abilities of doubly-curved surfaces in concrete. Used often in fabric structures to give stability to the membrane, it is less common in concrete due to its complexity in traditional construction method. For complex geometries, traditional concrete forming methods often require a lot of time for fabricating massive, complex, non-reusable formworks.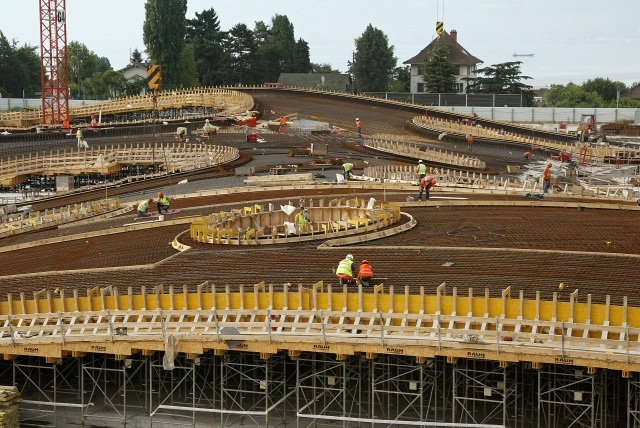 Construction of the Rolex Learning Center of SANAA, showing the timber formwork for the concrete structure. Image © EPFL – ALAIN HERZOG
Most of the components of the cable-net and fabric formwork system are reusable, thus reducing material waste compared to traditional concrete shell construction. Image © Naida Iljazovic
The control algorithm to determine the amount of tension to be applied at each boundary cable in order to get the perfect shape of the intended design. Image © Block Research Group
As part of the prototype for the thin concrete shell roof of the future innovation unit HiLo, which will be built on the NEST building of Empa and Eawag in Dübendorf, Switzerland, the Block Research Group tested an innovative concrete formwork system requiring precise design analysis and fabrication. The novel formwork system consist of a reusable steel cable net as falseworks. In comparison to the traditional formworks, the novel system is extremely lightweight, does not need support from below and is reusable while the precisions of the form is controlled. The roof prototype had a total surface area of 160m2 and is up to 7.5m high, while the average thickness of the shell is only 3-5 cm.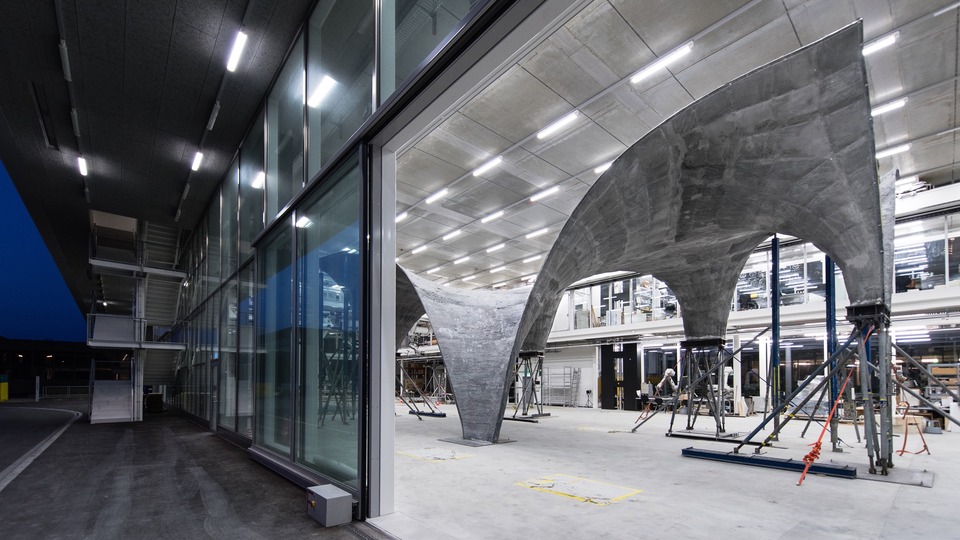 Full-scale construction prototype of the NEST HiLo shell roof. Image © Michael Lyrenmann
Stay-in-place knitted formworks for complex concrete structures. Image © Block Research Group
But the Block Research Group's efforts in optimizing formwork do not end there. PhD researcher Mariana Popescu is looking into the potential of 3D knitted formworks for concrete. As part of the project "KnitCrete", Popescu and her collaborators are developing a system of prefabricated textiles that can be easily folded to minimize transportation volume, yet at the same time allowing the accurate placement of material. This new system reduces the cost, transport and waste of formwork.
The system include a 3D-knitted technical textile and a special cement coating, creating a ultra-lightweight formwork for concrete casting. Image © Block Research Group
"Structural geometry is complex geometry"
says Philippe Block

Block's presentation isn't just a show-and-tell of how new digital technologies allow architects to construct complex forms. It is also a reminder of what we forgot about ancient construction techniques like unreinforced masonry, arches and vaults.
ColomBrick, a project combining local material use and advance digital design. It is requested by UN-Habitat to show the potential of using advance design techniques on increasing building sustainability in developing countries.
Image © Sergio González and Block Research Group
Studying these ancien construction techniques, Block reminds us that structural geometry is complex geometry. Bringing computational design into construction is not simply automating construction, it is about finding a new harmony between material and structural optimization, aesthetics in design and precision in the execution of construction.
Top Image: Armadillo Vault, Venice, Italy. Image © Iwan Baan