Kéré Architecture built Kamwokya Community Centre that features butterfly roofs in Uganda
Pritzker Prize-winning architect Francis Kéré's firm Kéré Architecture has built a community center that features butterfly roofs and low-rise structures in Kamwokya, one of the most underserved areas of Uganda's capital Kampala.
Named Kamwokya Community Center, the 1,600-square-metre community centre was realized in partnership between local non-profit Kamwokya Christian Caring Community (KCCC), which runs sports, leisure and artistic activities in one of the poorest areas of Uganda's capital, Kampala, and the Ameropa Foundation, which works internationally on projects that aim to improve the lives of marginalised communities.
The new community center accommodates a range of activities in sports, music, dance and culture as well as adult literacy, informal education for children and health education for people living in one of the most underserved areas of Uganda's capital.
Located in a valley among the hills of Kampala's central district, Kamwokya is known with an extremely high population density, insufficient infrastructure and poor health conditions.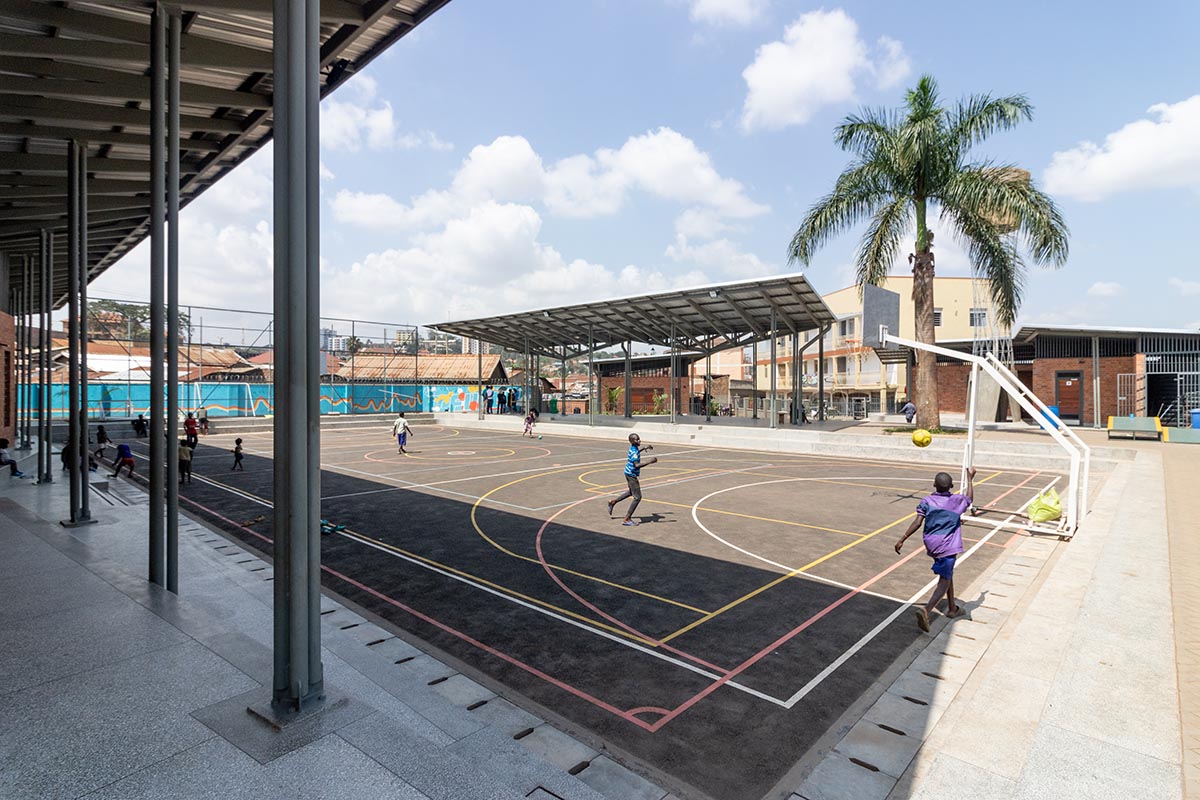 The new center is open to everyone regardless of religion, gender and background, strengthening the site's fundamentally public and free character.
Kéré Architecture's aim on this project was preserve and enhance the public and free character of the site, rather than imposing a new and a different element.
The program elements of the complex consists of multipurpose building, internet cafe, gathering space, multi-sports field, raised play space, community hall, changing room, toilets, water tower and rain water harvesting.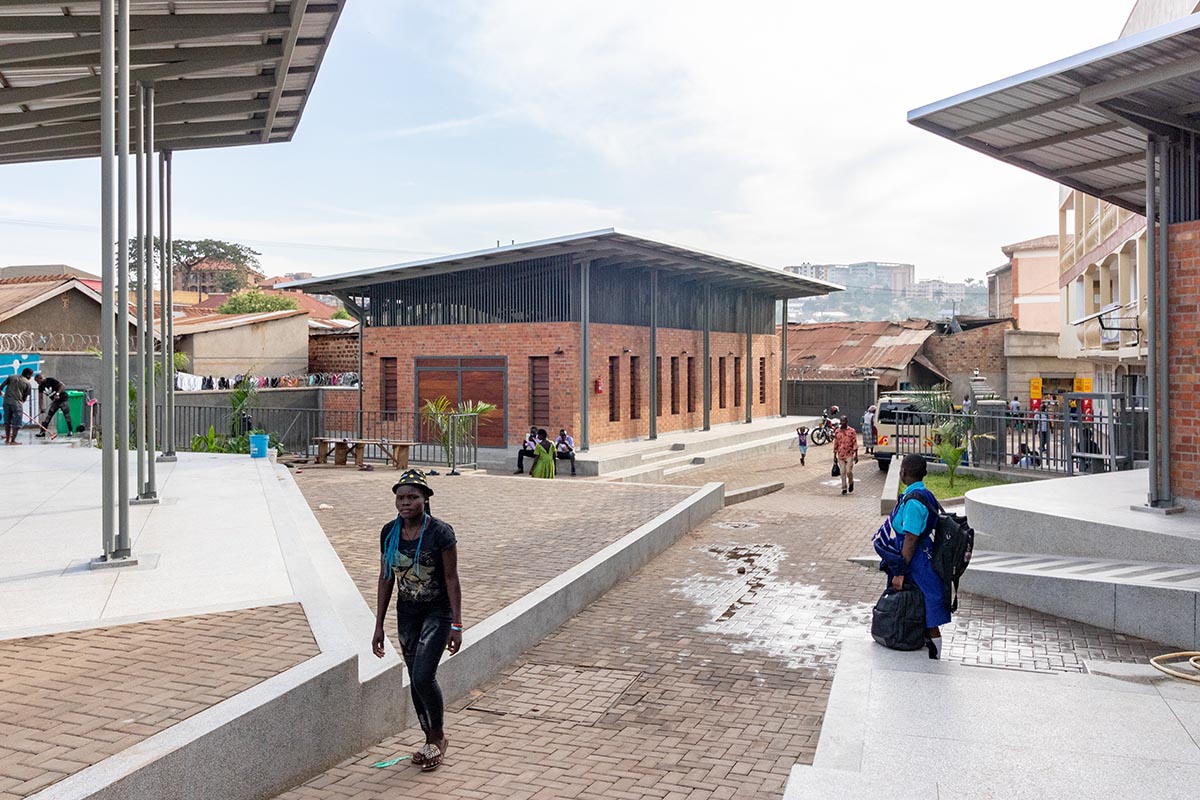 "Gently uplifting it" was the key goal of the project.
At the heart of the area, there is a playground that provides a more conducive space for the activities already happening on site. It houses sport training and matches, spontaneous gatherings, community events, workshops, music and dance classes.
"With the Kamwokya Community Centre we created lasting, innovative architecture that will provide inspiration and a public space for the community, improving the quality of life for all," said Francis Kéré.
"It is my hope that it will function as a symbol of pride for the people of Kamwokya," he added.
The studio raised the entire project on a platform featuring an efficient drainage system to protect it from recurrent floods during the heavy rains.
The studio divides the platform into distinct areas by using slight differences in level that allow multiple activities to take place simultaneously without interfering with one another.
The main sports field, drained and shaded, is surrounded by tribune-like steps to watch the games or gather informally.
On the platform, two naturally ventilated buildings house a small gym, an internet café, various multi-purpose rooms for classes and workshops, a music studio and an office, as well as an adjacent sanitary block.
These spaces are covered by two butterfly roofs raised by steel structures to allow for air flow, which give a strong identity to the site in its urban context.
"The centre is a development that demonstrates that the marginalised communities deserve better and it gives children, adolescents and adults moments of hope, happiness and sustainable solutions to their needs, in addition to providing them with new aspects of better living," said Francis Mbaziira, CEO of KCCC.
According to the studio, "beyond its practical function, the project aims to transform the community by becoming a source of inspiration and pride that in turn can create a sense of agency and ownership."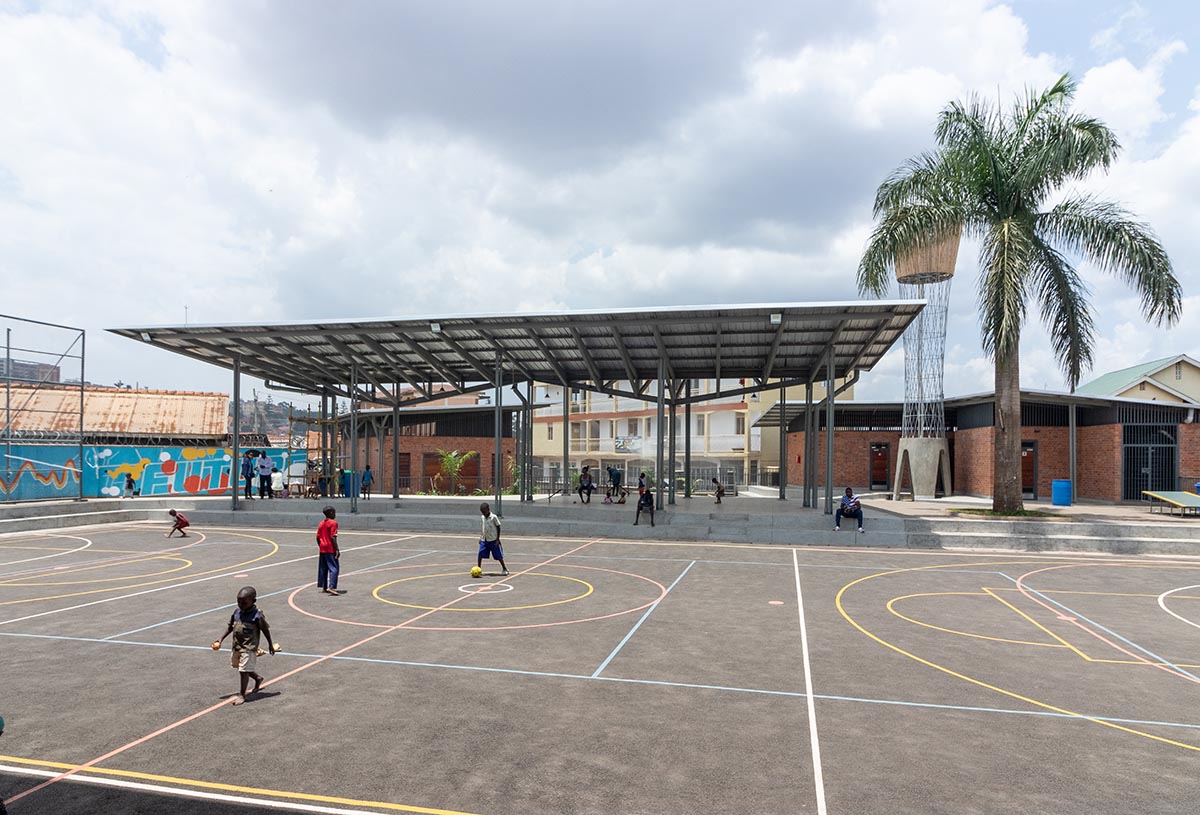 Nicole Miescher, founder, Ameropa Foundation: "We wanted to give a place of quality and beauty to the people of Kamwokya, a place where they could sit down, take a rest from their daily struggle and dream, a place also where the children could play in a safe and clean environment."
Masterplan with functions
Section
East elevation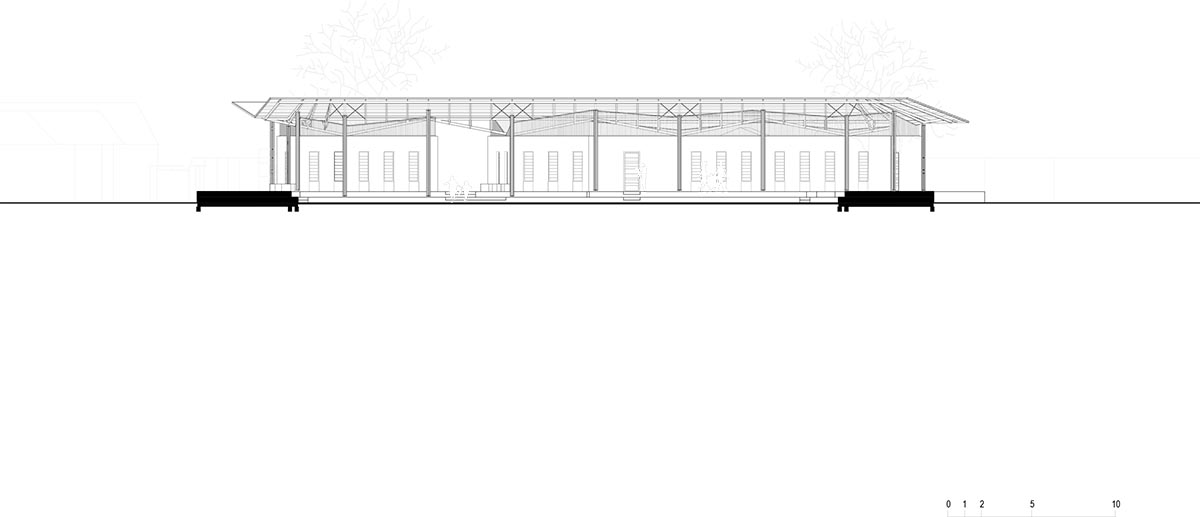 West elevation
Kéré Architecture completed a university building in Koudougou, Burkina Faso. Construction work is underwell on the studio's Goethe Institute in Dakar, Senegal.
Based in Berlin, Francis Kéré founded Kéré Architecture in 2005.
The firm's project portfolio spans various sizes and types of projects, starting from civic infrastructure to temporary installations in Germany and across the African continent.
Project facts
Project name: Kamwokya Community Center
Architects: Kéré Architecture
Status: Completed
Date: 2016 - 2022
Location: Kampala, Uganda
Size: 1,600m2
All images © Jaime Herraiz.
All drawings © Kéré Architecture.
> via Kéré Architecture