Goethe Institute by Kéré Architecture breaks ground in Dakar, Senegal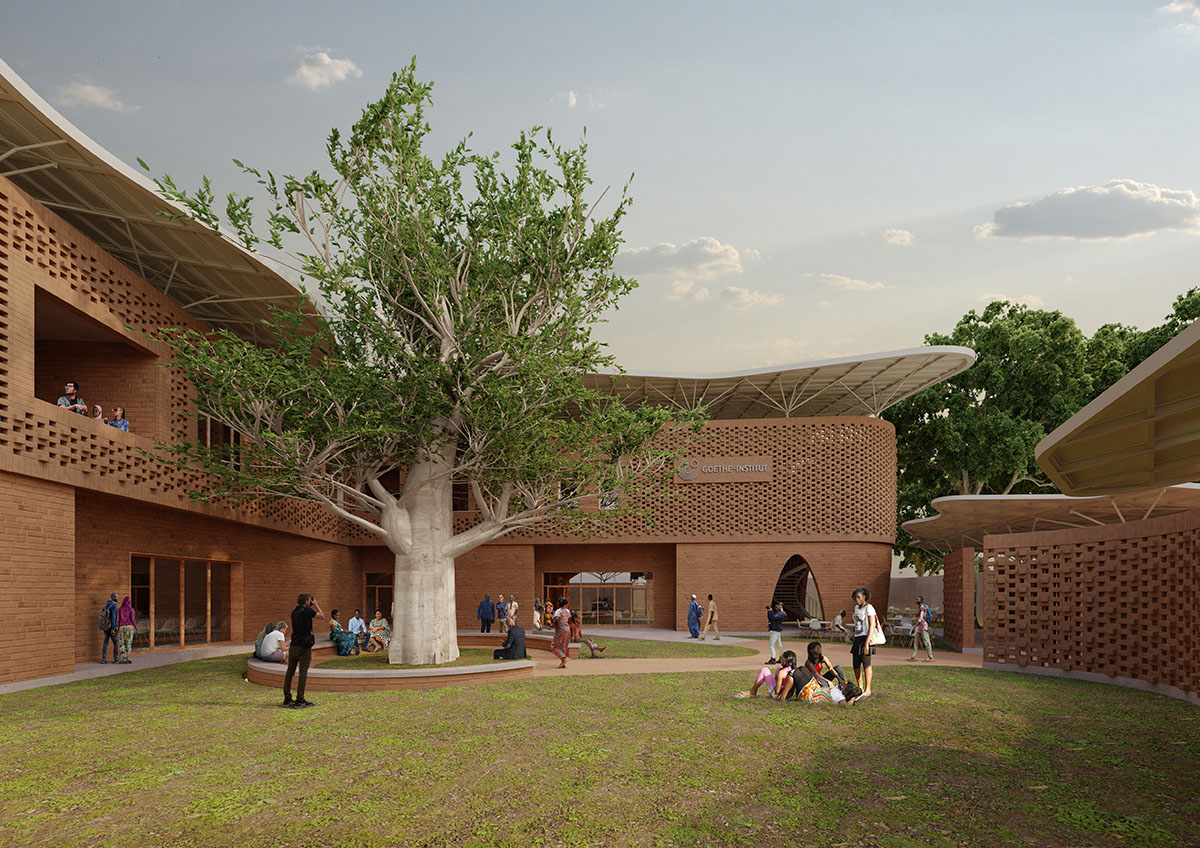 Construction work has begun on the Kéré Architecture-designed Goethe Institute in Dakar, Senegal.
The Goethe Institute Dakar, located within a residential area and lush garden, is the Goethe Institute's first purpose-built office space for the German cultural association and exchange center in its more than 60 years.
The groundbreaking ceremony was held with the participation of Federal President of Germany Frank-Walter Steinmeier along with Abdoulaye Saydou Sow, Senegalese Minister of Town Planning and Public Hygiene, Abdoulaye Diop, Senegalese Minister of Culture and Communication, Carola Lentz, president of the Goethe Institut, and architect Francis Kéré.
"On numerous levels, the design represents the values that both I and the Goethe-Institut share," said Francis Kéré.
"When it came to issues like sustainability and climate protection, I not only met with an open and sympathetic response but was even encouraged to take things further."
Conceived as a compact two-storey building, the building is shaped by the outline of the canopy of trees occupying the site. The institute is made of brick, called Laterite, a residual rock local to Senegal, and has inherent acoustic and heat insulation qualities.
Due to the nature of the material, the material will help regulate the indoor climate in a natural way.
Kéré Architecture is know for its use of sustainable local materials where available and integration of collaborative building processes that form innovative construction techniques.
In March 2021, Jeanne Autran-Edorh, who is a lead architect at Kéré Architecture, spoke to WAC in a live interview and discusses the methodology and philosophy of the firm. Watch WAC's talk with Jeanne Autran-Edorh on WAC's IG Videos.
Encompassing a total of 1,800 square meters, the programme of Institute comprises spaces for a wide range of activities, such as exhibitions, language courses, and spaces for concerts, informal gatherings.
While most of the public activities are designed on the ground floor, including an auditorium, a cafeteria and the library, administrative offices and classrooms are designed on the first floor.
Kéré Architecture's design responds to the need to be respectful to neighbors - including the Léopold Sédar Senghor Museum - and the immediate natural environment.
The rooftop is accessible and offers further space for interactions and events. The roof has a unique language and is supported by tree-shaped pillars, creating a pleasant outdoor space echoing the garden below.
"I am optimistic that Africa and Europe can together face the great challenges of today. I am convinced that we can learn a lot from each other. We need ideas and experiences from our two continents. The new Goethe Institute will be a shining example of exactly that," said Frank-Walter Steinmeier, Federal President of Germany.
"The structure itself serves as a shield that simultaneously protects the surrounding occupants from any potential noise and its own visitors from traffic sounds," explained Kéré Architecture.
"A second translucent skin made from the same locally sourced BTC bricks as the structural walls ensures a light appearance."
Site plan
The Goethe Institute has been active in Senegal since 1978. As its presence in Senegal remains one of the institute's main hubs in West Africa, the choice of Kéré Architecture is testament to its wish to set an example of what cultural exchange can look like in the 21st century.
The Goethe Institute Dakar is set to be opened to the public next year.
Ground floor plan
First floor plan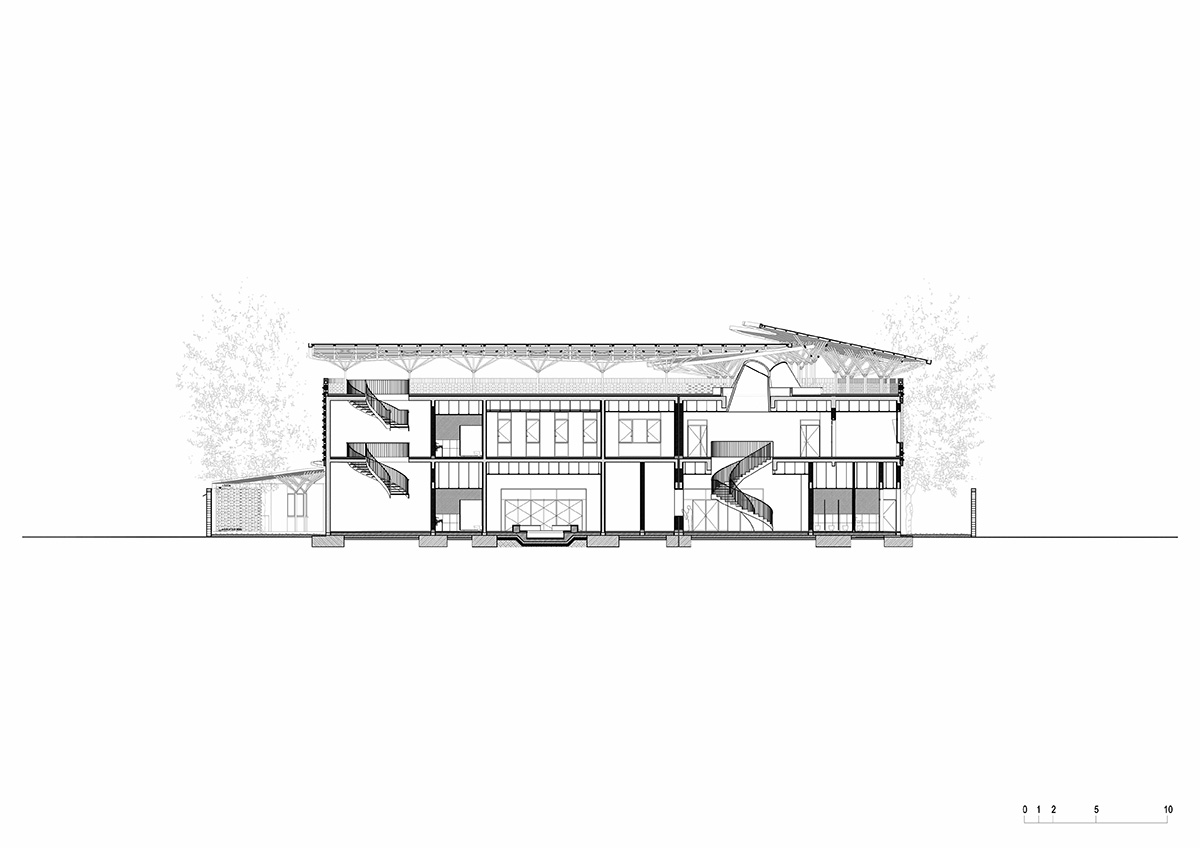 Section
Sketches by Francis Kéré
Kéré Architecture recently completed an educational campus in Kenya. The firm is designing Benin's National Assembly in the country's capital Porto-Novo.
Project facts
Local project title: Goethe Institut Dakar
Architect: Kéré Architecture, Diébédo Francis Kéré, Berlin, Germany
Location: Dakar, Senegal
Size: 1,800 sqm
Design team:
Project Architect: Jaime Herraiz & Andrea Maretto
Architects: Javier Mola Cardenes, Juan Carlos Zapata Kéré Architecture, Berlin, Germany
Contributors: Léon Bührer, Kéré Architecture, Berlin, Germany
Project management: Fabiola Büchele, Linda Franken Kéré Architecture, Berlin, Germany
Collaborators: Worofila, André Poretti, Delta Ingenieurs Conseils, Dial Consulting, Scat Internationale s.a., Elementerre, Matthias Middelkamp
Client: Goethe Institut e.V.
All images courtesy of Courtesy of Kéré Architecture.
> via Kéré Architecture