Burkina Institute of Technology (BIT) by Kéré Architecture
Commissioned by the Stern Stewart Institute, Kéré Architecture completed a university building in Koudougou, Burkina Faso in 2020.
Named the Burkina Institute of Technology, this establishment is an extension of the Schorge High School campus designed by the same architectural firm during a previous collaboration with the Stern Stewart Institute.
The project, the idea for which began to germinate in 2017, aims to offer graduates of the high school the opportunity to continue their studies on site.
Courtyard in the middle of the classrooms
The facility consists of several rectangular modules covering a total area of 2,100 square metres. These modules house classrooms, lecture halls and auxiliary spaces. The staggered arrangement of the modules facilitates air circulation in and around the building, creating cooler spaces for users. The layout of the different modules also ensures that the campus can expand progressively according to its needs. The designers chose to group the classrooms around a rectangular courtyard.
Site plan
Floor plan
For this project, the firm chose clay, a locally abundant building material with good thermal properties. They were able to take advantage of the experience gained during the construction of the Naaba Belem Goumma secondary school. The walls of the different modules were made of local clay cast on-site in large formworks. This innovative construction method offers the advantage of being faster and more flexible than traditional clay brick construction. As a result, the construction was completed in a very short time. These massive clay walls make a significant contribution to the cooling of the interior spaces. However, because of the computer equipment, the classrooms still require mechanical air conditioning.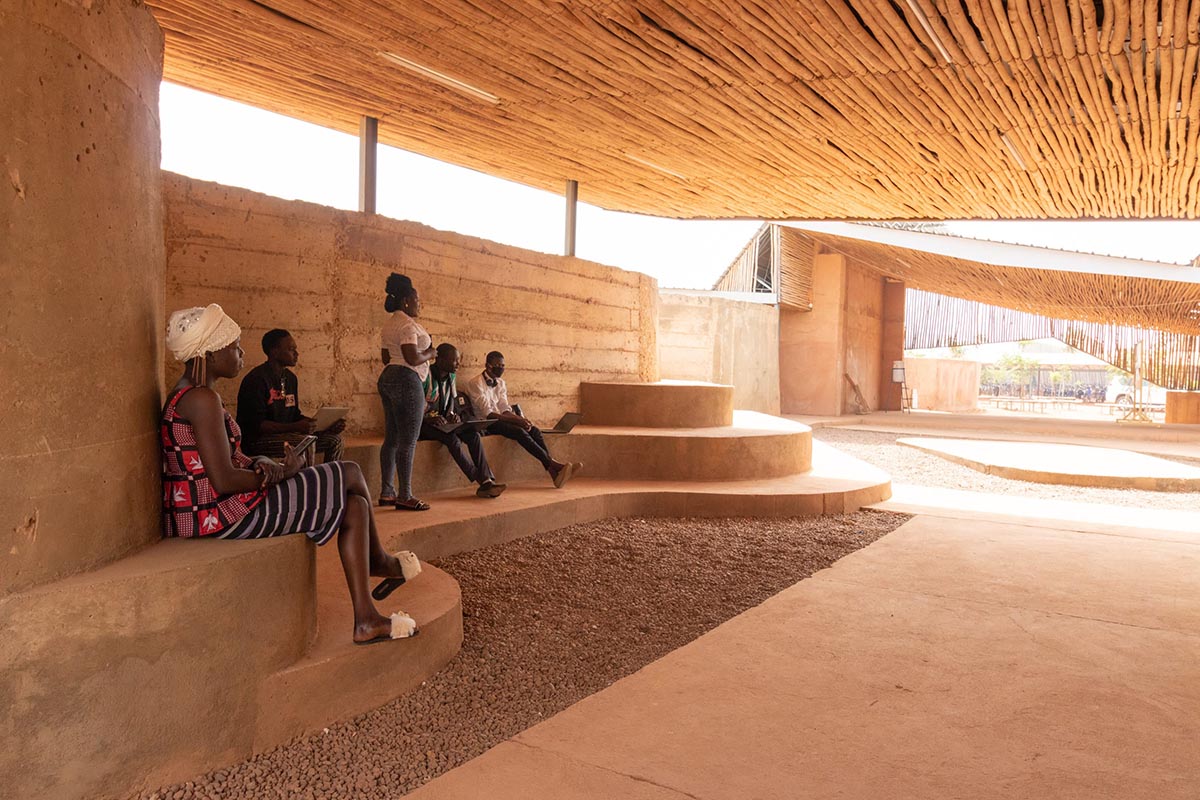 Gathering space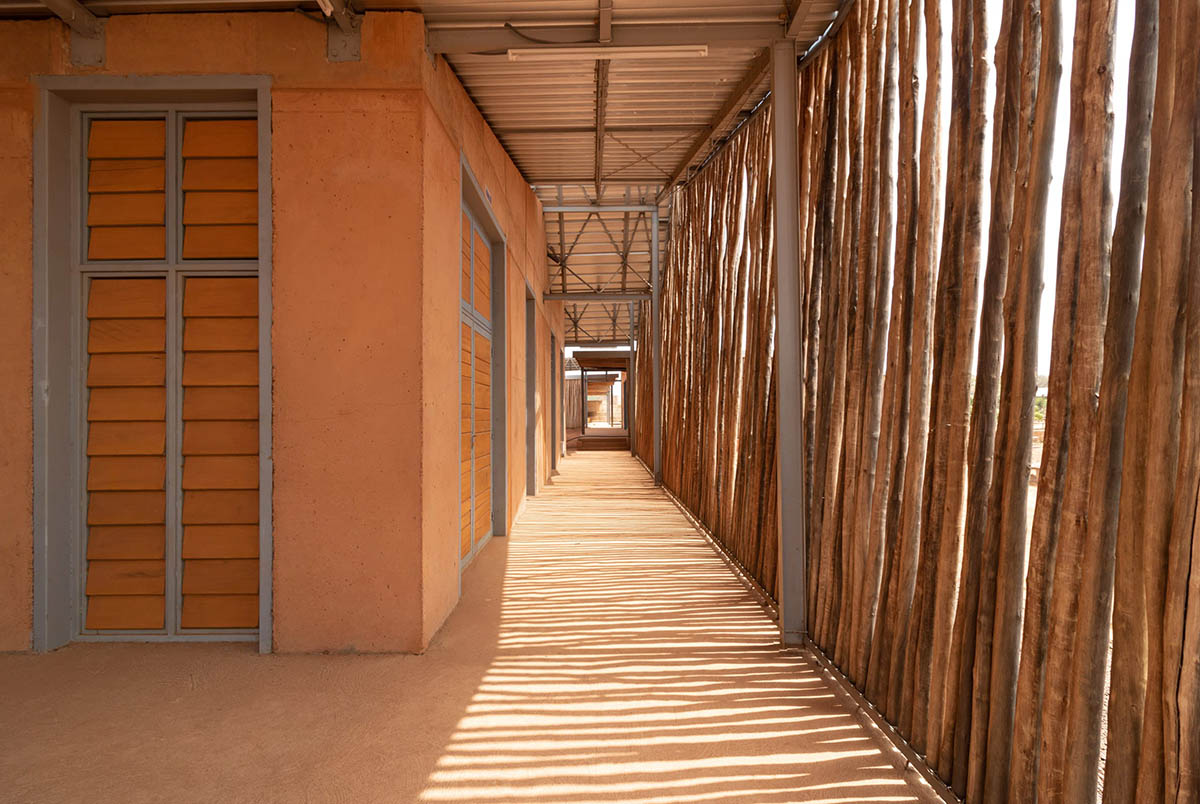 A corridor between the classroom and porous skin in eucalyptus wood
This positive impact of the clay walls is complemented by ventilation through the stack effect. Indeed, the repetitive profiles on the roof do not only create a dynamic rhythm on the building. They also allow for openings at the back of each module to naturally release warm air from the top. The ceilings, made of local eucalyptus wood, give the spaces sobriety and originality while providing lighting through the lamps they carry. Eucalyptus wood was also used to create a porous skin around the building to create a sense of unity with the rest of the campus.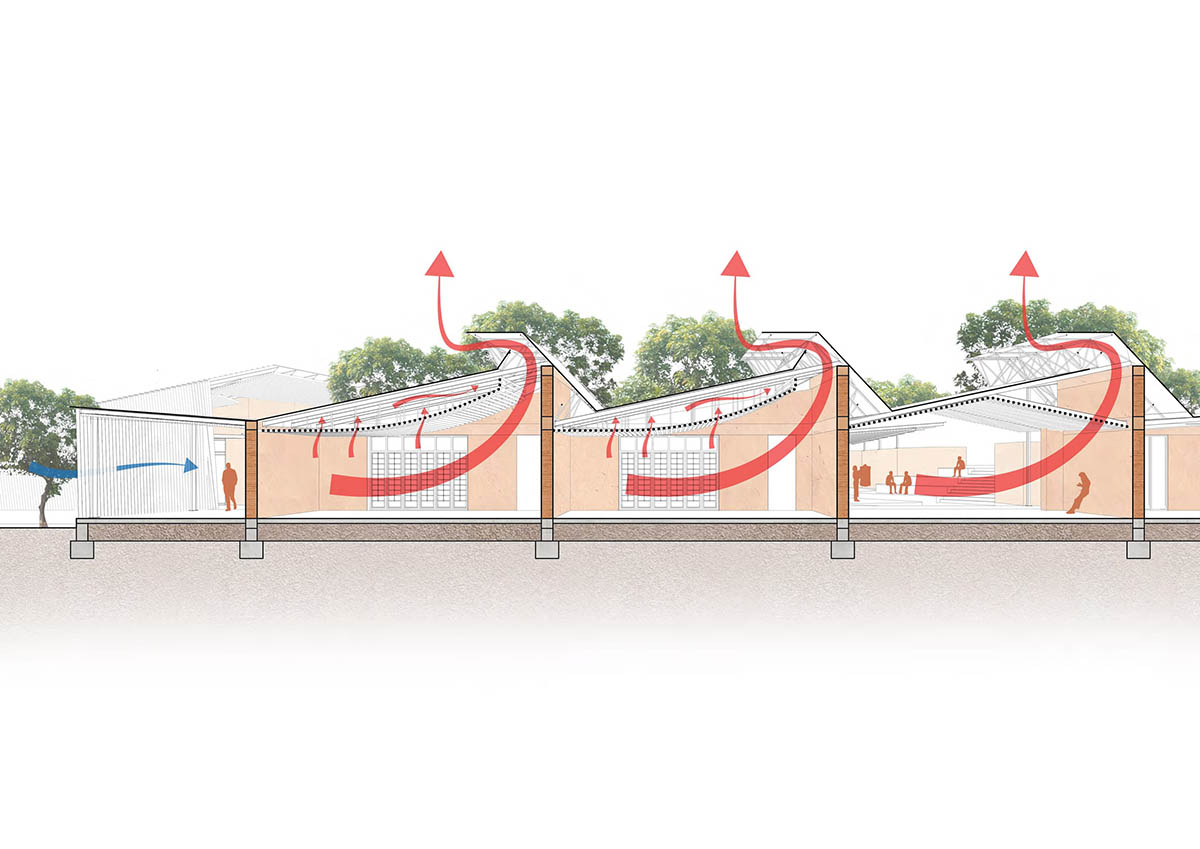 Section
Courtyard in the middle of the classrooms
Roof opening at the rear of a classroom unit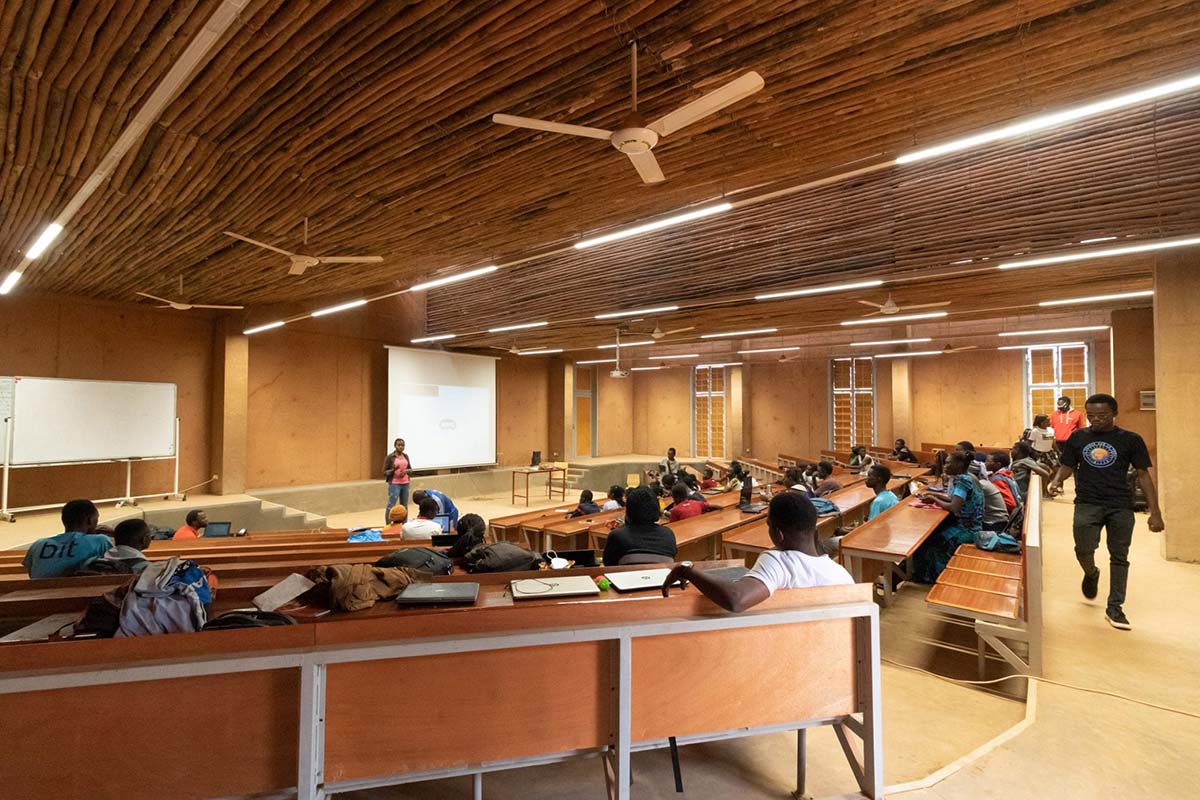 Eucalyptus wood ceiling inside a lecture hall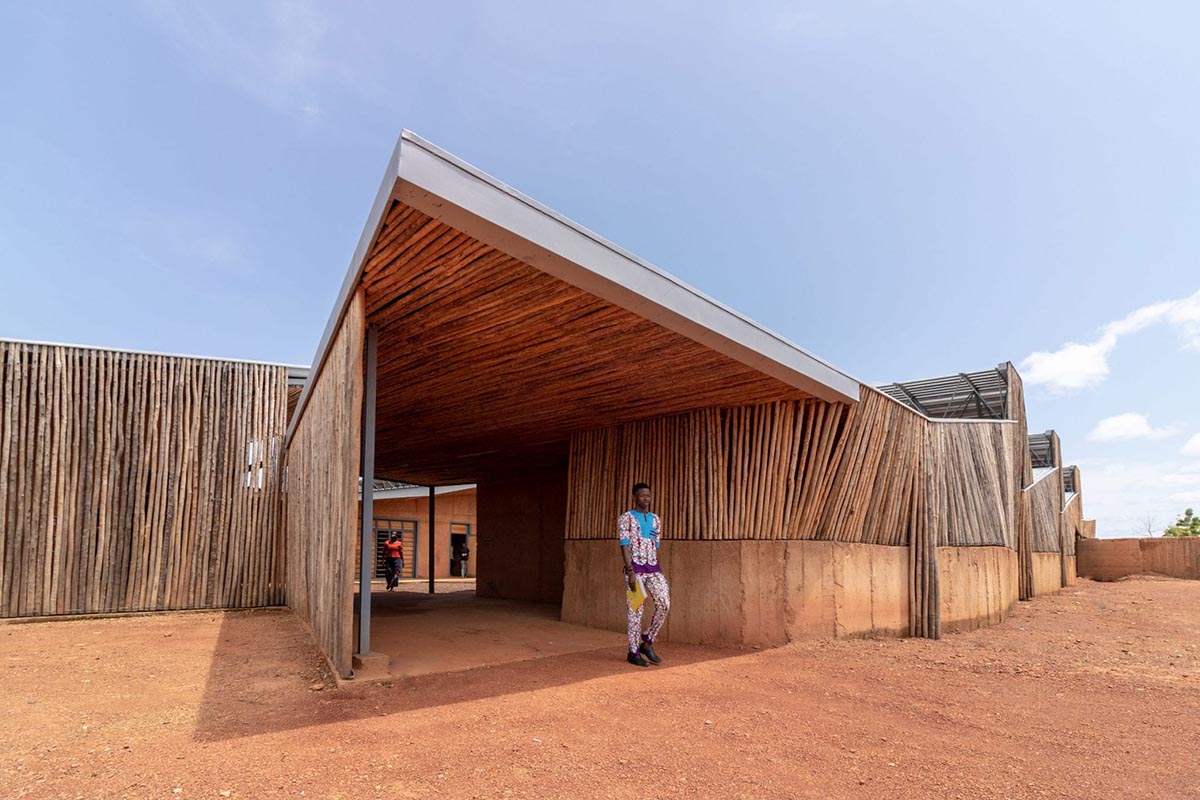 Exterior walls wrapped with eucalyptus wood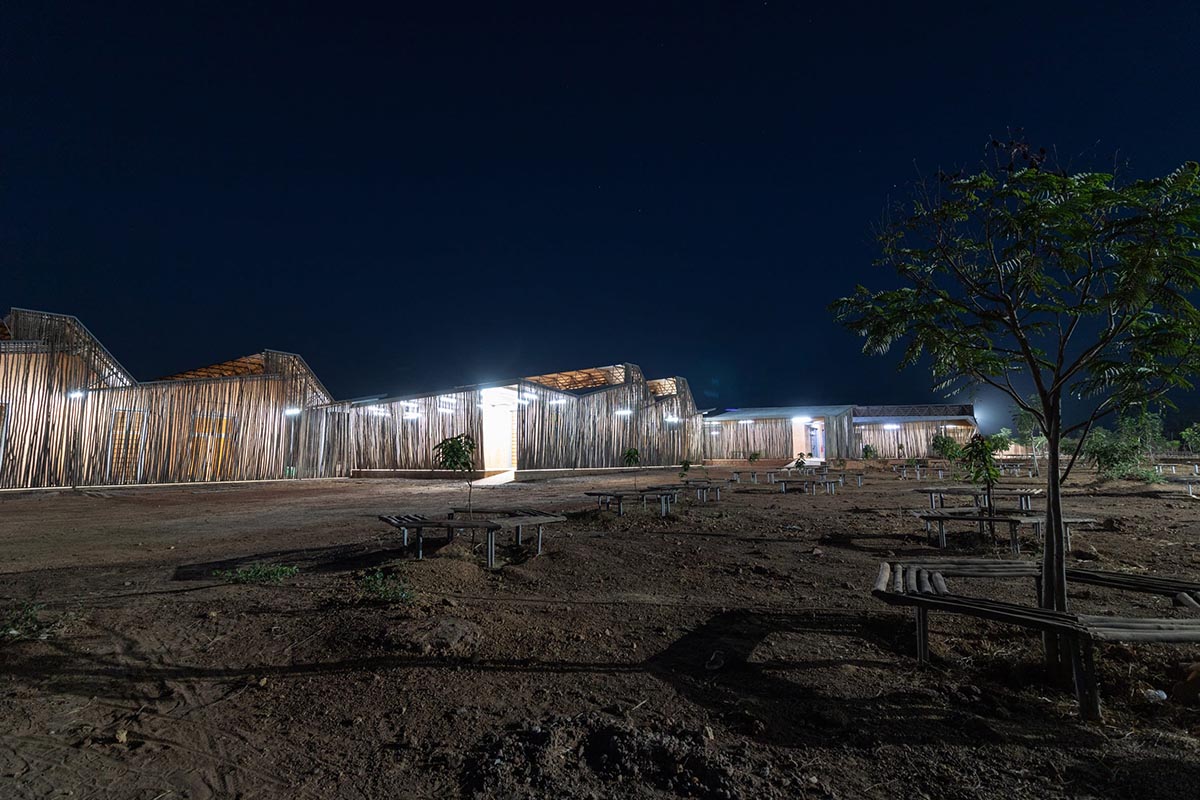 Porous skin in eucalyptus wood
Due to the location of the facility on a flood plain, the construction was preceded by extensive landscaping to protect the buildings. A system was put in place to channel water to a large underground reservoir during the rainy season. This water is then stored and used to irrigate the mango plantations on campus.
Porous skin in eucalyptus wood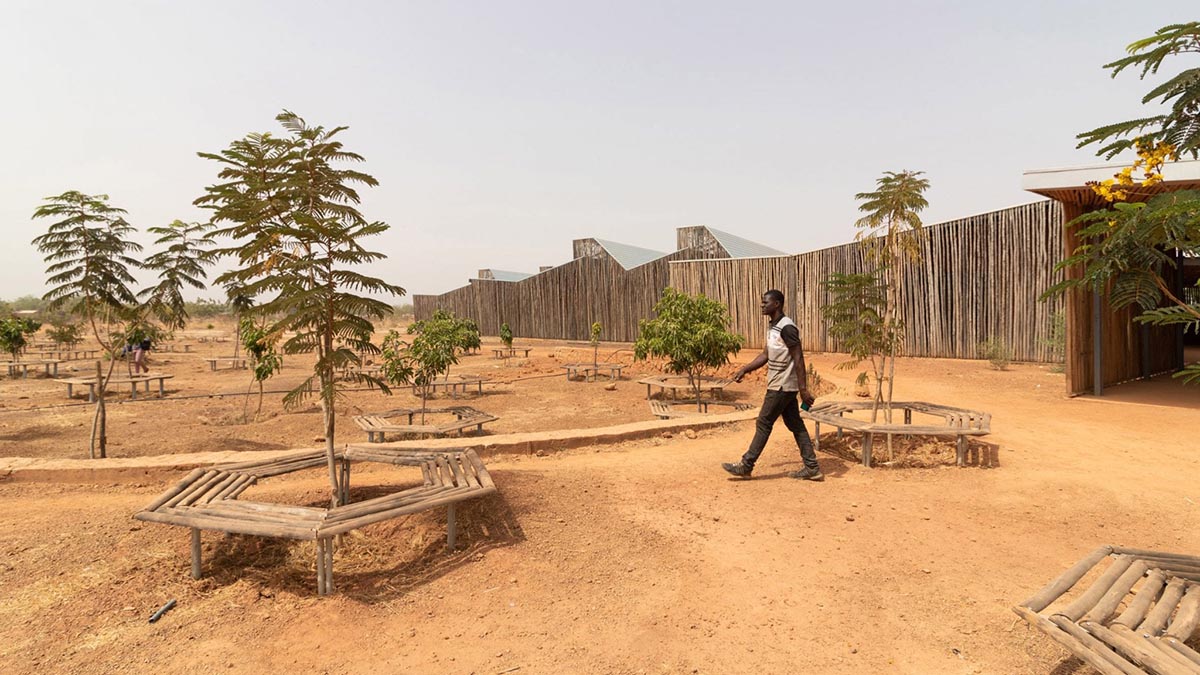 Porous skin in eucalyptus wood
Courtyard in the middle of the classrooms
All Images © Jaime Herraiz, courtesy of Kéré Architecture
> via Kéré Architecture