Jeanne Gang wins the 2023 Charlotte Perriand Award
American Architect Jeanne Gang, the founder of Studio Gang, has been named as the 2023 winner of the Charlotte Perriand Award, in memory of the iconic French architect and designer, presented by The Créateurs Design Association & Awards (CDA).
Jeanne Gang becomes the second winner of the award, following Ghanian-British architect David Adjaye was awarded the inaugural Charlotte Perriand Award in 2022.
Gang, who leads Chicago-based architecture and urban design firm Studio Gang, was recognized for her Aqua Tower, the tallest woman-designed building in the world at the time of its completion in 2009.
Gang's designs take cues from ecological systems and nature-based references that drives the architectural philosophy of the studio.
Le Prix Charlotte Perriand or the Charlotte Perriand Award was established to honor trailblazers in architecture and design. The award will be presented to Jeanne Gang at an annual ceremony hosted in Paris on January 21st, 2023.
Image courtesy of CDA
"It is an honor not only to be recognized by this distinguished jury but also to help continue to celebrate the legacy of Charlotte Perriand," said Jeanne Gang.
"I have long admired not only the beauty of her work but also her social and environmental positions that were in many ways far ahead of her time," Gang added.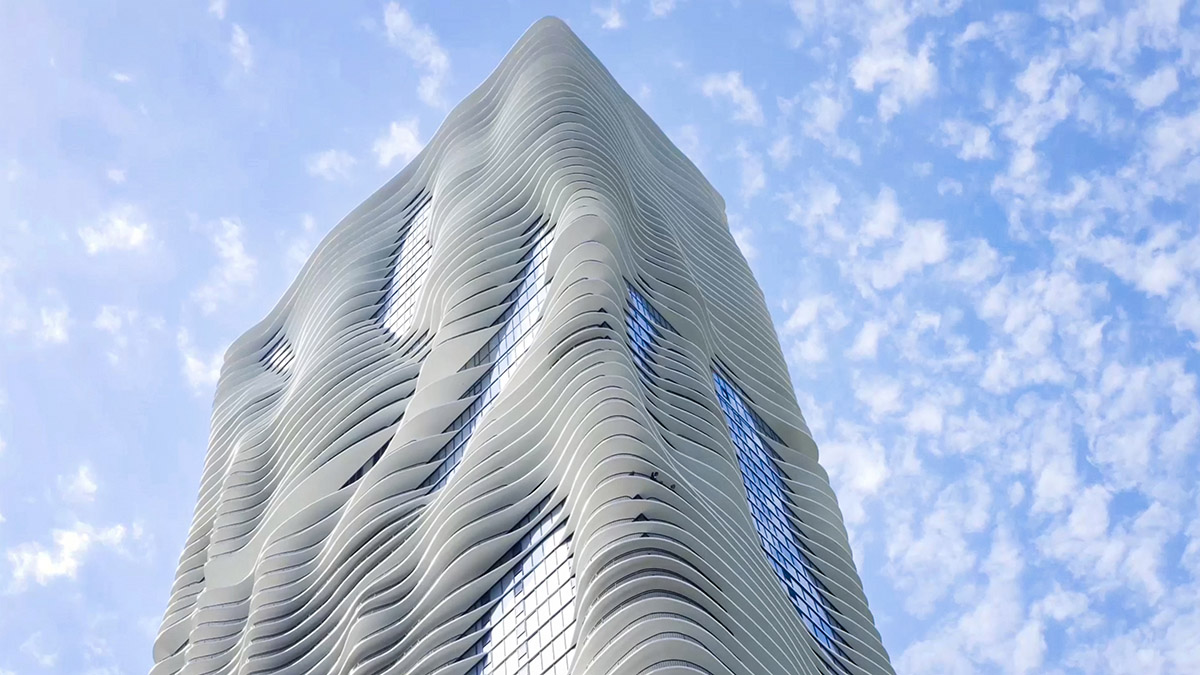 Aqua Tower in Chicago. The rippled tower includes a hotel, offices, rental apartments, condominiums, and parking, along with one of Chicago's largest green roofs. Image by Steve Hall © Hedrich Blessing
The 2022 Créateurs Design Awards welcomed 100 guests to its ceremony at the Shangri-La Paris, followed by the after-party at the Grand Salon and Terrace overlooking the Eiffel Tower.
The ceremony was also streamed live to the global design industry, presenting awards in 12 categories.
The Awards2 judging system is based on a peer to peer review, aiming to highlight extraordinary work in the interior design, product design and architecture field by celebrating the people that drive vision.
The CDA receives hundreds of submissions annually and is evaluated and voted on by 206 Créateurs Design Association members from 32 different countries.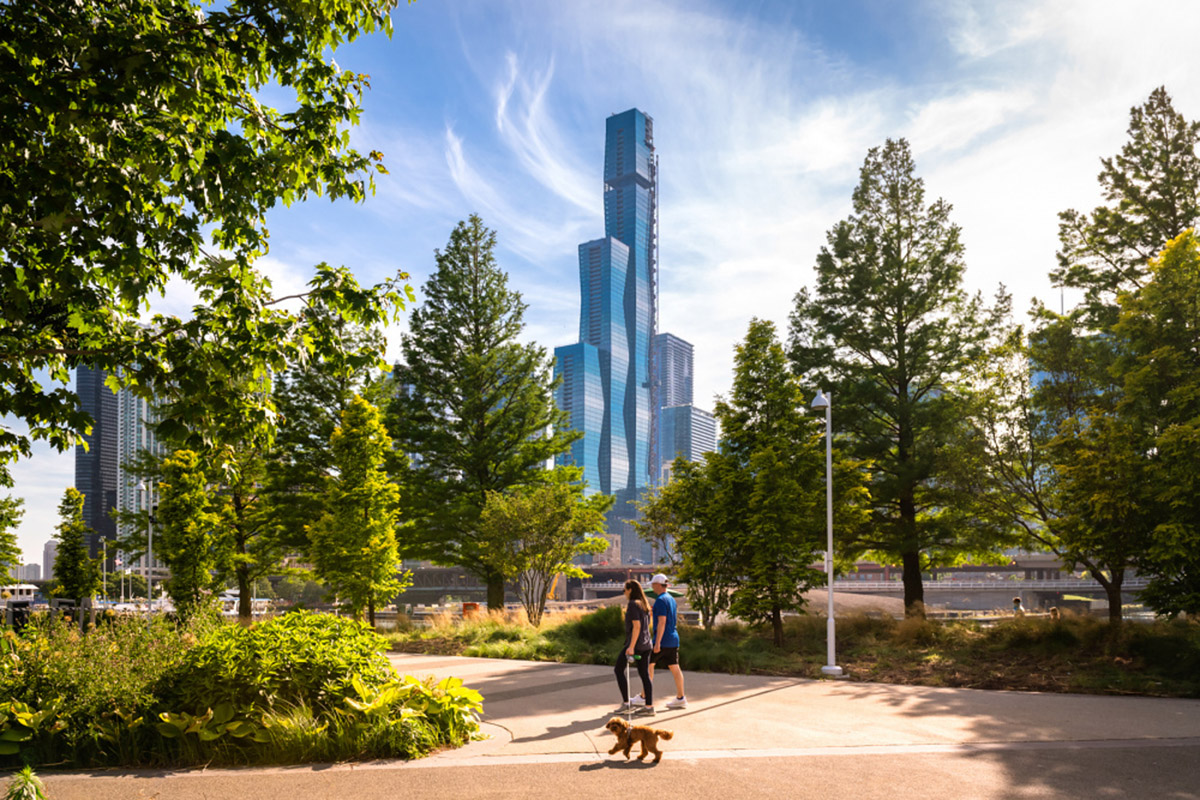 St. Regis Tower. Image © Nick Ulivieri
According to Gang, "Charlotte Perriand represents someone who fearlessly adopted the advanced tools and techniques of her time, yet deployed them with care and intelligence, finding combinations between the materials, the tools of industry, and traditional craft."
"There is a keen interest in nature shown throughout her work, whether drawing inspiration from the organic forms she found while beachcombing the shores of Normandy, or crafting architecture that responds harmoniously to its context. She brought the built and natural environments together in her work."
"She was also an observer of the social conditions of her time and applied her thinking and design talents to bring about better design for all members of society, at both the furniture and architectural scale."
"She was truly forward-thinking in her desire to use design to improve the quality of life for everyone," Gang added.
Each year, the Charlotte Perriand Award is presented to an influential figure who embraces Perriand's "vision and commitment to architecture, design and art".
After working with OMA between 1993 and 1995 as a lead designer and project architect, Jeanne Gang established Studio Gang in 1997.
Gang received her Bachelor's Degree in Architecture from the University of Illinois at Urbana-Champaign in 1986, and in 1989 she studied urban design—an interdisciplinary program combining landscape architecture, urban planning, architecture, and engineering—as a Rotary Foundation Ambassadorial Scholar at the Swiss Federal Institute of Technology in Zürich.
She received her Master's degree in architecture in 1993 from Harvard University's Graduate School of Design.
One Hundred Tower in St Louis, Missouri. Image © Sam Fentress
MIRA, her high-rise project in San Francisco, the Richard Gilder Center for Science, Education, and Innovation in New York, the Arkansas Museum Of Fine Arts in Little Rock, the transformation of a former coal-burning power plant into a student union for Beloit College in Beloit, Wisconsin are among key projects of the studio.
Another key high-rise project of the studio is One Hundred skyscraper in in St Louis, Missouri in the United States.
Honored widely, Gang was awarded a MacArthur Foundation "genius grant" in 2011, as well as an Architecture Design Award from Cooper-Hewitt, National Design Museum in 2013 for her practice.
In 2017, Gang was honored with the Louis I. Kahn Memorial Award, made an honorary fellow of the Royal Architectural Institute of Canada, and elected a fellow of the American Academy of Arts and Letters.
She was selected as the 2017 recipient of the Marcus Prize, awarded biennially by the University of Wisconsin-Milwaukee School of Architecture and Urban Planning in partnership with the Marcus Corporation Foundation.
In 2019, she was named as the world's most influential architect by the TIME Magazine.
Top image: Jeanne Gang. Image © Saverio Truglia.
> via Créateurs Design Association & Awards