Ma Yansong will talk about his new book MAD Rhapsody in WAC's live talk
MAD founder Ma Yansong will be WAC's new guest architect in WAC's Live Interview Series. Yansong, one of renowned Chinese contemporary architects, will talk about his design philosophy and newly-published book, entitled MAD Rhapsody.
The talk, titled MAD Rhapsody, is being held in collaboration with MAD Architects to explore the architect's avant-garde and organic architecture.
In addition to the discussion of MAD Rhapsody, the architect will share his vision on his strikingly bold and innovative projects, empowering a powerful dialogue with nature, earth, and sky.
The Absolute Towers in Canada, the Harbin Opera House in Beijing, and the Lucas Museum of Narrative Art (LMNA) in the United States, the Cloudscape Of Haikou are among significant projects of MAD, which will be at the heart of the talk.
Ma Yansong will be in conversation with WAC's China Country Reporter Flora Jing Lin Ng on Wednesday, March 23 at 22:00pm Beijing Time on WAC's Instagram account.
---
Update: This competition has closed! MAD rhapsody book winner is Shiko Foo from Malaysia.
---
One of World Architecture Community readers watching the live talk with Ma Yansong will also win a copy of MAD Rhapsody book. To win, WAC readers need to send this code (WACMADRhapsody) to WAC's Instagram account with their names as a Direct Message (DM) during the live talk.
A winner will be selected randomly and notified by e-mail from World Architecture Community. A winner's name will also be announced on this page.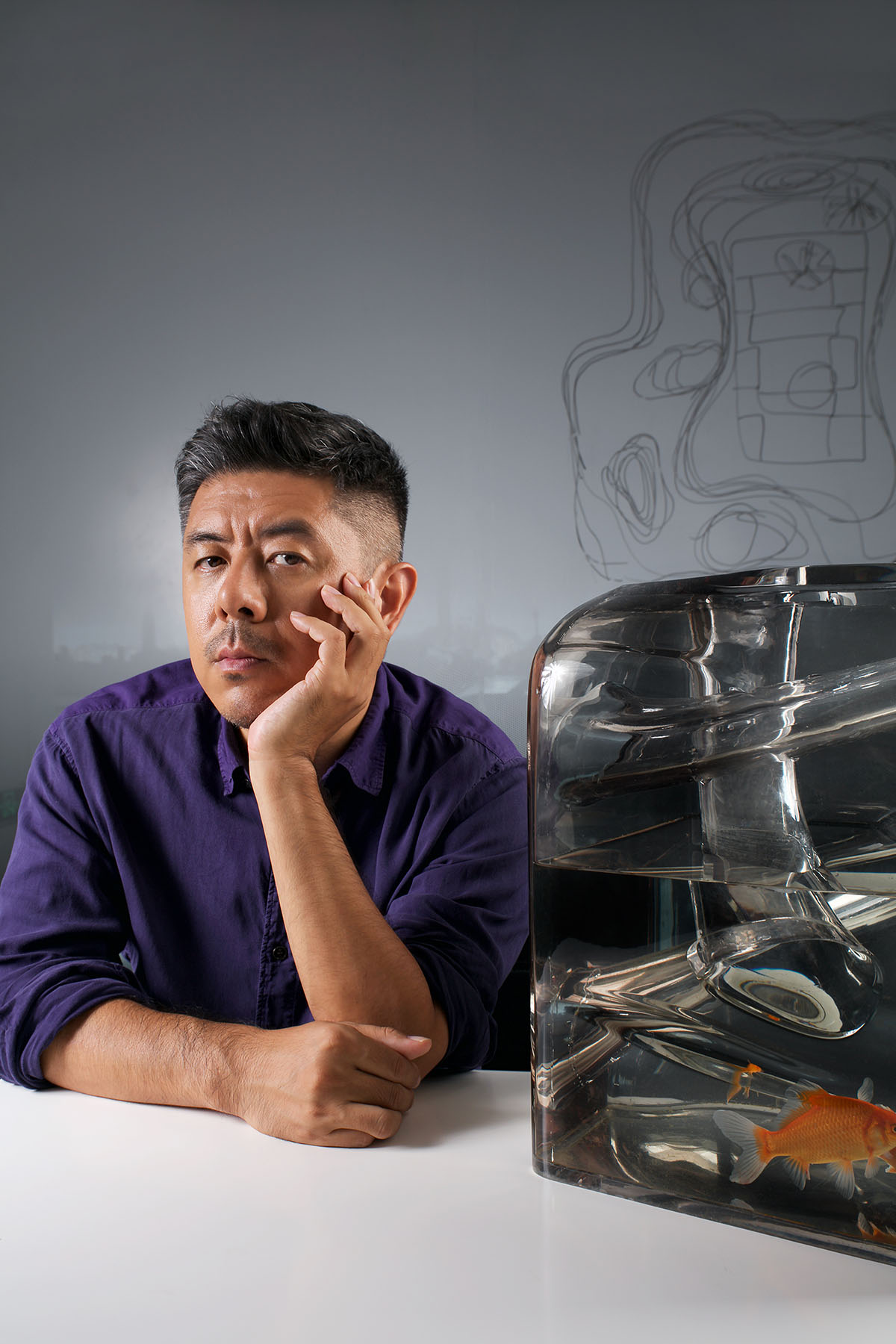 Ma Yansong, principal and founder of MAD. Image © Greg Mei
The 288-page book, published by Rizzoli Electa in November 2021, was written by Ma Yansong, and with the preface authored by American architecture critic and lecturer Paul Goldberger, who is contributing editor at Vanity Fair, with an introduction by Philip Jodidio, author of more than 100 books about contemporary architecture.
Enriched by photographs, drawings, and models, highlighting 23 projects of MAD from 2004 to today, both built and in-process, the book delves into MAD's philosophy in architecture, aiming to create a unique harmony between humanity and the built environment, both natural and man-made.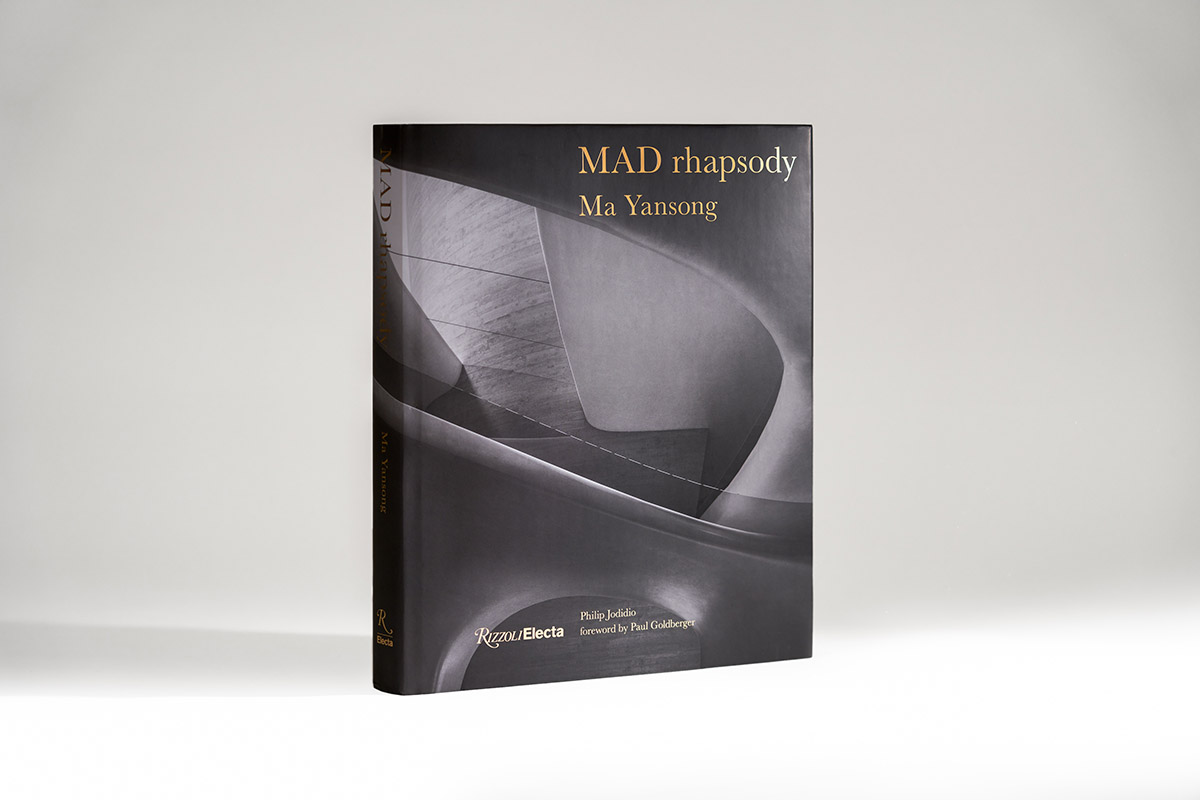 Image courtesy of MAD
"The work of MAD is like a rhapsody. The name MAD itself means madness, representing a rebellious and critical attitude," Ma Yansong said in the book.
"It also manifests an opposition to a generic pattern, goal, form, or language. I am intrigued by responding to the real world with diverse, genuine, and live emotions."
Evaluating architecture as a process and reflection rather than a result, Ma Yansong added that "Architecture should not be treated as a result but as a reflection: a reflection on the atmosphere of the site, time, and human spirit, as well as emotions."
"These factors naturally give architecture subjectivity and uniqueness," he said.
"It is the architect's ego, but it is more than the ego. It is like an independent verse of a rhapsody that evokes emotions deep inside."
"Such an episode is inspired by real life with spontaneous sensations and therefore has a folkloric character," Yansong continued in the book.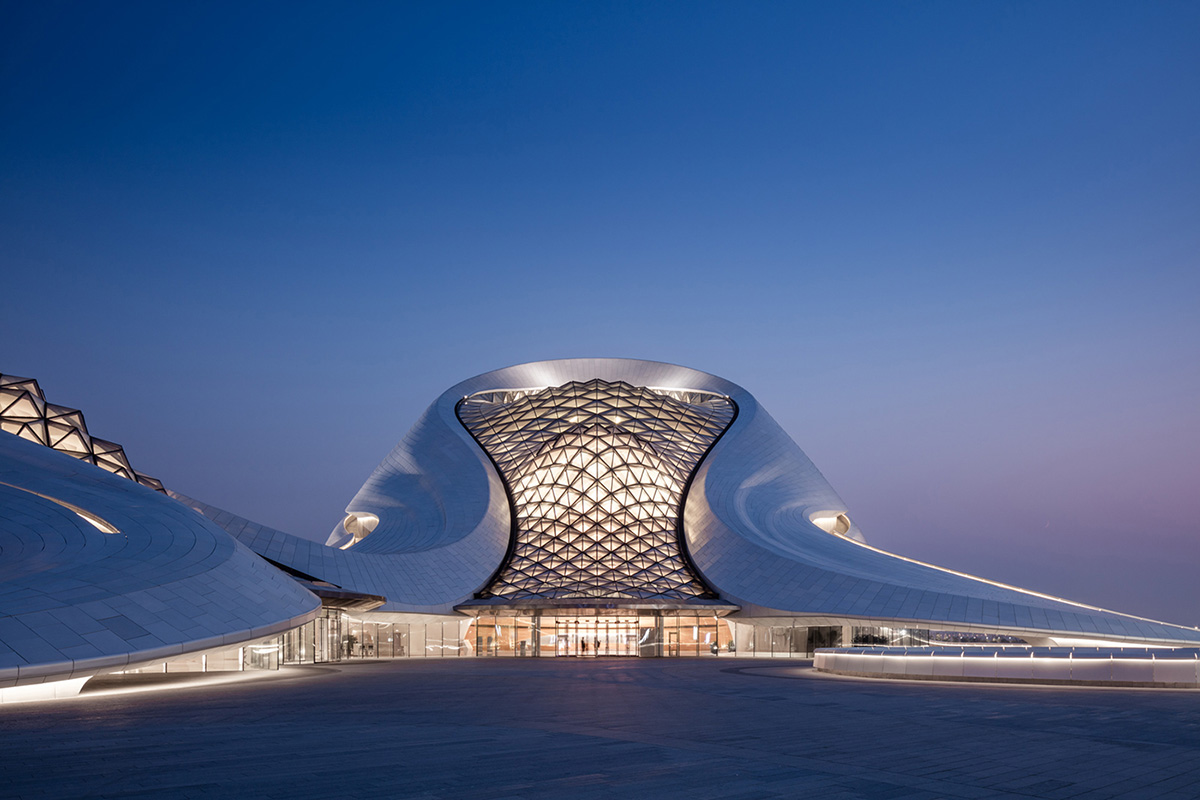 MAD Architects completed the Harbin Opera House in 2015. Image © Adam Mork
Ma Yansong, 47, is one of the leading influential architects of his generation and designs spaces triggering "spiritual freedom" where "people can slow down to reflect upon their surroundings and emotions."
Over the past 16 years, Yansong is creating a vision for future city that is inspired by the spiritual and emotional needs of its residents.
His flowing and permeable forms and geometries become integrated with nature, landscape and sky and reveal a new perception of space, transcended into a pure function that slows down inherently.
MAD Architects completed the Cloudscape Of Haikou in 2021. Image © Arch-Exist
"Willful integration or combination of forces"
The book is mainly divided into four titles: allegory, chromatic harmony, elemental landscape and life.
Each title presents MAD's significant projects, such as YueCheng Courtyard Kindergarten - converted from an original 18th-century Siheyuan courtyard building, the Cloudscape Of Haikou - which was opened in April this year, the Lucas Museum Of Narrative Art (LMNA) in Los Angeles, Harbin Opera House in the Northern Chinese city of Harbin, the Clover House kindergarten, MAD's first project in Japan, are narrated in detail.
With the design of the Lucas Museum Of Narrative Art (LMNA), the project made him the first Chinese architect to design an overseas culture landmark.
MAD's work exhibits a "willful integration or combination of forces that seem contradictory into a coherent whole", wrote Philip Jodidio in the book's preface.
"It finds forms that are at once astonishing and still not fundamentally out of place. Past and present, artificial and natural, rigid and supple are brought together into what must be described as a fluid vocabulary," added Jodidio.
MAD Architects revealed Cuntan International Cruise Centre in Chongqing, China. Image courtesy of MAD
The Eyes of Sanxingdui for the Sanxingdui Ancient Shu Cultural Heritage Museum in Sichuan Province, China, a new Chongqing Cuntan International Cruise Centre in Chongqing, China are the only two from MAD's latest projects.
In addition to his design practice, many works of Ma Yansong were exhibited in local and international solo exhibitions, publications, and art works.
His recent exhibitions include: "Mad X", Centre Pompidou, Paris, France in 2019; "Tunnel of Light", Echigo Tsumari Art Field Triennial, Japan in 2018. The architect's works are part of numerous public collections, such as M+ Museum, Hong Kong and Centre Pompidou, Paris.
Image courtesy of MAD
Ma Yansong was awarded the Young Architects Award by the Architectural League of New York. In 2008 he was selected as one of the "20 Most Influential Young Architects" by ICON magazine.
Fast Company named him one of the "10 Most Creative People in Architecture in 2009" and one of the "100 Most Creative People in Business in 2014."
In 2010, he received the "RIBA International Fellowship", he was the first Chinese architect receiving RIBA Fellowship. In 2014, he was awarded "Young Global Leaders (YGL)" by the World Economic Forum.
WAC's live interviews are organized as 20-30-minute talks to deliver a quick glimpse of the current projects of the architect and the office and provide a fast-paced discussion on the architects' design philosophy.
MAD Rhapsody can also be purchased for $75 on Rizzoli.
WAC Instagram Live Interview
Theme: MAD Rhapsody
Host: Flora Jing Lin Ng, China Country Reporter of WAC
Date: Wednesday, 23 March / 10:00am (EDT), 14:00pm (GMT) 22:00pm (CST)
Venue: WAC Instagram