MAD Architects Unveils new images of Harbin Opera House
Harbin Opera House, aerial view from the east. image © Hufton+Crow
MAD Architects' Harbin Opera House has finally been completed, located in the Northern Chinese city of Harbin. In 2010, MAD won the international open competition for Harbin Cultural Island, a master plan for an opera house, a cultural center, and the surrounding wetland landscape along Harbin's Songhua River. The sinuous opera house is the focal point of the Cultural Island, occupying a building area of approximately 850,000 square feet of the site's 444 acres total area. It features a grand theater that can host over 1,600 patrons and a smaller theater to accommodate an intimate audience of 400.
image © Adam Mork
Embedded within Harbin's wetlands, the Harbin Opera House was designed in response to the force and spirit of the northern city's untamed wilderness and frigid climate. Appearing as if sculpted by wind and water, the building seamlessly blends in with nature and the topography—a transfusion of local identity, art, and culture. "We envision Harbin Opera House as a cultural center of the future – a tremendous performance venue, as well as a dramatic public space that embodies the integration of human, art and the city identity, while synergistically blending with the surrounding nature," said Ma Yansong, founding principal, MAD Architects.
image © Adam Mork
MAD Architects' design approach shows that on the exterior, the architecture references the sinuous landscape of the surrounding area. The resulting curvilinear façade composed of smooth white aluminum panels becomes the poetry of edge and surface, softness and sharpness. The journey begins upon crossing the bridge onto Harbin Cultural Island, where the undulating architectural mass wraps a large public plaza, and during winter months, melts into the snowy winter environment.
partial view of the façades' aluminum panels and pathways. image © Hufton+Crow
Surpassing the complex opera house typology, MAD articulates an architecture inspired by nature and saturated in local identity, culture and art. As the Harbin Opera House deepens the emotional connection of the public with the environment, the architecture is consequently theatrical in both its performance of narrative spaces and its context within the landscape.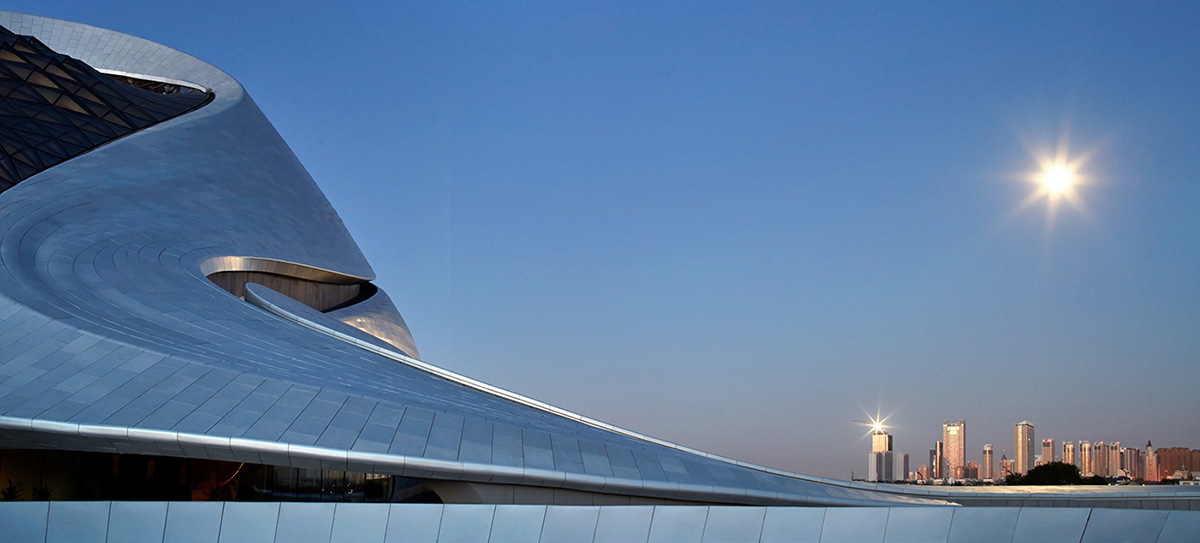 The façade in contrast to the Harbin skyline. image © Hufton+Crow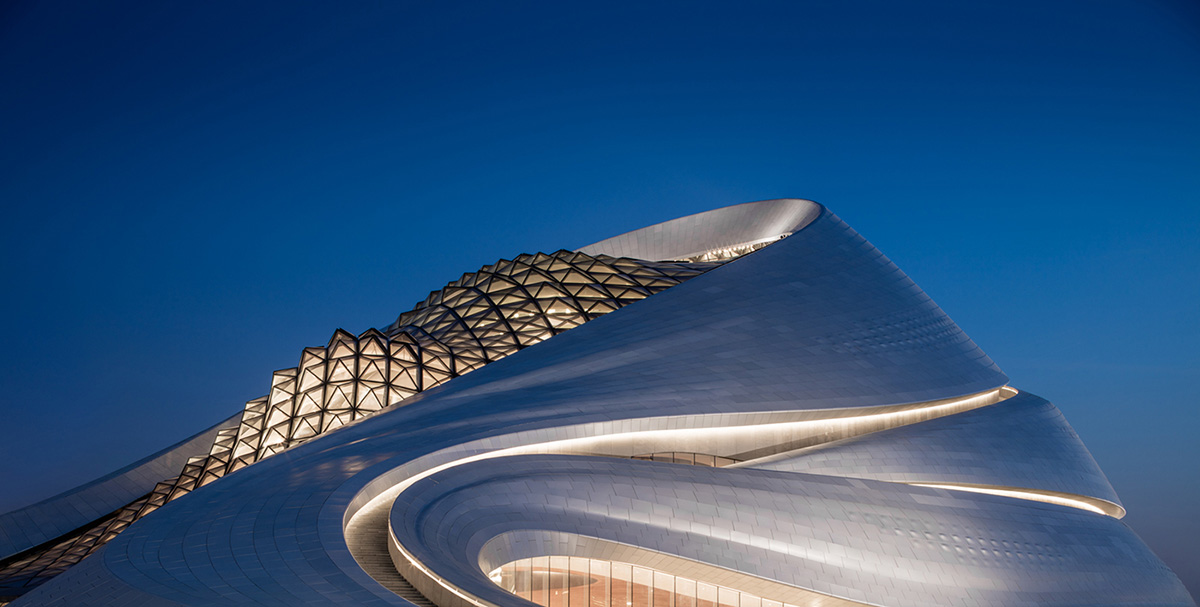 night view of the grand lobby and grand theater. image © Adam Mork
image © Adam Mork
rooftop terrace. image © Adam Mork
the lobby of the grand theater. image © Hufton+Crow
image © Adam Mork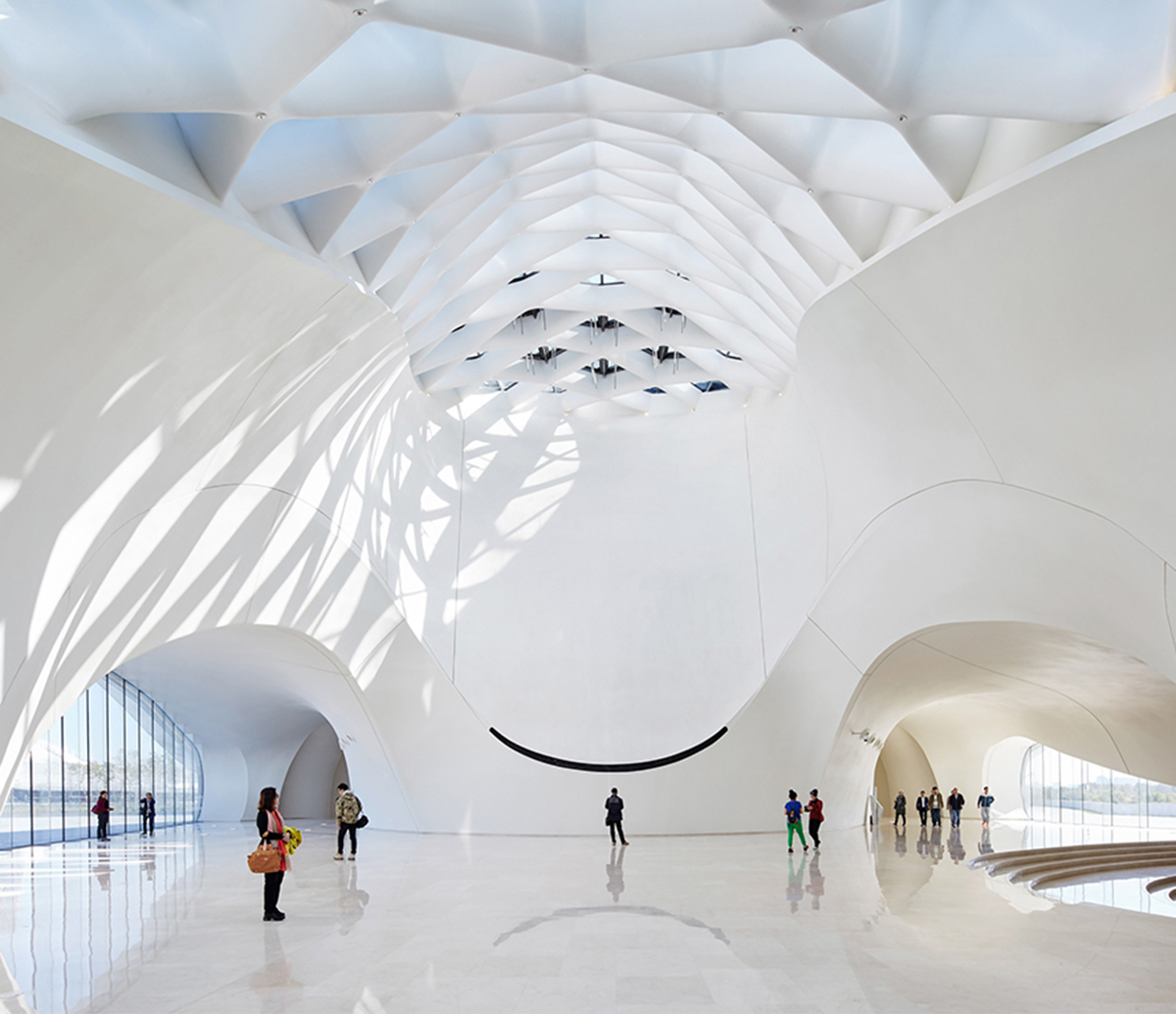 the lobby of the small theater. image © Hufton+Crow
view of the grand theater's main stage and the proscenium. image © Hufton+Crow
image © Adam Mork
grand theater balcony detail. image © Hufton+Crow
Project Facts
Directors: Ma Yansong, Dang Qun, Yosuke Hayano
Advisor: Bao Pao
Design Team: Jordan Kanter, Daniel Gillen, Bas van Wylick, Liu Huiying, Fu Changrui, Zhao Wei, Kin Li, Zheng Fang, Julian Sattler, Jackob Beer, J Travis Russett, Sohith Perera, Colby Thomas Suter, Yu Kui, Philippe Brysse, Huang Wei, Flora Lee, Wang Wei, Xie Yibang, Lyo Hengliu, Alexander Cornelius, Alex Gornelius, Mao Beihong, Gianantonio Bongiorno, Jei Kim, Chen Yuanyu, Yu Haochen, Qin Lichao, Pil-Sun Ham, Mingyu Seol, Lin Guomin, Zhang Haixia, Li Guangchong, Wilson Wu, Ma Ning, Davide Signorato, Nick Tran, Xiang Ling, Gustavo Alfred Van Staveren, Yang Jie
Associate Engineers: Beijing Institute of Architectural Design
Façade/cladding Consultants: Inhabit Group, China Jingye Engineering Co., Ltd
BIM: Gehry Technologies Co., Ltd
Landscape Architect: Turenscape Landscape Institute, Earth Asia Design Group
Interior Design: MAD Architects, Shenzhen Z&F Culture Construction Co., Ltd
Acoustics Consultants: Zhang Kuisheng Acoustics Research Institute of Shanghai Modern Design Group
Lighting Design: Toryo International Lighting Design Center, Beijing United Artists Lighting Design Co., Ltd
Stage Lighting Design: EKO Lighting Equipment Co., Ltd
Stage Mechanical Engineers: Chinese PLA General Armament Institute of Engineering Design
Signage Design: Shenzhen Freesigns Signage Co.,Ltd
Harbin Cultural Center
Location: Harbin, China
Type: Theater, Cultural Center
Time: 2010-2015
Site Area: 1,800,000sqm
Harbin Theater
Building Area: 79,000sqm
Building Height: 56m
Harbin Labor Recreation Center
Building Area: 41,000sqm
Building Height: 47.6m
> via MAD Architects