Es Devlin creates Conference of the Trees during COP26 climate conference
Award-winning British artist and stage designer Es Devlin has unveiled an installation, titled Conference of the Trees, a temporary forest of 197 trees and plants.
The installation will be installed at The New York Times Climate Hub from 3 – 11 November at the SWG3 Arts Centre in Glasgow during the COP26 climate conference. Es Devlin's new work proposes a parallel conference - of 197 trees and plants.
Devlin's installation will house a series of talks and events that will be held as part of the COP26. Devlin's previous temporary forest Forest for Change was installed this summer at the London Design Biennale at Somerset House and drew attention to the United Nations Global Goals.
Like the Somerset House trees which have now been replanted in urban reforestation projects in Southwark and Islington, the Conference of the Trees will be planted in urban reforestation sites in Glasgow after COP 26 has ended.
Es Devlin is inspired by Richard Powers' Pulitzer Prize winning novel, The Overstory, in which the trees are the lead protagonists while the humans form the subplot, Devlin is interested in placing Climate Hub visitors within an environment of a parallel gathering of trees - as if the trees are bearing witness, listening, and observing the progress that the humans may or may not make during the program of talks and COP26 negotiations which many are describing as our species' last chance to making the changes necessary to avert even more profound climate crisis.
A plethora of recent studies suggest that humans' health and mood are improved by spending time among trees, and that aggression and anxiety are reduced while compassion and kindness levels are raised in the presence of trees.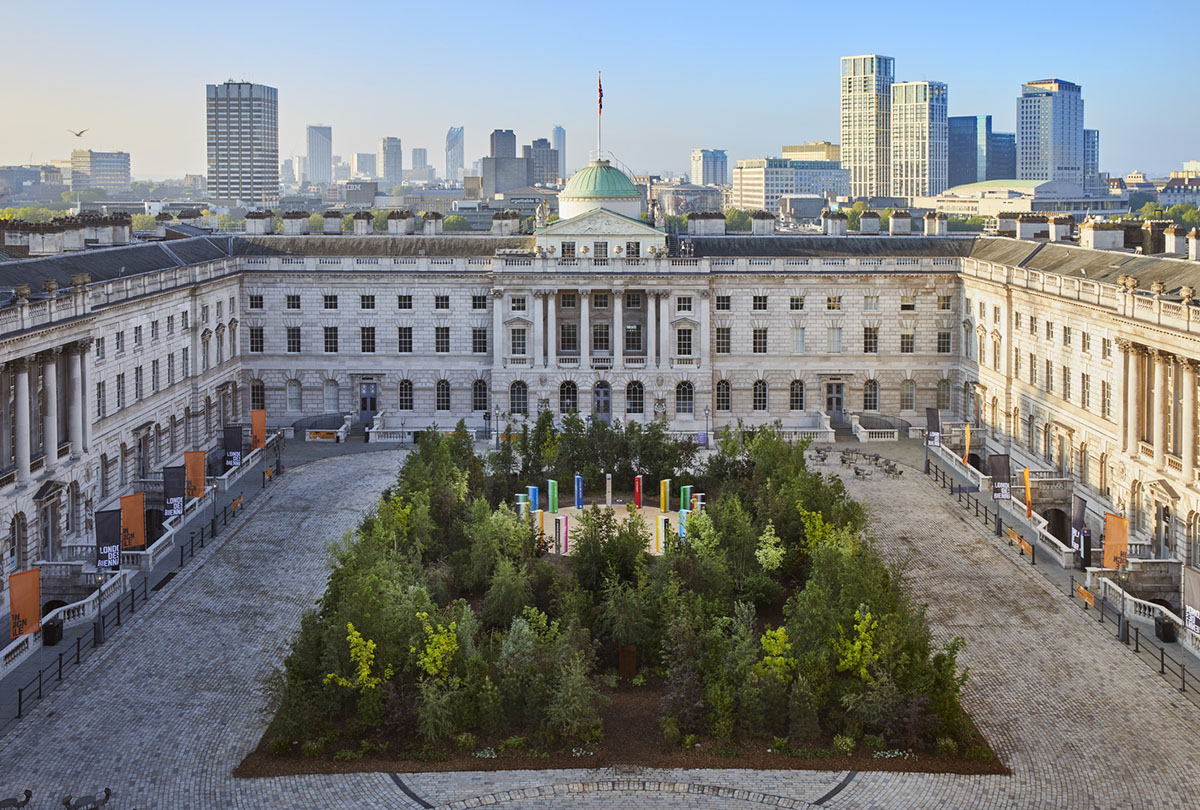 Es Devlin's Forest for Change was installed this summer at the London Design Biennale at Somerset House. Image © Ed Reeve
Conferences typically take place in large impersonal rectilinear top-lit spaces, Devlin proposes that a sensitively lit environment surrounded by trees might have a positive effect on the quality of ideation and conversation.
Working in close collaboration with forest architect, Phillip Jaffa, and landscape specialist Scotscape, the trees and plants will be selected to thrive once replanted in Glasgow following COP26.
The New York Times Climate Hub is open November 3–11, 2021. On November 3, the opening celebration of The New York Times Climate Hub included an exclusive viewing of Es Devlin's "Conference of the Trees" installation and conversations with special guests including First Minister of Scotland Nicola Sturgeon and Es Devlin, as well as performances from artist and musician Beatie Wolfe and others.
The COP26 will have a dedicated day at reducing carbon emissions which is a crucial fact for all sectors in built environment. See the full Presidency Program of COP26.
Top image © Es Devlin Studio.
> via Es Devlin