Clemson University Business School Builds "a place that students wouldn't want to leave"
Being future-focused and collaborative on interpersonal, organizational and global scales is at the heart of every business school. With this in mind, Clemson University had decided that its new Wilbur O. and Ann Powers College of Business reflect a new paradigm of learning that includes leading-edge spaces for the evolving future. The site is fronted by the historic Bowman Field, an anchor to the campus and a place of the University's first athletic event in 1896.
A fundamental requirement for this site was being a good steward. The new school would be the first academic building in the precinct in over a century and needed to define an entry point new campus while strengthening the "town and gown" connection between the university and the city. This unique opportunity would create a new prospect for the business programs. The program needed to accommodate diverse learning modalities while respecting the past and future. Dean's overarching goal would be the thesis for the project: to build a place that students wouldn't want to leave.
The 40' hill between Bowman Field and the student residences above became the site's most crucial challenge and the most significant asset. The project has capitalized on this dramatic topography, creating a hill climb similar to Spanish Steps. The form of the building, which consists of a larger volume canted to align with the hill, connected to a linear bar, defines the terraced exterior stair and plazas. The materiality of the project takes its cues from the hill. Grounded concrete elements and earthy tones form a metaphorical retaining wall at the ground and then transition to light, delicate materials that dissolve towards the sky as the building rises. The vertical slats in the atrium further accentuate the focus skyward. A monumental interior stir runs parallel to the hill, revealing building activity to the college community as they traverse the hill.
The building draws contextual relationships, as the datum of student residences engages the form and detailing of the new business school. The projects professionally lead students from the lower plaza through terraced informal gathering spaces and finally to a promenade at the top. They are molding residential, academic, and social spaces together. The atrium is a hub for connecting, visually audial, spatially and architecturally inside the building. A variety of programs are accommodated with gathering areas, flexible furniture, and touchdown spaces.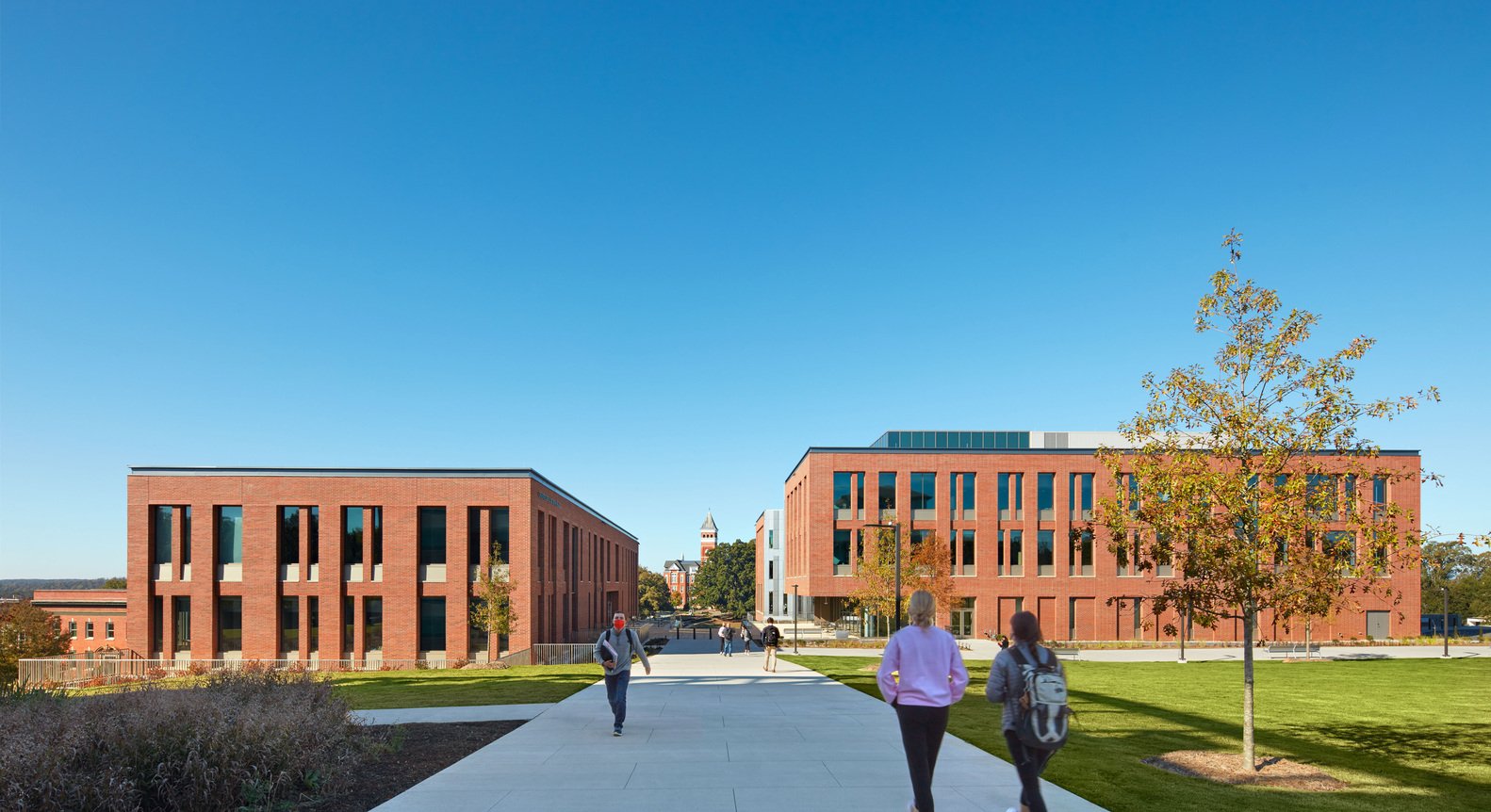 Since its conception, the project has substantially raised the College's profile. The MBA program, now named as one of the top 30 in the Princeton Review and a recent $60 million donation, is the largest in the history of the University. This donation will be used to support colleges' scholarships and programs. The project has created a new anchor of a thriving hub of activity for the campus. The facility has doubled the College's footprint and consolidated the programs housed in five separate buildings. The College's Dean Wendy York has stated: "The building and our academic direction are becoming a launchpad for students to become revolutionary change agents who will make positive contributions to business and industry in South Carolina, across our nation and beyond."
Project facts
Architects: LMN Architects
Prime Architects: LS3P Associates LTD
Contractor: DPR Construction
Landscape Architects: Olin Partnership Ltd., Ayers Saint Gross
MEP Engineers: RMF Engineering Inc.
Structural Engineer: Thornton Tomasetti
Civil Engineers: Land Planning Associates
Lighting Design: HLB Lighting
AV: BrightTree Studios
Transportation Consultant: Stantec Consulting
Food Service: Le Duff America, Inc.
Location: Clemson University, Clemson, SC
Area: 176000 ft²
Year: 2020
Client: Clemson University
All photographs © Mark Herboth Photography, LLC
> via LMN Architects