Kengo Kuma to talk about The Beauty And Complexity Of Wood in WAC's Live Talk
Acclaimed Japanese architect Kengo Kuma, the founder of Kengo Kuma and Associates, will be WAC's new guest architect in WAC's Live Interview Series.
WAC's new live talk, themed as The Beauty And Complexity Of Wood, will explore the architect's powerful material approach on the significance of material, craftsmanship and the sense of scale which are deeply rooted in Kuma's architecture.
The architect, who was recently named as the world's most influential architect by Time Magazine, will discuss the importance of wood, public space and our relationship with nature.
Kuma, who usually takes into account humbleness and simplicity in his buildings, will also talk about the philosophy of smallness in his architecture, briefly touching upon themes such as the combination of art and wood, sustainability and the use of local sources.
The talk will be moderated by WAC's editor-in-chief Berrin Chatzi Chousein on Friday, November 19 on WAC's Instagram account.
Kengo Kuma. Image © J.C.Carbonne
Kuma, 67, is one of the most significant contemporary Japanese architects and he leads Tokyo-based Kengo Kuma and Associates. The firm has also office in Paris.
He received his Master's Degree in Architecture from the University of Tokyo, where he is currently a University Professor and a Professor Emeritus.
Kengo Kuma decided to pursue architecture at a young age, and later entered the Architecture Program at the University of Tokyo, where he studied under Hiroshi Hara and Yoshichika Uchida.
GC Prostho Museum Research Center, Japan, 2008-10. Image © Daici Ano
During his Graduate studies, he made a research trip across the Sahara, exploring various villages and settlements, observing a unique power and beauty. After his time as a Visiting Scholar at Columbia University in New York, he established his office in Tokyo.
Kuma founded Kengo Kuma & Associates in 1990 and since then, the firm has designed architectural projects in over 30 countries.
The Japan National Stadium in Tokyo, V&A Dundee in Scotland, the GC Prostho Museum Research Center in Japan, Folk Art Museum in China, Yusuhara Community Library in Japan, the Odunpazari Museum in Turkey, The Exchange in Sydney are among the key projects of the office.
Japan National Stadium in Tokyo, 2016-19. Image © Taisei Corporation, Azusa Sekkei Co., Ltd. , Kengo Kuma and Associates Joint Venture
Kengo Kuma & Associates was awarded several prestigious awards, including the Architectural Institute of Japan Award, the Spirit of Nature Wood Architecture Award from Finland, and the International Stone Architecture Award from Italy, among others.
Taking human scale and nature into the center of design, the firm aims to design architecture which naturally merges with its cultural and environmental surroundings, proposing gentle, human scaled buildings.
While making sustainability and producing an architecture with local and natural resources as general design principles, the office is constantly in search of new materials to replace concrete and steel, and seeks a new approach for architecture in a post-industrial society.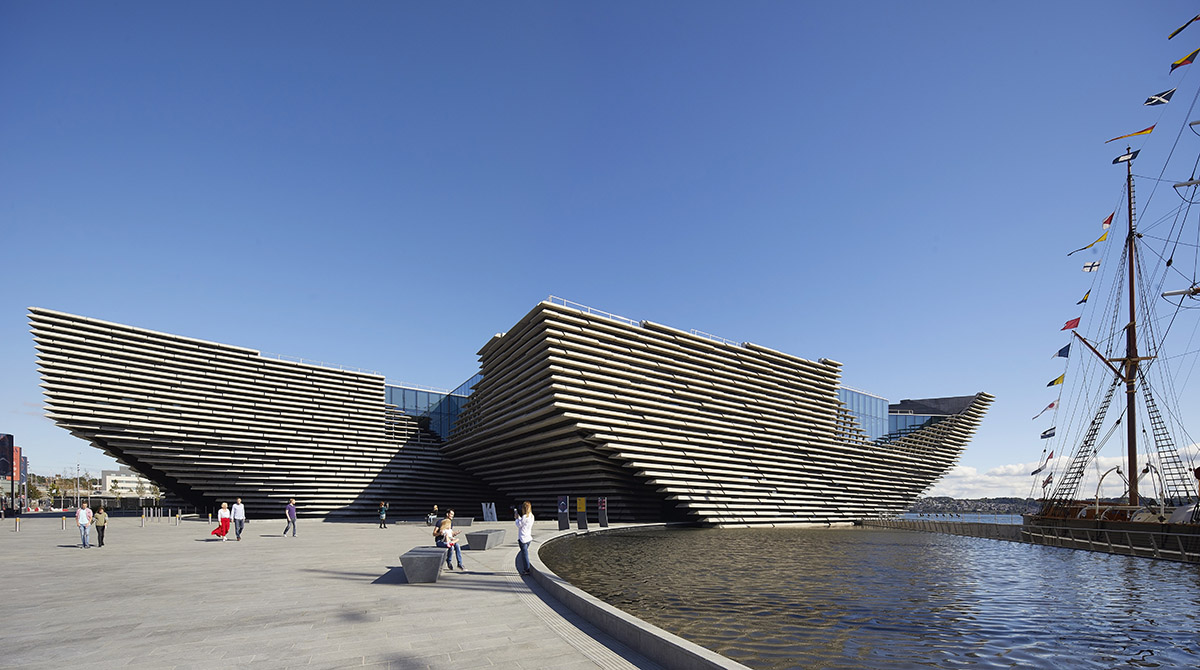 V&A Dundee in Scotland, 2010-18. Image © Hufton+Crow
Kengo Kuma & Associates recently published a new monograph, titled Kuma. Complete Works 1988–Today, written by Philip Jodidio and Kengo Kuma and published by Taschen. The 460-page book, containing 500 illustrations, illustrates photographs, sketches, and plans inviting readers to Kuma's innovative world harmonized with his strong material approach.
Kengo Kuma And Associates revealed plans to add sculptural portals to historic Angers Cathedral in France. The office also created a metal curtain with shades of grey at the Atrium of Casa Batlló in Spain. The office is currently working on a flower-shaped Eiko Kadono Children's Literature Museum in Tokyo.
WAC's new live talk will be the 29th episode in the WAC's Live Interview Series. We are adding more live talks to the schedule, so keep checking the WAC's Live Interview Series Schedule for the latest confirmed talks and timings.
Centred around specific themes, WAC's live interviews are held as 30-40 minute live talks to deliver a quick glimpse of the current projects of the architect and the office and to provide a fast-paced discussion on the architects' design philosophy.
WAC Instagram Live Interview
Theme: The Beauty And Complexity Of Wood
Host: Berrin Chatzi Chousein, WAC editor-in-chief
Date: Friday, 19 November / 18:30pm (JST) / 09:30am (GMT) / 11:30am (CET)
Venue: WAC Instagram