"There is a huge misconception on what sustainability means when it comes to buildings"
In continuation to the previous article Significance of Materiality in Architecture, this series of interviews seek to push the conversations surrounding materiality and its influence to shape the vision and final design of projects, regardless of its scale and scope. The series began with German architect Anna Heringer and was followed by Indian architect Sandeep Bogadhi. Our next architect, Raja Krishnan and Santhosh Shanmugam of Shanmugam Associates, believes that the focus needs to be on a responsible building than any style or language.
Megha Balooni: Thank you for doing this interview with us. Could you walk us through the various stages of your design processes – concept, design, construction and completion?
Raja Krishnan (RK) and Santhosh Shanmugam (SS): The concept, climate and context are three c's of focus in the design process at Shanmugam Associates. To elaborate further:
The concept involved looking at user-oriented experiences within the built space. We also try to not separate the exterior and interior spaces but rather integrate both seamlessly into the process. For example, in case of the Northstar Campus we took inspiration from the method of learning principles that Gurus imparted to their students in a Gurukulam, sitting in the open under a tree.
The Northstar School by Shanmugam Associates. Image © Ishita Sitwala
RK and SS: Climate is a critical criterion when we design buildings in a tropical country like India. Wind direction such as the south- west and north- east, have been factored into in all our projects to create a tunnel effect. Heat conductivity has taken into consideration as we design naturally conditioned classrooms by providing hot air escape routes. Micro-climate has a significant impact on our immediate surroundings, therefore, at SA we convert all voids into garden spaces and give high importance to integration of native species into the design when planning the landscape.
The Northstar School by Shanmugam Associates. Image © Ishita Sitwala
The Northstar School by Shanmugam Associates. Image © Ishita Sitwala
RK and SS: The local and regional contexts influence, especially, the selection of material and manpower along with the form and language of design. In case of the Rane Vidyalaya, a school that was built in rural South India, an 800-year-old temple and the surrounding villages within 15-20 kms had interesting construction methodologies that we took a leaf out of. We were inspired to use multiple layers of materials for the façade walls such as the normal stone, random rubble, brick, mud and wood.
Rane Vidyalaya by Shanmugam Associates. Image © LINK Studio, Bangalore
Material description of Rane Vidyalaya. Drawing courtesy of Shanmugam Associates
Megha Balooni: Even though sustainable design and architecture has caught attention and fancy of designers and architects world over, what do you feel are some common mistakes or overlooked parameters that one commits when starting out?
RK and SS: There is a huge misconception on what sustainability means when it comes to buildings. Most of the times it is understood as just providing lush green landscaping and increasing the biosphere. Going carbon neutral is equally important in the case of creating a built space. At SA, we try our best to stay close to the existing environmental conditions, create less emissions from the built space, source materials from the local region and minimize the use of resources.
Material Layers, A house in Palaiyur (layer1-Large stones, layer2-bricks with mid, layer3-mud). Rane Vidyalaya. (Image courtesy of Shanmugam Associates)
Megha Balooni: Material knowledge and selection are some of the important aspects of vernacular design. How has learning the local practices of construction helped you in understanding architectural intricacies?
RK and SS: Material makes a huge difference when we start detailing out our projects. As mentioned earlier, the entire façade of Rane Vidyalaya draws inspiration from the material layers used in the local context. We interpret in our own way based on the current context and scenario. The older construction principles had the use of stone, random rubble, brick, mud, and finally wood in layers. We instead used fly ash bricks, red bricks from local quarries and terracotta jaali. Working in close collaboration with the contractor, we developed a customized façade detailing in a manner which satisfied the structural, economic and aesthetic parameters.
Bella is a natural sandstone is available easily in and around North- West India. It is affordable, rugged and also resonates with the institutional character of the Northstar international school that is located Rajkot, India. We have used Bella in the classroom façades and also in the courtyards at Northstar.
Understanding the local availability of material and the capability of the labor executing are both critical to working on vernacular architectural detailing.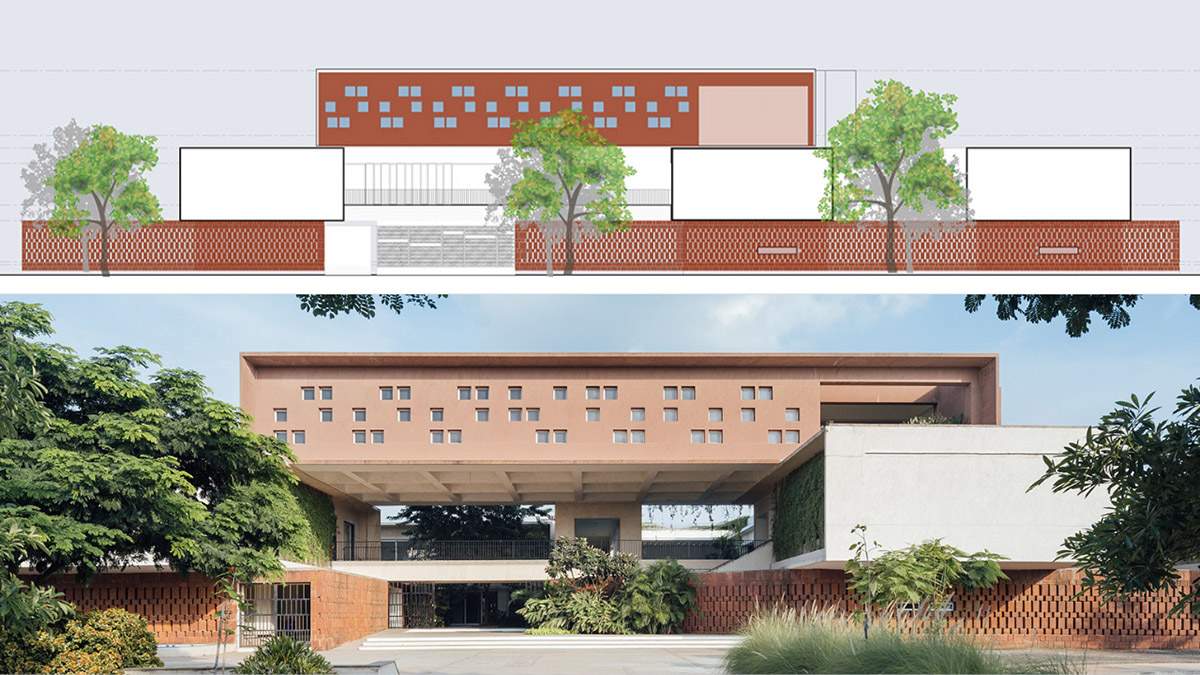 Juxtaposition of the Bella stone on the ground floor; View of the Northstar School main entry from the pedestrian walkway designed by Shanmugam Associates. (Drawing courtesy: Shanmugam Associates; © Ishita Sitwala)
Megha Balooni: What are some of the social practices you seek to bring about a change in, through your practice's philosophy, if any? Are there any examples to share?
RK and SS: The focus needs to be on responsible building than pursuing any style or language. Rather style needs to be more timeless and a building should age well. A client's brief is critical to have a project conceived and should seamlessly integrate with the architect's vision of the built space. The ultimate product would be a congregation of various aspects such as user experience, form and material.
Material description of Northstar School. Drawing courtesy of Shanmugam Associates
Megha Balooni: What are some of the preparedness you underwent before starting out with vernacular construction? What can be some effective strategies and tools (soft skills) that architects should possess, as opposed to a contemporary design practice?
RK and SS: Identifying the right labour and material is critical when it comes to vernacular construction. In the current scenario, it is important to understand the science behind why certain practices were followed and try to adapt it to the present. The labor force should be adept in handling the material and understand the technical qualities of product. The architect on the other hand should be able to work with this human resource and customise the material based on the context.
Construction of jaali wall matching the adjacent brick wall (Rane Vidyalaya. Image courtesy of Shanmugam Associates)
Megha Balooni: What are some methods you use to bring distinction to your projects which might be located in a similar terrain?
RK and SS: Vernacular is more about offering context-based solutions and does not mean intentionally designing buildings that stand out. While developing design solutions at SA, we don't try to reinvent the wheel. We try to reinterpret the same idea to best suit the project's context taking basic understanding and provide a customised solution.
Rane Vidyalaya by Shanmugam Associates. Image © LINK Studio, Bangalore
Megha Balooni: Is there a project you could share with us where the materials used outdid the original vision you had for the project?
RK and SS: Both Rane Vidyalaya and The Northstar School were planned with immense focus on the immediate regional context and strong concepts. At the time of development, we didn't give much thought to awards or recognition. One commonality in both projects was the importance we gave to the regional construction methodologies, material and local workforce.
Rane Vidyalaya by Shanmugam Associates. Image © LINK Studio, Bangalore
Shanmugam Associates (SA) is a 40-year-old award winning architecture and design firm having offices in Trichy and Chennai, India. The firm had its inception in 1982 under Ar. A. Shanmugam, who was the pioneer in creating awareness of architecture as a profession in southern Tamil Nadu, India.
Ar. Shanmugam A. completed his Bachelor of Architecture from Anna University. He is Founding Chairman, Trichy Chapter– Indian Institute of Architects. The firm is further strengthened with the collaboration of Rajakrishnan, Ramya Raman and Santhosh Shanmugam. All were classmates at School of Architecture and Planning, Chennai. Ar. Rajakrishnan has completed post-graduation in European Urbanism from Bahaus Kolleg, Germany. Ar. Krishnan has international experience at Rafael Vinoly Architects, London and Massimiliano Fuksas, Rome. Ar. Ramya has completed the CORe program with Harvard Business School Online and her masters in Real Estate Development at Harvard University, Cambridge. She has been involved in large scale developments and has previously been associated with CB Richard Ellis and Virtuous Retail, India. Ar. Santhosh has completed his MS in Advanced Architecture Design from Columbia University, New York; worked for five years in Oppenheim Architecture + Design, Miami and is certified LEED Green Associate, USGBC.
Head Image: Rane Vidyalaya by Shanmugam Associates. Image © LINK Studio, Bangalore.