World Architecture Festival Announces Winner For GROHE Water Research Prize
Researchers from Techlab laboratory, based at Shiraz University in Iran, have won a £10,000 research prize to investigate how air humidity and rainfall can be used to aid indoor thermal comfort in arid regions, inspired by water absorption methods observed in the Namib desert beetle.
The Water Research prize is funded by GROHE and is part of the World Architecture Festival annual awards programme. This is the fourth time it has been awarded; other winners have included water filtration, generation and cooling systems in Peru, Brazil and Greece.
This year's winning project, 'Aquasorbant Façade', was announced yesterday and Techlab laboratory presented the project as part of a virtual panel discussion on the Water Research Prize today at 13:00 – 14:00 (GMT) with panellists including Paul Finch, Director of World Architecture Festival, Jeremy Melvin, WAF Curator, Patrick Speck, Leader LIXIL Global Design, EMENA and Stefan Schmied, Leader, Business Unit Projects, LIXIL EMENA.
World Architecture Community is official Media Partner of WAF and INSIDE and will be bringing you the latest news about the festivals' speaker line-up and sessions. WAC readers will receive a 20% discount over regular festival prices. Book your digital festival pass from here by entering this promo code online: WAC2020.
The judges praised the proposal for a variety of reasons: "All the judges appreciated the inspiration and application of this nano-technology that could help solve the lack of water in stressed areas of the planet' says Paul Finch, Director of World Architecture Festival."
"This innovative project tackles water scarcity and I particularly loved the inspiration directly taken from nature' says Stefan Schmied, Leader, Business Unit Projects, LIXIL EMENA."
The Water Research Prize links back to the original WAFX Manifesto, launched in 2017, which identified the key challenges architects will need to address over the coming decade, including climate, energy and carbon; ageing and health; re-use; smart city technology; building technology; cultural identity; ethics and values; power and justice; and virtual worlds.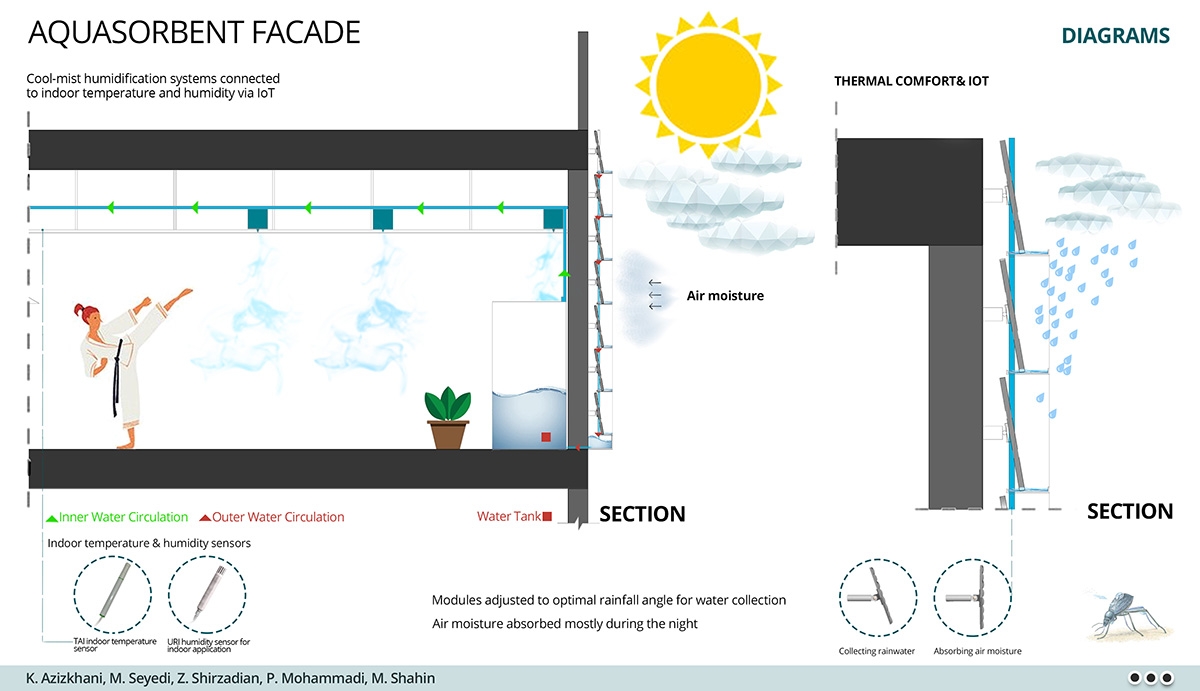 Each entrant is asked to identify a new challenge or opportunity related to design and water, and in doing so advance an understanding of water in relation to the built environment.
This year "Aquasorbant Façade" was chosen from a shortlist of ten outstanding projects by a panel of expert judges.
The full shortlist for the WAF Water Research Prize 2021 is:
Architectural and Design Solution for Floating Recreational Facilities in the Volga Water Area by Saint Petersburg State University of Architecture and Civil Engineering (SPbGASU)
Air Water by Saleqr
Crystalline Reckonings by TGGG Architectural Design Studio
REcoral by Kazan State University of Architecture and Engineering, TiArch studio
Backup Water Supply Capacities by CODENG, LLC
Float Living Community by UArchitects
Tidal Urban Architecture: Water Induced Anthropogenic Ecology in Deep Bay by The Chinese University of Hong Kong
Water Supply in Beira by Techlab laboratory
Rain Harvesting Extension by Techlab laboratory
WAF also announced first category winners, second category winners, Landscape – Nature Context winners and Landscape - Urban Context winners for 2021.
See INSIDE's first category winners and second category winners for 2021.
All images courtesy of Techlab laboratory.
> via WAF