Reiulf Ramstad Architects scatters 14 wooden hotel cabins on hillside of Breitenbach, France
Reiulf Ramstad Architects has scattered 14 wooden hotel cabins on the heights of the Alsatian village of Breitenbach in France, the cabins have been built in tower-like form which focuses on privacy and comfort within nature.
Named Breitenbach Landscape Hotel 48°Nord, the 20,000-square-metre complex includes 14 cabins - measuring from 20-square-metre to 60-square-metre, with reception building, restaurant/spa, garage and parking.
Distributed irregularly on the hillside, the hotel proposes a holistic and a true ecotourism experience in Alsace, inspired by Scandinavian traditions and building on the region's culinary, wellness, and nature opportunities.
Reiulf Ramstad Architects' new hotel reinterprets the traditional Scandinavian cottages, a place of retreat and reconnection with wild nature.
Situated at the heart of a protected Natura 2000 site, the project was designed to fit into a preserved setting without ever disturbing it.
"The project is born from the meeting of two cultures (France and Scandinavia), two passions (nature and architecture), two men (Emil Leroy and Reiulf Ramstad), and an enthusiastic and very supportive local community from the village of Breitenbach," said Reiulf Ramstad Architects.
"Breitenbach is a unique hamlet, located between Vosges and Alsace, with a very dynamic community and strongly politically committed to an eco-responsible approach, through various activities like an ecological brewery, beehives, dairy, and cheese production to name a few."
"The mayor himself, an enthusiastic vegetarian, initiated ecological farming in the village, constantly encouraging new sustainable and ecological business," added the studio.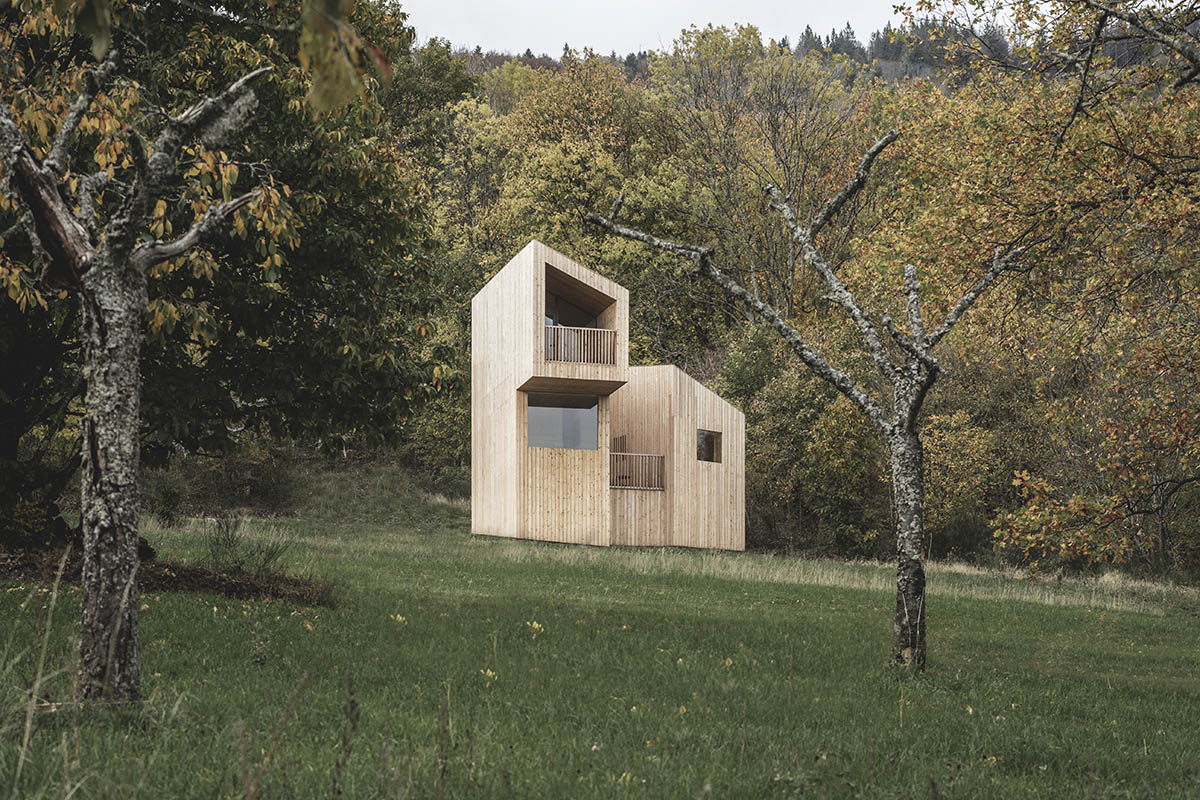 The project was designed for a Franco-Danish client, a Norwegian architect, a common attraction for design and natural materials. By uniting local identity with the landscape through forms still unseen in the region, the architect gave 48° Nord a unique architectural expression.
As Reiulf Ramstad Architects highlighted, "the project goal was not to build a hotel per se, but creating a place to live, a habitat to welcome people and take them on a sensual journey by experiencing a new universe in natural surroundings."
Tree hytte
"A place where guests come to meet people and have a moment, whether to share a meal, a weekend of rest, or to hike the Vosges hills and valleys."
"The architectural approach of 48° Nord echoes this philosophy." The project's clean design and signature takes cues from the Nordic countries.
"However, the vision is also to disseminate an art of living in harmony with the landscape. Despite its simplicity, Breitenbach hotel 48° Nord does not go unnoticed, but surrounded by nature, sobriety guarantees integration within its landscape," according to the studio.
Tree hytte
The 14 cabins dot the hillside like boulders on a slope, balancing privacy and outlook. They have been designed small, light and discreet, they are simply placed on the hillside.
The cabins are placed on stilts, they are even removable, so that the landscape stays preserved and natural, untouched. The untreated and locally sourced chestnut tree (cut on the hill opposite the hotel) clads all volumes, combined only with large glass openings.
Ivy hytte
In the complex, Reiulf Ramstad Architects followed four distinct typologies that compose a family of forms with diverse qualities. The cabins, called Grass hytte, on one level universally accessible, are grouped near the main building.
The "Tree" and "Ivy", towering thin and slender, combine verticality and panoramic views.
Lastly, the "Fjell", atop the hill, welcomes families with protected outdoor spaces. Interiors are minimal and rustic, qualified by the light-colored wood, snug built-in furniture, framed views, and spatial contrasts—perfectly embodying the Nordic concept of "hygge".
Ivy hytte
When entering the site, guests meet the main building dedicated to hospitality, catering, and wellness. The volume is clad in Alsatian chestnut shingles fashioned in an integration workshop in Saverne.
Grass hytte
"Responding to the Passivhaus construction label, this intimate setting padded with dark stained wood and finely detailed opens widely onto the landscape and offers a unique place of meeting, exchange, and contemplation," the firm added.
"The culinary experience, a meeting between Scandinavian inspiration and local ancestral techniques are season-relevant tastes from nature — all sourced from nearby organic producers and the hotel's own vegetable garden."
Grass hytte
According to the architects, at 48° Nord, luxury is redefined. With these cabins, space, privacy, calm, sobriety, nature, and fresh air are a new luxury.
"Perhaps the antithesis of the traditional luxury; the pomp, the superfluous," as the studio added.
Fjell hytte - 2nd floor
Alone, facing the landscape, guests are enabled to find another essence of beauty and comfort in the shifting colors of the season, lights and shadows, the very essence of nature's qualities.
Fjell hytte - private sauna
Main building - reception, restaurant, spa and director's apartment
Restaurant
Site plan
Fjell, plans and sections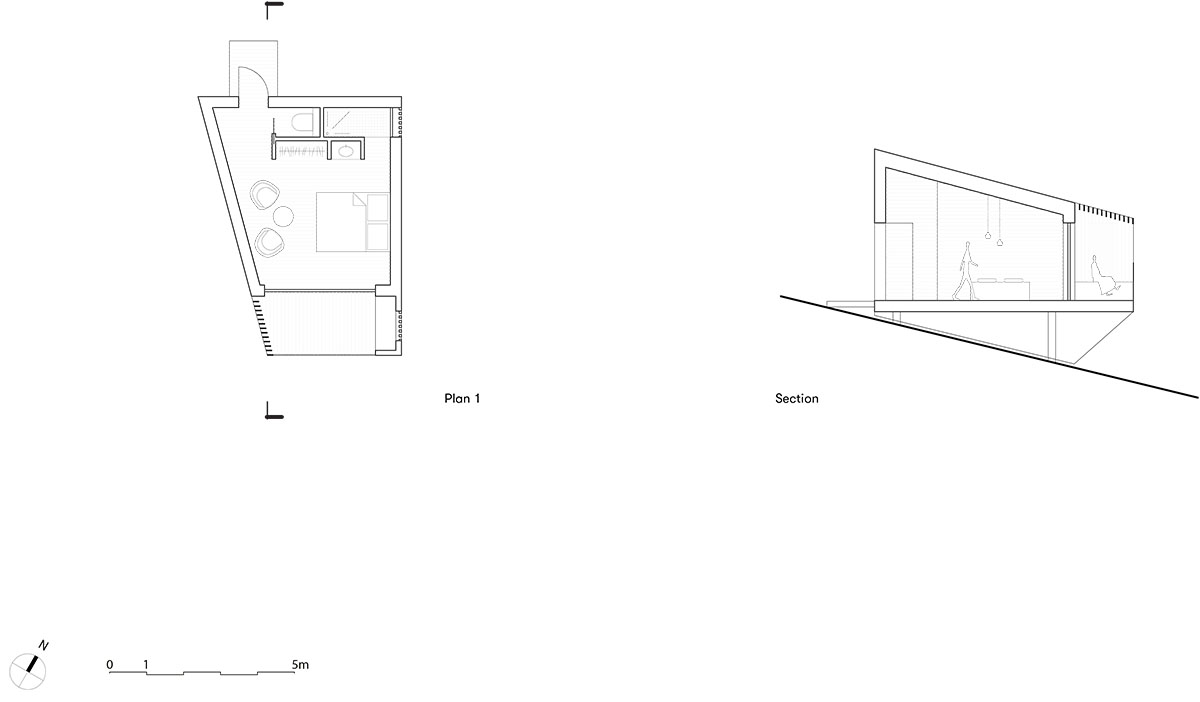 Grass, plan and section
Ivy, plans and section
All façades
Tree, plans and section
Sketch
Sketch
Reiulf Ramstad Architects (RRA) is an independent architectural firm with a high level of expert knowledge and a distinct ideology. RRA was founded by Reiulf Ramstad in Oslo, Norway in 1995.
Reiulf Ramstad Architects won the WA Award in the 31st Cycle with Bjørnheimveien Residences in Norway.
Project facts
Project name: Breitenbach Landscape Hotel 48°Nord
Location: Breitenbach, France
Client: Private
Type: Landscape, Commercial
Program: Landscape hotel with the main building for the reception, restaurant, wellness facility, and the director's housing, as well as 14 hytte for hotel guests.
Size: 20.000m2 total planning area Hytte from 20m2 to 60m2
Commission type: Direct commission (2015)
Status: Completed (2020)
Design Team: Reiulf Ramstad Arkitekter in collaboration with ASP Architecture
All images © Florent Michel / @11h45
All drawings © Reiulf Ramstad Architects